The birds in MoMA's Sculpture Garden have been unusually loud lately, which could be chalked up to the suddenly shifting season. Listen carefully, though, and it sounds as if the birds are singing the names of notable contemporary artists. (Scroll down to listen to an audio recording.) Squawks and shrieks of " RIIICHter !" and " bu-REN ! bu-REN!" pierce through the hum of tourists' conversations and the traffic from 54th street. Vinyl text near the entrance of the garden says the audio is an artwork by Louise Lawler called Birdcalls —but what is it exactly and what does it mean?
Why Pictures Now , a career survey of the famed Pictures Generation artist, takes over the museum's sixth floor and the before-mentioned sculpture garden. Much like her peers Sherrie Levine and Andrea Fraser, Lawler is concerned with the postmodern pillars of re-photography and institutional critique. One of her most famous images showcases a Pollock painting hanging in an esteemed collector's house, mounted behind an ornamental porcelain tureen. This image, along with others from the series, shows how easily avant-garde works can become pure decoration—a characterization many modernist practitioners staunchly fought against.
Lawler's oeuvre is imbued with a dry wit, and Birdcalls , by far, is no exception. In 1972, MoMA staged the experimental exhibition Projects: Pier 18 , which featured twenty-seven artists making work on one of the desolate and dilapidated Hudson River piers. Lawler and artist friend Martha Kite were helping out with the project, often working at the piers late into the night. The Downtown of the '70s was much different than the New York of today, however, and "one way to feel safe," Lawler explained to critic Douglas Crimp, was "to pretend you're crazy or at least be really loud." In turn, Lawler and Kite would proudly sing off-key and make strange noises to ward off potential predators. "Willoughby Sharp was the impresario of [ Projects: Pier 18 ], so we'd make a 'Willoughby Willoughby' sound, trying to sound like birds."

Acting as an assistant for Pier 18 left Lawler frustrated, particularly by the distribution of labor. Women were helping day in and day out, she noticed, and yet all of the artwork was solely attributed to the male participants. Inspired by her inside joke with Kite, she developed Birdcalls as a way to reflect on the skewed gender dynamics of the art world. She was especially concerned with how name recognition grants prominent male artists an unwavering amount of respect and credibility, oftentimes at the expense of others. Birdcalls also makes a mockery of this ubiquity, the work's humor and odd delivery acting as a Trojan horse for its underlying criticism.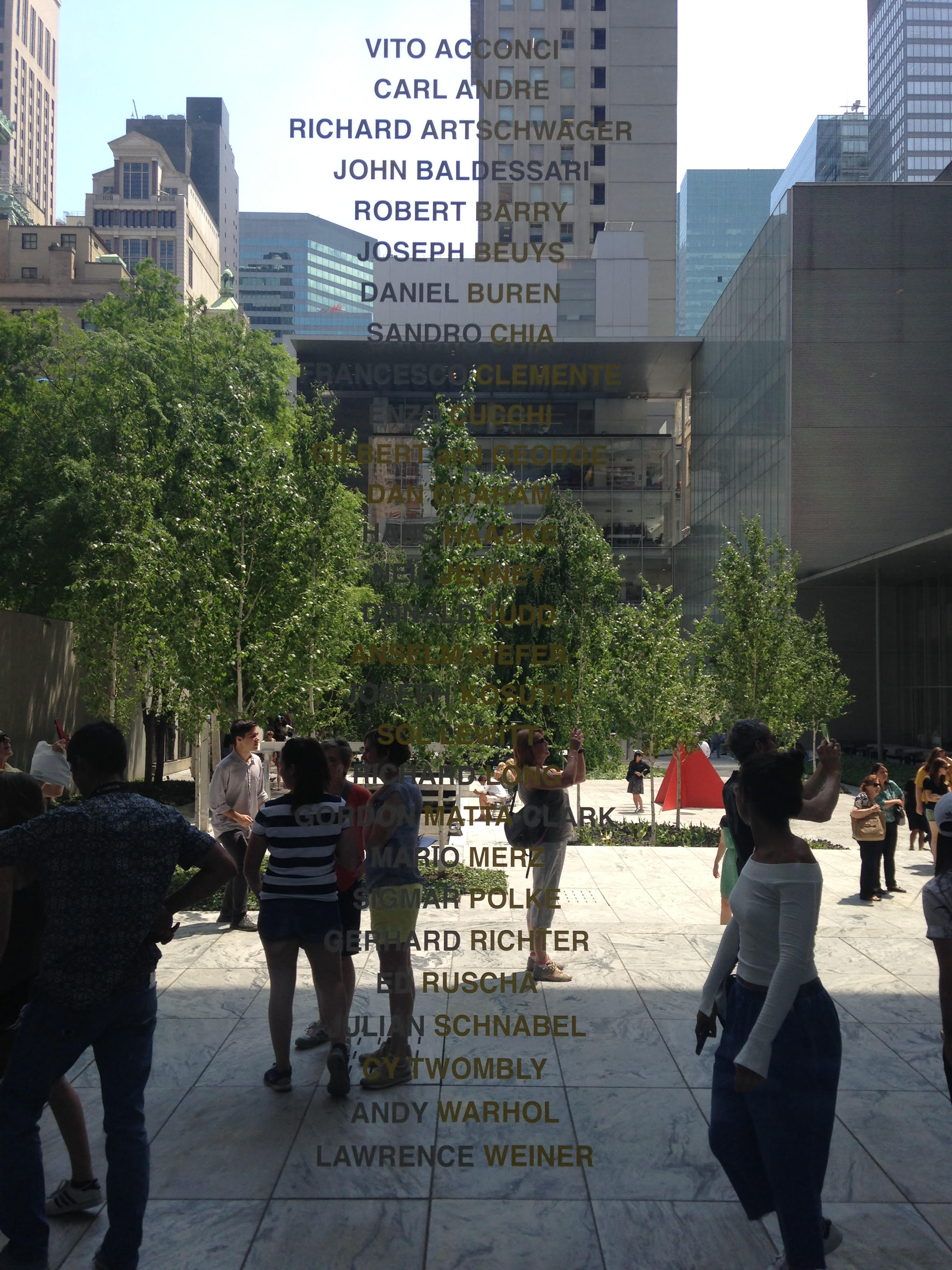 Lawler recorded the various warbles in 1981 for Documenta VII, hoping to distribute the piece as a limited edition LP. Unfortunately, the album was never pressed but her recording, mixed by composer Terry Wilson, lives on as a wonderfully intriguing piece of sound art. So, if you find yourself in the MoMA Sculpture Garden before July 30, prick up your ears and try to figure out which squawk goes with each artist (don't worry—there's a list right before you walk outside if you need a cheat sheet.) So, there you have it, case closed—there is no such thing as a bird species with the call, "dan GRAHAM! dan GRAHAM!" There is, though, a very witty artist by the name of Louise Lawler who has an uncanny knack for sounding like a shrill bird. Take a listen: