Vik Muniz took an unlikely path to becoming an art world powerhouse. After being shot in the leg while trying to break up a fight his native Brazil, the São Paulo–born artist used the money he received for the injury (the shooter paid him not to press charges) to fly to New York in 1983. Working as a picture-framer and living in the East Village, the young Muniz came upon an early Jeff Koons show, and the Duchamp-inflected artworks depicting everyday objects convinced him that he could be an artist too.
Muniz had his breakthrough when he was featured in MoMA's 1997 "New Photography" exhibition, and has since the subject of a career retrospective, a documentary, and exhibitions all over the world. This summer the artist has two shows on view in two different hemispheres, one at Pittsburgh's Frick Art & Historical Center (up through October 27) and one in Bogatá from the end of July through October 28. Here, to explore the defining themes and characteristics of Muniz's widely celebrated work, we take a close look at his various artistic approaches.
COMMON MATERIALS, UNCOMMON RESULTS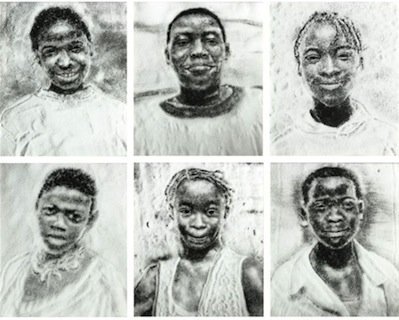 For the 1997 MoMA "New Photography" show, Muniz exhibited photographic portraits of the children of sugar plantation workers in St. Kitts—only these were not your ordinary photographs. Muniz had used Polaroids of his subjects as a basis for likenesses that he made out of sugar on a black background, making a commentary on the product whose arduous cultivation had dramatically aged the children's parents. The artist went on to use employ a wide range of unorthodox everyday materials—everything from thread to caviar and diamonds—to create portraits of celebrities, world leaders, and himself, photographing his efforts to preserve their full effect. Famous examples include a rendition of the iconic photograph of Jackson Pollock making a drip painting made entirely out of Bosco syrup, and a self-portrait made out of magazine clippings.
REACHING INTO ART HISTORY, VIA THE TRASH BIN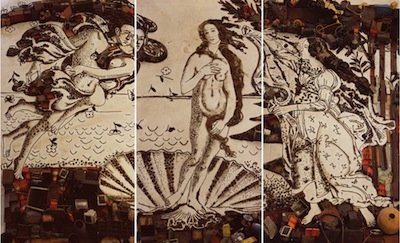 Muniz will often use the above techniques to recast—and re-imagine—famous paintings from art history, subjecting the most sacred images in the canon to his method. Even Leonardo isn't off limits. In 1999, Muniz photographed a diptych of the Mona Lisa, one rendered in peanut butter and the other in jelly. In 2005, he created a version of Goya's Saturn Devouring His Children out of tires, ladders, and dirt spread out on a grand scale. Three years later, he similarly fashioned The Birth of Venus out of garbage strewn across a floor, altering our understanding of what has almost become a stock image of beauty. Sometimes his approach is much more delicate: in 20,000 Yards, The Castle at Bentheim, After Jacob Ruisdael, Muniz painstakingly reconstructed that Dutch Golden Age landscape out of fine black string.
IT'S ALL AN ILLUSION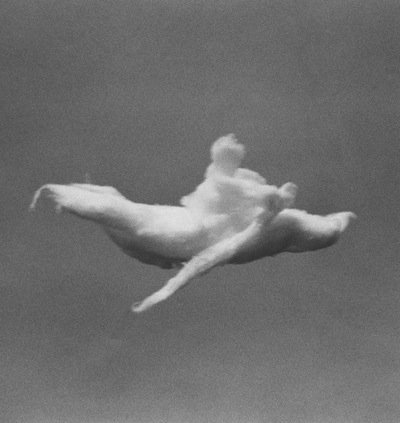 The artist has often described himself as a "low-tech illusionist," calling his works "photographic delusions." While his signature series discussed above all employ illusion to some extent, other works show Muniz more directly playing with his viewers' perception. In his "Cloud Series," for instance, the artist manipulated cotton balls on a surface to look like clouds in various shapes and sizes, with the resulting photographs almost indistinguishable from pictures of the sky. In an early gelatin print, Indian Elephant, one can already see Muniz toying with these techniques, capturing a shadowgram of hands made to look like a pachyderm. In a Muniz photograph, there's almost always a duality at play: on second look, things are not what they appear.
SHEDDING LIGHT ON SOCIAL CAUSES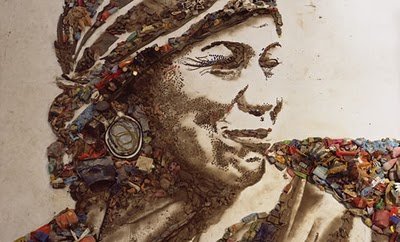 Muniz became a household name for those outside the art world with Academy Award–nominated 2010 documentary Waste Land, which chronicled the artist as he spent two years working with impoverished catadores—voluntary recyclers—at Brazil's largest garbage dump to create his "Pictures of Garbage" series. Some of the resulting photographs used his signature technique to capture portraits of these workers, using garbage to delineate their features. With the film, Muniz succeeded in bringing to light the struggles and triumphs of an overlooked group of his native Brazilians, and exposed the world to his extraordinary art in the process.