Here's our inside take on Scott Reeder 's puckish catalog of imaginary music genres.
1. Based in Detroit and Chicago, Scott Reeder has made his name as an artist, a gallerist, and an all-around impresario. A sense of humor is the common thread in his practice, which encompasses everything from text-based art (like this print) to paintings made with pasta noodles to events such as the "Dark Fair" (an art fair experienced by flashlight).
2. In New Kinds of Music , he uses the classic Conceptual art schema of the list as a kind of foil for absurdity. Genres such as "Drunk Classical," "Cat Jazz" and "Experimental Car Alarms" are probably not on your Spotify, and recall the genius comedic stylings of Steven Wright mixed with the word art of Ed Ruscha.
3. In 2013, Scott Reeder debuted 30 of his sly text paintings at Lisa Cooley—with subjects like "Dark Math" and "Sexy Wind"—with these list paintings in the back, and the critically adored show sold so fast it could have occasioned another text painting: "Art Gone."
4. His art is a family affair: Scott's brother, Tyson Reeder , is the artist behind Artspace's latest edition, a limited-edition basketball produced for the upcoming NADA NYC at Basketball City. Since 2002 Scott and Tyson have teamed up with Scott's wife Elysia Borowy-Reeder to run the Milwaukee gallery General Store. The Reeders are also behind the memorable "Drunk vs. Stoned" group exhibitions (and soccer matches) at Gavin Brown's Enterprise and elsewhere and the roving comedy and performance space Club Nutz, which has popped up in such unexpected places as Performa 11 .
5. He also makes films: his feature-length Moon Dust, described by W magazine as "a sci-fi comedy about a lunar resort," debuted in 2014 and starred the artist in a blonde wig.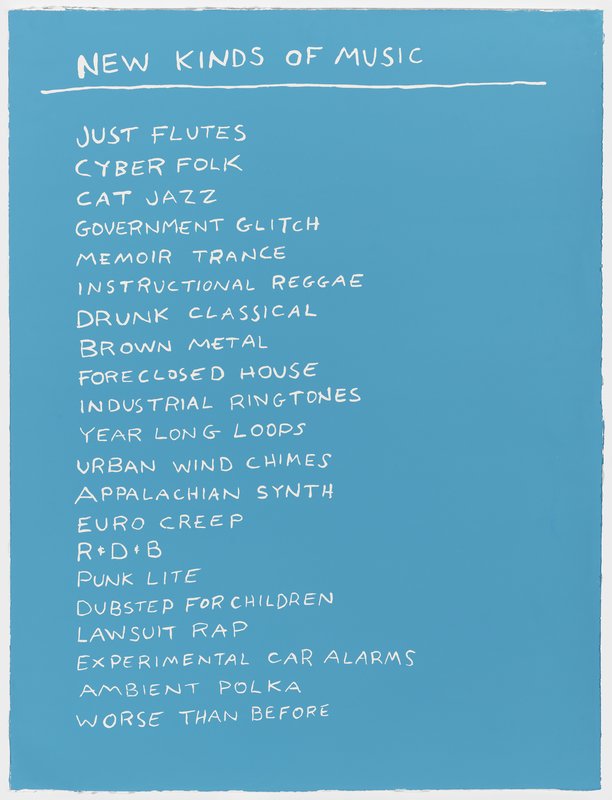 New Kinds of Music , 2015
Single color silkscreen print on paper, edition of 20