As the chef behind Modena's Osteria Francescana, the three-starred Michelin restaurant that is widely held to be the finest in all of Italy, Massimo Bottura is renowned for continually inventive dishes whose twinned audacity and delectability have put him at the pinnacle of contemporary cuisine. His dishes—often fantastical twists on Italian classics—are extraordinarily complex, fusing the regional cooking of Emilia-Romagna with the classical French technique he picked up under Alain Ducasse and the molecular gastronomy he took from his mentor, Ferran Adrià. And while these influences read clearly in the flavors of his food, another pervasive inspiration can be detected in its conception and presentation: contemporary art, to which Bottura is passionately, almost giddily, devoted.
In fact, art is folded into every element of the experience at Osteria Francescana. Walking into the restaurant, diners find their seats amid works by Maurizio Cattelan, Matthew Barney, Francesco Vezzoli, Ólafur Elíasson, and other artists. The menu is hand-painted by Giuliano Della Casa, and contains items like "Oops, I Dropped the Lemon Tart," an expertly smashed dessert that lies face-down on a plate in homage to Ai Weiwei's dropped Han-dynasty urn. (A jar filled with powdered porcelain gathered in the aftermath of that performance is a part of Bottura's extensive art collection.)
At a time when the world's leading chefs are creating innovative dishes that are harder and harder to distinguish from art—and when curators are ever more willing to admit it into their exhibitions—Bottura stands at the vanguard of what may be a transitional moment, and he showcases the aesthetic power of his food in his new Phaidon book Never Trust a Skinny Italian Chef. Filled with lavish photographs by the artist Carlo Benvenuto, the volume has been called "incredible" and "rich with inspiration" by no less than Cindy Sherman. 
Bottura, meanwhile, aspires to bring his creative vision outside of his restaurant and into the culture at large—something he did to great acclaim in 2012 when, after an earthquake in Emilia-Romagna damaged $200 million worth of Parmagiano Reggiano, he hosted an enormous dinner to raise money to help the local cheese industry get back on its feet. Artspace editor-in-chief Andrew M. Goldstein spoke to Bottura about his influences, the differences between art and cooking, and how he plans to change the world through social sculpture.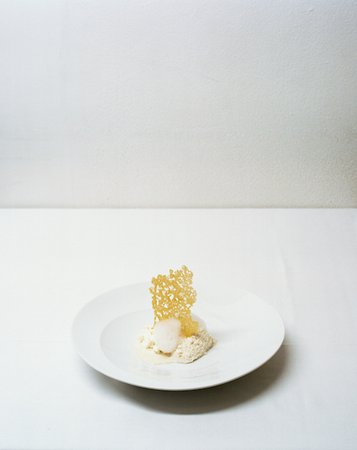 "Four Ages of Parmigiano Reggiano"
Why is it, these days, that art and cuisine are continually popping up in the same conversation?
Paola Antonelli, the design curator of the MoMA, said that right now a lot of artists are getting inspiration from chefs or designers—they're fishing in different ponds, and that's because sometimes chefs love to think, they have culture, and they put together ideas that become social gestures, exactly like Ai Weiwei or Joseph Beuys. It's like what we did with "Riso Cacio e Pepe," helping to sell the 360,000 big wheels of Parmigiano that were damaged by the earthquake—it was a social gesture that could have been made by Joseph Beuys. Or it's like the way we approach the evolution of something, like taking a little bit of powder from a 2,000 year old vase dropped by Ai Weiwei and spreading into a contemporary mind—that's my cuisine. 
You see your cuisine as existing in the realm of contemporary art and social sculpture?
It's all about that. If you look at the recipe "The Potato That Wants to Be a Truffle," that's Cindy Sherman. A potato is a potato, but sometimes the potato wants to be a truffle—it doesn't realize that being a potato is a great thing. The potato saved communities, it saved nations after World War II. Van Gogh painted The Potato Eater. So, it's like, why does it want to be a truffle?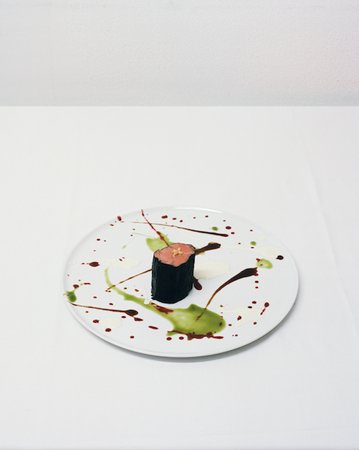 "Spin-Painted Veal"
How did you first come to contemporary art? Your wife, Lara, studied art history and interned at the Kitchen and Aperture I believe?
The moment that everything changed was when I met Lara. Before that I was really into opera and 19th-century art, but when I met her she was acting at the Wooster Theater and she took me to an avant-garde theater performance and I didn't understand anything. So I started to go deeper and deeper to try to understand what was going on. I didn't like the art that my parents filled their house with, but I discovered that contemporary art is much more interesting.
That was 1993, so it was just after Transavanguardia and the era of graffiti like Basquiat and Haring and Barry McGee, so step by step I discovered a whole world that influenced me so much and changed my perspective and vision. Art became a passion, like music, like food, or like the pipes of a Ferrari or Maserati I hear on the street and say, "Oh, maybe that's a 12-cylinder, or an eight-cylinder, or a twin turbo." You grow up like that in Modena—Modena is the place of fast cars and slow food. So it's about your life, it's about being real, not fake—not putting art on the wall at Osteria Francescana to show off something.  
When did you begin to take the ideas you were getting from art and bring them into the kitchen?
I realized that when I was serving a velvet of potato and onion finished with some XO balsamic vinegar—so potatoes, onions, balsamic vinegar, with a brioche of mortadella. It was like a cappuccino and a brioche. And that's exactly like Warhol—a cappuccino and a brioche is an Italian Pop icon, every Italian has it in the morning at the bar. It's an icon of Italian things with a focus on Emilia, because in Emilia instead of being sweet it's savory. I think that was one of the first times I looked at what I was making as art.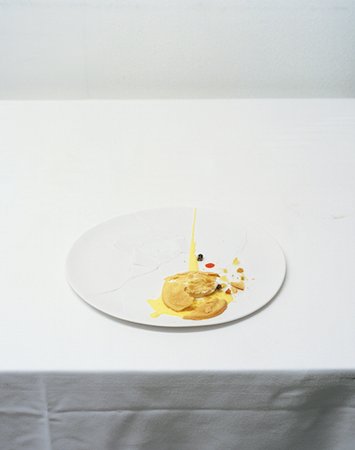 "Oops, I Dropped the Lemon Tart"
When did you start bringing art into your food intentionally? When did you say, "I'm going to take this Ai Weiwei sculpture as an inspiration"?
I'm putting in the ideas—it's not like I'm putting in the figure. I love to think about why an artist is doing what they do. Why is Cindy Sherman evolving and moving into different eras, different personalities. Why would Joseph Beuys start thinking, "We should never stop planting"? These concepts influenced me so much. Why would the painters of Transavanguardia start painting in the style of 1,000 years before? Because they needed it—because they were expressing themselves in a new way. In the '70s people needed to see images on the canvas again, and so Enzo Cucchi was painting Saint Francis of Assisi, the little villages of Italy, and all of these elements from the past, from the bible and from history. And so Mimmo Paladino was painting as a Sicilian Greek, and Sandro Chia was painting as an Etruscan. It was a ritorno all'ordine, or going back to the old order, bringing back color and painting and figure, but in a contemporary way.
So for a while I was doing things like "Tortellini Walking on Broth" and the "Three Textures and Temperatures of Parmigiano Reggiano" and "Not a Grilled Turbot"—people were like, "What the hell is going on here?" And then at one point I decided to ritorno all'ordine. It was around 2001, and a very important gallerist, Emilio Mazzoli, said to me, "Okay, Massimo, you need to bring the tagliatelle al ragu back." Because I was doing crazy things with the dish, injecting the sauce into embryonic eggs and serving it with crunchy pasta on the bottom. So I said, "Ok, back to the old order," and I started making the best tagliatelle al ragu that I've ever made, the best you can eat in Emilia-Romagna. And I was cooking like they were painting. 
How would you say art and cuisine are different? What are the elements that one has and the other doesn't?
Art has freedom. A real artist has the freedom to express himself as he wants. We chefs are limited—to create something good, it has to taste good and be edible. That's not the case in art. But in some ways, the creative process can be exactly the same.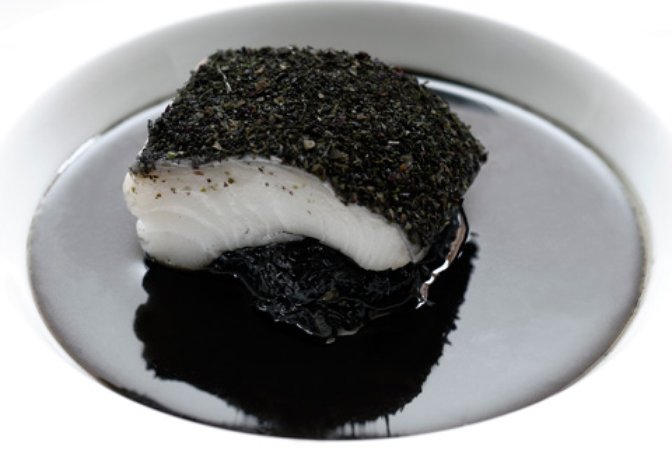 "Homage to Thelonious Monk"
Your book is titled "Never Trust a Skinny Italian Chef," and the idea of trust is one that is very important to both art and cuisine, because often they involve elements the audience doesn't understand. Your food in particular can be difficult. What role do you think difficultly plays in your work?
To create interesting things, you have to go through the process of knowing everything and then forgetting all of it. The first step is to learn all of the different techniques, and how to make food that is good and healthy. Then you can start to express concepts. I express concepts in plates, and the trust is like, "Trust me, I'm taking you on a very interesting journey—come with me to Italy and I will make you discover, rediscover, re-fall in love with Italy again through the flavor of this artisanal cheesemaker. But you should never trust, so don't trust me." So it's ironic, and irony is really important.
You have to take one step back and say, "Oh, guys, I'm just a cook, and I'm not changing the world." Maybe one day I'll change the world—maybe one day I'll figure out how to recycle the 1.3 billion tons of food that gets thrown away every year. But Irony is a very important step, like in the work of Maurizio Cattelan, with his sculptures of pigeons at the Venice Biennale—they're dirty, they shit everywhere, they're all over Venice, and he made them into art. So he poking a little fun at the Old Masters in Venice, and some of that irreverence is in the title too: never trust this skinny Italian chef. Actually, I'm not so skinny—actually, just trust me.
Before opening your restaurant you worked at elBulli under Ferran Adrià at the same time that René Redzepi was there, and today you three are essentially the chefs who have been most famous for elevating cuisine to the aesthetic realm of art—a feat that was given implicit endorsement when Adria was included as an artist in the last dOCUMENTA, and was also given a solo show of his preparatory sketches at the Drawing Center. Do you believe that cuisine belongs on the same plateau as contemporary art?
Listen, I'm a member of the international council of the Basque Culinary Center, where Ferran is the president, and he wanted me there to explain the relationship between cooking and art. René is more nature-oriented, Gaston Acurio is socially oriented, Alex Atala is anthropology oriented. What I'm saying is that what we are doing at Osteria Francescana is looking at the world from another point of view, from under the table. Culture became our motivational force, and culture and art is becoming our landscape of ideas. We take deep, interesting ideas that are compressed with our memories and our way or thinking and we put everything into the kitchen with new passion.
Let's say I was decompressing by listening to a piece by Thelonius Monk at 2 a.m. in the morning, and thinking about Monk, forgetting everything else, and reflecting on who he was, how he was struggling, how he was discovered. So I created "Omaggio a Thelonious Monk," and it became the plate of the year in 2012. It's something you have inside, and you compress all the passion you have for everything into your work. It's not like from 2 to 5 p.m. it's creativity time, and then from 5 to 6 p.m. it's service. You live your passions, and you have passion about everything.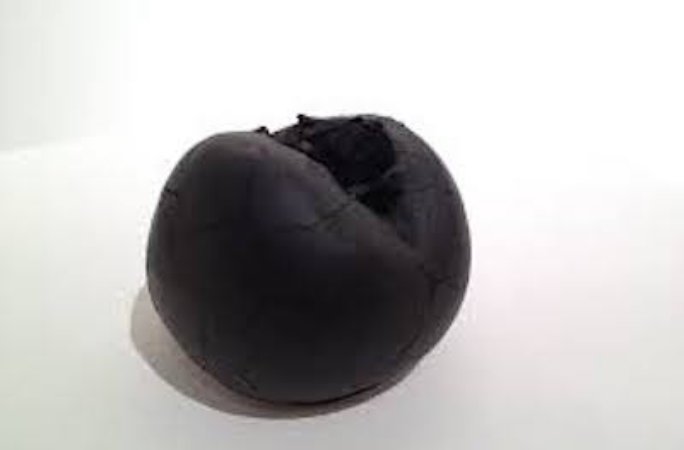 "Meteorite," a homage to Lucio Fontana
Do you think your cuisine belongs in a museum?
We did an exhibition at the Palais des Beaux-Arts in Paris. I brought a sculpture of black powder and ashes mixed with eggs and salt in which I was cooking a veal tongue with a deep cut on the top like a Fontana. It was like all the tons of the world, all the languages of the world. I created that plate for a dinner that was organized for all of the curators of the biennials of the world—I created the whole meal—and they gave me a screen in the back where I could explain to all the curators what my food was. And they were like, "Wow, what the hell is going on here?" So I think there are a lot of ideas that can be matched. 
What do you collect yourself?
Everything I like [laughs]. Actually in the last six months I just got two pieces, and one of them an enormous target by Ugo Rondinone that's about four meters wide, so I had to break through the ceiling because it didn't fit into the house. It's amazing—I've never seen one like that, and they published it in the Wall Street Journal. The other one is a 1989 Thomas Struth photograph of the sky with all the stars, and it was one of the first photographs where an artist was using Photoshop to add extra stars to the sky. So he was like man going inside nature to make it more beautiful, and it's something I really love. But there is one thing that's missing from my collection, and that's a sled by Joseph Beuys. It's amazing.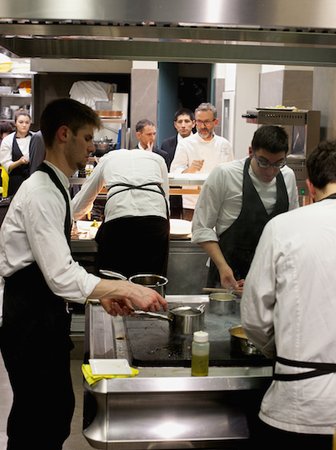 Bottura in the kitchen
What is it that attracts you the art that you collect? 
I don't know, I don't know. I always have this "whoa" emotion when I look at the art that I like. Some people are crazy about landscapes and nature, but if I think about nature, yes, it's beautiful—like the sunset is beautiful and everything—but what fascinates me is compositional art, like Mozart or Dylan or Joseph Beuys or going to Machu Picchu. What's really emotional for me is not the nature around me but the ideas of man, the dreams of man. 
What do you think about the state of contemporary art in Italy today?
It's very difficult. Because we don't have any power on the international stage, there are artists that are fantastic. There's Carlo Benvenuto, the photographer who shot the plates in my book, and it's just totally beautiful and poetic. I have an obsession with his way of photographing, but he cannot be exposed to the world because he's Italian and because he has problems speaking English. There are so many different obstacles. To buy art in Italy you have to pay 28 percent extra as a a luxury tax, compared to Switzerland on the other side of the border where you only pay 4 percent, so it costs 24 percent more to buy in Italy. Also, if you buy art in Italy, you come under tax scrutiny from the government, because they ask, "How are you able to spend this," and start investigating you.
So there are all of these things that aren't helping art, but art has always been the highest point of Italian society—you can look back in history, and then today we have great artists like Maurizio Cattelan, Francesco Vezzoli, the Transavanguardia guys, who are all still there but they're not trendy, so their prices are dropping down. But now what has happened? They've been rediscovering the old '60s movements, so now Fontana is unaffordable, Manzoni is like "wow," and so is Burri and Boetti. I'm from Modena, where Emilio Mazzoli was a dealer of Boetti, and he gave away hundreds of Boettis that no one wanted. No one.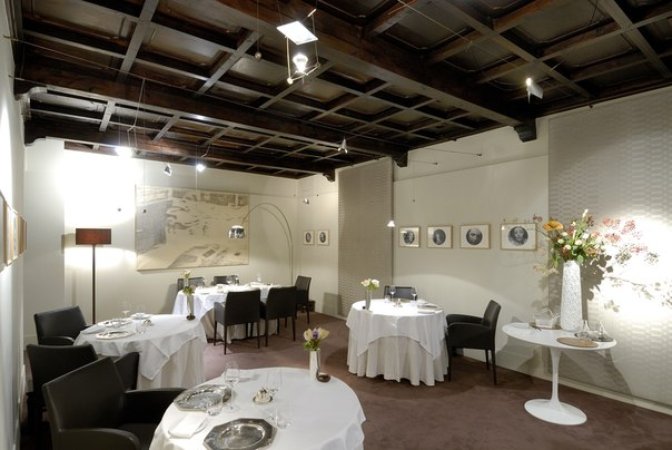 Inside Osteria Francescana
What is the next project you have coming up that involves art?
I don't know—I take these things one step at a time. Right now I have an incredible project in the works for the Universal Exposition in Milan next May, where I'm getting a theater that is being transformed by beautiful architects into a place where I can bring all of the best chefs in the world to cook with leftovers see the people through scraps that are leftover, I'm bringing all the best chefs in the world to cook with the leftovers from the other pavilions, and Cucchi is doing a 12-metre fresco, and Paladino and Carlo Benvenuto are contributing, all for free. We're going to serve students at lunch and the poor at dinner—no one else. If the journalists want to come, they have to wait tables or do the prep in the kitchen. It's a social gesture. It's going to be very big.
What artists have come through your restaurant, and what has their reaction been like?
I don't know. When Carlo Benvenuto comes in he's a super-critical because he loves to confront me and stimulate my intellect. But otherwise I don't know, and I don't care. I'm doing my stuff, so if they want to listen they can listen, and if they don't, I don't care. My plates are not a press conference.