Sue Stoffel's Upper West Side apartment is an unusually accommodating aerie, as befits a collector who wears many other hats. Artworks awaiting installation or appraisal are propped against the dining room wall, shelves of art-business tomes line the hallway, and cookbooks are piled high in the kitchen (having passed the test of many a post-opening dinner).
Stoffel, who holds an M.A. in arts management from Columbia University, has lectured at the Sotheby's Institute of Art, curated a corporate collection (the New York headquarters of law firm DLA Piper), and served on the boards of museums and nonprofits including the Brooklyn Museum and Creative Time; currently, she advises private clients, with a focus on emerging artists.
Much of this advisory work takes place in her home—she uses the living room as an office, spending most mornings at her desk overlooking the Hudson River. The dining room, a vestigial appendage in most New York City apartments, is heavily trafficked during Stoffel's frequent salons and dinner parties. The hallway is a library of sorts, as well as a photography gallery (it's the only part of the apartment that isn't flooded with sunlight).
In every room, the decor is neutral, comfortable, and decidedly un-fussy; picture a cross between the professorial dens of the old Upper West Side and a classic SoHo loft. "All the furniture is very subdued. It doesn't yell and scream or compete with the works on the wall. That's important," Stoffel says. "I work from home and I entertain here—my clients come here. It's my showcase."
Within the collection itself, however, life and work don't mix. As she told Artspace on a recent visit, "It's very separate, and it's very personal. What I buy for myself almost never goes into another collection. It's what I love—I have to look at it every day."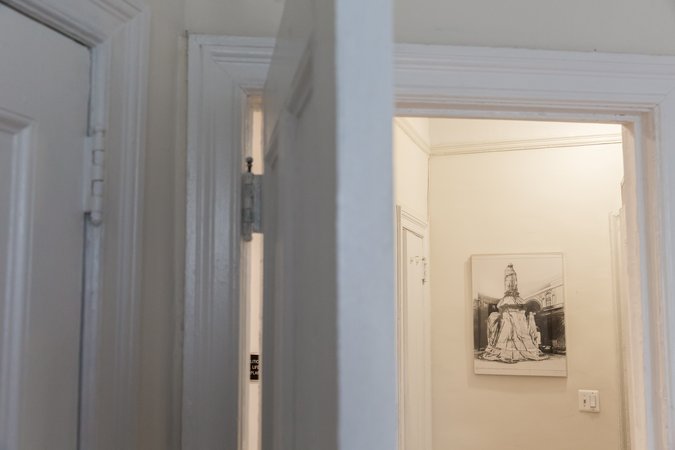 A mixed-media work by Christo, in the front hallway.
"That's the first piece I bought. It's a Christo, from 1983. It's the wrapped Leonardo in Milan, and it's very much a psychological anchor to the whole collection. My mother has a running fence by Christo from '75—she's been a big supporter of his for 50 years now and has been to many of his installations around the world. That kind of went into my own DNA."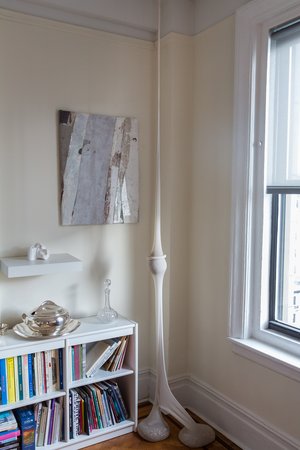 A 1999 Ernesto Neto sculpture made with gravel and support hose, in the dining room.
"I like to tell my collectors, 'Art always finds a home.' When I first saw the apartment, I knew this was where the Ernesto Neto was going to go. It's a perfect niche—it's safe over there, it stays out of the way."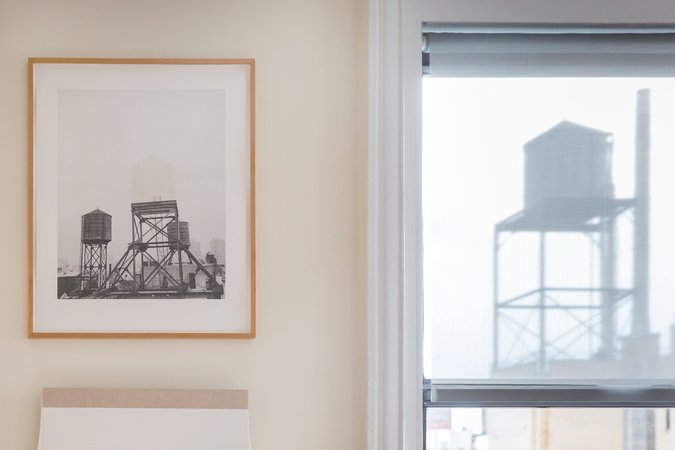 A hand-altered photograph by Rachel Whiteread from 1998, in the living room.
"Another one that was intuitive was the Rachel Whiteread water tower, with the view. The rest just found its way. I don't think about it too intellectually; I just let the works talk to each other, and usually there's a story to tell."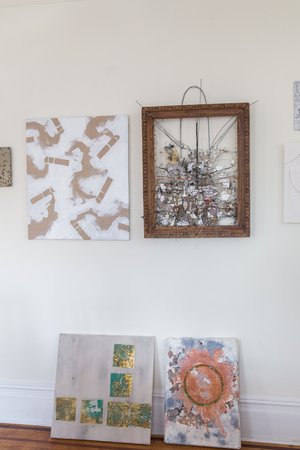 On the dining room wall (left to right), recent works by MacGregor Harp and Robert Bittenbender. On the floor, newly acquired paintings by Rob Davis and Jesse Greenberg.
"Probably the last 10 acquisitions this year have all been paintings or two-dimensional works. This is a new piece by Rob Davis, who works with copper and oxidation, and that of course picks up where Warhol left off with his paintings. So there is an art-historical thread. The Robert Bittenbender is also brand new. It's not exactly a painting, but it isn't a sculpture either. It's a painstaking, obsessive, fingertip-using work of found objects in a found frame. Seeing what artists are thinking—to me, that's critical. I call it 'messy art.' I hate that term 'process-based'—it's a catchall for something that hasn't been formulated yet in an art-historical way. Everyone who messes with a canvas is 'process-based.'"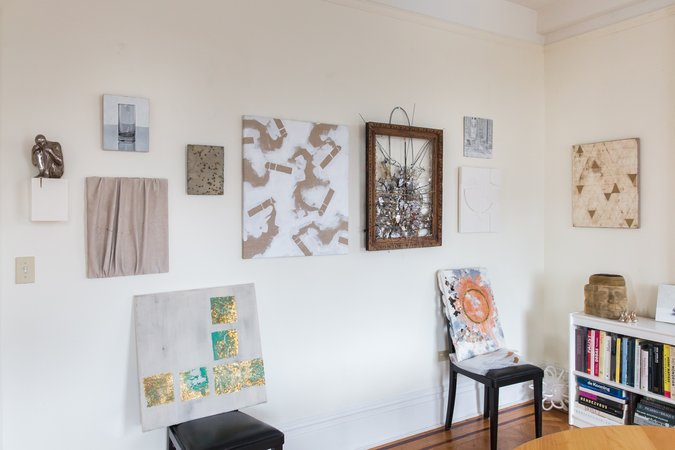 Another view of the same dining room wall, with works by Peter Dreher, Ricky Swallow, Maximilian Schubert, and Emil Alzamora (clockwise from the top, to the left of the MacGregor Harp) and works by Linnea Gad, Nathan Peter, Long Bin Chen, and Ruby Sky Stiler (clockwise from the top, to the right of the Robert Bittenbender).
"The age of the artist is less relevant than the time in which the artwork was made. I don't collect young artists, but I collect contemporary art. Here you have 85 year-old Peter Dreher, who's a peer of Gerhard Richter's, and who's been painting the same water glass for 60 years. I have number 2424. It looks as contemporary as if it was made yesterday."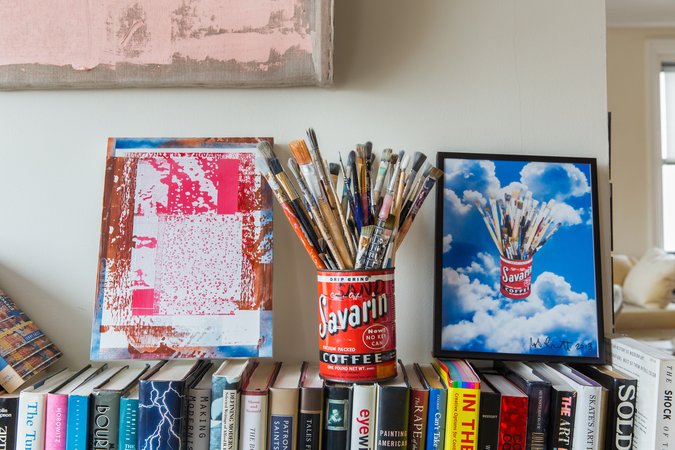 In another area of the dining room, a painting by Patrick Berran and mixed-media work by Rob Pruitt (left to right).
"I love to feel the energy of the artist in the work, but I also need to see the heart and mind and hand in there somewhere. I call it the 'mind-heart-hand continuum,' where the product has to reflect a broader philosophy by the artist. I don't necessarily have to know the artist, but I have to feel his compassion, his obsession, his need to produce."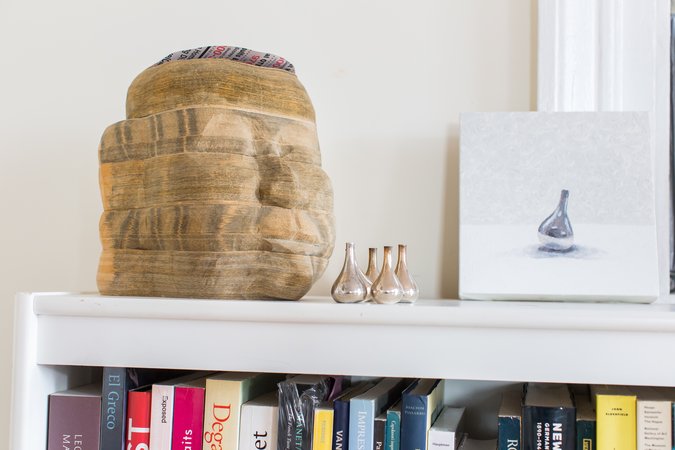 On a dining room bookcase, a 1993-4 sculpture by Long Bin Chen (made from hand-carved New York City phone books) and a 2015 painting by Cynthia Daignault.
"This Cynthia Daignault has an interesting backstory—the artist put out a call to collectors for barter, and you had to send her something and she would paint it and keep it and give you the painting in return. She didn't accept everything, maybe only 20 items. These are 1950s Swedish Dansk candlesticks—she picked one and that was the painting that came out of it. It's a great painting in its own right, but I'm the only one who knows what it is."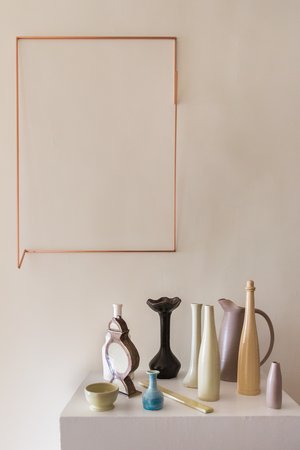 In the hallway, a 2000 installation of ceramic vesssels by Jane Simpson and a 2015 wall relief by Maximilian Schubert.
"This is Jane Simpson, who's picking up where Giorgio Morandi left off. She's hand-thrown his pots and re-created her version of Morandi in 3-D. Maximilian Schubert is also playing with materials—he comes out of Minimalism and Donald Judd. When you face it front-on it's square, but when you look at it from an angle it creates all kinds of interesting shadows. So you see a lot of two-dimensional work that's actually three-dimensional; it comes off the wall."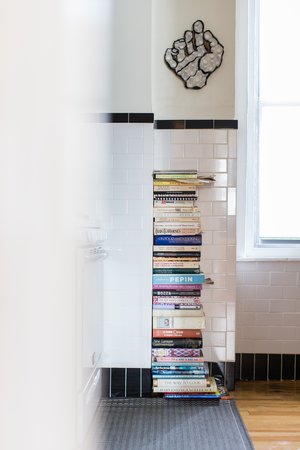 Stoffel's collection of cookbooks, in the kitchen, below a 1984 wall relief by Luis Frangella made from egg crates.
"I entertain a lot. It's one of the reasons I have this apartment—it's great for artists' dinners and post-opening dinners. I can cook for 40 without thinking about it. I just open the door and people come in and stay, or not. I had a salon here in May, for Frieze week, with Jennifer Rubell, to talk about art and food and how nurturing they both are. I made lots of chicken curry and poached salmon."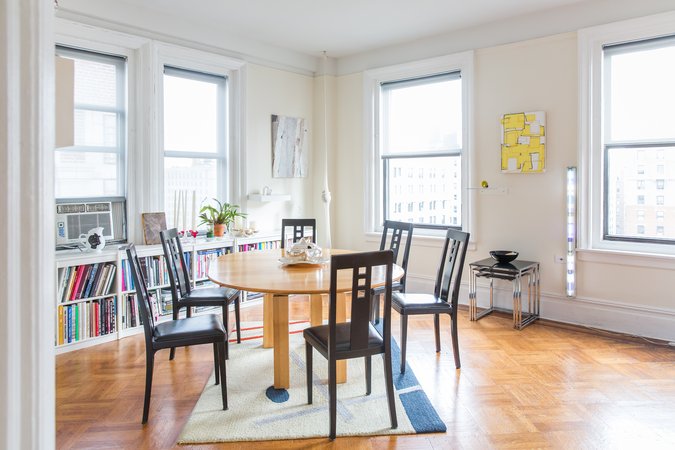 The dining room, with works by Ryan Wallace, Ernesto Neto, Jack Greer, and Spencer Finch (left to right).
"A lot of the artists come and see their own work up, and that's incredibly gratifying for them and for me. I don't sell, so they know that when it comes here it stays here. The art world is changing so much, and that's a huge issue—they don't want to become part of the flipping generation. I try to dissuade my clients from listening with their ears—it's that old adage, but it's really true."