Last October, the architect and writer Andreas Angelidakis began sifting through binders filled with hundreds of pages of artworks owned by the Greek industrialist Dakis Joannou. He had been given the hefty task of curating an exhibition from Joannou's massive inventory, one of the best-known art collections in the world. 
Ultimately, Angelidakis chose to embrace the latitude of possiblities in a sprawling exhibition "The System of Objects," on view now at the DESTE Foundation in Athens. Joannou has been assembling a blue-chip collection of contemporary art since the mid-1980s, but the vast majority of the works on view in this show—and there are around 500—draw from the collector's lesser-known whimsies: Baroque figurines, Cypriot antiquities, couture, drawings, and modernist furniture. There's Alexander McQueen footwear and a Francis Picabia painting, but only about a dozen works come from the core "Dakis Joannou Collection" of contemporary art, as he calls it. 
This exhibition, open through November 30, is one of two recent glimpses Joannou has given viewers into his collecting habits in recent days. Following a special private viewing of "System of Objects," last week, Joannou invited guests to a dinner at his home, where he had on display some of his latest contemporary favorites from artists Andro Wekua, Seth Price, Tauba Auerbach, Haim Steinbach, William Kentridge, and Pawel Althamer, among others.
Artspace toured the spaces and spoke with Joannou about his collecting philosophy, the artists he's excited about now, and his last big purchase.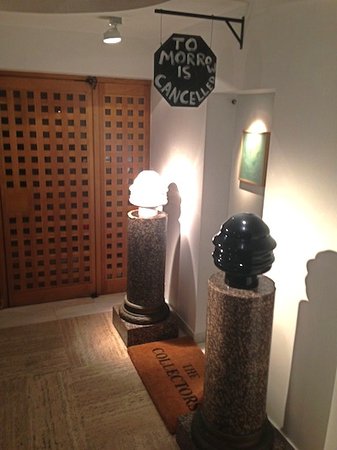 Visitors to Dakis and Lietta Joannou's Athens home are greeted by a David Shrigley "Tomorrow is Cancelled" sign, sculptures by Tim Noble and Sue Webster, and a welcome mat bearing the words "The Collectors," which the couple recieved as a Christmas gift.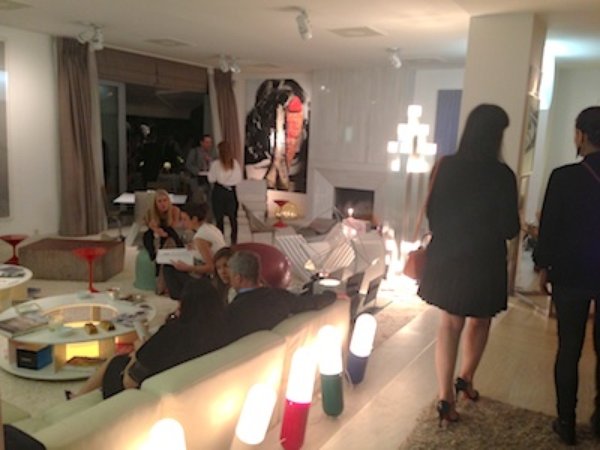 Asked what Joannou looks for when scouting out new art, he said, "after collecting for thirty years, it's kind of second nature what I want. But, basically, it's things that have to do with our life and our culture. I'm not looking into works that are very academic or that are only conceptual or in dialogue with art history. The collection is very much connected with contemporary culture."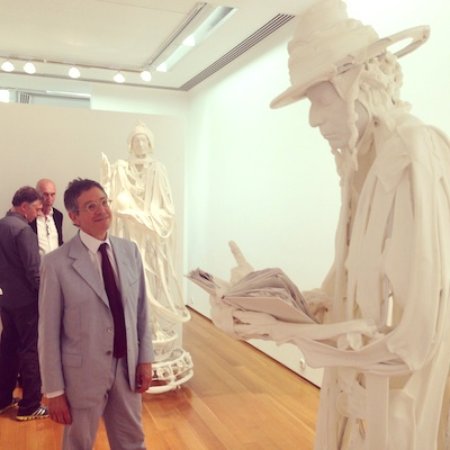 "Isn't it great?" asked L.A. Museum of Contemporary Art director Jeffrey Deitch during the party at Joannou's house, referring to this Pawel Althamer sculpture of a skeletally deconstructed rabbi with a face cast from Deitch's own. In the series, Deitch, who explained that his grandfather was a rabbi, is joined by Jeff Koons dressed up in vaguely religious garb, Maurizio Cattelan as a bird, Massimiliano Gioni bearing a cross on his back, Dakis Joannou as a Native American chieftain, and Urs Fischer as some kind of cyborg.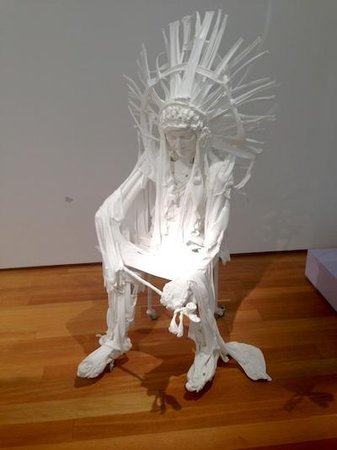 Polish sculptor Pawel Althamer's cast of Joannou's face mounted on a plastic-coated steel armature.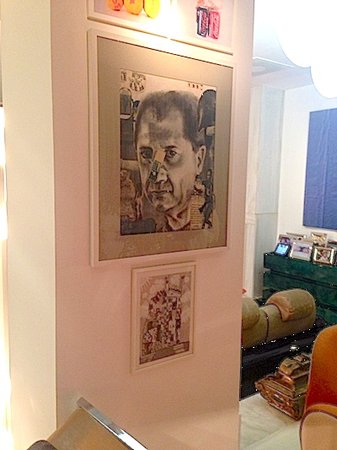 A portrait of Joannou by Roberto Cuoghi, whose hulking 3D-printed sculpture of an ambiguous biological form at the current Venice Biennale won a special mention and became Joannou's most recent purchase. "I got the piece well before he got the prize, by the way," noted Joannou.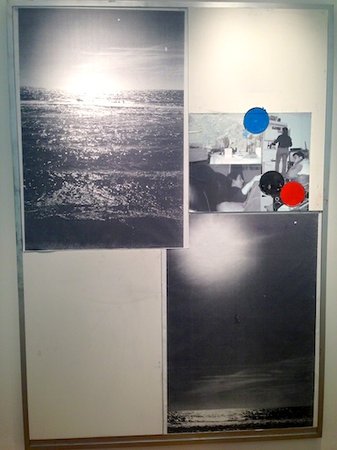 New York dealer Barbara Gladstone introduced Joannou to Georgian artist Andro Wekua a few years ago, and he has since become a major supporter. "His family was in exile in Georgia and that's his memory from the Black Sea, with the seagulls," Joannou said of this canvas. "It's a very dark and mysterious time of day, it was after his father [political activist Vova Wekua] was executed. It's very personal, which connects it with the pieces in the next room."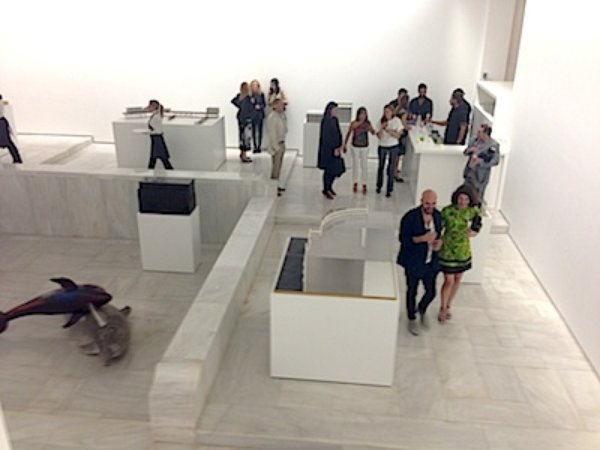 The adjacent gallery displays a pair of dolphins and models of buildings as Wekua remembered them from his hometown, Sukhumi. "It's all about his personal memories of his country that he never really will experience again, a part of his youth that has somehow disappeared. It's very emotional and personal work, and I like this," Joannou said.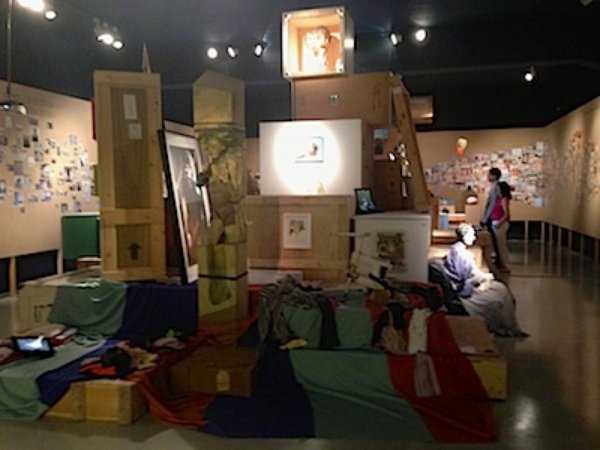 An assortment of crates from Joannou's storage facilities were assembled into a new kind of sculpture in "The System of Objects" at the DESTE Foundation.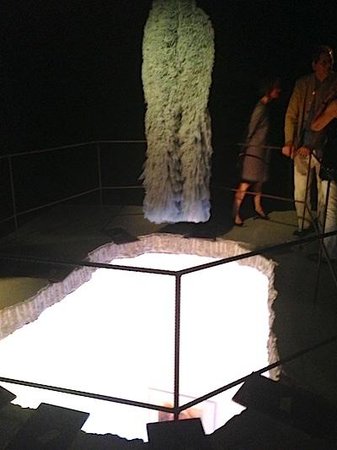 The official "Dakis Joannou Collection" contains around 500 contemporary artworks that all adhere to a "certain atmosphere or personality." But that doesn't mean Joannou won't buy something just because it doesn't fit in. He hangs photographs by Robert Mapplethorpe in his game room, for instance, and has been purchasing articles of couture, such as this Viktor & Rolf get-up, for the past eight years. Last July, Joannou displayed part of his fashion collection at Barneys, which included the front row of chairs from a Helmut Lang runway show.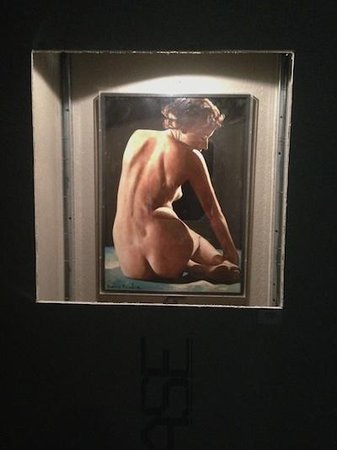 A particularly stunning example from Joannou's collection of "miscellany" includes Francis Picabia's 1942 painting on cardboard Nu De Dos, currently on view at the DESTE Foundation.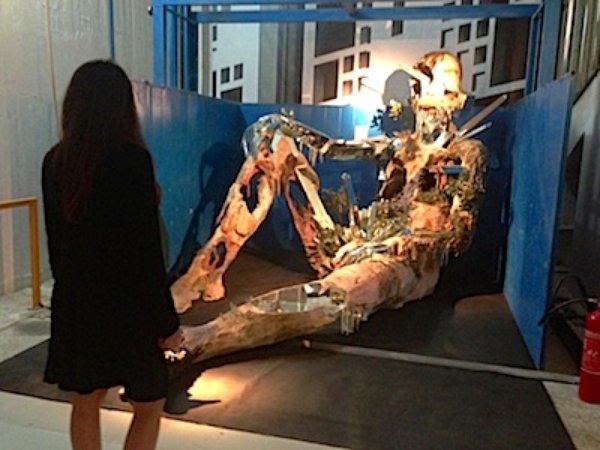 Joannou isn't a big art-fair shopper. "I know most of the stuff already that's there and I rarely find any pieces that I don't know about before," he said.Instead, he finds new work by visiting galleries, museums, and biennials, where he has been known to buy works such as David Altmejd's Giant 2, pictured here, which was part of the 2007 Venice Biennale. At the 2003 edition of the event, Joannou was introduced to the work of Swiss artist Urs Fischer, who had a sculpture of a skeleton gazing into a mirror on view. Joannou purchased the work "and then it went quickly from there." He went on to buy the artist's lifesize wax candles, a deconstructed chair, and, most recently, commissioned him to install a new project on the island of Hydra.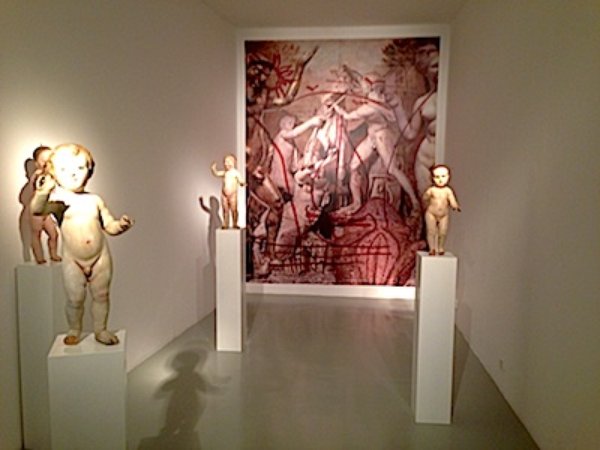 "I feel like the collection is an excuse to meet artists," said Joannou. Visiting studios and getting to know the personalities behind the artwork he collects "is an essential part of the process for me." Today, Joannou is frequently spotted palling around with artists like Cattelan and Koons, whose painting is paired here with Italian Baroque figurines. Joannou was an early supporter of Koons, buying one of his signature "equilibrium tanks" for just $2,700 in the mid-1980s. Joannou has since amassed dozens of works by the artist, and is currently considering buying a new work from one of his two current shows in New York. This summer, Joannou's and Koons's families plan to vacation together on the Greek island of Corfu.