As Silicon Valley-style disruption comes to the art trade, with new platforms for sales, data, and artist development and calls for greater transparency, many in the field are looking for parallels in another creative industry that has had to innovate to weather the digital transition: music.
Megan Green, a 30-year-old collector who works in business development at Google Play Music, has some perspective on both worlds. The daughter of Chicago collectors Stanley Green and the late Adrienne Green, she grew up surrounded by contemporary art by the likes of Warhol and Ruscha, studied art history, and interned for curator Francesco Bonami at the Museum of Contemporary Art in Chicago before switching over to work in music—first at SONYMusic and later the curated playlist service Songza, which was acquired by Google Play Music in 2014. "I've seen all aspects of the music industry, from early radio days to live to digital, the whole evolution," she says.
In building her collection, Green has gravitated to music-themed works: a record-cover collage by Christian Marclay, an Alex Da Corte painting based on the cover of Nirvana's album "Bleach," and other works that feel more loosely connected to the rock-and-roll lifestyle (as in drawings by Raymond Pettibon that reflect his SoCal punk roots, or a work on paper by Aurel Schmidt that's studded with cigarette burns). As one might expect of someone in her industry, she buys works online as well as in person and is intrigued by the many digital platforms now available to collectors.
"I've always been fascinated by the curation process. That is where both of these industries have really gone," Green says. "On the music side it's definitely made it easier to find the right thing at the right time, and on the art side it's given people who want to collect an introduction—it's showed them where to start and how to develop an interest. I think these sites like Artspace have done an amazing job of pulling that together, in the same way as music streaming services, because ultimately it is all about discovery."
At the same time, she's deeply aware that buying a piece of art online is a little more complicated than streaming music; that even the most sophisticated algorithms are not always the best curators; and that the art world is, for the time being, a relationship-based business in which taste and connoisseurship are paramount. "Part of what I did at Songza was about the intersection between human curation and algorithms, and I think that's very similar in the art world," she says. "How do you pick the right things, but at the same time get them to people on a massive scale? I'm still a big fan of the human touch."
Green points to the festival experience as a critical way for both art and music to reach vast new audiences while retaining that all-important personal element. "Art fairs today remind me of these massive music festivals—they're super-commercial, they're everywhere," she says. "It used to be that you had to travel to Basel to see a fair, or for music you had to go to Bonnaroo in Tennessee or the desert for Coachella. Now these festivals are omnipresent, accessible."
Recently, Green gave Karen Rosenberg a tour of the artworks in her Upper West Side apartment. Below are some highlights from her collection, with a focus on works that speak to both art and music.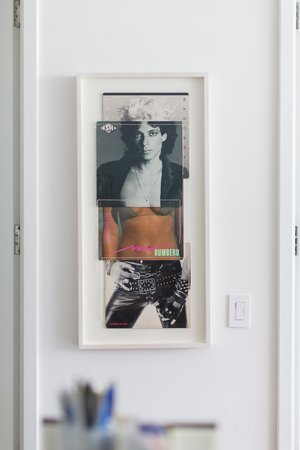 Christian Marclay, ISH (from the series "Body Mix"), 1991. Four record covers and thread, 33 3/4 x 13 1/4 in.
"The Christian Marclay was one of the first works I bought. A lot of this collection is about the evolution of the music industry. I think the resurgence of vinyl is one of the really cool things that's happening right now in the business. It's up something like 50 percent year over year, for the past 10 years. People are really interested in that physical experience again. Music is this weird thing that went from being very physical, very communal, to being something totally ephemeral. So I think this piece is almost historical—it's about a very specific time."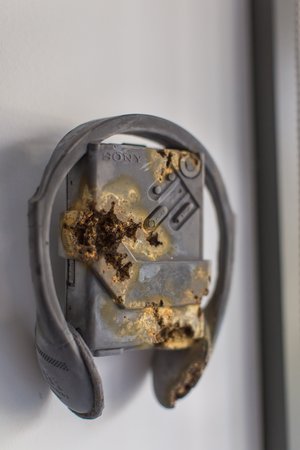 Daniel Arsham, Steel Eroded Walkman, 2014. Steel fragments, volanic glass, hydrostone, unique. 16.5 x 18 x 7.5 cm. 
"The Walkman, for me, is highly personal. I worked at SONY, and this object is incredibly important to me as an older Millennial. It's my whole childhood, it's the reason I went to work at this company. So when I saw it, I just knew I had to have it. It might not have the same resonance to other people. It's like the Claes Oldenburg typewriter is to my parents. I also love how Daniel Arsham is an interdisciplinary artist, much like Marclay. He makes films; he has Snarkitecture, which is an architecture practice. I've taken tons of art history, I've worked at museums, I've curated shows, I've collected, I've written. I have sort of a holistic vision, and I think that parallels what I see going on today—art has become increasingly interdisciplinary. I think these two artists really get that."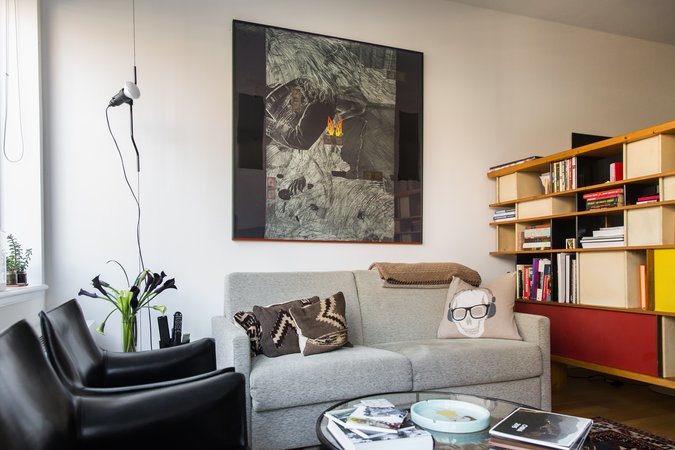 Above sofa: Alex Da Corte, Black Hell, 2015. Digital print on poplin, anodized metal frames, foam, sequin pins, Plexiglas, velvet, dyed U.S. one dollar bills, Sharpie marker, flame decals. 142.24 x 142.24 cm. (56 x 56 in.)
"Alex Da Corte has a show currently up at Mass MoCA, and I think he's gaining a lot of momentum. This is based on Nirvana's "Bleach" album cover, so it's right in my sweet spot. It's also super-dark—Cobain's a very dark figure. And with Alex it's all about the post-Pop found object. He takes dollars, the commodity that killed Cobain, and puts them right there in the work. It's a really beautiful work, but it's this whole discourse of dissent, revolution. Cobain did not want to be part of this but now here he is, a seminal figure in music and in art history to an extent."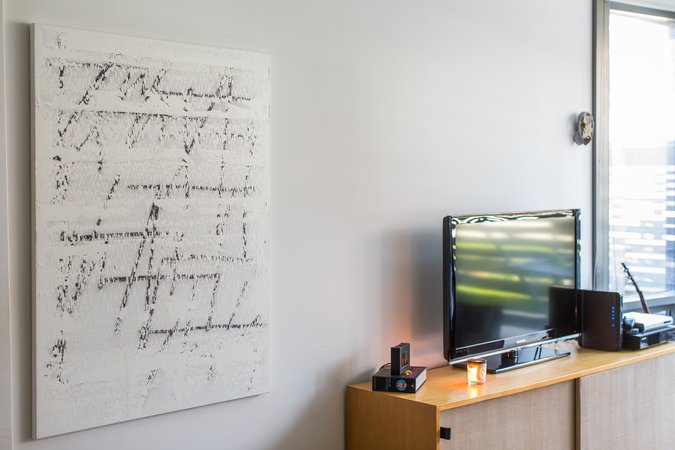 Chris Succo, Untitled, 2015. Oil and lacquer on linen, 120 x 90 cm. (47 1/4 x 35 3/8 in.)
"This work also speaks to [Kurt] Cobain and his moment—it's from a series the artist made while listening to different Nirvana tracks. I love that the black marks look like music notes. It's also that resurgence of abstraction, which I actually really love and wanted to bring into the collection. Chris Succo is German, and he's very much about the history of German abstraction, which you can see in the gestures in the painting."