Artspace's highly-regarded and fast-growing edition program is showcased at a special exhibition at Christie's, Rockefeller Center, New York from today, September 6 – 18.
Recent Artspace editions from artists including Rashid Johnson, Dana Schutz, Cecily Brown, Loie Hollowell, Harland Miller, Bharti Kher, Adam Pendleton, Gaetano Pesce, Marilyn Minter, Felipe Baeza, Lubaina Himid, Florian Krewer, and Woody De Othello, among others, will be included as part of the show, 100 Years of Creativity: A Century of Bookmaking at Phaidon. Set to run alongside Christie's marquee Asian Art Week, the New York exhibition will travel to London next month.
100 Years of Creativity: A Century of Bookmaking at Phaidon brings together over 150 of the most influential Phaidon books published from the 1920s to the present day and forms part of the venerable publishing house's centenary celebration. The company was founded in Vienna in 1923.
The exhibition will commemorate the inspired and, in turn, inspiring books that have changed culture at large; from Phaidon's first artist monograph on Vincent van Gogh, published in 1936, to the Phaidon books featuring the opinion formers, thought leaders and leading brands of today.
In addition, Artspace's highly respected edition program will form a major part of the exhibition, with a carefully curated section of Christie's dedicated to editions Artspace has collaborated on with world renowned artists.
In recent years Artspace has increased the depth and frequency of its edition program and the Christie's show will feature many of the sold-out editions the company has created with contemporary artists such as Yoshitomo Nara, Wangechi Mutu, Nicolas Party, Rashid Johnson, Huma Bhabha, Cecily Brown and Christina Quarles, alongside editions from next generation artists such as Woody De Othello, Jameson Green, Felipe Baeza, Loie Hollowell, and Genesis Tramaine.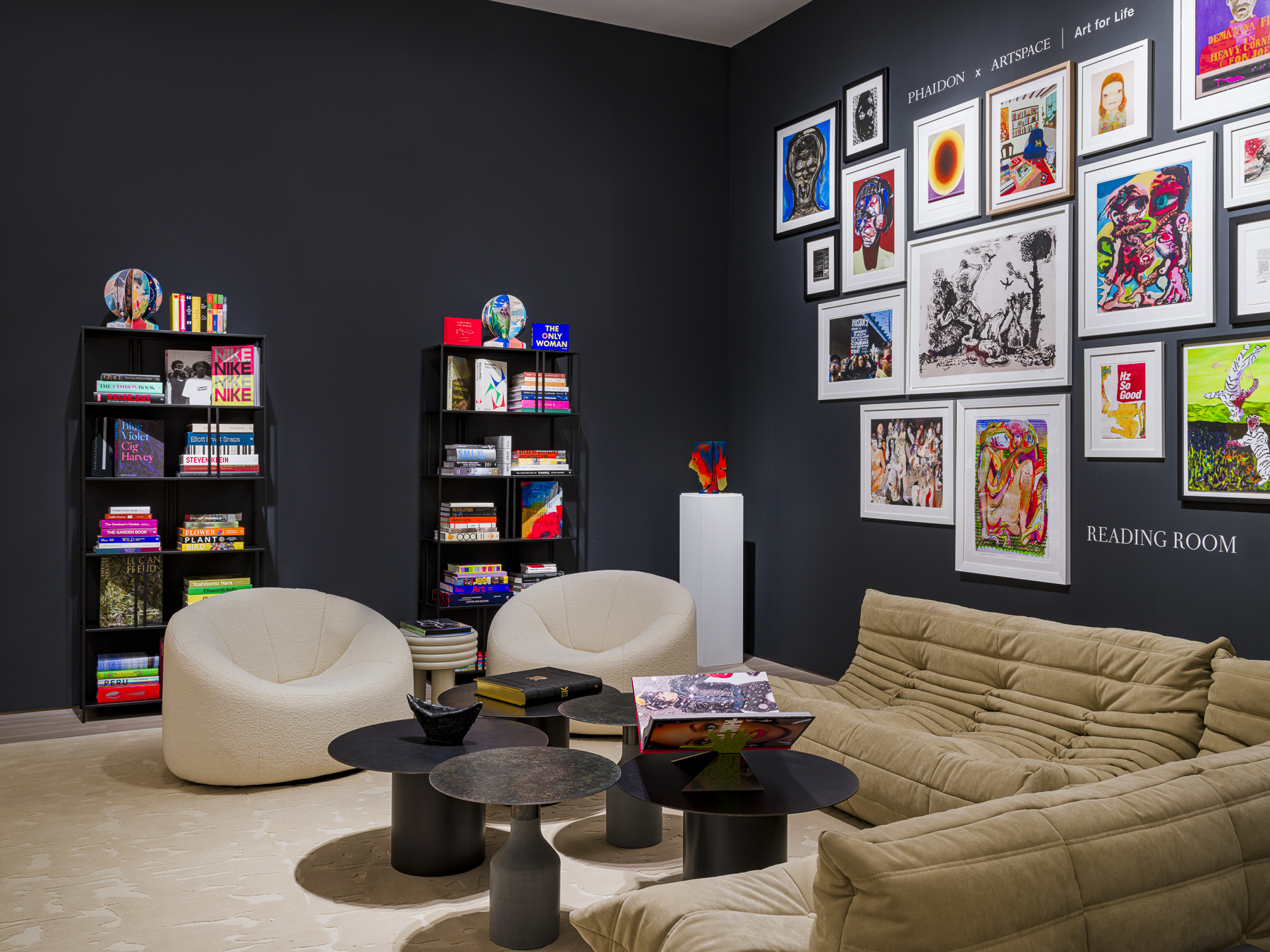 The Artspace room at Christie's, New York - photo by Garrett Carroll
"This fall, Christie's looks forward to welcoming collectors, scholars and art and design enthusiasts to our Rockefeller Center galleries so they can experience first-hand the rich and diverse world of this esteemed and pioneering publishing house," said Bonnie Brennan, President, Christie's Americas.
Below you can take a closer look at just a few of the editions that feature in a beautiful salon hang at Christies, along with some quotes from each artist explaining more about the edition they worked on in collaboration with Artspace.
JONAS WOOD - Bball Studio, 2019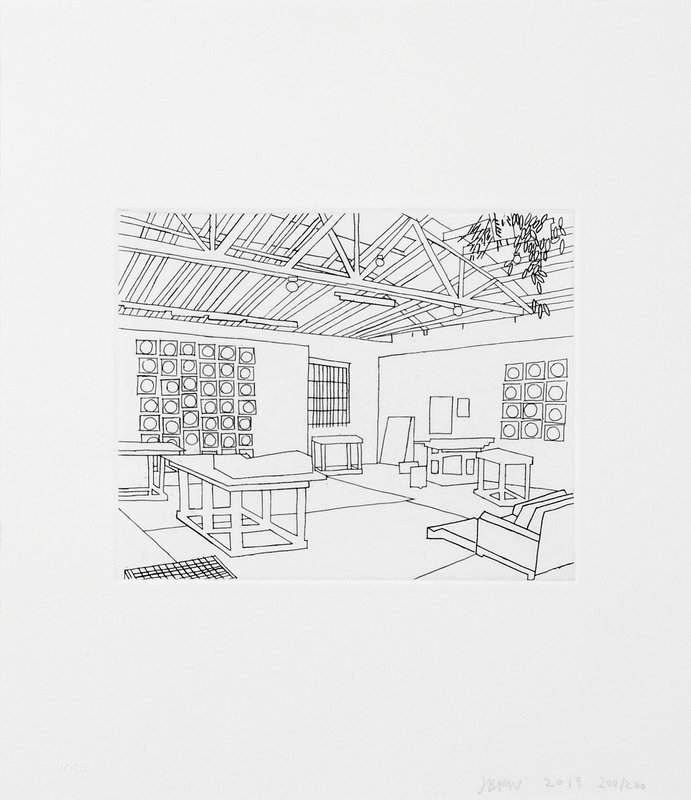 "This is from the big studio I rented in 2007 after my first show in New York. This is where I started making my first floating basketballs. I got really obsessed with making drawings of isolated basketballs taken from images of basketball players in action. I began pinning them up on the wall and looking at them in grids and eventually I started making paintings of them."
"Printmaking is a big part of my process, drawing is a big part of my process, and tracing and getting the basic shapes of things before I make the painting is a big part of my process. That's exactly what this etching is. It's the blueprint of the painting. It wraps up all of these things: nostalgia of this old studio, the original drawing, changed back into a print to raise money for charity." - Jonas Wood
HARLAND MILLER - Hz So Good, 2022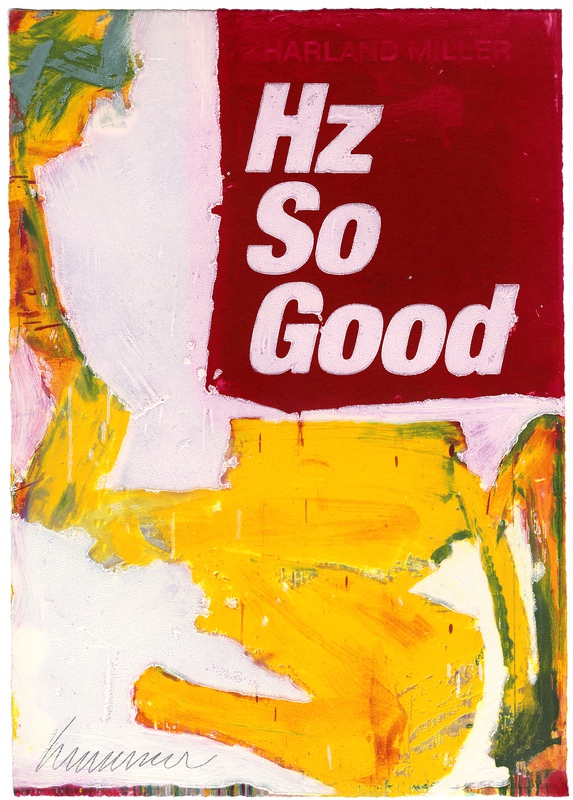 "Hz So Good is very associated in my mind with breakthrough works, by which I mean a work that I've made in my studio that will, in time, become the first example of what will, by then, be known as a new series. I relate it more to other breakthrough works; probably a known example would be the very first Penguin book painting I ever made in 1992 in Paris, 'I'm So Fucking Hard Ernest Hemingway'."
"I'm also a bit of a pop artist, and, as such, I really love the power of repetition which is such a part of print making. What I also love about it is it stops! Y'know, it's a run, and the run stops, its finite. Any collector will tell you how tantalising and exciting that is."
"The title came to me while listening to the song of the same name Hurts so Good by John Cougar Mellencamp. I've always been lyrically orientated and in fact I can actually enjoy songs I don't even like musically, if the lyrics appeal."
"I remember really liking the sort of semantic connection between radio waves and the scientific symbol in this context of Hz as a different way of saying Hurts. And y'know that was a way I saw of riffing on this title. I've been thinking a lot lately about whether it's OK to play with the idea of not thinking about what I'm doing. Not to negate thought, but more to allow the subconscious to take over and riff on the ideas that are being suggested by the title, in that Jungian way." - Harland Miller
CATHERINE OPIE - Herstory, Women's March, 2017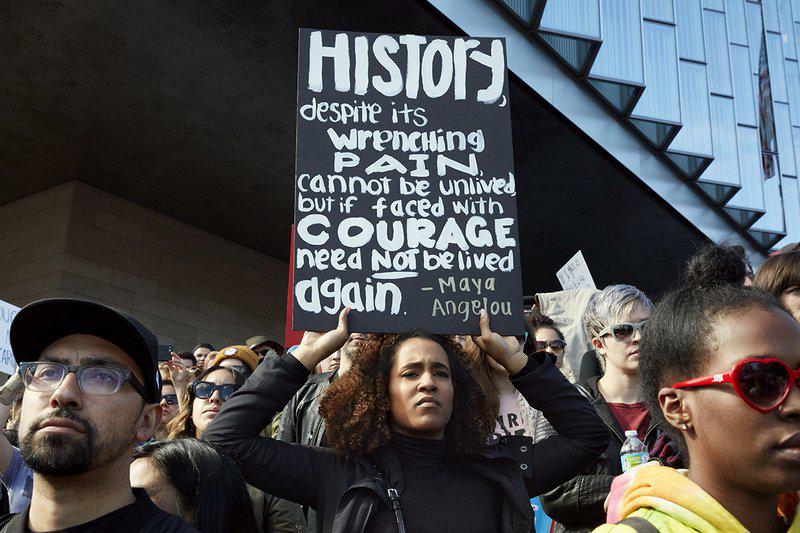 "It was the first women's march after Trump was elected. The march at this point had finished and everyone was gathering round to hear the speakers on the federal courthouse steps – actually, I had just installed a huge piece in that courthouse. And the steps and the way that the light was reflecting off the building across the street...you just turn and you're like: OK there's this amazing person holding this sign. I was reacting to what she was holding up. It was just a beautiful moment. Believe it or not my early philosophy teacher in art school in the Eighties was Angela Davis. So I very aware of what it means to hold up a sign with that quote." - Catherine Opie
LOIE HOLLOWELL - Yellow Brain, 2022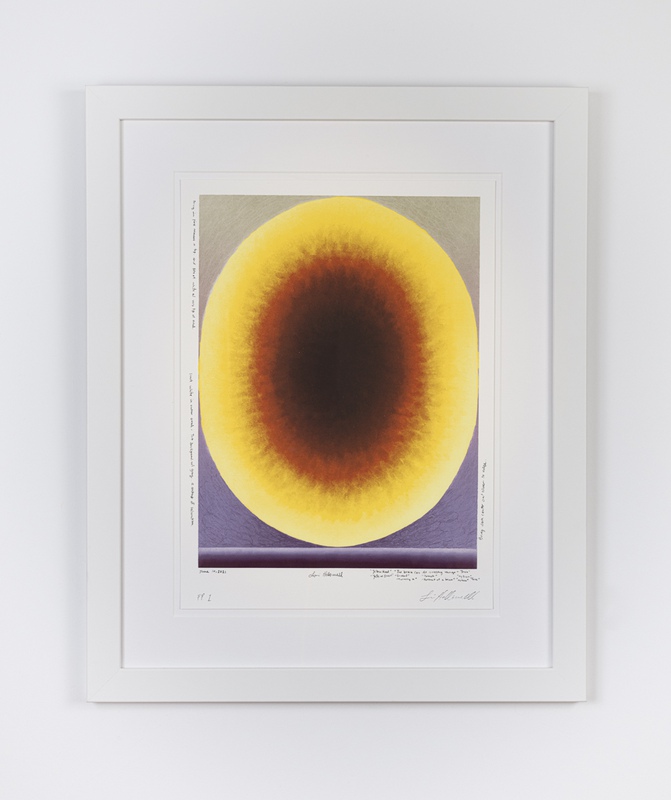 "I think yellow is often the color I find the most forgiving, and also the most specific in its representation of light. It's just a very direct representation of light. It's often the color I'll paint the mandorla shapes in. It's forgiving but it's also challenging to start with a bright yellow and turn it into a deep color, because it can just get browned out and muddied. So I was really trying to play with how yellow would descend to orange and then descend to a burnt sienna and then let it go all the way to black; and honestly, I think it was the first or second drawing I did and I think it was one of the ones that turned out the best." - Loie Holliwell
MARILYN MINTER - Big Red, 2022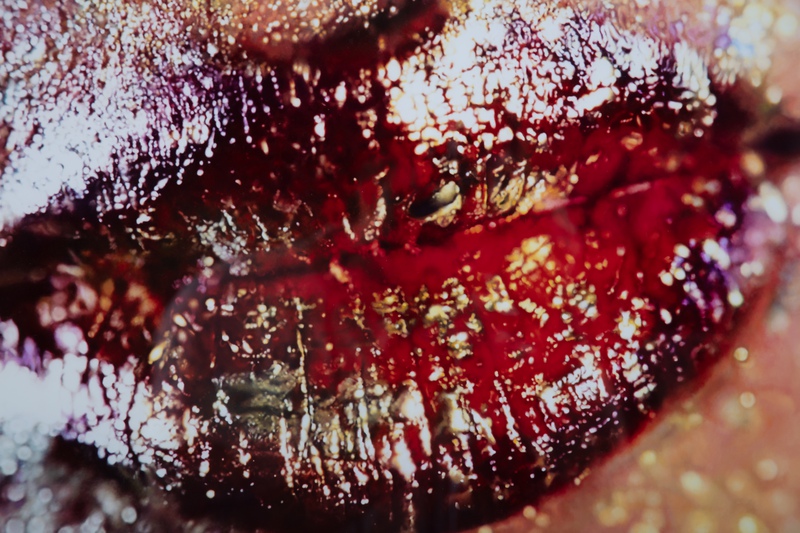 "It's based on a painting I love. The model is Wangechi Mutu. I was making the images for a body of work in collaboration with TAR magazine, edited by the curator Neville Wakefield. I looked through all of the shots to see if I could combine a bunch of different images to make paintings and Big Red became one of them. Wangechi was working as a model and she wanted to document her pregnancy. I didn't really realise she was going to be so exotic. She put herself together in such an exotic, beautiful way and I just shot all around it. We did two days of work. She had great shoes on, and feathers and she looked gorgeous. She was wearing blue lipstick. I didn't know that when she smiled, her teeth would be gold! We were just playing, fooling around. She called herself a prude, but she posed naked. She said she'd never have done that if she wasn't pregnant. We got some great shots. We were both in the zone." - Marilyn Minter
CECILY BROWN - All The Nightmares Came Today, 2012/ 2019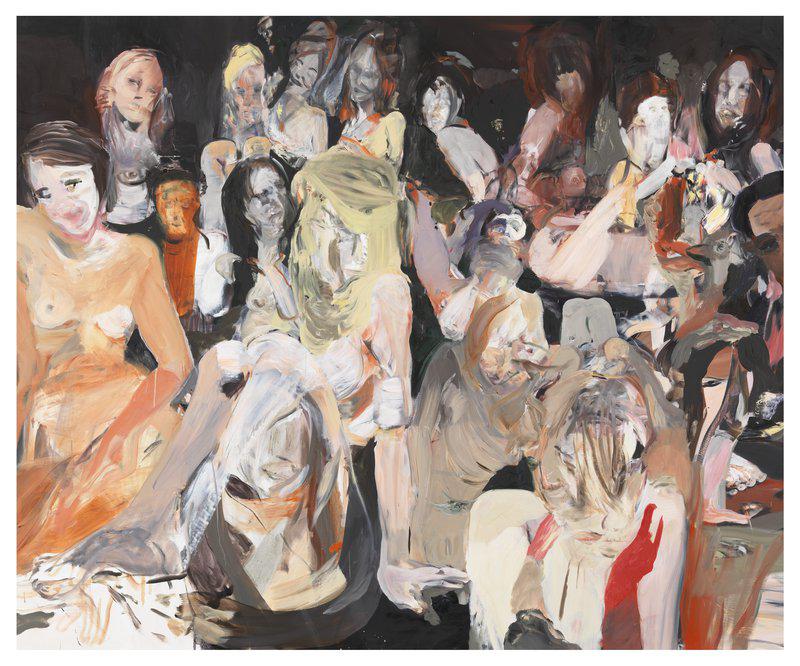 "I've started thinking of digital prints as a new corner of my work. It's so great to be able to do something relatively affordable that more people can have. Also, the quality of digital printing has got so good. Honestly, it's almost as good as the original. It's nice seeing things in domestic settings, not too precious. Even leaning on a mantelpiece, with a vase of flowers and little objects. I like leaning things on mantelpieces and shelves. That's the nice thing about a print, it's quite informal." - Cecily Brown
WOODY DE OTHELLO - our glass (print and ceramic), 2023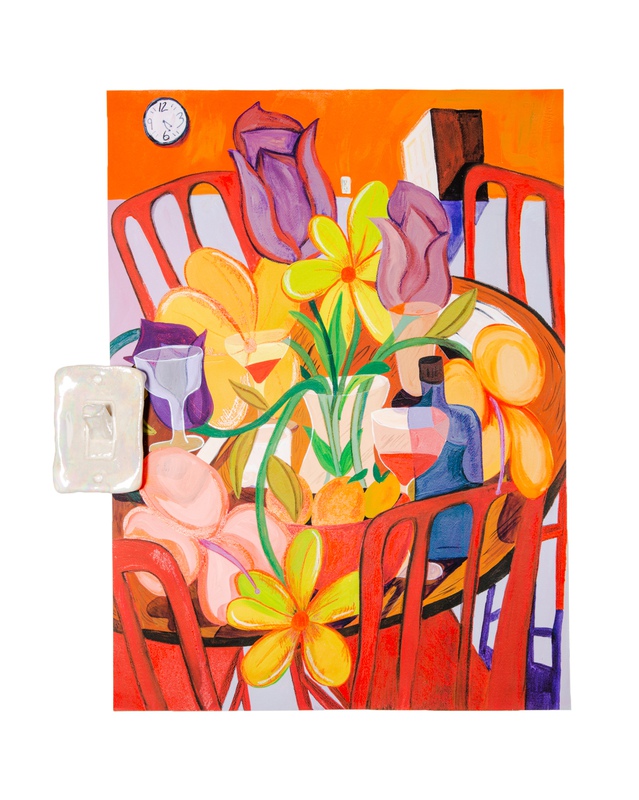 "I feel like the sculptural element of the light switch is a recurring motif in my work. It's one of those objects that holds a lot of meaning for me. It's a reference toward light. Light is a positive force; light is a healing force like the sun, so it's just a little nod to that. I wanted the print to feel optimistic, bright, and hopeful. The print is about community, or close friends, gathering. I was thinking a lot about summer and the energy of having friends over. The flowers are blossoming, and glasses are on the table. Things are ready to get poured. So that shared space is in the energy of this print. Plants give you an express version of life, the way that they go through their life cycle. It's a kind of microcosm of our life cycle - being born and rebirthed and the different changes that occur throughout the years. I like that as a metaphor for the human experience. They help you to appreciate and to think about things more." - Woody De Othello
JAMESON GREEN - Cain and Abel 1, 2023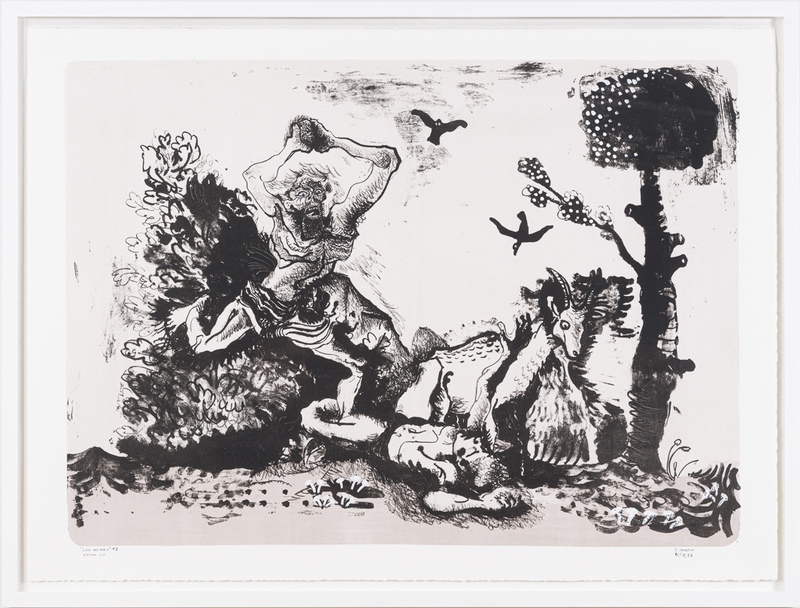 "The timing of the creation of the print is interesting because I was already spending so much of the early part of the year, really experimenting in the studio. I spent a lot of time trying out and experimenting with different approaches to material. I was also drawing a lot more, so when this opportunity came along to be able to try it on the stone and apply it like the process of drawing, I really began to understand the ways in which I approach drawing, and the ways in which I approach painting. I usually don't think too much about the image when I'm going into it. As I started drawing this one, it came into a tale of Cain and Abel. I started thinking about just how, conceptually as a story, the act was something Cain thought he did in private, and God bore witness and saw it, but Cain thought he could hide it from the world. I started to think - whether the story is true or not – but if it were to be a true story, how that action is known by us hundreds of years later. He didn't hide anything; the whole world saw the story happen." - Jameson Green
FLORIAN KREWER - flying stride/ hot love, 2023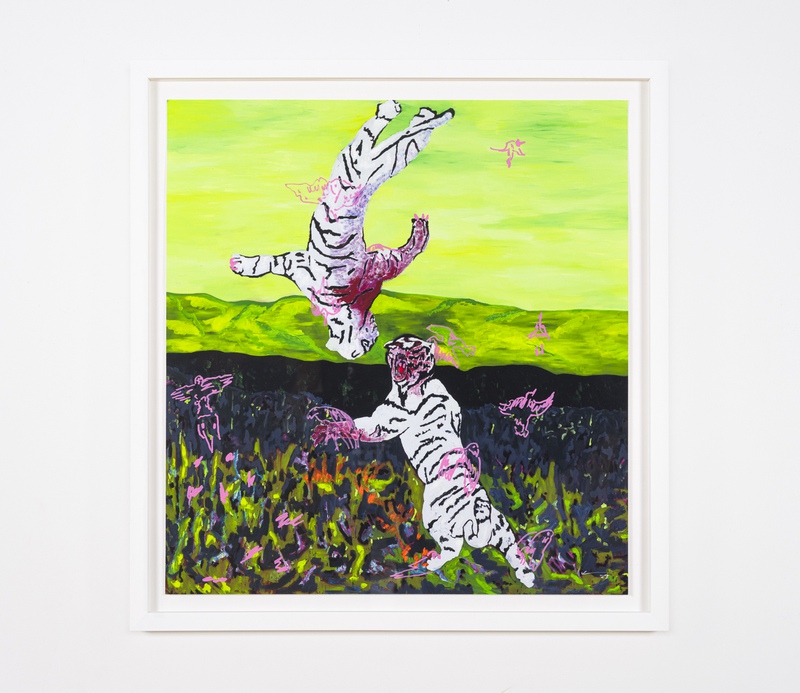 "The tigers in the underlying paintings already have a connection to one another and so I chose the birds as another layer. They are floating around the two as if they were observing them. The birds are a kind of an audience, joining the moment.There's an almost divine quality to some of them. I try to work without a filter, be immediate and not to overthink how and what I paint. So, when I transfer the motif from the drawing over onto the canvas, I have more freedom to focus on other aspects of the painting process, like the paint and colors, as opposed to the composition and structure. Unfiltered and according to my various feelings about a situation or moment, I can follow the flow. I like that the drawing gives me a certain precision, and I can then really work with the colors and the paint stroke." - Florian Krewer
GAETANO PESCE - Self Portrait (The Complete Incoherence), 2023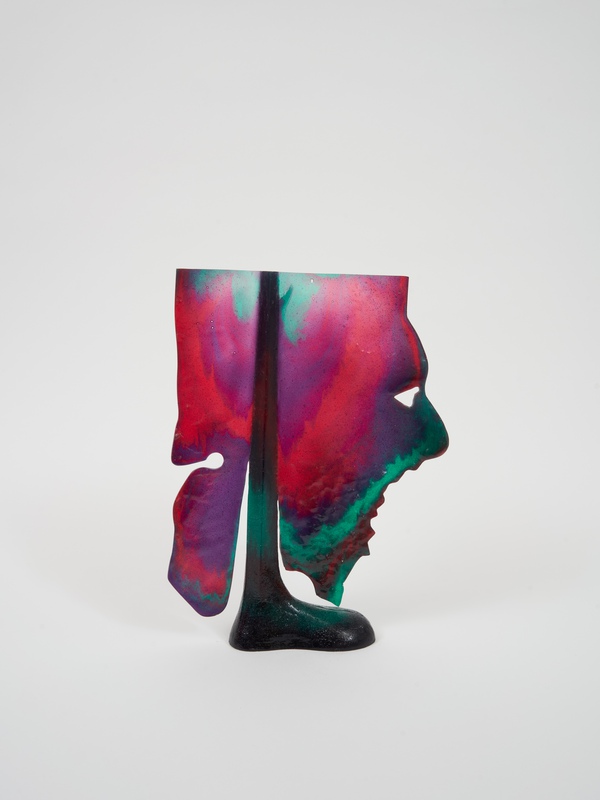 "I believe materials have the capacity to dictate the aesthetic, and sometimes I leave the material in the way the material wants, following its rules without imposing a shape or form. In that way I have results that are much richer and more unique. From the beginning, when I was 18 or 19, I thought that my way of thinking was supposed to be free, but before you are free on the outside you must free yourself inside, and that means 'incoherence'. Incoherence allows you to be yourself, and that is very helpful because that way you don't repeat. Most people enjoy repeating because people are lazy. I am not lazy. I like to use my energy all the time and this is the way creative people are supposed to be; and also politicians, and also philosophers and also musicians. This is the reality of the world, if it's governed by people who have elastic minds, we'd be much better off and not lazy." - Gaetano Pesce
Take a look at more exclusive Artspace editions here.
JENNY SAVILLE - Chapter (for Linda Nochlin), 2016/2018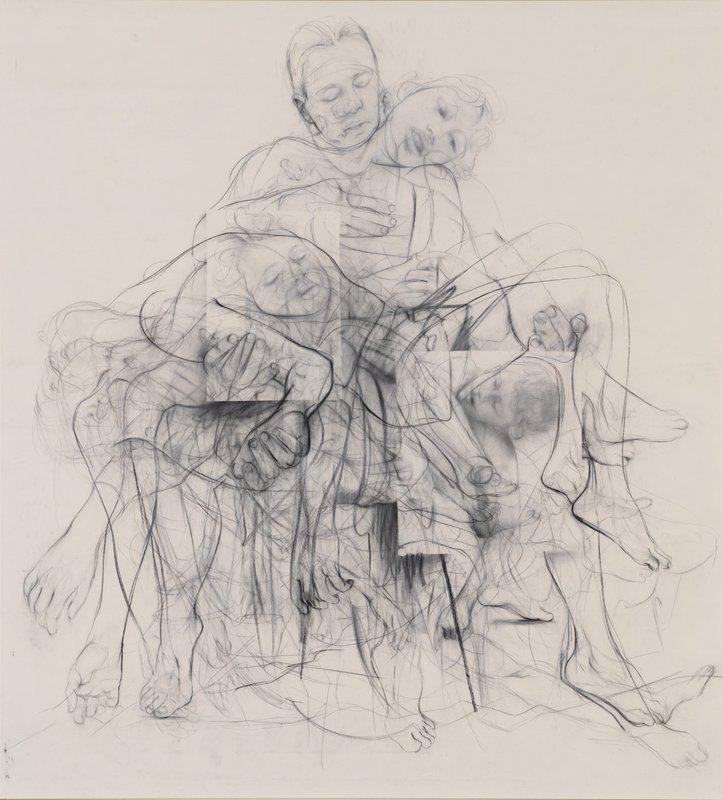 Meanwhile, the books featured in 100 Years of Creativity will chart key milestones in publishing history. A first edition of E.H. Gombrich's landmark The Story of Art (1950), which has sold more than 8 million copies in 40 languages, will appear alongside the recent bestseller Great (Women) Artists. A section dedicated to Phaidon's acclaimed Contemporary Artist Series will showcase early editions in the series, focusing on artists such as Alex Katz, Nancy Spero, and Yayoi Kusama; alongside forthcoming publications from Rashid Johnson, KAWS, and Dana Schutz.
BHARTI KHER - Grey not Black, not White, 2017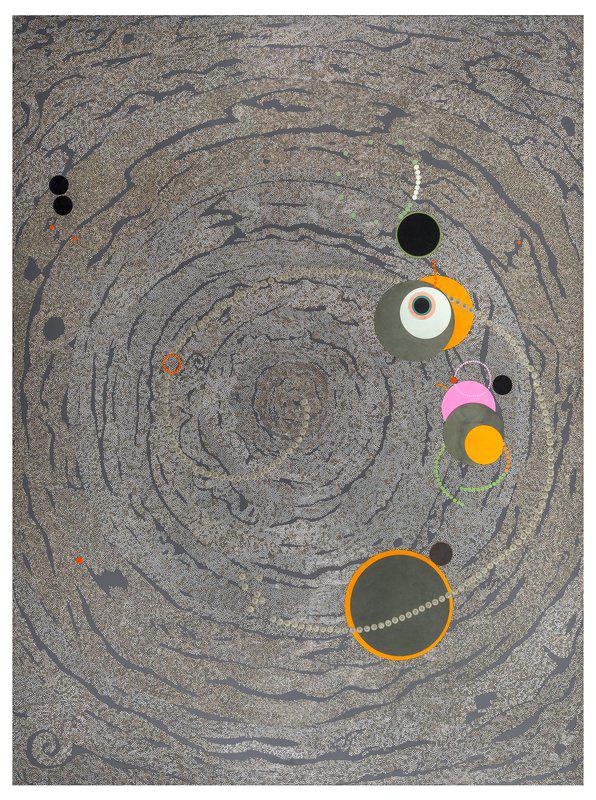 Complementing the exhibition will be a Reading Room curated by interior designer Nina Magon, founder and principal of Nina Magon Studio and author of the new book Evoke (Monacelli, October 2023).
Phaidon was founded in Vienna by Dr Béla Horovitz, Frederick "Fritz" Ungar, and Ludwig Goldscheider, who named the company after Phaedo of Elis, a pupil of Socrates. Their vision was to create elegantly produced, accessibly priced art books — something that had not been done before. Today, Phaidon is the leading global publisher in the creative arts with a total of 50 million books sold in 40 languages.
LUBAINA HIMID - Theatre of the Divine, 2019