Simple geometric shapes are some of the earliest visual symbols we learn to recognise and make. They also lie at the root of the visual arts; in The Lives of the Artists, Vasari relates how Giotto proved his skills to the Pope by drawing, free hand, a near perfect circle.
Of course, much has changed since the early Renaissance. In these sharply contemporary works, women artists throw shapes to shed light on a wide range of thoughts and notions, from racial identity to consumerism to the very beginnings of life on earth…

AGNES DENES – Butterfly Experiments, 2015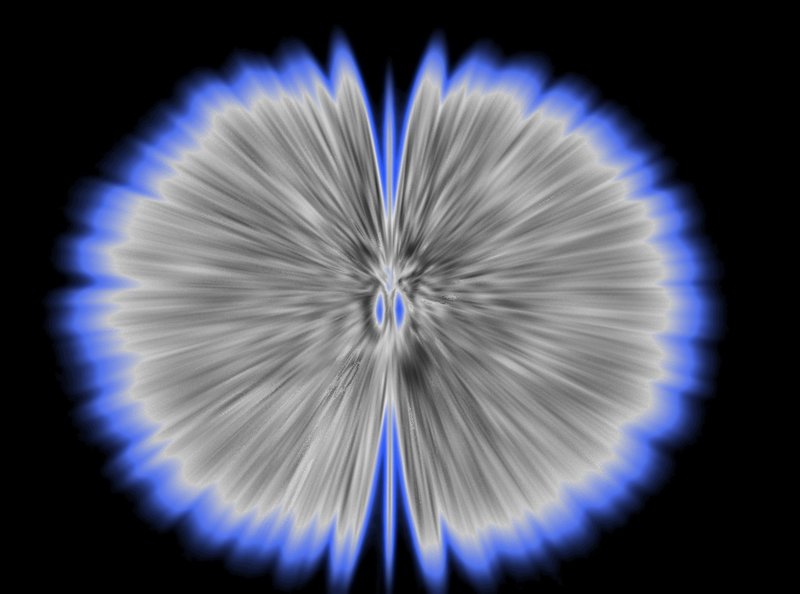 Did you know Denes' most famous work, Wheatfield – A Confrontation, almost got moved to the outer boroughs of New York? This seminal piece of land art, consisting of a wheatfield sown on the Battery Park City landfill in Manhattan back in 1982, was initially destined for Queens.
"Doing a wheat field there would not have had the power that a wheat field had two blocks from Wall Street and the World Trade Center facing the Statue of Liberty," Denes told Artspace. "It had to be positioned there for the power of the message. I held out, and it took about a year until I got the site."
Denes shows as much focus in her small-scale abstract works as she does in her delicate, smaller works, such as these Butterfly Experiment editions, which pair biological shapes with two near-semicircles. Made using Denes's own, adaptive, computer-generated process, proceeds from their sale benefit the Centre Pompidou Foundation, enabling many more artists to take similar, bold, steps.
BHARTI KHER - Grey not Black, not White, 2017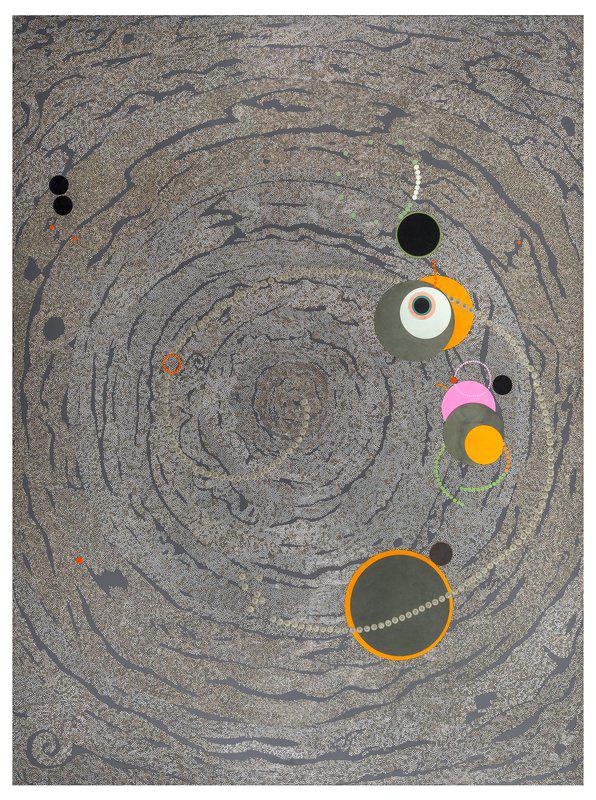 Kher does indeed explore the grey zone, in works that dive into questions of cultural slippage, selfhood and mysticism. The British-born, India-based artist draws on Hinduism, tantric painting traditions and Indian beauty products to create her paintings, sculptures and installations. Look out for bindis – the colored forehead dot worn by many on the Indian subcontinent – which Kher often works into her creations, as well as the swirling, vortex-like form, which may call to mind the disjuncture this artist experiences, in crossing continents.
JANAINA TSHAPE – Ballgame I, 2012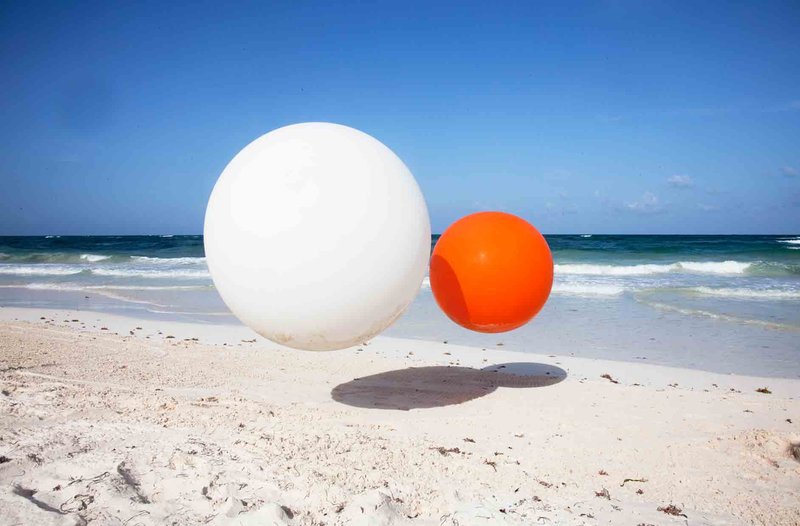 The Pompidou in Paris; Museo Nacional Centro de Arte Reina Sofía, in Madrid; Museu de Arte Moderna do Rio de Janeiro, in Brazil; Moderna Museet, in Stockholm; and the Solomon R. Guggenheim Museum, in New York all have works by this German-born artist in their public collections. Tschäpe has created paintings, video works, photography and installations, many of which draw on organic forms (particularly the fecund lines of the female body) as well as myth, the Surrealist tradition and the everpresent lure of the sea.
This photograph, made to accompany a 2012 video of the same name, draws on both folklore and contemporary biology.  Tschäpe's first name, Janaina, means "water god" to Brazilian people of African descent. The bouncing, seaside orbs in this work acknowledge this, but also represent the movements of primordial, unicellular organisms such as ocean plankton and amoebae, which were the origins of all life on earth.
DANA SCHUTZ – Adversaries, 2019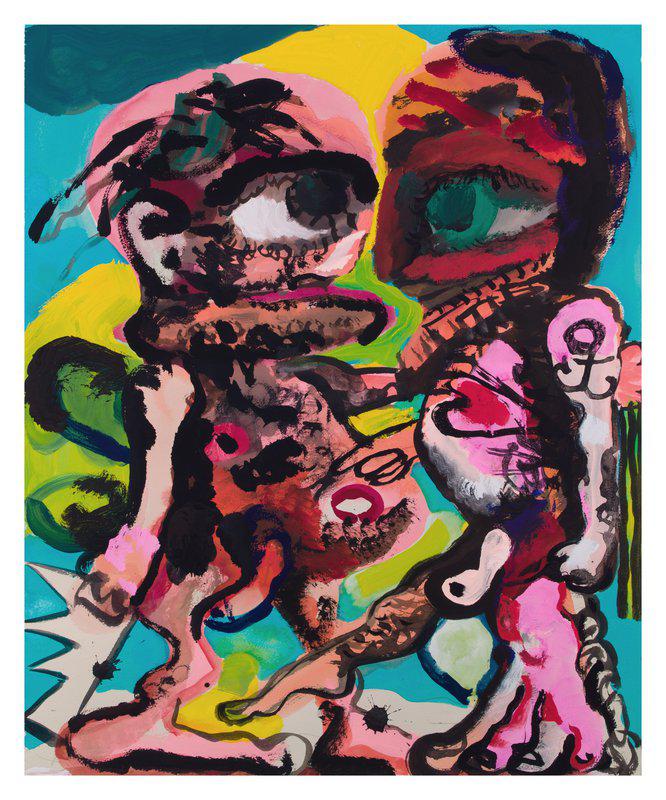 Who are the adversaries in this work? The American painter, Dana Schutz, isn't offering much identifiable information, other than, judging just a few discernable body parts, that they're white, male, and potentially close to violent interaction.
"A curious blend of playful, colorful humor and dark, morbid abjection, Schutz's oeuvre references modernist styles such as Expressionism and Cubism alongside the language of cartoons and the distortion of images in the digital era," runs the text in Phaidon's profile of Schutz published in Great Women Artists. "Atrocious, ridiculous or impossible acts are often rendered with energetic painterly glee." 

It's up to the reader to decide whether this is an indictment of male violence or a more dispassionate study of the foibles of human relations. 
LOIE HOLLOWELL – Yellow Brain, 2022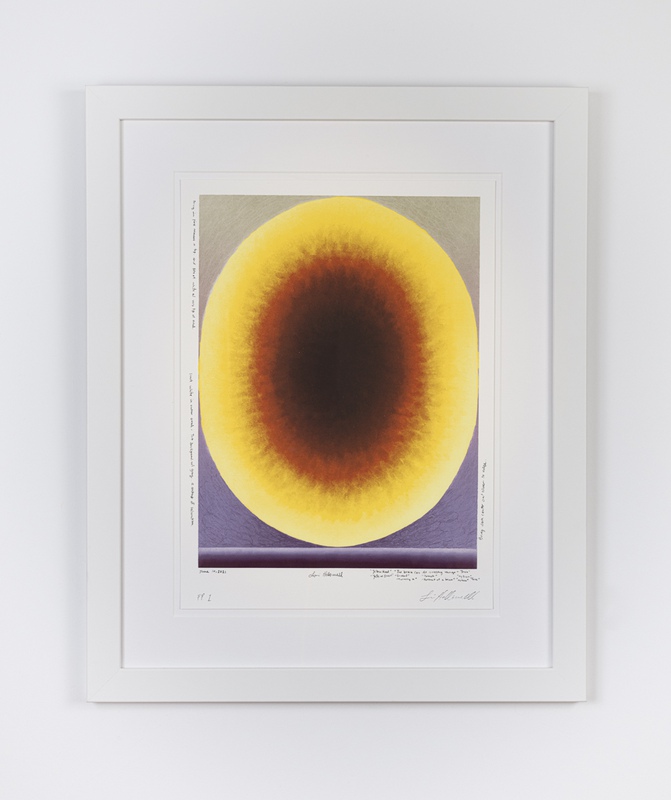 Loie Hollowell's fecund, contoured canvases tread a sharp line between clear depiction and muted abstraction; adherents have drawn comparisons between this American artist and Georgia O'Keeffe and Judy Chicago, as well as the West Coast's Light and Space Movement.
Though this work, Yellow Brain, looks, at first glance to be semi-abstract, there is an all-too-real story behind it. A couple of years ago the artist's father, who is also a painter, fell from a ladder and suffered a brain injury.
"He was in the hospital for a long time on life support and when he became conscious he wasn't able to speak at all - not even make sounds," the artist told Artspace. "So the series of works that this print is based on came out of the desire to make color field experiences for him, something for him to meditate on." Perhaps you can find similar solace in this work.
SARAH SZE – Images in Debris, 2016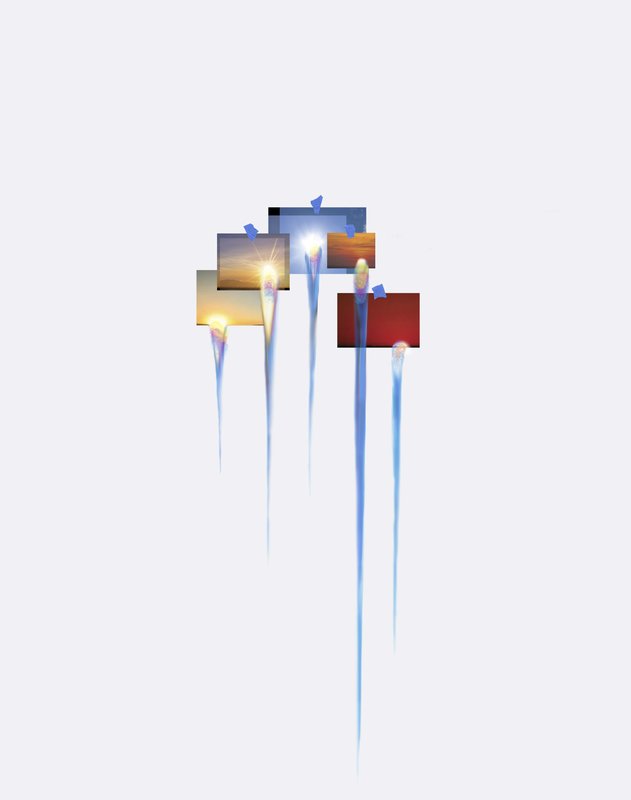 We're more used to seeing Sze's dizzying, dazzling installations, rather than works on paper. In 2013 the artist represented the United States at the Venice Biennale, filling the American Pavilion with her near-overwhelming installation, Triple Point. Made up of strings, stones, lights, projectors and a wide range of readymade items, the work engaged with scientific and geological processes.
In this work, the artist grapples with similar topics, while reshaping the familiar, circular form we've all seen in the sky above us. Images in Debris consists of time-lapse photos of the sky, taken by the artist at different times of the day. These images were then screen-printed and, before the ink dried, Sze smeared each picture, dragging the disc of the sun down the picture. It's a simple, yet effective act; by recording the images and then breaking them apart, Sze explores the fragility of time, as well as our desire to shape those natural forces that (instead) measure out our days.

 DELITA MARTIN – For She Wears Constellations in Her Hair, 2014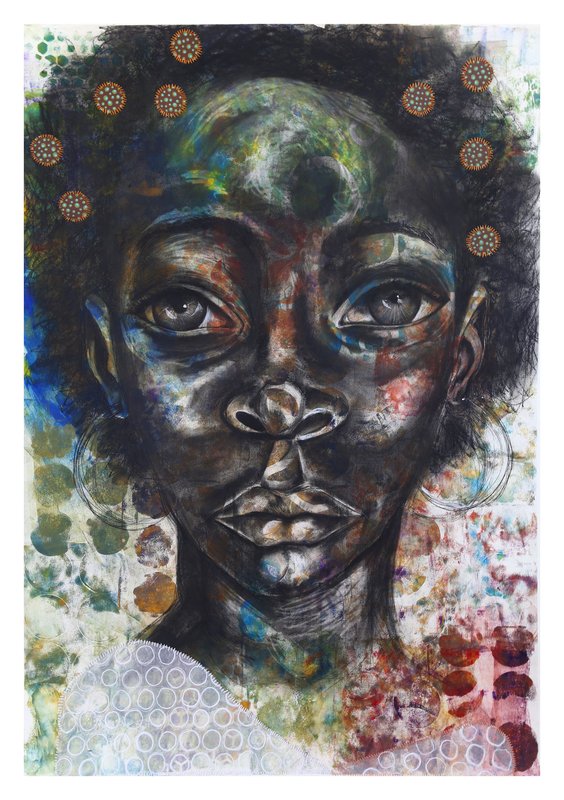 Charcoal, acrylic, needlework, printing and collage all find their way into Martin's work, as she strives to represent Black women, not only figuratively, but also symbolically, by meshing suitable imagery into her beautifully detailed portraits.
This print by the Texan artist draws heavily on celestial motifs, the orb-like shapes in the sitter's hair elevating the work from a simple portrait in a more cosmic, heady realm.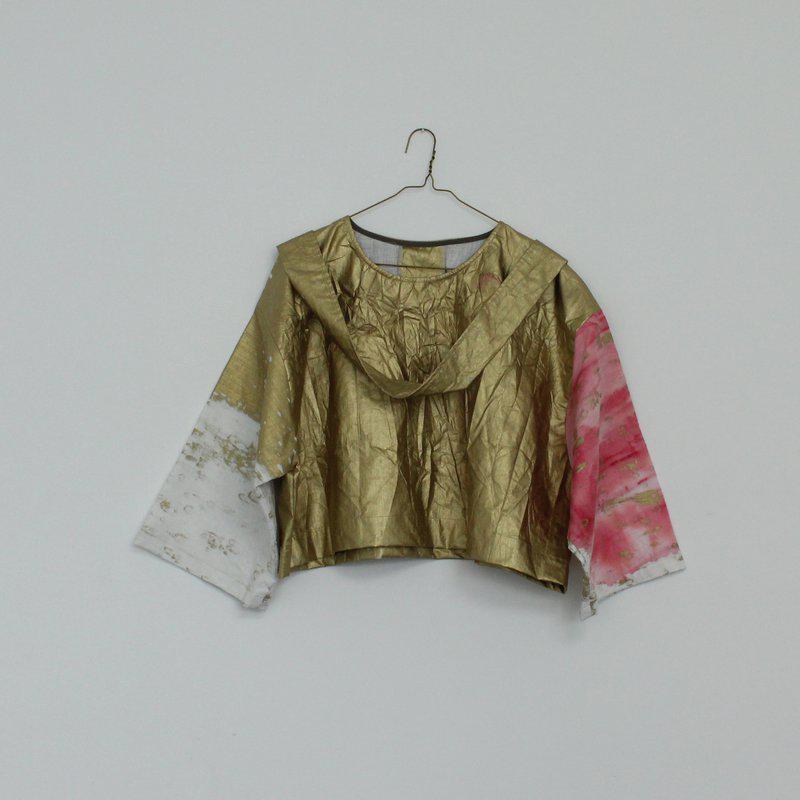 We too can play our part in form making, by donning one of Pia Camil's Utilitarian garments. The Mexican artist made these unique works with the British designer, Erin Lewis, combining discarded fabrics from the workshops of Mexico City, to create striking silhouettes.
The edition consists of two distinct pieces: a work shirt with a multipurpose bag, and a party shirt with a strap that can be worn as a bag. They are, as the name suggests, simply useful, while their voluminous form may cause the wearer to reflect upon how fabrication processes mesh into mass commodification, and hand-crafted acts of individual expression.
LUBAINA HIMID – Theatre of the Divine, 2019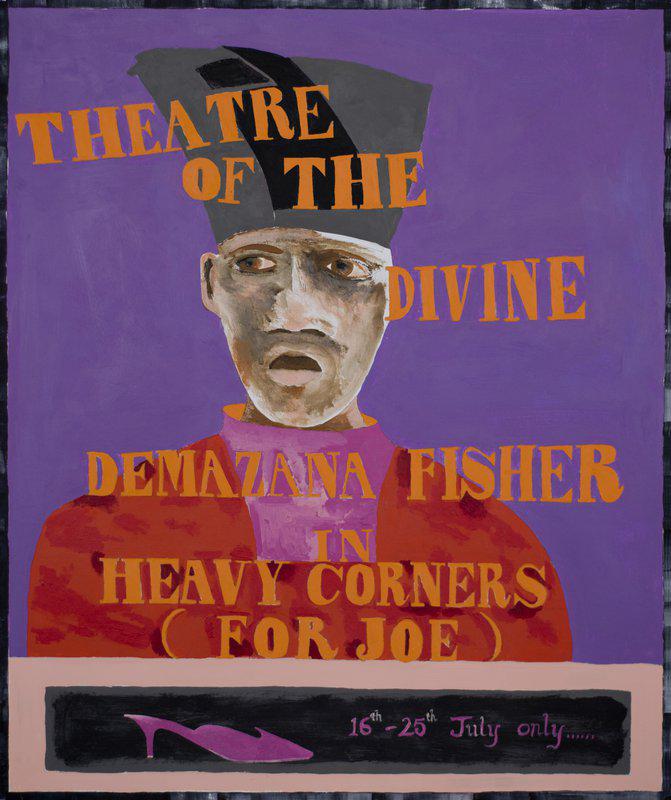 In this work, Himid not only plays with facial shapes, but also with the course of history, expectation and memory. The Theatre of the Divine never actually staged Heavy Corners (for Joe), starring Demazana Fisher. The auditorium, play, star and vintage-style poster are all the unique creations of this Zanzibar-born, British-based artist.
Himid arrived in Britain in the 1950s as a child, trained as a theatre designer, but went on to pursue a career as both an artist and a curator, winning the Turner Prize in 2017. Himid's work is directly critical of the British Empire, but the artist also has an imaginative, utopian streak. Viewed in the right manner, this work should speak to anyone who can reflect back on a time when things might have gone differently, or whose view of their own personal history is filled with instances of what might have been.
EBONY G PATTERSON – Untitled (Lily, carnation, and rose budz), 2015/2018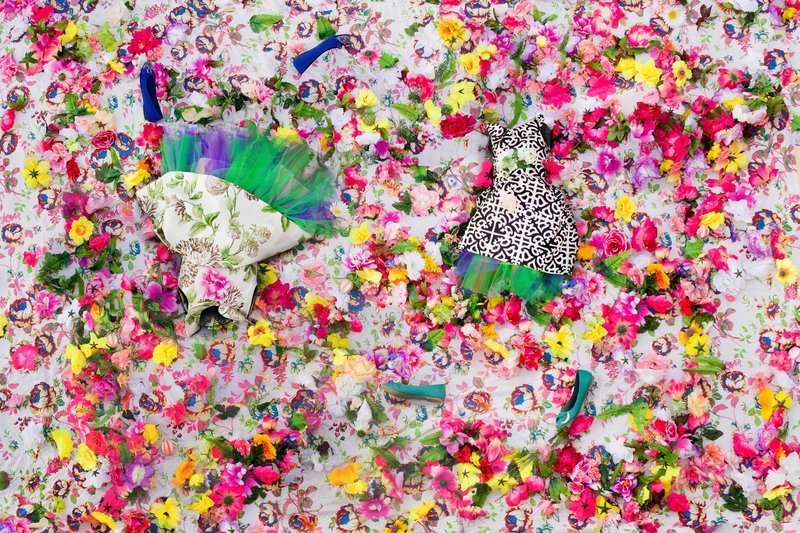 Can you make out the forms among Patterson's flowers? The artist was born and raised in the Caribbean, now works in America, and uses her detailed and heavily ornamented work to address violence and social injustice in both the US and elsewhere in the world.
"I've always been interested in working-class cultures and spaces, and the way that dress becomes a really important tool for advocating for one's presence and using those kinds of materials as a way of self-actualization," the artist said recently. "If you exist in a society that says your body has no value because of the neighborhood that you're from, the shade of your skin, or your economic standing, then what does it mean for somebody who is disenfranchised to procure objects that seem to speak to luxury as a way of saying, 'Well, I have these things that you associate value with, so now what? Why am I not valuable? I have these things, too. I can access these things, too.'" 
CAMILLE HENROT – Mother Tongue, 2020/2021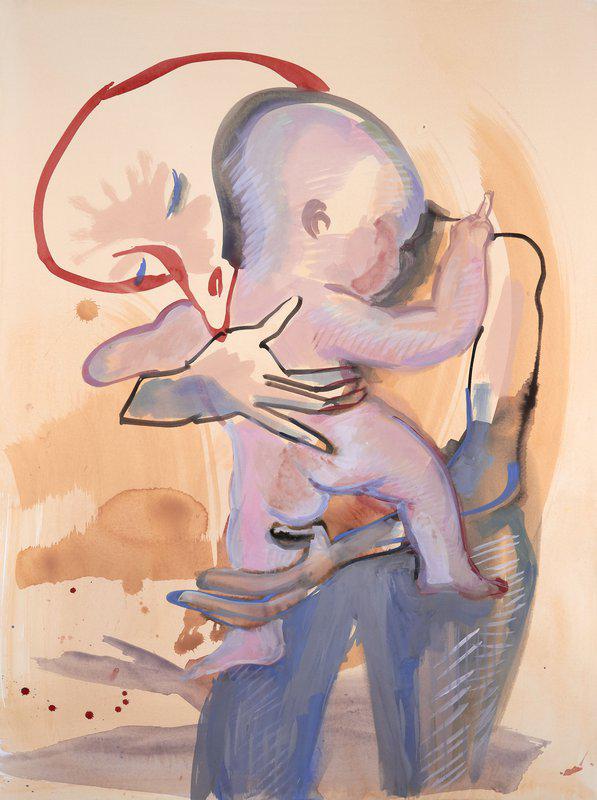 The shape of the mother and child are subtly refashioned in this work. Henrot created the picture shortly after becoming a mother herself, yet she shys away from autobiographical interpretations of the image, preferring instead to draw on classical references, such as Goya's early 19th century masterpiece, Saturn Devouring His Son, as well as more general notions of the messiness and ambivalence bound up in child bearing and child rearing, as well as the other relations we learn to develop while in the nuclear family.

"Sexuality, love, conflict – all our gestures in our relationships are learned through the experiences of childhood," the artist told Artspace. "Perhaps working on these topics allows me to drive towards their original form and look at the systems of relationships that we have, in order to consider the ways we project ourselves into the future."
MICKALENE THOMAS – Jet Blue #11, 2021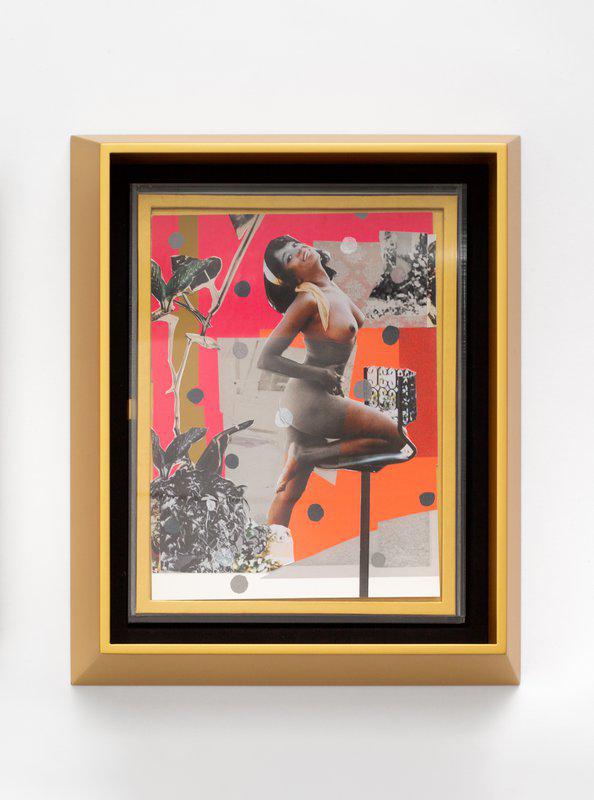 Not all forms in this work are entirely the artist's own creation. The source material for Thomas's 2021 print came from her mother. About a decade ago, the artist's mom passed away, and Thomas inherited her collection of Jet magazines, a key 20th century, African-American lifestyle publication. The magazine published glamor photography alongside news, political commentary and beauty tips.
Thomas took one of these simple, commercial, erotic images (featuring an unnamed African-American woman), and repurposed it. In so doing, "Black women's erotic entanglements are placed center stage and made expressive," argues the American curator and academic, Nicole Fleetwood.
ANDREA BLANCH – Grace Harlow, 2010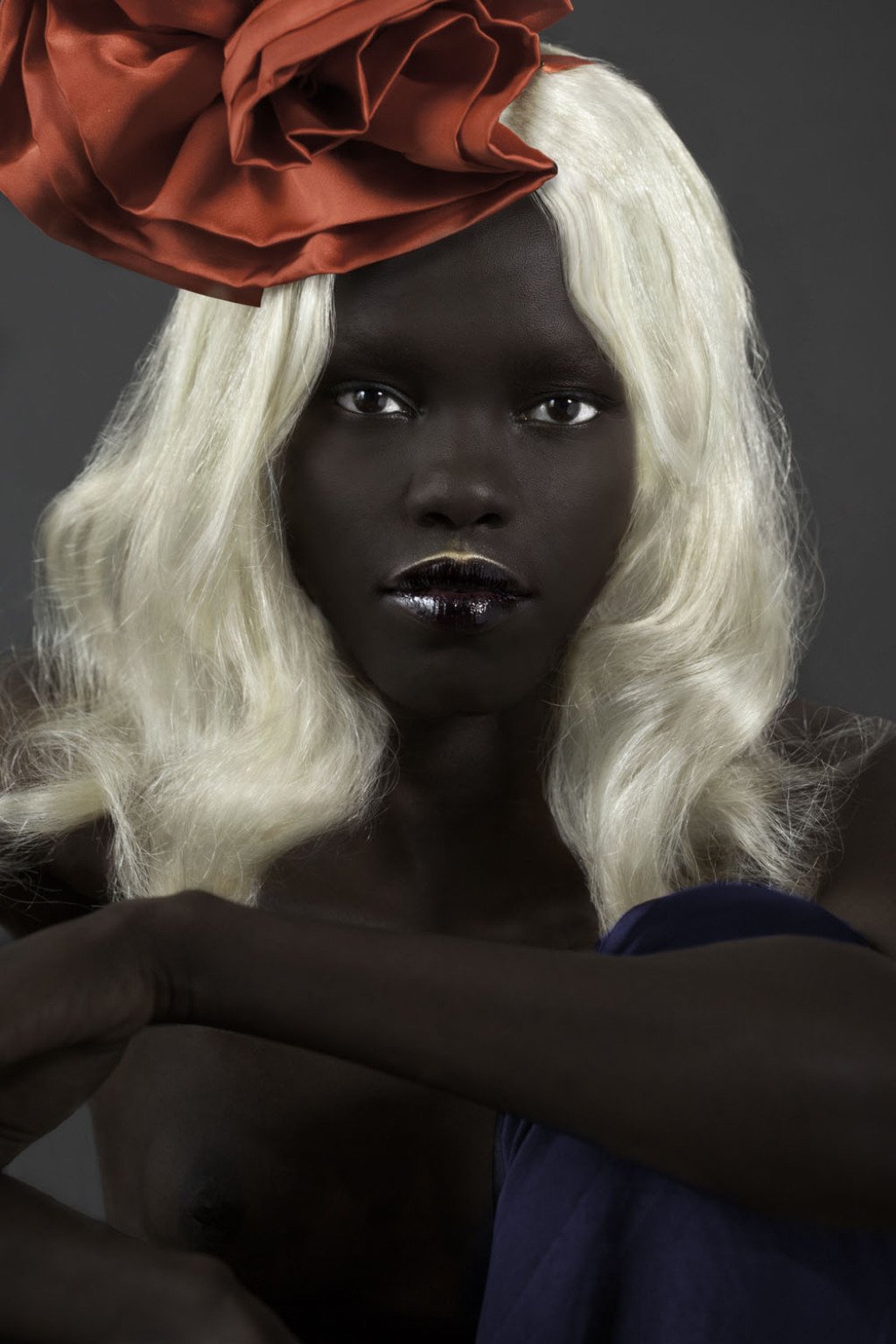 A native New Yorker, Blanch studied painting at college, but began her career in photography under the tutelage of Richard Avedon; her first client was American Vogue. 
You may be able to detect a little of Avedon's influence in Blanch's composition, but the color work is all her own. In this image, Blanch accentuates the model's strikingly dark features with flashes of pigment, not only in her hair, but also in the accompanying garments and accessories  Having arranged all these elements into a compelling form, Blanch also manages to establish a sense of trust and intimacy with her model, which is then captured in this exposure. Hang this on a far wall, and you'll still feel as if you can feel the model's breath on your face.