Lewis Miller made his name out of doors. The California-born, New York-based floral designer already had an enviable client list and a fine reputation for innovative displays and installations when he found a new calling during the fraught days of the 2016 presidential election campaign. Early one morning that October, Miller and his colleagues filled a van with 2,000 flowers and drove over to the John Lennon Memorial in Central Park. They made for the circular mosaic set into the park's grounds with the word 'IMAGINE' written across its center, where they secretly installed hundreds of brightly colored stems into a psychedelic halo around the mosaic. This floral action, dubbed a Flower Flash, was viewed as a gift to the city, and became Miller's calling card.
Five years and more than ninety Flower Flashes later, these elaborate, public, floral surprises have brought moments of delight and wonder to countless New Yorkers and flower lovers everywhere.
Nevertheless, Miller remains equally focused on the interior world, and continues to create floral displays and installations for weddings, dinners and other gala events, as well as for commercial and domestic settings. In this interview, timed to coincide with the publication of his new book, Flower Flash, and the release of his debut Flower Flash limited edition print, he chooses works from the Artspace archive which he likes, admires and could see working well both in his own, and in any other domestic space.
"I'm probably going to make every artist and art lover reading this cringe because I'm going to say what nobody wants to hear," he admits. "I know that you're not supposed to match art to the sofa but, you know, my job, and my industry and my passion lies in creating environments. I do weddings and events and big parties where we create the full environment. So I look at the rooms."
Indeed, Miller pushes back against the idea that the applied art of interiors is any less a discipline than painting and sculpture. "Whether it's a temporary room for an event or a tent for a big soirée, or whether it's your living room, art, to me, is a part of the bigger picture, which, if done correctly, is art," he reasons.
As to his own early artistic inclinations and inspirations he says: "I'd always been a scribbler and a drawer to some extent. I'm not that great at it but I do love to do. But I think for me in my profession, where art had the most impact from the beginning goes back to the Flemish painters and those beautiful red floral paintings that were so vivid and unreal but so natural at the same time. Those paintings made me want to become a floral designer.
"They were recreating nature and I want to recreate art, so it's them doing what I do and me doing what they do in reverse. In a way, they even influenced the flower flashes. Those Flemish paintings featured flowers that were never in season together. They would take two years to paint because the artist would have to wait for the poppies to bloom, the sunflowers to bloom, as the seasons progressed. So the image itself didn't ever really exist.
Lewis Miller – Flower Flash, Casa Magazines, West 12th Street & 8th Avenue, New York City, 2021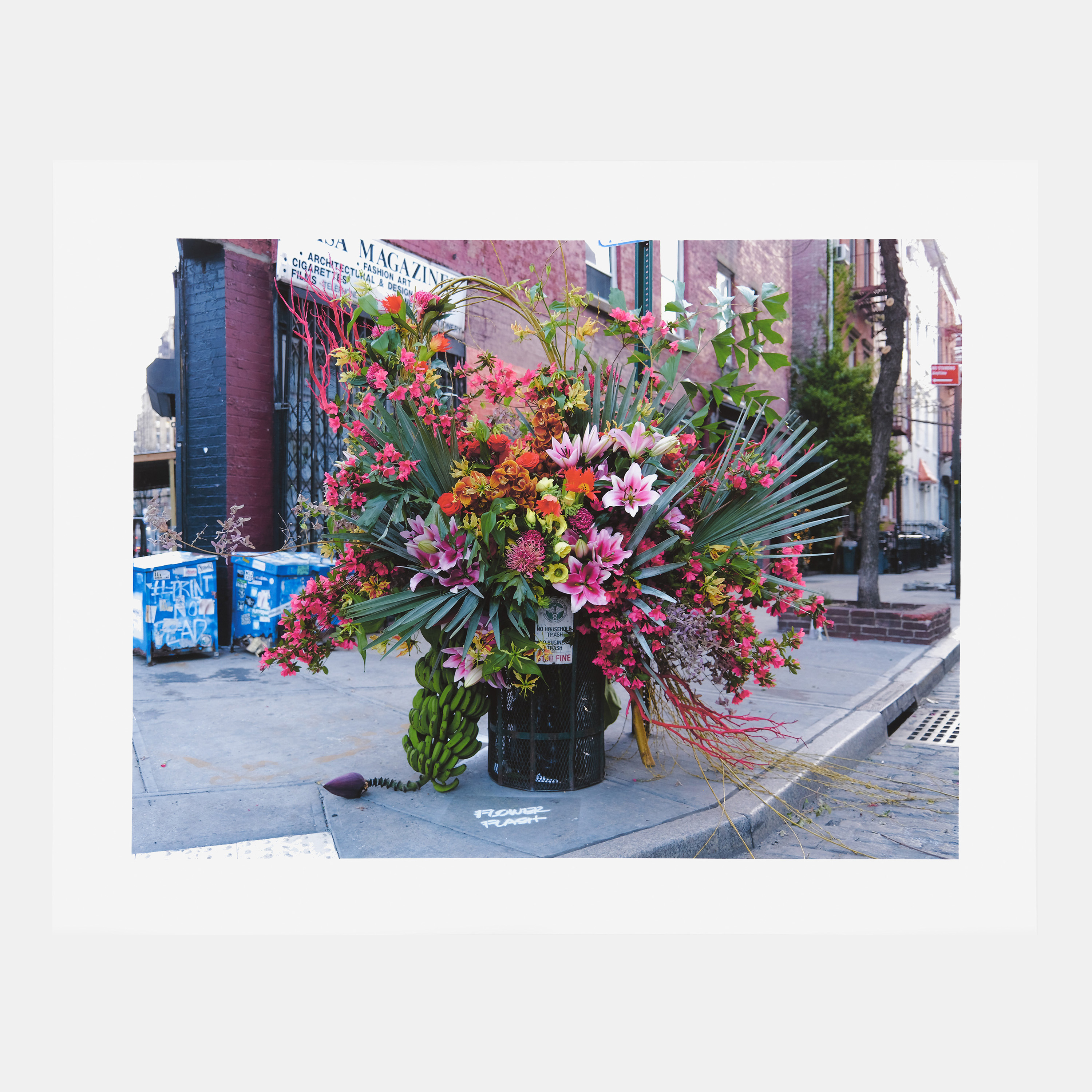 Digital print on Moab Entrada 300 gsm Natural 20.00 x 25.40 in 50.8 x 64.5 cm Edition of 100 Each edition comes with an artist signed and numbered label affixed on the back.
"In essence, what I do is take things out of their element and put them in an unexpected place that literally doesn't exist - cheap flowers and unfashionable flowers, unloved flowers mixed with chic and expensive flowers, larger than life at 8-and-a-half-feet tall in a garbage can on a Manhattan street corner. So that would be my first thought on how art really influenced me."
When picking works Miller looks for pieces that are strong enough to stand out, but also suitably in keeping with its surroundings to blend in. "I don't want one thing to catch my eye but I want to be able to take one of those artworks, put it in an average space and have it definitely be a statement piece," he says.
Indeed, there's a certain continuity between the way Miller picks his works, and the way he creates his Flower Flashes. "There has got to be a certain energy and a real feeling to it for me," he says. "It's like taking paintbrushes and doing big sloppy strokes. I have such respect for the person who can take a blank canvas and give it energy. As a teen I was also really influenced by Rothko and Picasso for their color sensibilities and their rich saturated tones. That's what I am drawn to in the first stripe piece by Steven Alexander. Unexpected pairings and color that create energy."
STEVEN ALEXANDER – Generation 4, 2018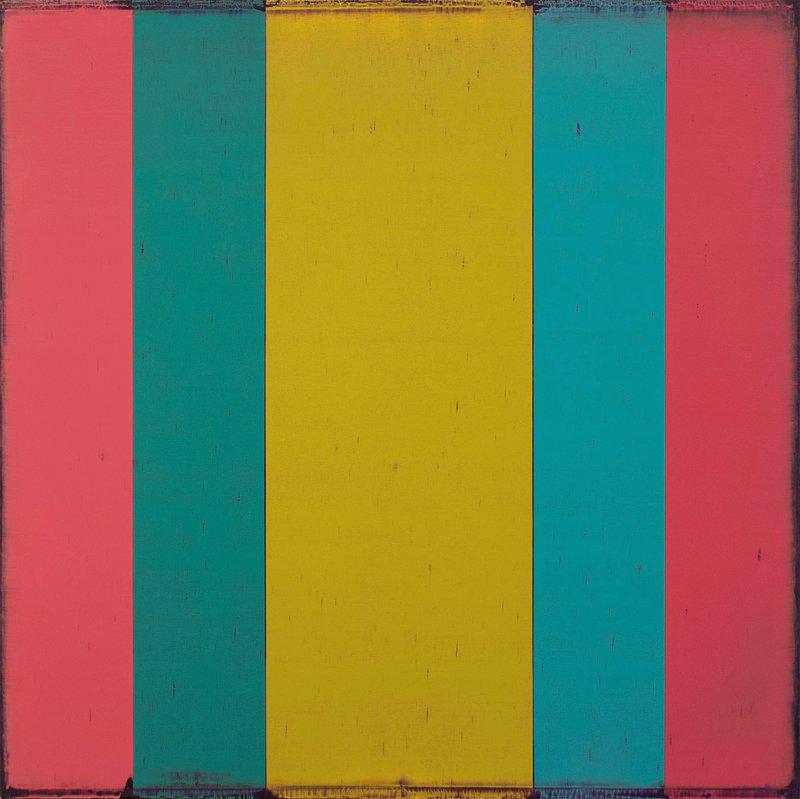 I'm a sucker for a stripe and this is bold. It's as obvious as that. And then you combine that with the fact that it's a really fabulous color pairing – that chartreuse with coral and magenta with the teal with what looks like turquoise. To me the colors are so sophisticated and so slightly odd that they almost read neutral. I could work with this and I could live with this.
I work in a lot of color, but I generally don't tend to live in a lot of color. I'm more attracted to a lot of blues and greys and naturals and greens, so this is something I could look at every single day and never get tired of. There's a vibrancy to it, there's a clash to it, there's a structure to it. And with that slightly irregular edge it's not perfect. I don't know what caused that but it shows that there's some depth and texture to it.
I would want to see this every day when I wake up – not that I see anything when I wake up because it's always dark! So I might put it in my bedroom. In my range of vision as a reminder to stand up, be bright, be sharp, be symmetrical; but also, have fun!
DAVID SHRIGLEY – Untitled (Old Dog), 2021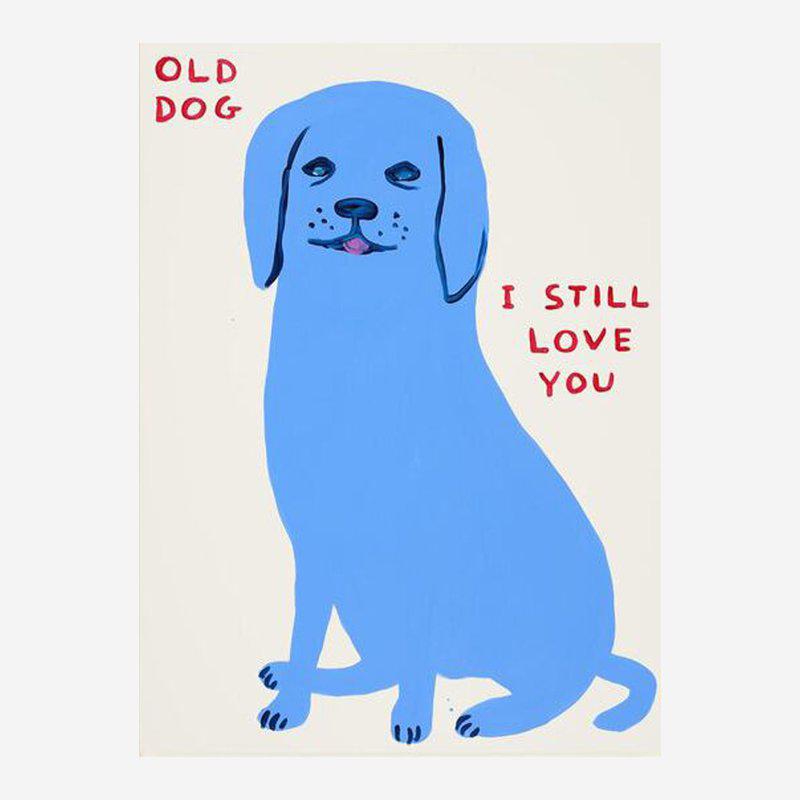 There are a lot of things I love about this. First of all I'm a dog lover. I have three Border Terriers. And they come to work every single day. They are a joy in my life. When I was growing up we had farm dogs so they stayed outside. I never thought I'd become this dog person and now I know why people say they like dogs more than people. I have to say that I fall into that category.
I had a home upstate near Hudson, New York and I recently sold it. And there was this old gentleman who lived in the community and he would paint these very primitive paintings of dogs or cats or people. I think he was homeless but everybody supported him – every antique shop and every art gallery would have some of his paintings which were usually done on chipboard. I bought one called Dancing Dog, of a dog holding up a boombox. It was very happy and it just made me smile and it was the exact opposite of a lot of the pretence that a lot of art and the artworld can often fall into. With that as with this, basically it's a case of what's not to love?
JOHN FOLCHI – Cloudscape 32, 2020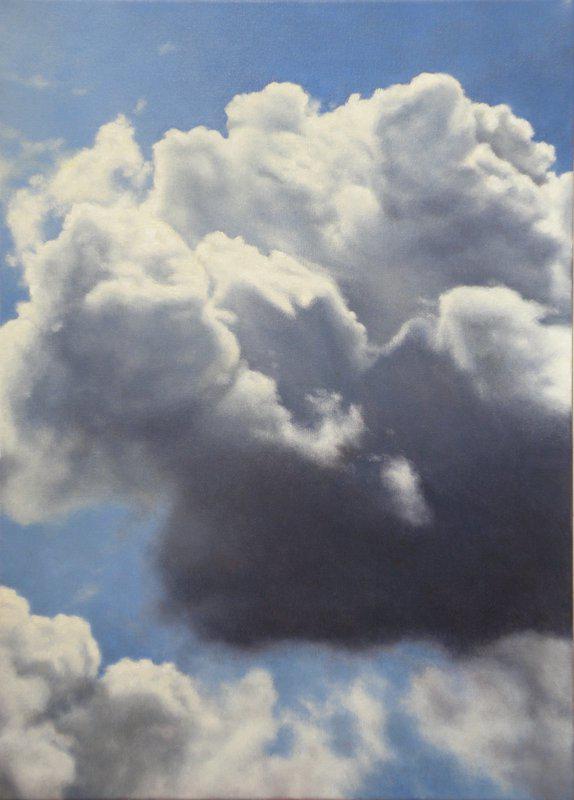 To say clouds are among my favorite things is somewhat of an understatement. They are right up there with Sharpies and boxwood hedges! It's the simple things, right?
I'm the guy who's always taking pictures of cloud formations from the plane. I love clouds, it's as simple as that. I grew up on the West Coast where there wasn't a lot of trees and we had those flat bottom cumulo nimbus cloud formations which just made for the most incredible sunsets.
I look at them and I'm just kind of like in awe. But we take this for granted - it's our atmosphere. But really, is there a sculpture or something more magical and beautiful than a clear day when you've got these big cotton ball clouds?
Whether you're a kid laying on the grass, or a lawyer laying in the pool, you soon begin to identify the shapes above you and what you see or think you can see in them.
MARK BEARD – [Bruce Sargeant (1898-1938)] Two Fencers Watching a Match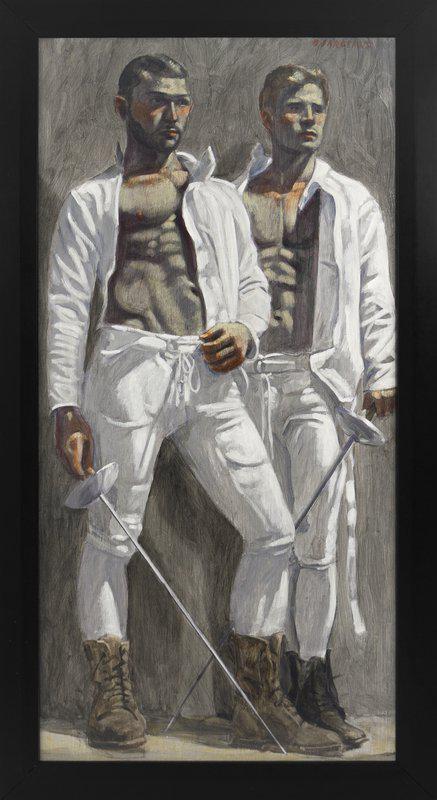 I bought one of his paintings at a public art fair on Fire Island about five years ago. Everything there was so horrible and I suddenly turned a corner and saw some Mark Beard paintings and thought, Ah! Here's an artist!
Obviously it's hot guys with amazing physiques, but there is a certain 1930s quality about this I love. I'm always attracted to that old world, vintage 30s thing. My partner and I had Mark do our portrait - with fluffy clouds overhead - for Christmas a couple of years ago.
I like Mark, we always have a fun experience with him and so it's personal to me. But this one also amuses me because one of my favorite emojis is the fencing emoji. There's definitely a tongue in cheek quality about this that I like because they're like so serious and yet so really, really homoerotic.
The paintings I like by him generally tend to be quite large so you'd have to have somewhere quite large like an entry hall where the picture can just hit you. I haven't even figured out where the one we had painted will go yet.
BRIAN SCOTT CAMPBELL – Stone Bridge, 2020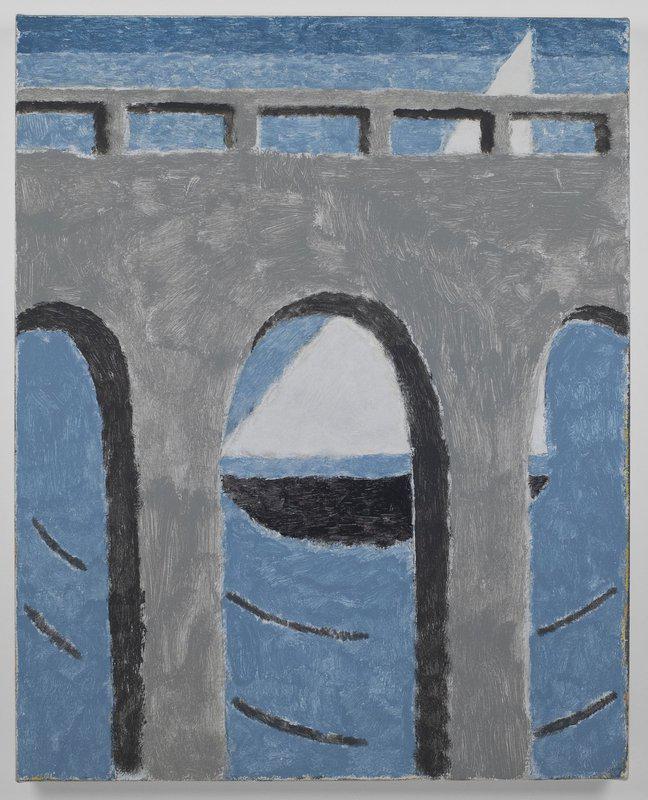 I like blues and greys and, along with clouds, sail boats are also among my favorite things. My favorite shirt as a child had sail boats on it. They had to anaesthetize me to take it off to wash it.
There's a strong symmetrical element to this picture. You've got the concrete which is symmetrical and rigid and just the placement of that sail going through the whole thing - it's so simple. But you've still got sky and water which is natural and flowing.
I also like this stone bridge painting in contrast to the John Folci cloudscape because while they would look beautiful together, one is very soft and billowy and organic, and the other is very structured and shows mostly manmade elements. So, once again, there's that duality of oppositions, but there's a perfect harmony between the two paintings.
I'm a little bit of a geometry and symmetry junkie. As organic as my work is, that's the duality of being a triple Gemini I guess.
Find out more about Miller's beautiful new book, Flower Flash, here. This gorgeous and poignant visual diary traces the phenomenon from the first, spontaneous Flower Flash to the even more profound installations of the pandemic through a kaleidoscopic collage of photos documenting the Flower Flashes, behind-the-scenes snapshots, Miller's inspiration material, fan contributions, and more.
Meanwhile, you can find out more about Lewis Miller's limited-edition Flower Flash print here.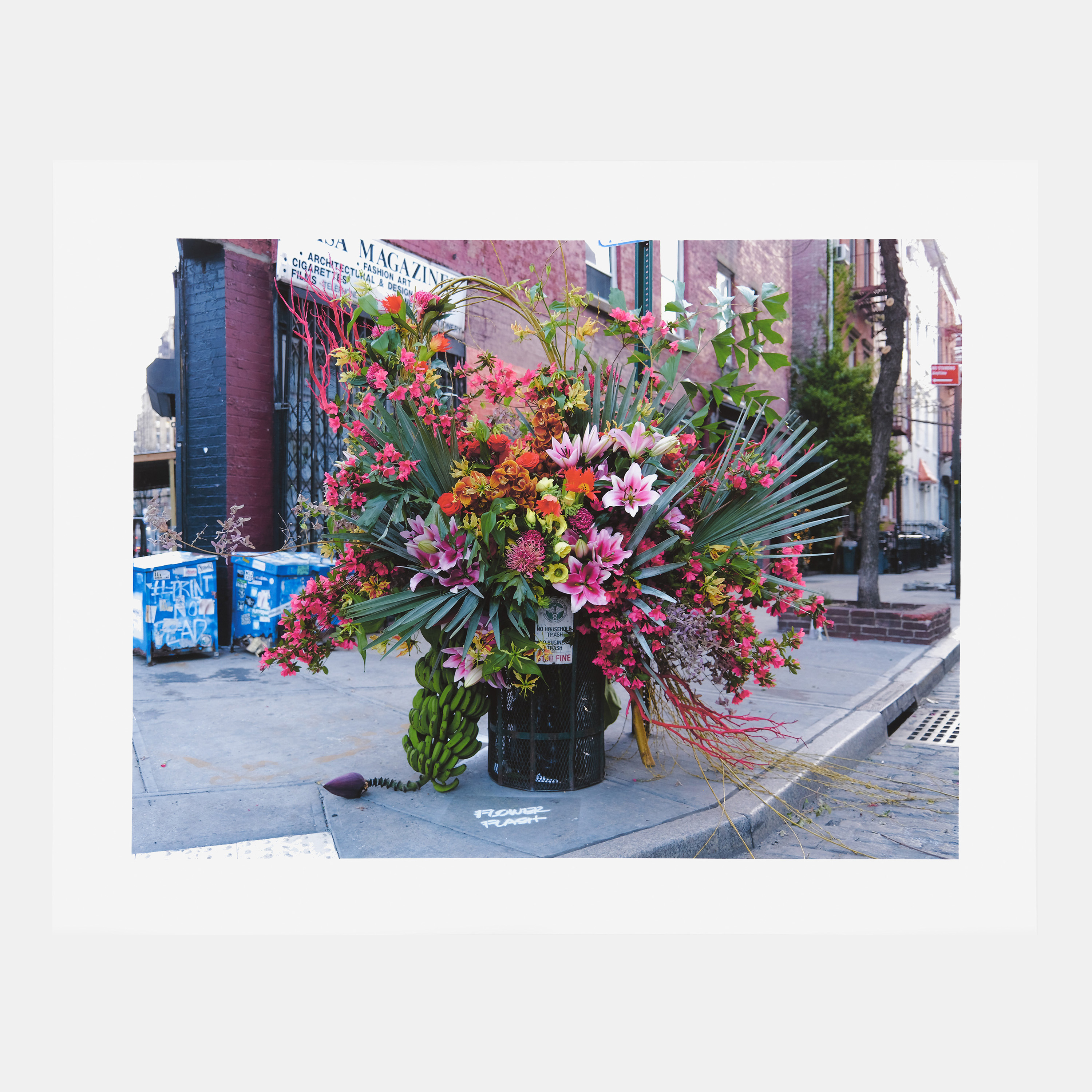 Digital print on Moab Entrada 300 gsm Natural 20.00 x 25.40 in 50.8 x 64.5 cm Edition of 100 Each edition comes with an artist signed and numbered label affixed on the back.