A Cecily Brown print is both a thing of beauty and a wise investment choice. It can prove to be a great community asset too, sparking interesting conversation at social gatherings (however distanced they may be). However, a little research is required. For example, do you know whether or not Brown is regarded as a YBA? How does she fare in the art market? Are you familiar with her successful mother and father? Or her historical references? Or her important rock and roll influences for that matter? Read this, and you won't be stuck for intelligent conversation around Brown and her work again.
She's British and she was born in the late 1960s? So, she's a YBA, right? Not really. Though she is of the right generation, Damien Hirst , Tracey Emin and Jake and Dinos Chapman , are a little bit older than Brown, and she was never really part of that much more conceptual scene that came to exemplify Young British Artists in the 1990s. As she told the Financial Times in a 2016 interview, "What I hated about the YBAs was that it was a closed club, it made me feel I could never be part of this so I may as well fuck off halfway round the world. I didn't fit in England when I left."
In a 2019 inteview, she is equally emphatic. "I was never part of the specific social and artistic YBA group in terms of [collector Charles] Saatchi and everything else, but they are my peers and more or less my generation. I am actually surprised I haven't been placed with some of them more."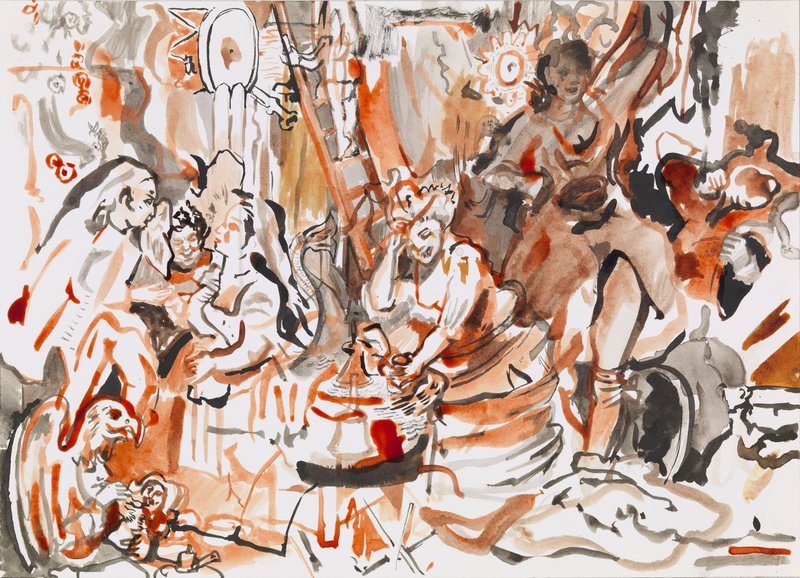 Strolling Actresses 2012 by Cecily Brown
So, what is her back story? Cecily Brown is a painter who was born in London in 1969. She came from quite an arty family. Her mother, Shena Mackay, is an award-winning novelist who was shortlisted for the Booker in 1996; her father (who actually didn't raise Brown), the late David Sylvester, was a prominent art critic and curator who worked closely with Francis Bacon , among other artists.
Brown herself studied under the renowned British painter Maggi Hambling before attending art college. Graduating from the Slade School of Art in London in 1993, she relocated to New York in 1994 (having spent six months there as an exchange student in '92); she exhibited at Deitch Projects in 1997, and began to show at the Gagosian gallery in 1999. She has been the subject of solo shows at the museum of Fine Arts, Boston; the Hirshhorn Museum and Sculpture Garden, Washington, DC; Museo Nacional Centro de Arte Reina Sofía, Madrid; and the Louisiana Museum of Modern Art, in Denmark, among other institutions.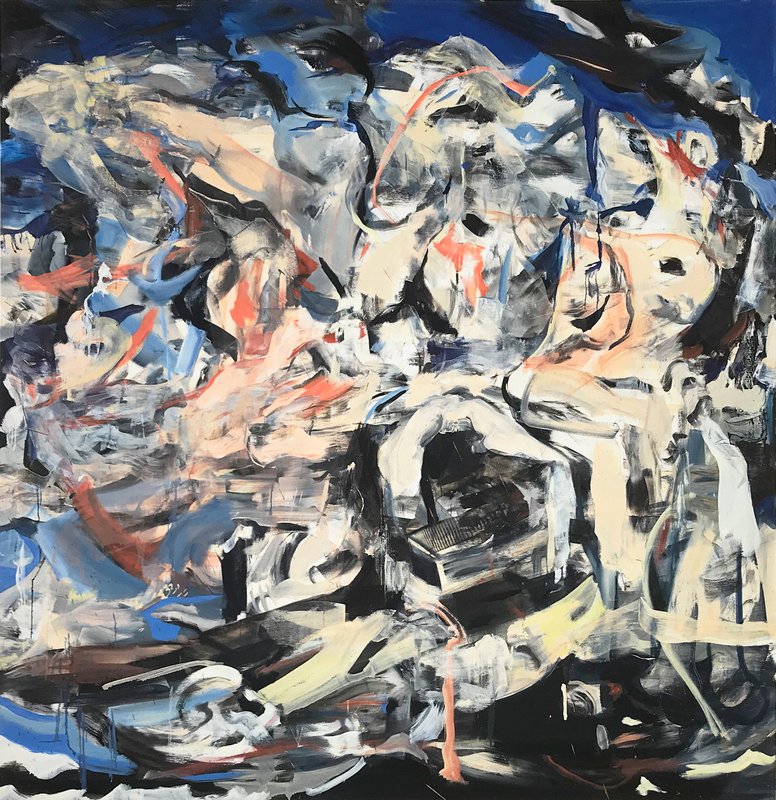 The Last Shipwreck , 2018, by Cecily Brown
How does she do in the market? Incedibly well. Brown might not have felt she fitted back in the UK, but today that feeling certainly isn't mutual. Her painting Night Passage sold for £3,131,250 at Christie's in London in March 2019, while her work Twenty Million Sweethearts achieved £1,155,000 at Sotheby's in London in February 2020. And she also does down very well in her adoptive hometown; Suddenly, Last Summer a 1999 painting of hers sold for $6,776,200 at Sotheby' s in New York; her triptych, Have You Not Known, Have You Not Heard , went for $3,740,000 at Sotheby's in New York in September 2019; while the winning bid for her work, Confessions of a Window Cleaner , was £3,620,000 at the same auction house, in May 2019.
I see a lot of Abstract Expressionism in her work? That's a well-acknowledged influence, though only up to a point. Brown often cites painters such as Willem de Kooning , Philip Guston and Arshile Gorky as influences. However, she isn't quite so big on, say, the more sober, restrained, pure abstraction of Mark Rothko . She regards herself as more of a figurative artist, albeit one interested in the "a moment when figuration breaks down," as she puts it.
Ab-Exers aside, she can remember being excited by the Francis Bacon books in her childhood home, as well as a catalogue featuring the ghoulish early 20th century paintings of George Grosz. Her works have explicitly referenced and paid homage to a wide range of figures from art history, including Degas, Hogarth and Bruegel.
I recognize a few poppier references too. Oh yes. Her work All the Nightmares Came Today (top image), for example, takes its title from a David Bowie lyric, while its source material is the group nude photograph that graced Jimi Hendrix's 1968 album, Electric Ladyland.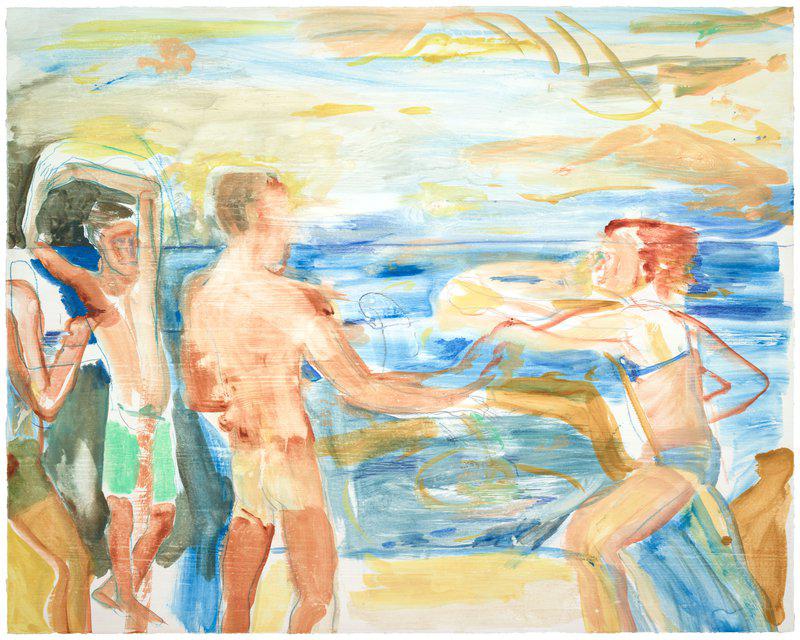 Untitled , 2014, by Cecily Brown
Bowie and Hendrix? Then why does her work remind me of going to the opera? Perhaps because you saw a couple of her paintings there? In 2018, two huge works, Triumph of the Vanities I and II, were installed at the on the Grand Tier and Dress Circle of the Metropolitan Opera House in New York.
There's quite a bit of sex her paintings, isn't there? There is, though this never edges over into outright pornography, perhaps because it so often shades into abstraction. As Brown's entry in the 2019 Phaidon book Great Women Artists puts it, "her dynamic use of paint is essential to her practice, her way of working expressing an emotional, psychological, physical and sexual vitality. Her method evolves without foreseeing a clear endpoint, reflecting the uncertainty and impetus of sexual and emotional relationships."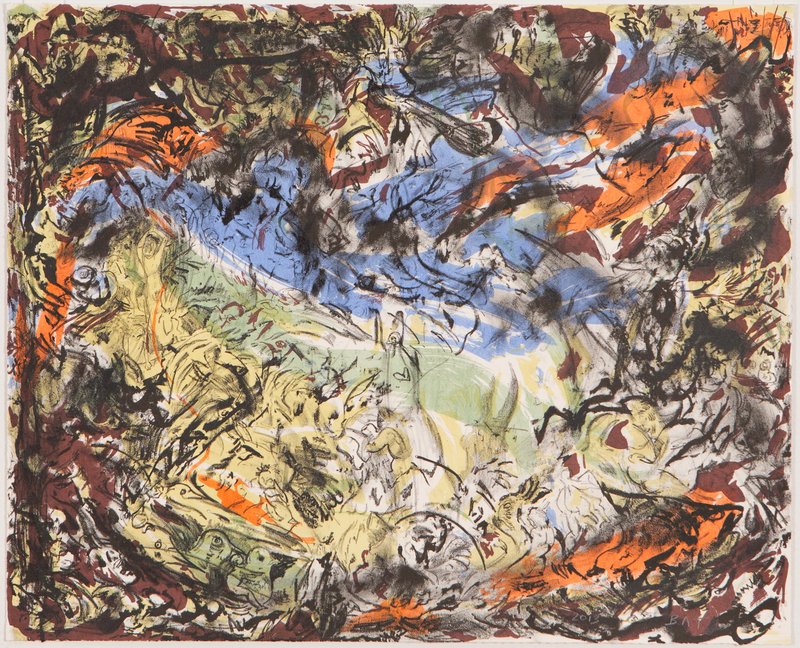 What the Shepherd Saw , 2013 by Cecily Brown
I love that lack of a clear endpoint. Is that how Brown views her paintings? Yes. She has spoken about her hopes that viewers will find something to engage with continually in her work, and "for you never to feel as if you're ever really finished looking at" her paintings.
That's great. OK, can I have one more nugget? Sure. Her father David Sylvester, coined the term 'Kitchen Sink' initially to refer to paintings of gritty social realism, in his 1954 article about the painting by the British artist John Bratby. Today the phrase is used to describe a raw, domestically focussed style of British postwar drama.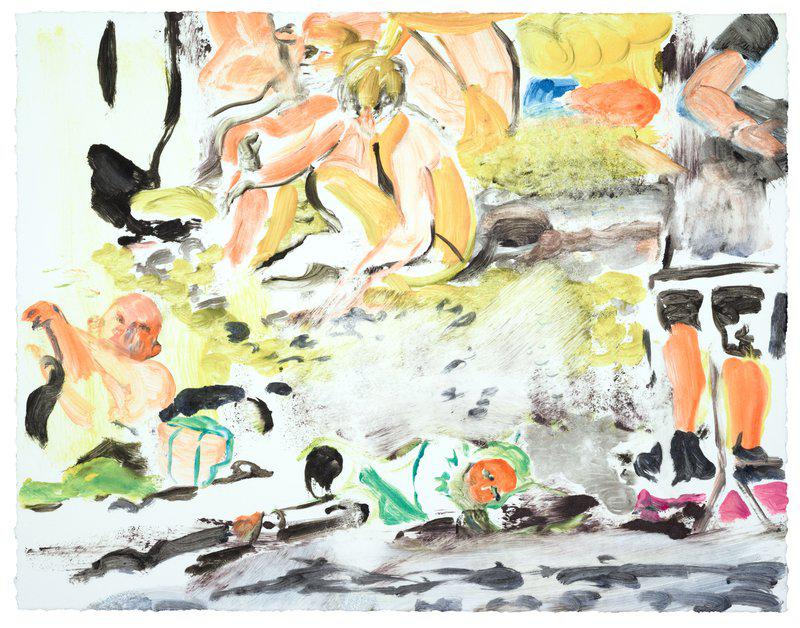 Untitled , 2017 by Cecily Brown
What should I hang her next to? For a sexy, painterly hang, why not try Lisa Yuskavage , Eric Fischl or John Currin . Try her alongside splashy, powerful painters such as Katherine Bernhardt or Dana Shutz ; or acknowledge her influences with a bit of de Kooning or Francis Bacon .
[CecilyPrint-module]