Opening to VIPs this morning, the third Material Art Fair has upped the ante for alternative fairs in Mexico City, debuting an ambitious layout—designed by APRDELESP and Carla Valdivia—that nestles each booth in its own private room, complete with a roof, and unveiling a splendid spread of art that redefines the meaning of "emerging." While there's a wealth of seductive (and seductively priced) art on view, here's a glimpse of five artists in the fair who deserve your attention.
JORGE DE LEÓN
Proyectos Ultravioleta (Guatemala City)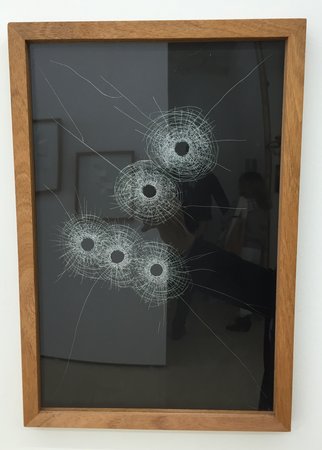 When he was younger, Jorge De León ran around Guatemala City with a violent street gang—or "delinquent group" as the euphemism goes—causing trouble and expressing his artistic side by designing tattoos for his fellow gangbangers. Then, one day, he got stabbed in an altercation and decided it was time to get out, and he went to art school. (Along the way he also was in and out of jail 12 times.) Now 39 years old, De León makes art that explores urban themes through the lens of his gang experience, balancing violent subject matter with formal rigor.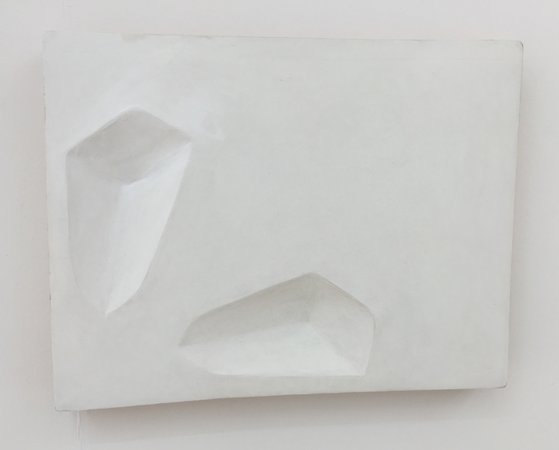 For instance, in his solo booth at the fair, there was a suite of drawings ($2,200 apiece) that he makes by painting a small rectangle of sheet metal black and then dropping coins on it, scratching out spidery bullet holes where the coins land; the haphazard placement is meant to convey the random threat of stray bullets, while the drawings are covered with reflective glass to suggest the viewer is implicated in the violence as well.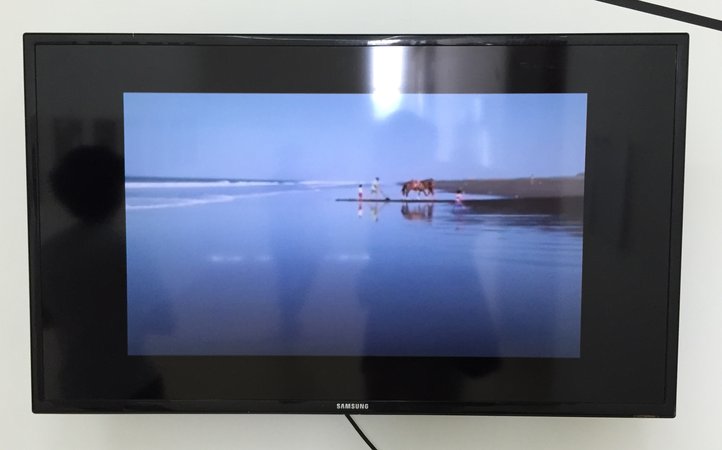 Other pieces in the booth included sculptural evocations of cinder blocks ($2,900 for wood, $2,500 for paper), and a video showing him leading a horse to plow a furrow on the beach, a Sisyphean style of drawing that is quickly erased by the sea. (He was long known primarily for his performances, which were often tough and body-oriented.) Nowadays, parallel to his art projects, De León also runs an industrial design studio, where he makes tables out of bullet-riddled car windshields and other objects, and where his fabricators consist of other former gang members whom he has persuaded to follow his path out of crime and into the world of aesthetics.
JOSÉ ANTONIO SUÁREZ LONDOÑO
Lulu (Mexico City)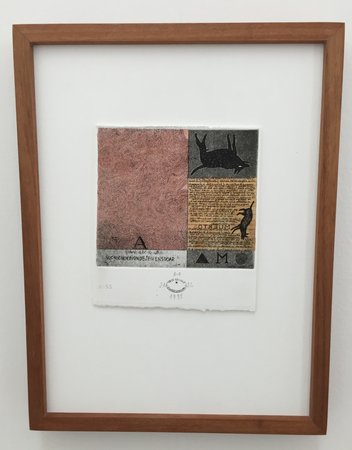 The 50-year-old Colombian artist José Antonio Suárez Londoño keeps a low profile, having worked every day for years in his Medellin studio on exquisite miniature compositions that he either draws or scratches out with a needle to create small-batch prints on luxuriantly thick paper. Somehow, however, the world has found him: he is collected by MoMA, was featured in Massimiliano Gioni's "Encyclopedic Palace" Venice Biennale, and had a solo show at the Drawing Center in 2012.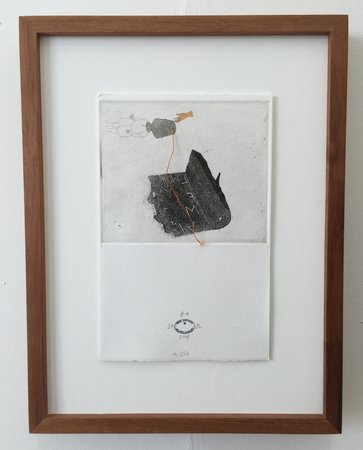 The allure is easy to understand. Each piece encapsulates a slice of the artist's own private universe—in dialogue with both literature and the history of outsider art—and comes off a bit like a cross between Klee and Karl Walser, and his occasional use of watercolor adds a lyrical element to his little dreamscapes. With all this in mind, his works are a sensational value at $450. 
ELSA-LOUISE MANCEAUX
Lodos (Mexico City)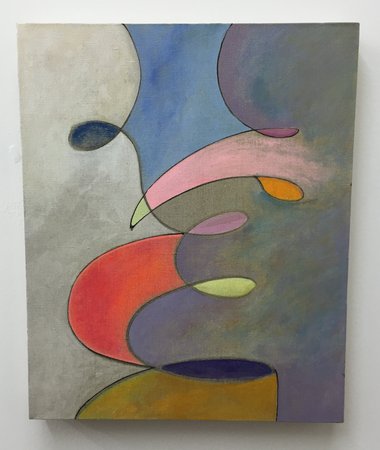 A Paris-born artist who studied at the Holland's famed design incubator the Gerrit Rietveld Academie, Elsa-Louise Manceaux moved to Mexico City two years ago and has begun making lovely abstractions that she derives from comic-book imagery. This one, for instance, takes the iconic shape of word bubbles and riffs on them to create interiors and exteriors, pockets of color, and a little jet of pink that breaks the rules, streaming out into the painterly ether. The background, meanwhile, evinces the confidence of her brush handling. While Manceaux, 30, is still starting out her career, this piece ($1,500) exuded both freshness and assurance at the fair.
YANN GERSTBERGER
Michael Jon Gallery (Miami & Detroit)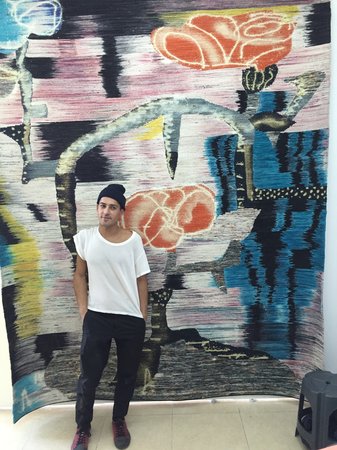 When Yann Gerstberger did a residency some years back at Dar Al-Ma'mûn, an art center on the outskirts of Marrakesh, he became captivated by the way that the patterns of traditional Berber carpets resembled abstract paintings. He was also inspired by the more recent style of Boucherouite carpet-making, in which women scour markets for cheap materials—t-shirts, towels, etc.—to weave into colorful designs. The fact that both manner of carpets are exclusively made by women further piqued his interest, so the artist began copying their approach, using mops to weave oneiric, quasi-figurative compositions that he affixes to a vinyl backing.
Born in Marseilles, Gerstberger moved down to Mexico City three years ago—drawn by the "tropicalité," as he put it—and began experimenting with a mix of synthetic and natural dyes to give his carpets rich colors. Studying local traditions, he discovered a red dye extracted from cochineals (a kind of cactus parasite) that the ancient Mayans had used in the pre-Hispanic era, and which still holds its bright hue today.
That red now has become a signature ingredient of his striking works, which act somewhat like collages, assembling images he culls from the Internet and other sources but which waver on the cusp of abstraction. Produced over a month through several stages of dyeing, these cost $12,000.
GEORGIA DICKIE
Cooper Cole (Toronto)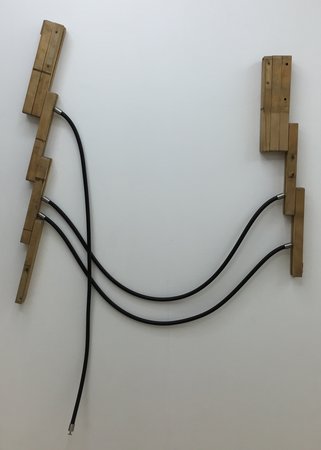 Georgia Dickie grew up in Toronto with a dad who worked in movie set design and a fashion-designer mom, and as a result her garage was full of exciting odds and ends that she could play around with. Now the 26-year-old Ontario College of Art and Design graduate has taken that love of rummaging and translated it into her sculpture, assembling combinations of found objects into clever arrangements that tend to have a sly sense of humor. This piece, for instance, titled Smile, grins raffishly from its perch on the wall, and will run you $5,000. Look out for this young artist to have a solo show of new work at Cooper Cole next month.