On SEASON's website, closely cropped images of canvases by painters like Andy Heck Boyd, Anthony Palocci Jr., and Sharon Butler suggest a gallery that operates like any other—within the "white cube." But there's a catch. "If I had photographed the work from just a few feet further back," says director Robert Yoder, "you'd see that right next to the painting is a lamp sitting on side table." Yoder runs SEASON out of his house in the University District of Seattle, Washington—using his sparsely furnished dining and living rooms as a make-shift exhibition space.
With a day job in retail and his own practice as a painter, Yoder commits to doing four shows per year—far fewer than most galleries that operate on a monthly schedule, which coincidentally (or not coincidentally) coincides with the monthly rent cycle. By throwing exhibitions in his living space, Yoder is able avoid hefty overhead costs, but that's not the only reason why he's chosen a domestic space to show art.
"When I have opening receptions, everyone who comes plans to visit for 30 minutes, and ends up staying for at least an hour and a half," says Yoder, who attributes this trend to the fact that his home provides a welcoming atmosphere that captivates viewers for much longer than sterile, harshly-lit white-cube galleries can. And while each exhibition officially only takes place in two rooms, Yoder makes the entire house open, encouraging guests to snoop around. "The bed becomes a flat file, every table and desk has drawings or small sculptures on it… even the bathroom has work on the walls." Though his audience may come to see the exhibition on view, they're often pleasantly surprised by whatever else they might discover in the dealer's house, which he lovingly refers to as an "art storage facility." Plus, says Yoder, collectors benefit from seeing the work in a domestic context, since that's mostly likely where it will end up.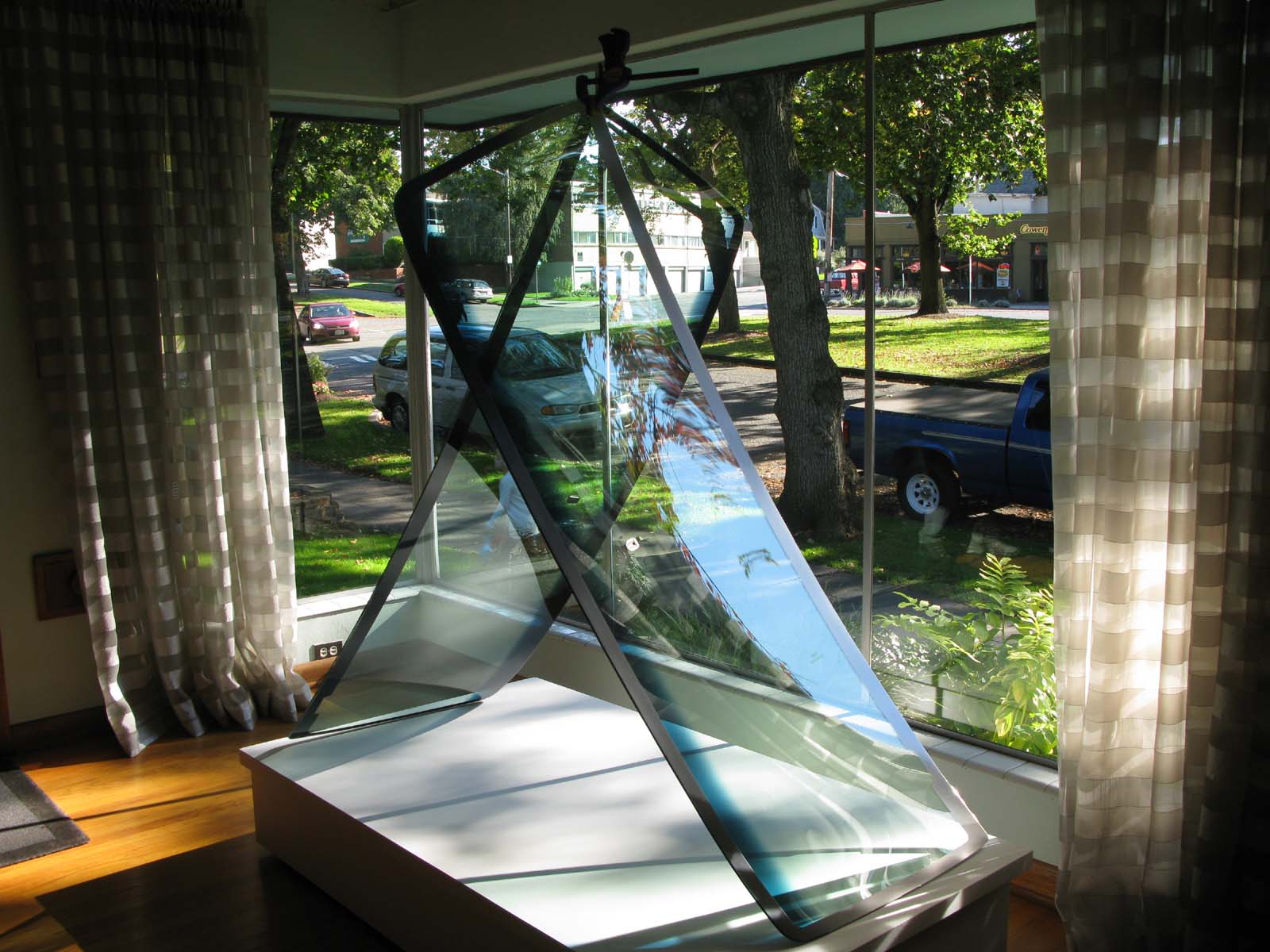 A sculpture by Jesse Sugarmann at SEASON, Yoder's living room

SEASON is currently posting up at the Seattle Art Fair, which in its third year, has hosted the local gallery since the beginning. "We'll just say the first year was a learning experience," admits Yoder, "but the second year I did better than I ever imagined I could." And this year? Yoder says it's too early to tell. His booth presents a number of works in varying media by two Seattle natives: Sean Barton and Seth David Friedman. A sign painter by trade, Barton uses the techniques he learned at his day job to paint geometric abstract designs on mirrors. He's also recently begun making work with more traditional methods—oil on canvas—making large paintings with all-over floral patterns.
Friedman also takes cues from his day job. Working in the imaging department at Seattle's Children's Hospital, the artist spends most of his time looking at organs. "His sculptures are abstracted human shapes," Yoder tells Artspace. "He first carves the shapes out of stone, and then makes a mold so he can cast the shape in other materials like bronze."
SEASON's novel model isn't entirely revolutionary, which the candid director admits. "It's not that no one has ever done this before, it's just that in Seattle, it's not so common." This October will mark the seventh year of the gallery's run—a healthy track record suggesting that whatever Yoder is doing, he's doing it right.
RELATED ARTICLE: 8 Highlights From the Seattle Art Fair