Travel remains a luxury for many artists. After all, the studio is a remarkably grounded, static space, where great odysseys are limited to voyages within the artist's imagination. However, Bill Claps has managed to combine long hours in the studio with great adventures beyond its four walls.
The New Jersey-born, New York-based, artist has drawn on his own personal experience, venturing through East Asia, in his detailed, varied works of art, which combine painting, drawing and photography, among other media.
A Harvard grad, Claps has a strong grasp of art history, as well as a deep understanding of contemporary modes of communication, as practiced around the world. This global perspective has paid off. The artist has shown internationally, at such institutions as Today Art Museum, Beijing; MOMA Tbilisi, Georgia; la Galleria Nazionale d'Arte Antica di Palazzo Corsini in Rome; Galerie Marciano Contemporary, Paris; and Evartspace, Geneva. He has also been the subject of numerous exhibitions across the US.
He is also one of a number of artists who offer their work directly to collectors, via Artspace as part of our Artist Direct program. Read on to learn more about his inimitable technique; his own cultural interests; and how his childhood love of martial arts led to a career as a fine artist.
BILL CLAPS - Huangshan Valley I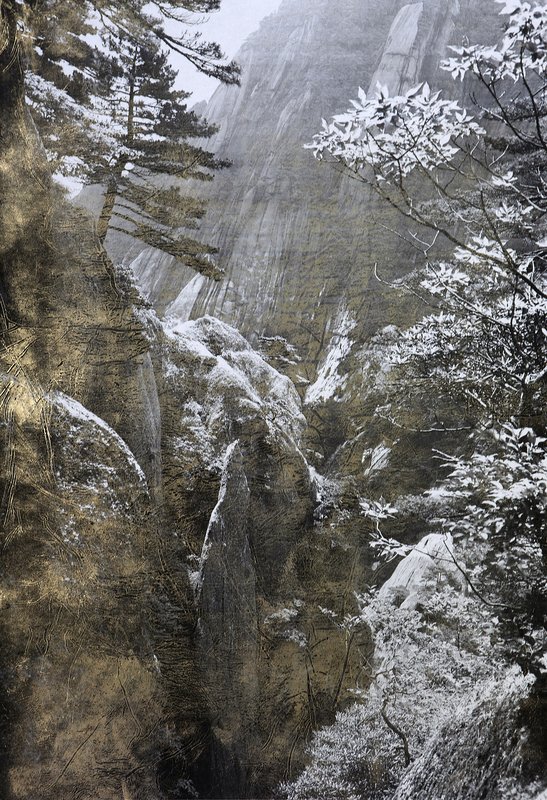 How would you describe what you do? I'm a visual artist, photographer and filmmaker working in various mediums, including photography, painting, and video. I like to explore the universal roots and common elements that are shared by different cultures, and I often play with art history, language and code.
What fired the interest in the Japanese woodblock print artists of the 19th century for your Natural Abstractions series? I initially got interested in Asian culture through martial arts. I wrestled for many years and did judo and some kung fu training. I loved watching kung fu movies as a child, and developed a fascination with the discipline and spiritual elements of martial arts culture.
After college I spent a year traveling in Asia. In China I climbed the Buddhist holy mountain of Emi Shan and visited Shaolin monastery, the birthplace of kung fu. I felt something really special in these mountains and the experience made a huge impression on me.
BILL CLAPS - Cocotrina Halesander, 2016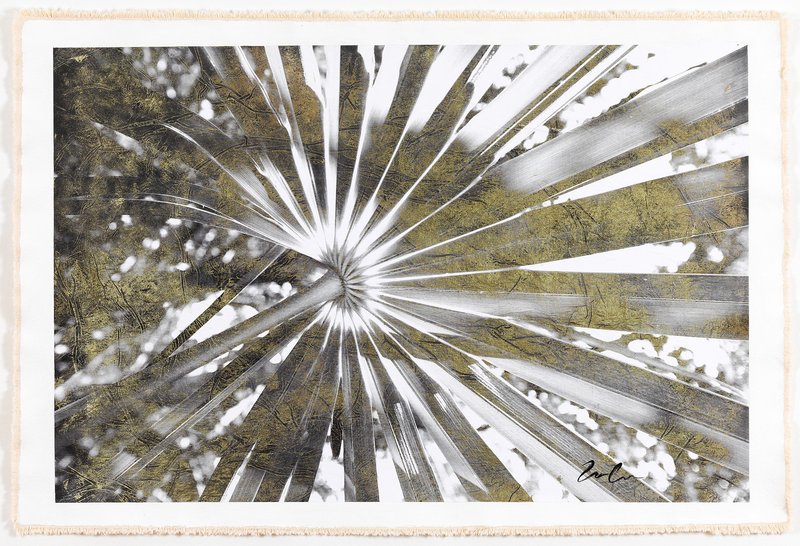 I started studying Sumi-E ink painting in New York with Koho Yamamoto, a Japanese master painter, and began looking at a lot of Asian art. As I explored Chinese and Japanese art there was something about the simplicity and spiritual nature of the work, the use of negative space, and the abstract quality of Asian landscape painting that really drew me in. I was also attracted by their respect for the natural world and the understanding that man is only a part of that world, not the center.
This led me to discover Japanese woodblock prints, which are often images of landscapes, and have very intriguing graphics, composition, and texture. I'm very drawn to textured artworks, as texture is history, it tells the story of the object. I love looking at old walls, ancient graffiti, and the texture of old pottery and sculpture.
I started thinking about how I could recreate that same textured feeling of a woodblock print, but by instead using a new process with contemporary materials. So I began experimenting on my photos of nature and landscapes with the metallic foil process I'd been using with the "It's All Derivative" series. These artworks were the beginning of my Natural Abstractions series.
BILL CLAPS - Tree Silhouettes West Lake II, 2019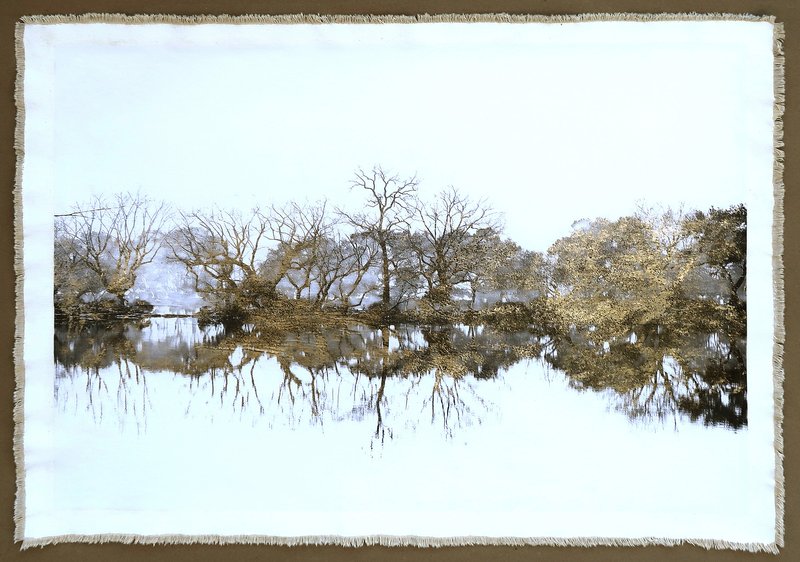 What is the significance of the gold foil you use in some of your works? I started using metallic foils at the beginning of my It's All Derivative series, a period when I was thinking about the important influences in my personal and creative life and wanted to honor my mentors and the people that have inspired me over the years.
I began experimenting with different materials that I thought might be appropriate for the series, which was about icons. Metallic materials have historically been used to create icons: silver, gold and bronze. I decided to concentrate on using gold because gold is an element that historically has added value, significance, and weight, and it's been used by many different religions to indicate spiritual and cultural importance.
BILL CLAPS - It's All Derivative: Cambells Soup in Gold, 2012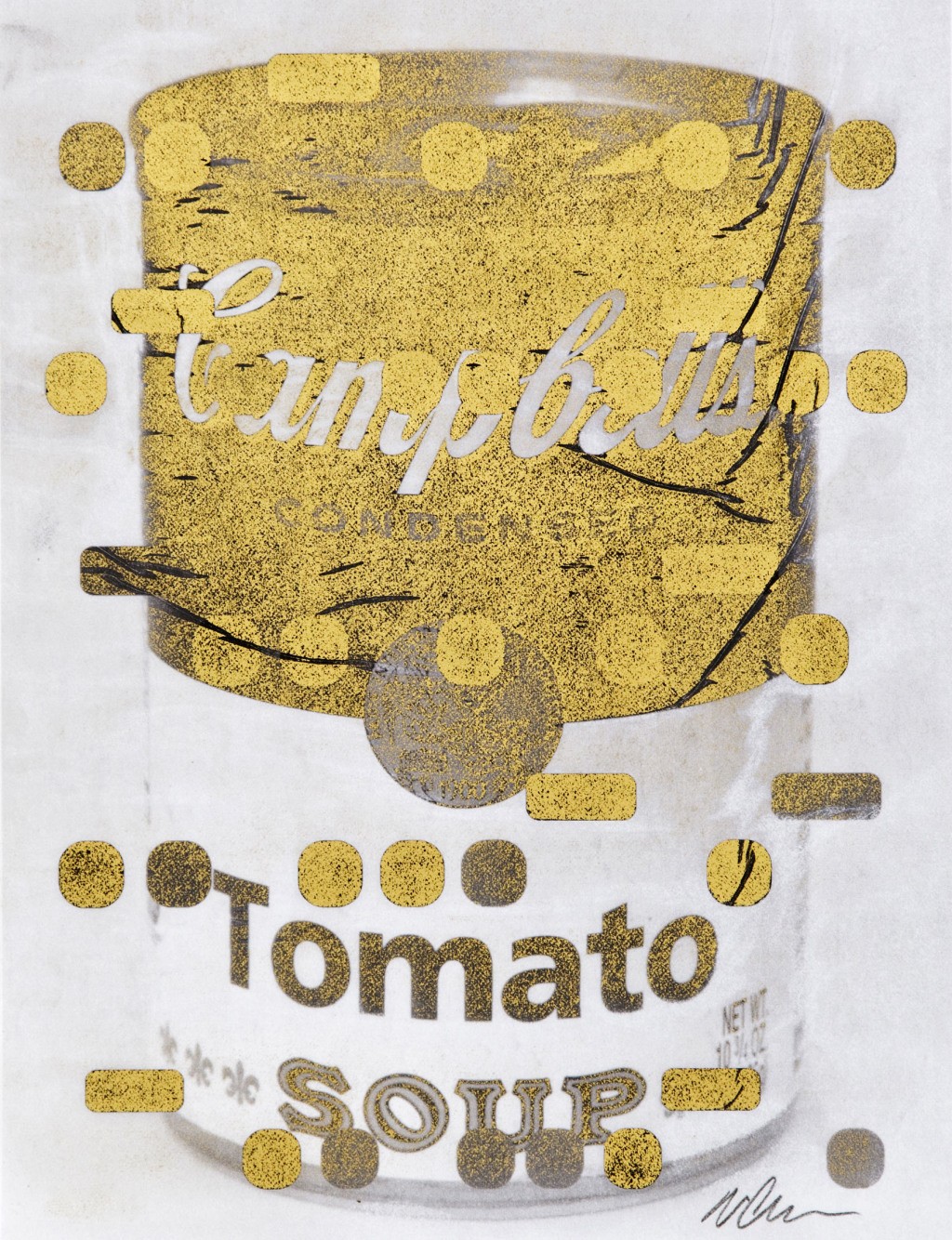 In the process of experimenting I discovered that I was able to create interesting textures on the surface of the artworks with the foils, which worked well both visually and conceptually. The technique I developed through trial and error involves using heat and pressure to apply the foils and allows me to create different textures depending on the subject matter of the work and the feeling I want to evoke. I can make the foils look like bark, rocks, the sky.
As I progressed with the metallic foil technique I realized that it worked really well with photographs, and also realized that when I applied it to landscape photos, and images of nature, it had the effect of recreating the changing light found in nature. Because of the reflective quality of the image surface, the works evolve continually throughout the day as the light changes from warm in the morning, to cool, and then back to warm at the end of the day. This creates dynamic artworks that evolve as the day's light evolves, much as the light in nature is always changing and things look different at different times of the day.
How do you hit upon a particular subject matter that then goes on to inform a series? Many of my ideas seem to come very spontaneously, but the groundwork has been laid by years of working and experimenting consistently in the studio, which is a constant development process where you're refining skills and technique and accumulating visual stimulus. Then suddenly some experience will trigger an insight, which often starts a breakthrough period where the ideas come to me in waves.
This can be triggered when I'm experimenting with new materials or by a change in my environment. I find I'm super creative when I'm traveling, and often get breakthrough ideas when I'm traveling on a train. The state of transition, the solitude and rhythmic movement, the rush of the landscape passing by, all puts me into a very positive state of mind where ideas can germinate.
When I'm going through these periods I carry paper and pen with me and quickly jot down ideas before I forget, then write them in journals and notebooks that include scraps from my travels and images and text ripped from magazines and newspapers. Later I sift through all of these and let connections form to other aspects of my practice, which leads me to my next creative phase.
Over time I go back periodically to my journals and re-read my notes, and I'm oftentimes super-surprised by my ideas, many of which I've totally forgotten. And sometimes the past ideas are relevant to something that I'm working on in the present that has a totally different context, which is really interesting.
Tell us a bit about three of your works on Artspace

BILL CLAPS - Lotus Silhouettes, West Lake I, 2019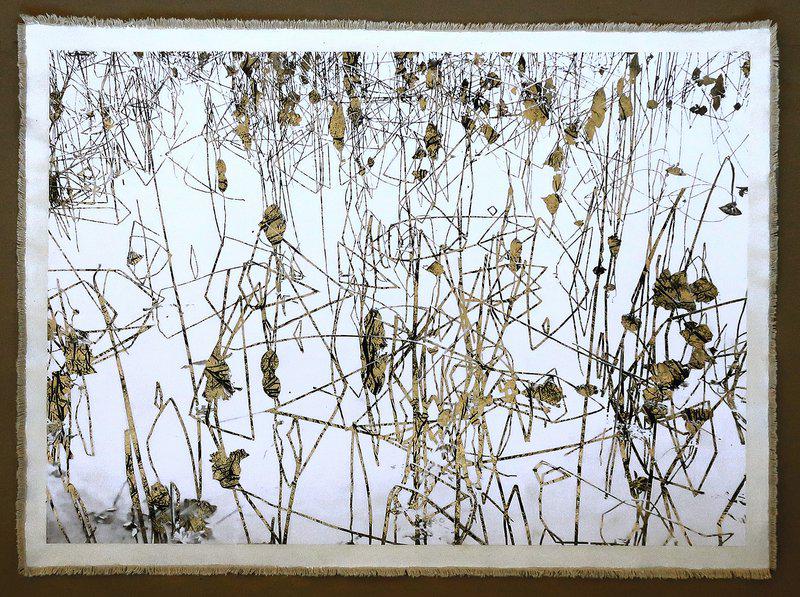 The source photo of this work is the reflection of sacred lotus plants that I shot on West Lake in Guangzhou, China, which has inspired many Chinese artists and poets over the centuries. I love the abstract feeling of this work and the geometric shapes that are created by the reflections, which feels to me like calligraphy or musical notes.

BILL CLAPS - Egyptian Dunes VI, 2019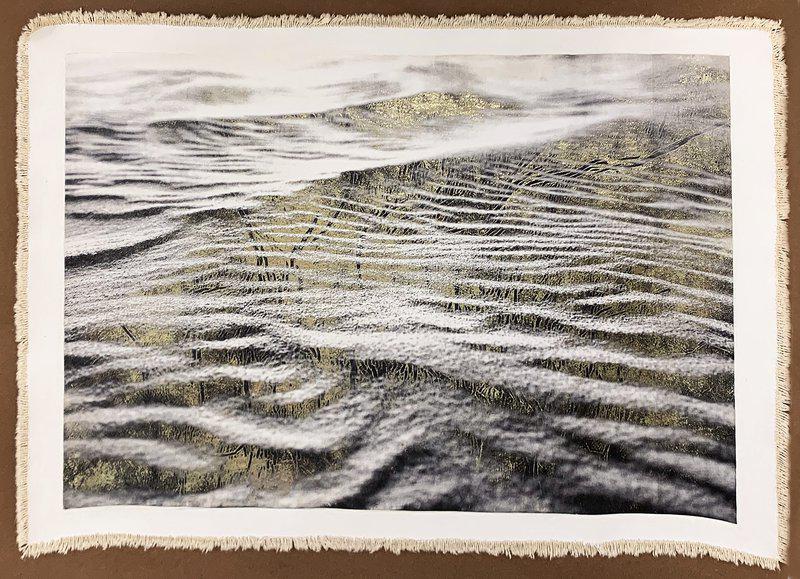 The source photo of this work is sand dunes in the Western Desert in Egypt, which I shot in 2019 during an artist residency on a boat on the Nile River. I love the minimal feeling of this work, and the delicate texture of the sand dunes.

BILL CLAPS - It's All Derivative: Pink Angels, 2013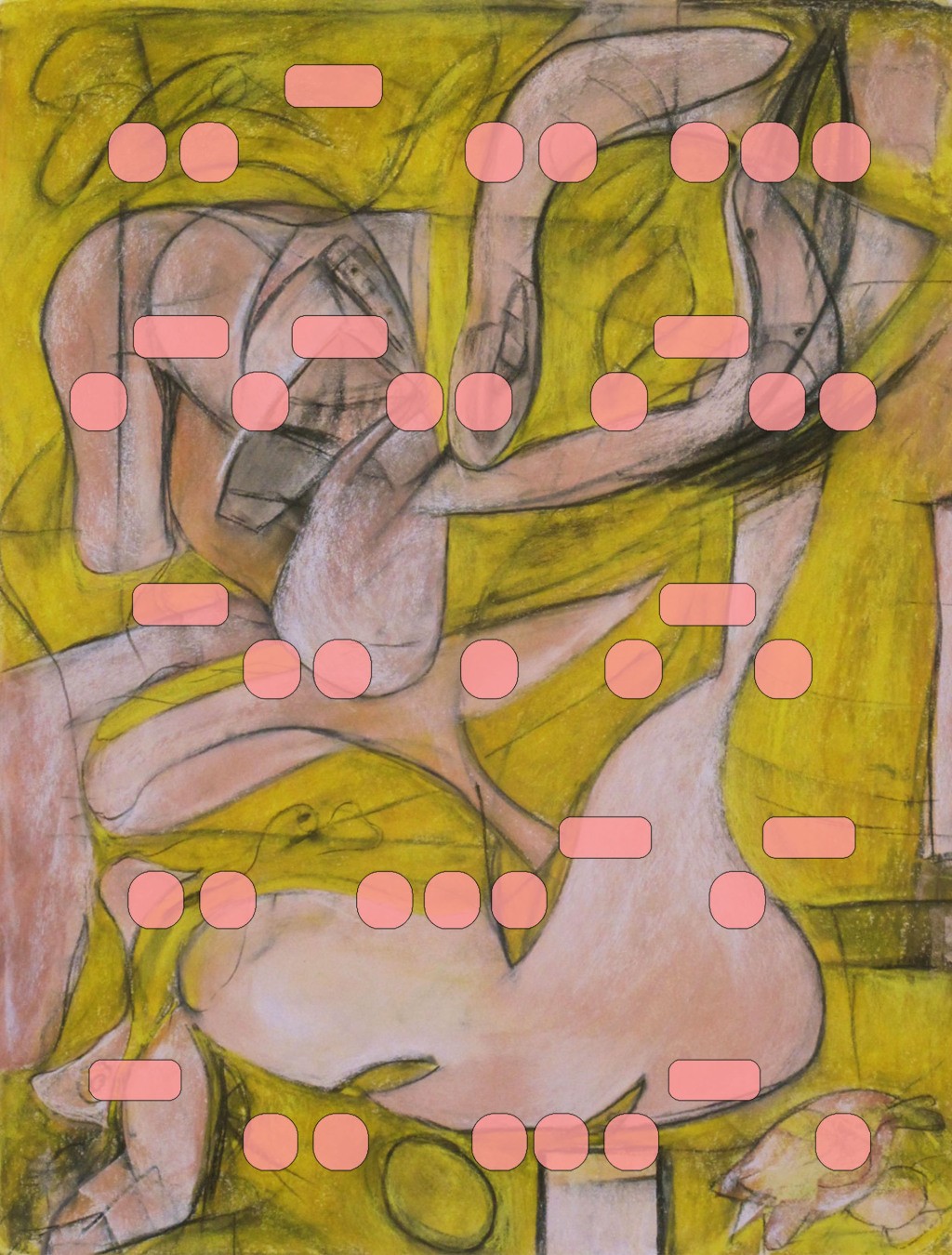 An homage to Willem de Kooning, one of my favorite painters. This mixed media work includes a photo of my pastel drawing of de Kooning's iconic biomorphic abstraction of the female figure, with Morse code on the surface spelling out "It's All Derivative". It reminds me how much I miss drawing.
Where did the interest in using morse code come from? When I began working on the It's All Derivative series I initially started playing with text in my works, but the works felt too literal. So I started thinking more about the idea of communicating ideas through symbols, which would leave some mystery in the work and engage the viewer more, forcing them to try to figure out the work. I researched a lot of different kinds of visual codes and was looking for something that worked well aesthetically with my images and had an interesting history.
This brought me to Morse code, which I had learned as a child in the Boy Scouts. Morse code was one of the first digital codes, and it's the first universal language of the digital age. It was developed at the beginning of the 1800's so it has a retro aspect to it, which works well with the "It's All Derivative" series, which is about acknowledging your historical roots and comments on art historical ideas. I found it intriguing that it was developed by Samuel Morse, who was an artist, a portrait painter and inventor. I also have several patents for a mechanical system I invented, and I felt an affinity with his right brain/left brain connection.
On a purely visual and graphic level Morse code works very well, because it's composed of dots and dashes: it's minimal, simple, and clean, and you can easily abstract the elements. You can make them larger, smaller, distort them, or allow them to fit in the background of another image. I was also drawn to the fact that Morse code was transmitted manually, so even though it's digital there's still a connection to the hand, which has always been a strong element in the art that I respond to the most.
BILL CLAPS - "Jackie" light gold with gold, 2014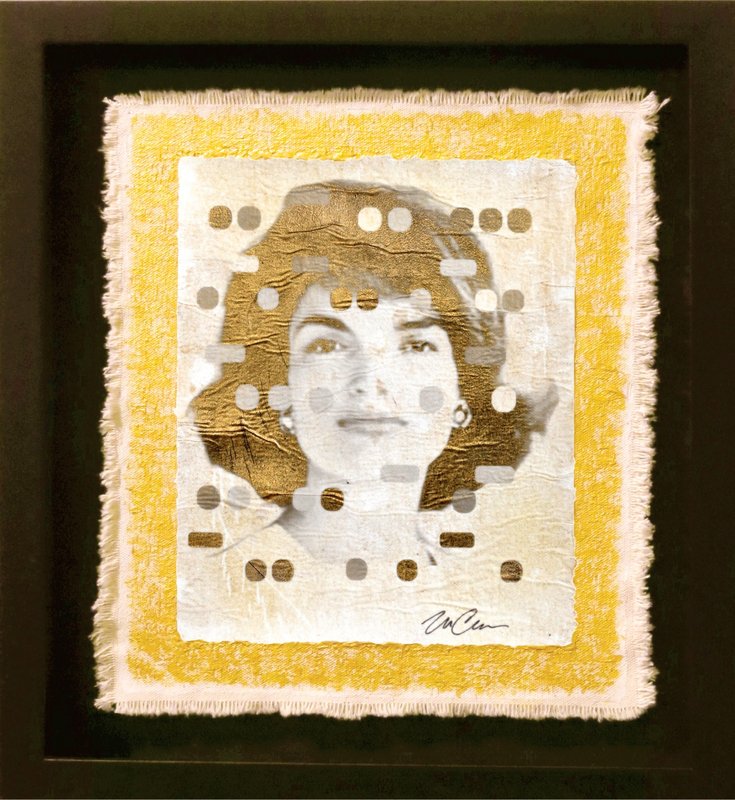 Was there a show, or event that made you want to become an artist? I have a lot of creativity in my family. My grandfather was a decorative iron designer and self-trained architect, my brother is an industrial designer, and my sister a textile designer. My siblings and I were encouraged to draw and paint from an early age, and it evolved from there.
What was your earliest art creation? The first artwork that I remember being proud of was an ashtray I made for my grandfather's birthday when I was about 10 years old. It was an abstracted head with big bulbous eyes and a long tongue sticking out of the mouth that held the lit cigarette. It was gifted back to me after he passed. It reminds me of my grandfather and it's one of my most cherished belongings.
How has your work changed over the course of your career? I've worked in a lot of different styles and with a lot of different mediums and processes over the years. I initially started working with the figure, and I drew and painted the figure for many years, abstracting the figure in drawings and paintings. I then moved into painting landscapes that incorporated abstracted elements of the figure, which I called "Figurative Landscapes", which expressed a lot of energy and motion. I used a lot of color early on in my career.
About 10 years ago I went through a period where I was losing my motivation and began feeling that I had explored the figure as far as I wanted to go. I took some time off to think about what might be the next stage creatively, and began thinking a lot about the influences in both my personal and creative life.
This led me to the It's All Derivative series, where I play with the notion of iconic people and images, and where I started playing with language and code. I began experimenting with metallic foils on photographic images of icons and discovered that the process worked really well with photos, so I started experimenting with my nature and landscape photos as well. With the Natural Absractions series I decided to use only monochromatic black, white and grey tones, and haven't worked with color since.
What should people look for in your work and what do you hope they might get out of it? With my Natural Abstractions works I hope that the images draw people into the work, make them feel the power of nature, and help them come to the realization that we are only a small part of nature, not the center, and that we need to respect our natural environment much more.
BILL CLAPS - Bamboo Canopy Miniamiaguni, 2019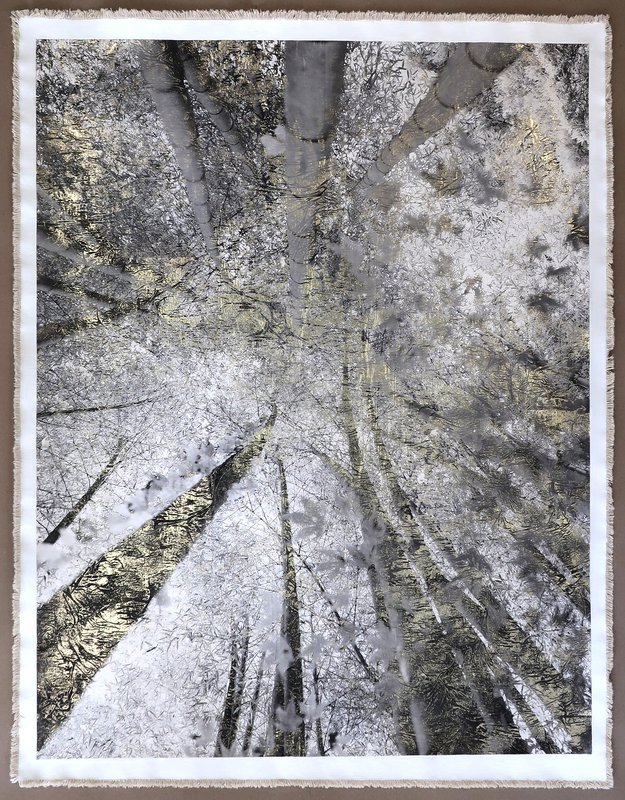 Do you buy or collect art yourself? I buy works that I'm drawn to, mostly works on paper, and some paintings and mixed media. I tend to like minimal works that are very evocative or mysterious. I like works with interesting textures and works that reference language or code in an ambiguous way.
A good example of the type of work I like is a tempera drawing on paper by Alexandra Zsigmond that I bought this month at the Spring Break Show in NYC. Her works play with semiotics and the notion of artistic vocabulary as symbolic lexicon, and this particular work is a grouping of Giacometti's sculptural images arranged in interesting patterns. I'm commissioning her to do another work based on the sculptures of Isamu Noguchi, my favorite sculptor.
Your work references art history. Is there an historical period you wish you could have lived through? I love the feeling of traveling to a new place and experiencing a different culture for the first time. It would have been great to have lived during the Age of Exploration, when most of the natural world and its cultures were still undiscovered by the Europeans. It would also have been an amazing adventure to be on Alexander von Humboldt's seminal expedition to the Americas at the beginning of the 1800's, where he explored vast uncharted areas of South America and discovered hundreds of undocumented plant species.
BILL CLAPS - Supplication, 2006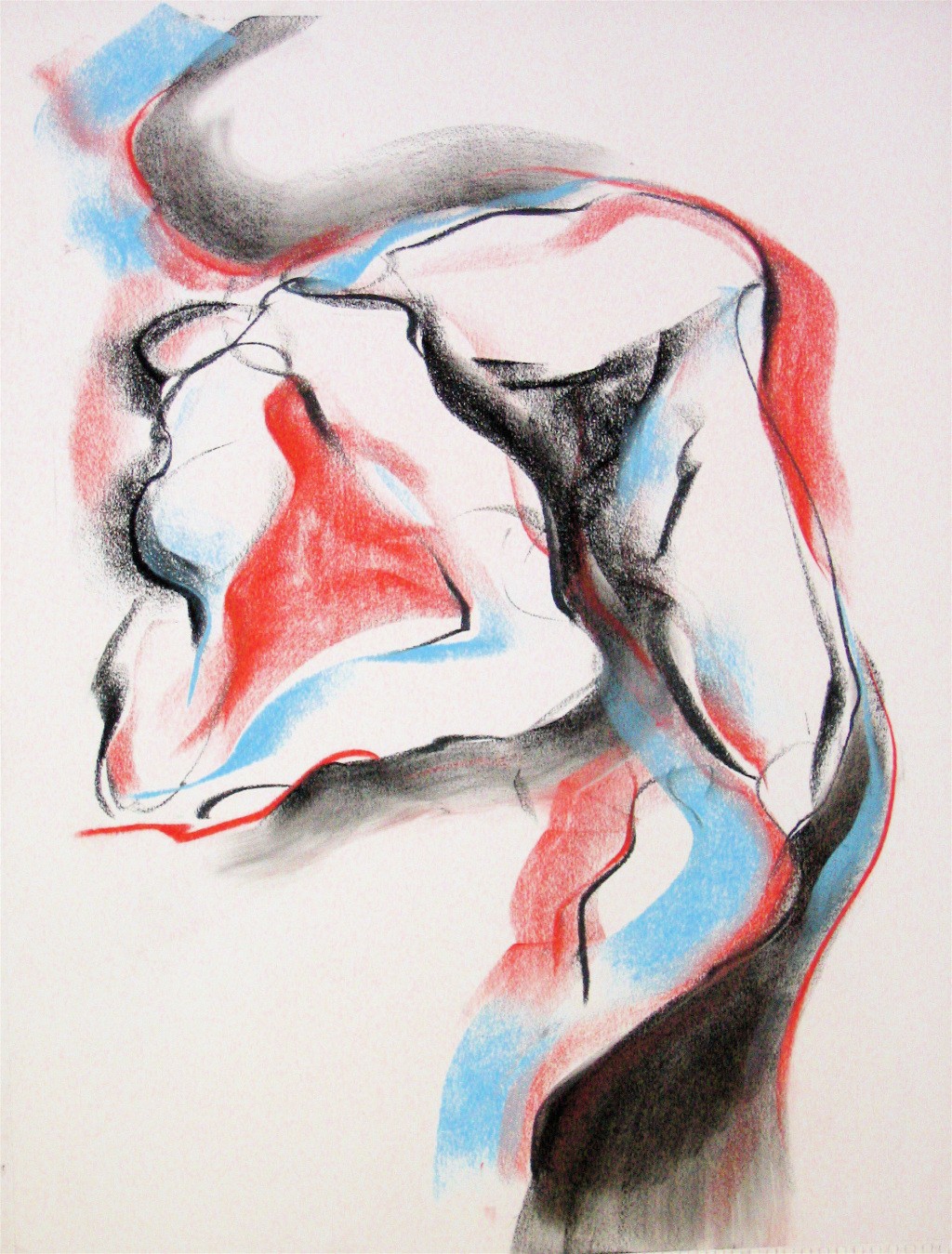 How do you get your creativity flowing when it's waning? I find I'm most creative when my mind is clear, usually after exercise and meditation. So I try to do my creative work just after that, usually starting in the morning. When I begin to get tired or stale I switch to working on the business tasks of my practice: organizing future exhibitions, editing images, responding to requests, usually towards the end of the day.
Being disciplined and working consistently in the studio helps me a lot with keeping my creativity flowing. It's similar to being an athlete, where there's no substitute for endless hours of training. If you want to constantly evolve as an artist and have creative breakthroughs there's no substitute for long hours in the studio.