ike many artists Florian Krewer wasn't so good with school. By his own admission he was pretty lazy, he didn't get good grades. School just did not interest him. So he left, trained as a house painter, and pursued a professional qualification.

But Krewer, born in Gerolstein, in the west of Germany, had always loved drawing and, before long, decided to save himself from life up a ladder by enrolling to study architecture, one hour away in Cologne. It was there he was set a task by a college professor to analyse the seasons by their color combinations.

None of the students really understood the assignment, but Krewer 'borrowed' a canvas and some oil paint from his sister and pressed ahead. He thought he would just paint some flowers, but soon became overtaken by the exercise, "I completely let go," he says recalling the moment today.

After that, there was The Kunstakademie, Düsseldorf, where he was tutored by Peter Doig, who, among other things, taught him the value of taking his time. Praised as one of the most exciting figurative painters working today, Krewer does not seem to have heeded that advice, and has made, in a remarkably short time, a significant mark on the contemporary artworld. He has been featured in glowing reviews by Artforum, Cultured Magazine, and the Financial Times, among others and his recent exhibition at Michael Werner Gallery, London was noted as one of the top five shows to see in the UK by Frieze.

Today Krewer's work is held in institutional collections at the Centre Pompidou, Paris, the Hammer Museum, Los Angeles, Musée des Beaux-Arts Montreal, the Pinault Collection, Yageo Foundation Collection, Taiwan, Musée d'Art Moderne de Paris, the Institute of Contemporary Art, Miami, and the Museum of Contemporary Art, Chicago.
The artist is a recent recipient of the Prix Jean-François Prat awarded by the Bredin Prat Foundation and he's the subject of the solo exhibition everybody rise, currently on view at the Aspen Art Museum, an moving to M WOODS Museum in Beijing on December 2, 2023.

Starting from photographs and memory, the New York-based artist strips away the details of character, place and time to reveal the tension, vulnerability and sensuality of life in a city populated with people and animals in states of stress and release, disillusionment and pleasure.

Rules and hierarchies are made slippery through his fluid brushstrokes. In this way, Krewer maps both the threat and seduction of being vulnerable with others. This week he releases his debut edition with Artspace.
FLORIAN KREWER - flying stride / hot love, 2023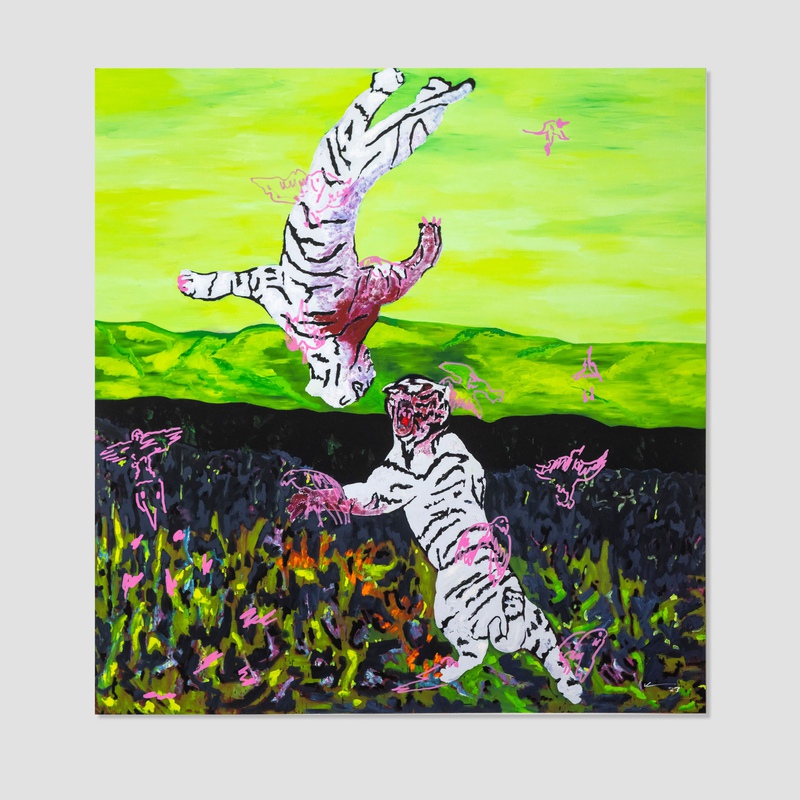 flying stride / hot love, 2023 is an archival pigment print on Hahnemühle Museum Etching paper with unique hand-embellishment by the artist. It is an edition of 30 plus 5 APs and 1 PP, measuring 20.75 x 22.38 in / 52.7 x 56.8 cm, and signed and numbered by the artist.
The edition of 30 embellished pigment prints features hand-painted hot pink embellishments throughout, lending unique gestural details to each vibrant print. flying stride / hot love, 2023 was commissioned in partnership with the Aspen Art Museum with proceeds benefitting the museum as well as the Sylvia Rivera Law Project, a collective organization founded on the understanding that gender self-determination is inextricably intertwined with racial, social and economic justice.
We asked Florian Krewer a few questions about the artspace edition, flying stride / hot love, 2023 and about his wider practice.

FLORIAN KREWER - flying stride / hot love, 2023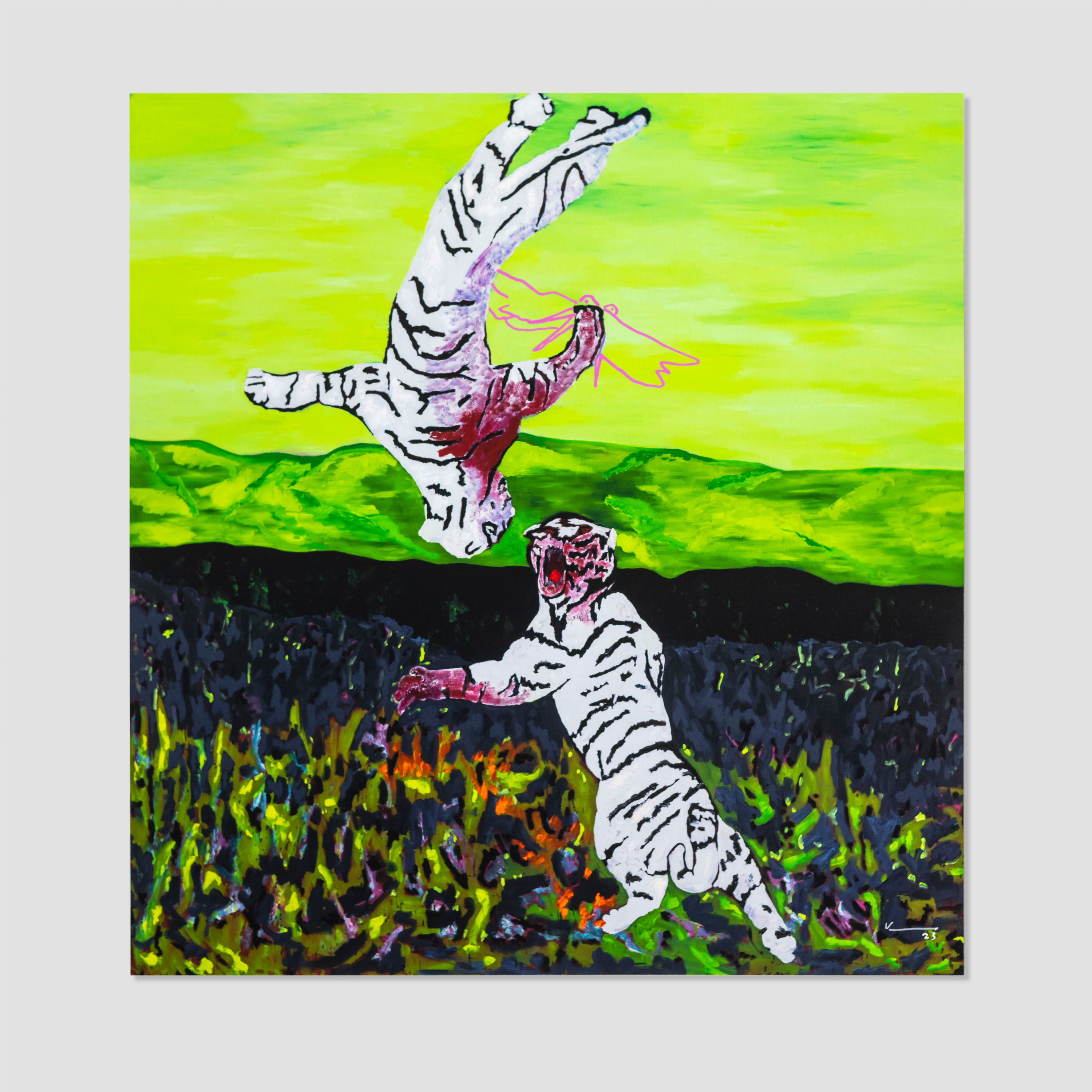 How do you set about creating a new work? Do you get in the studio and paint, or do you have a plan? I typically start with drawings, reflecting on personal experiences – things happening around me that I feel touched by. When a drawing captures a certain moment that I feel has enough tension and interest, I transfer it over to canvas. I usually work in series and make about ten to fifteen works that are loosely connected. There is a common subject matter across a show, for example.

The positioning of the subjects in your paintings is very interesting. Can you tell us a little about that? I live in New York City. There are so many different cultures coming together here, and so many different people you meet every day. I love that. All these different communities are, for me, about being human, being alive. And this is what I build into my work. If you open yourself up, you can experience fantastic journeys. I like being part of a bigger whole. Some people can't leave their space because they only feel safe in a certain community, but I like to stay on the move and always see something new and different.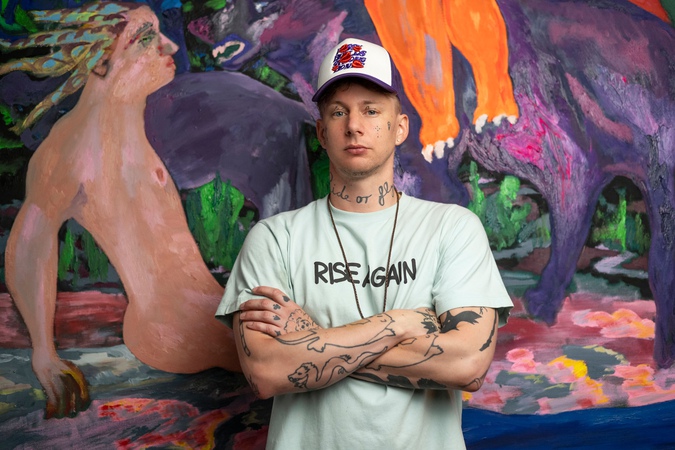 Florian Krewer photographed by Nir Arieli

Many of your works seem to depict casual moments in time, plucked out of a bigger narrative. Would you agree? I try to work without a filter, be immediate and not to overthink how and what I paint. So, when I transfer the motif from the drawing over onto the canvas, I have more freedom to focus on other aspects of the painting process, like the paint and colors, as opposed to the composition and structure. Unfiltered and according to my various feelings about a situation or moment, I can follow the flow. I like that the drawing gives me a certain precision, and I can then really work with the colors and the paint stroke.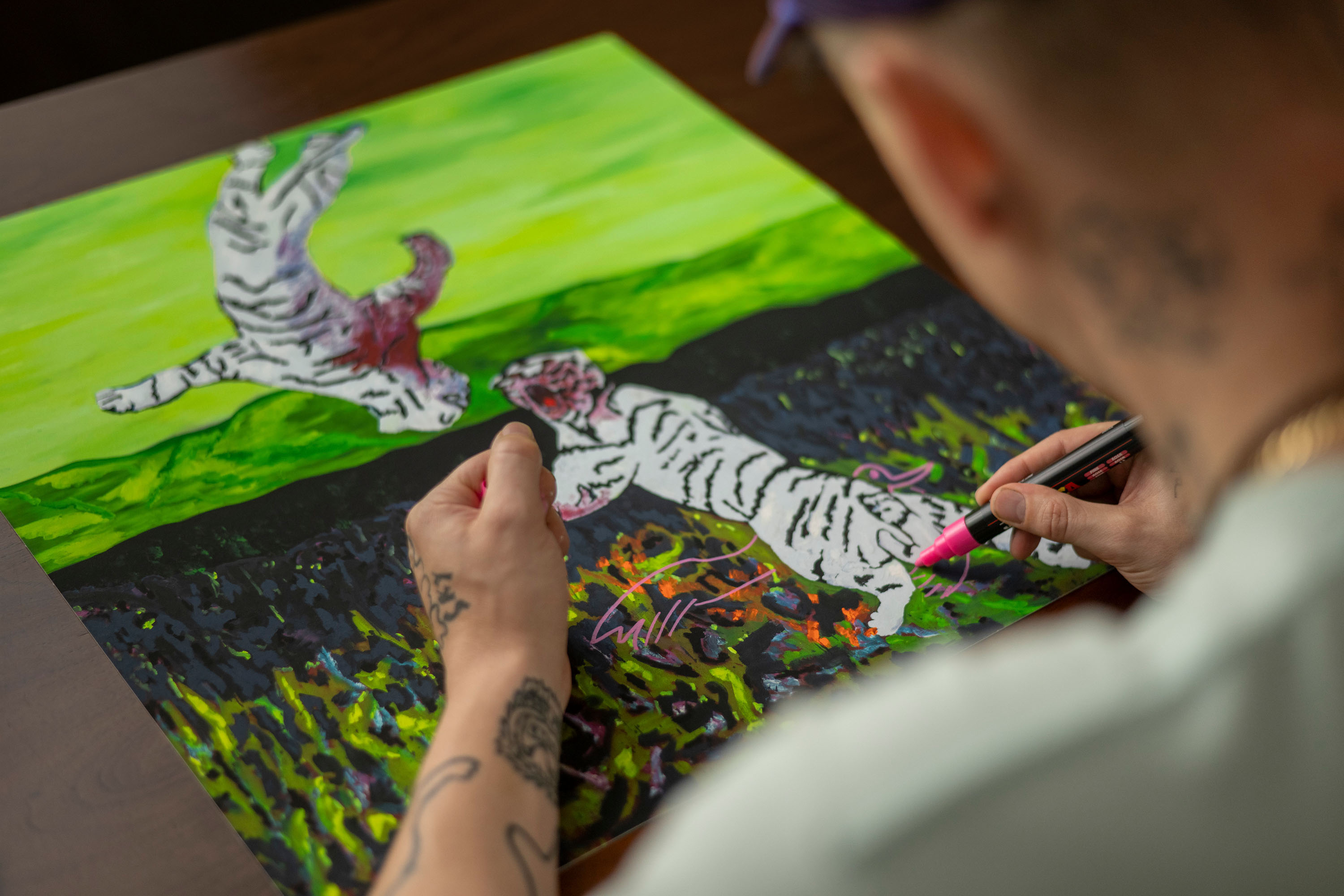 Florian Krewer hand embellishing the print - photographed by Nir Arieli
Reinvention seems to be an important part of your practice. Do you set yourself specific challenges, or do you allow yourself to be buffeted by passing inspirations? That's an interesting question. For me especially, when I feel a certain desire or passion for something, I need to go and paint it. And then when I've worked through this desire and reached the point where I go 'okay', I'll move on to the next. I don't want to repeat myself, and there is so much more to explore. So, the more you experience the more there is to say, or to paint.
FLORIAN KREWER - flying stride / hot love, 2023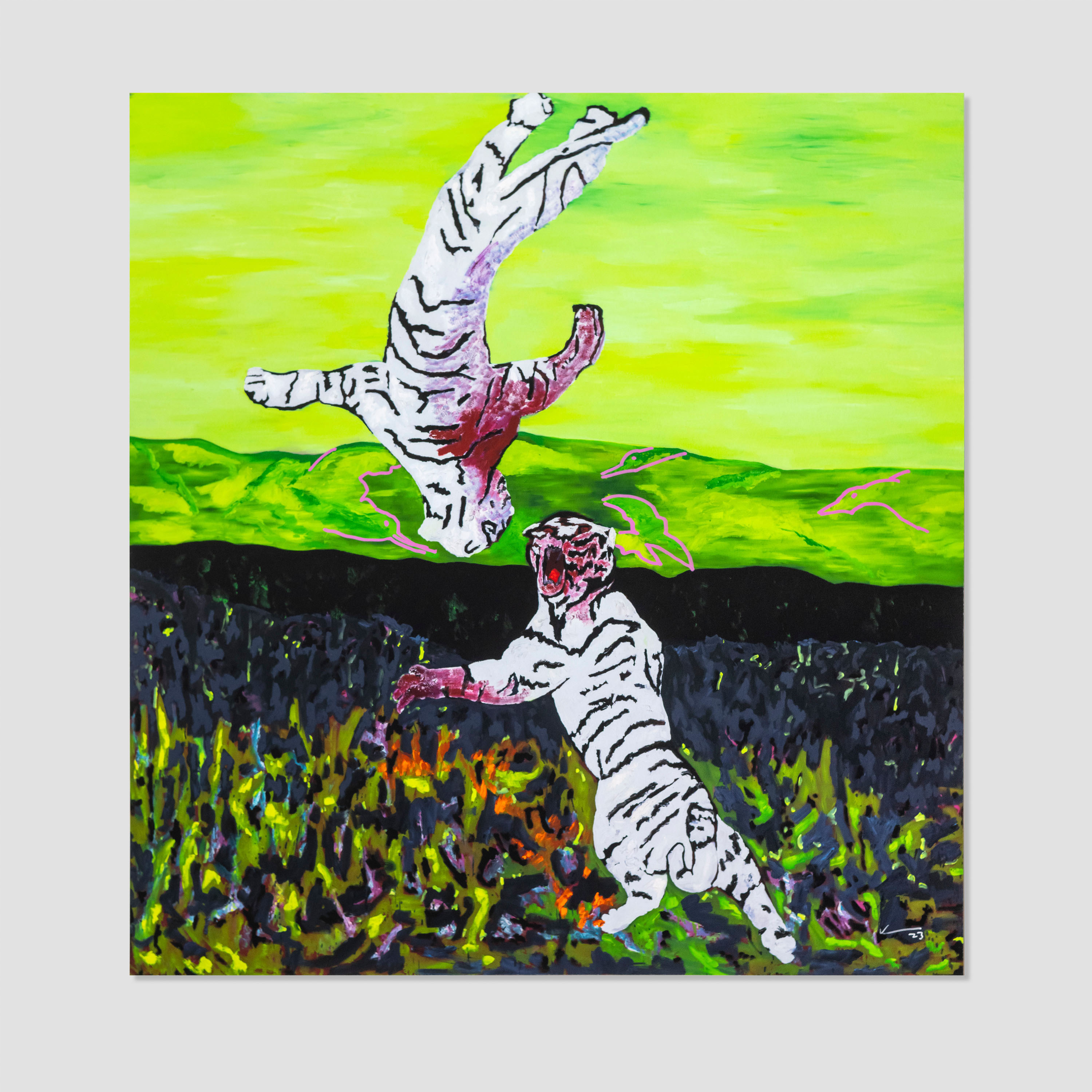 Your use of space is really interesting. Sometimes subjects seem to be held in almost boundless infinity; and then there are examples of real claustrophobia. The way I feel about space depends on my emotions. And I paint my feelings - when I am overwhelmed in a space and with too many people at once around me, or when the impact of the city becomes too much. When I am in an intense situation, I get this claustrophobic feeling, and this translates onto the canvas. But sometimes I love to let myself float, open myself up or feel like everything is opening up, and I can breathe.
FLORIAN KREWER - flying stride / hot love, 2023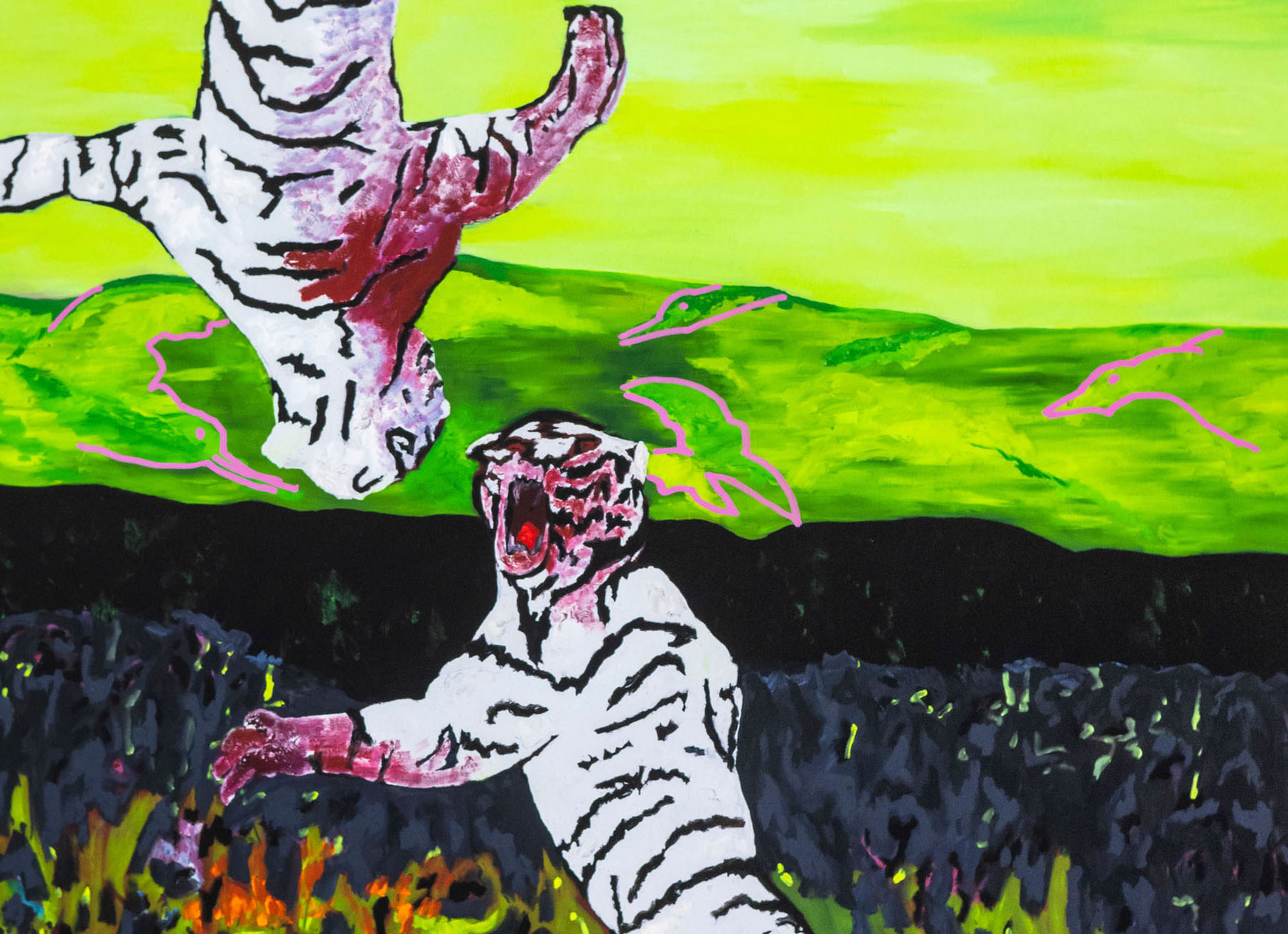 The use of color seems to add to both approaches, can you tell us a little about this? See, now for example, I did a lot of paintings with neon colors and right now I can't look at them anymore. So, neon colors are totally banned from the studio at the moment! I want to work on a new series, and also do a body of work without animals. I love animals, I have my animals, but I already feel like people want to hold me to that in my work, and that's boring. When there is an expectation, it's over.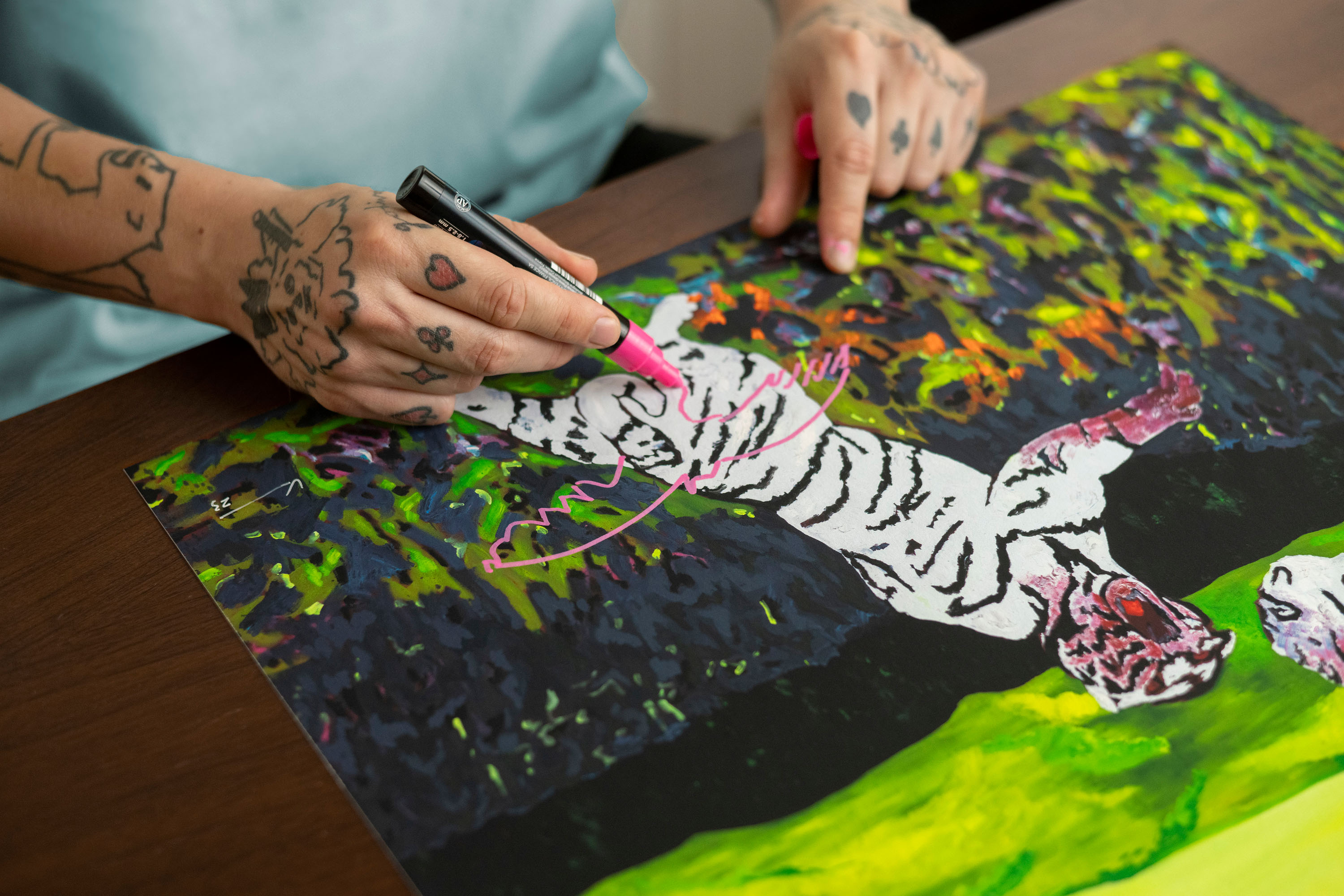 Florian Krewer hand embellishing the print - photographed by Nir Arieli
You mentioned animals - your paintings feature snakes, bears, tigers - do they represent perhaps a desire not to over-intellectualize, or to be open to instinct? For instance, what part does the bird play within the embellishments you've done to the new edition? There's an almost divine quality to some of them. The tigers in the underlying paintings already have a connection to one another and so I chose the birds as another layer. They are floating around the two as if they were observing them. The birds are a kind of an audience, joining the moment.
Rembrandt, Goya, and Bacon appear to be big influences – especially in terms of the corporeality you bring to the subjects of your paintings. Can you tell us a little bit about why and how their influence comes through in your own work? Of course these masters are my heroes, but when I am in the studio I am focused on my own work. So, whatever their influence may be, I am mostly drawn to how their work explores the human condition. I am fascinated by it, because our generation is suffering from the pressure around us and the constant 'Quick, quick, quick, quick'. It feels like the world is crushing around us, and that's really frustrating. I think we must not forget that we are human and that we need to be human.

FLORIAN KREWER - flying stride / hot love, 2023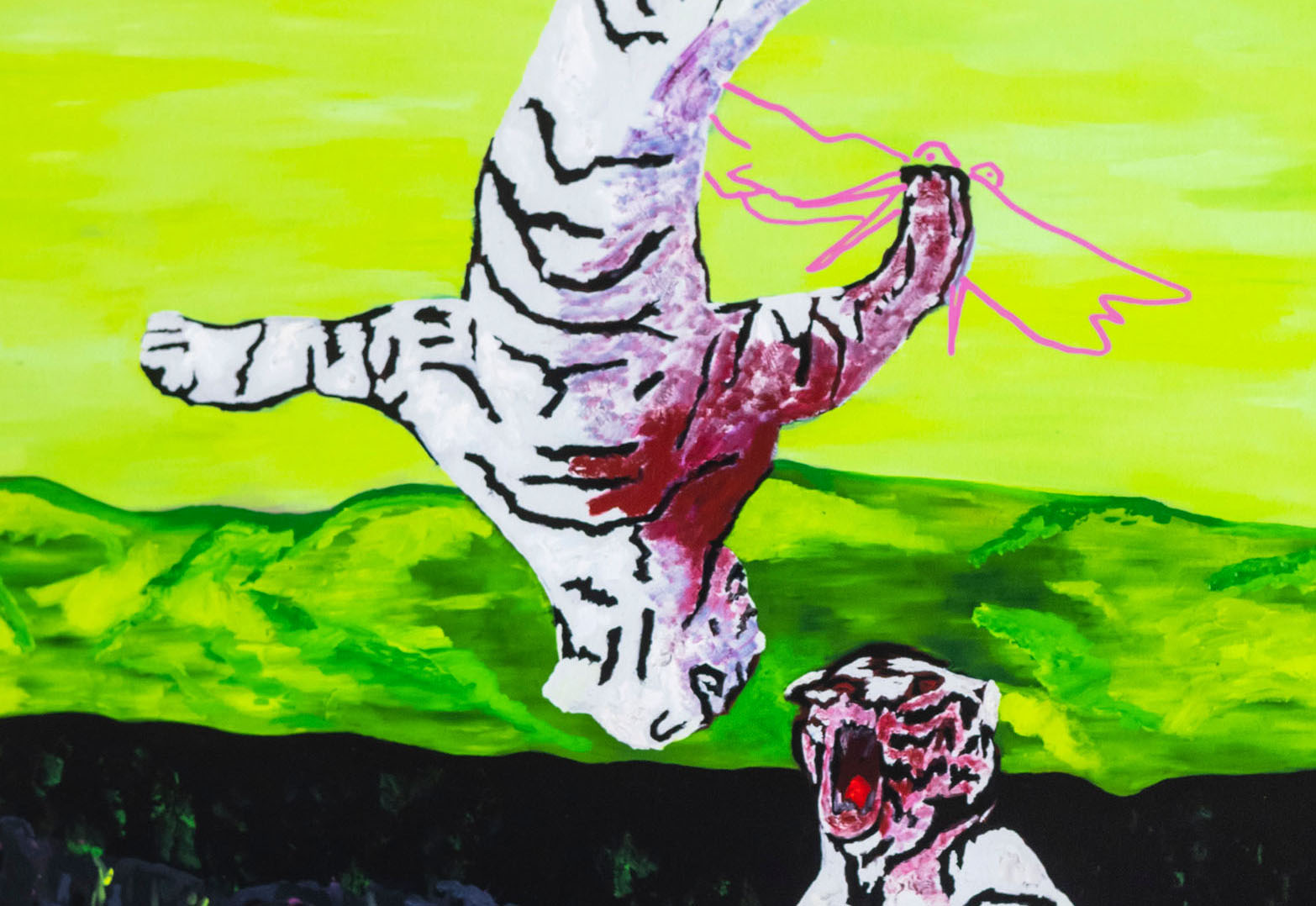 There is often a palpable feeling of tension in your paintings. Can you tell us about that and where it springs from? Emotion is really a big topic for me. And my real-life struggles come right out onto the canvas. My paintings are not pretty. I sometimes feel a little uncomfortable and don't want to open up in order to protect myself. And then on the other hand, if you feel a desire, you move in to get closer. It really depends on the situation.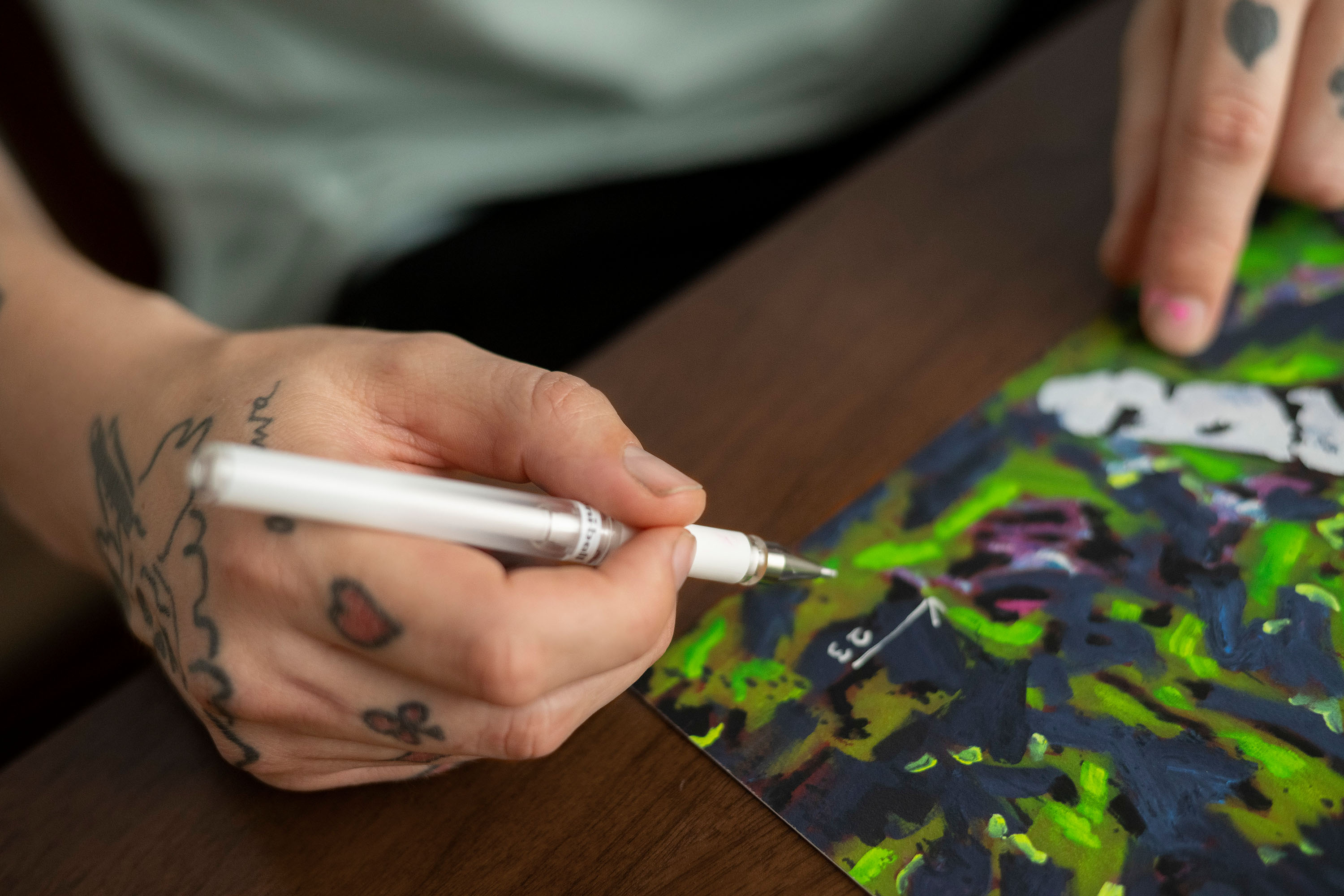 Florian Krewer hand embellishing the print - photographed by Nir Arieli

Tell us a little why you chose the Sylvia Rivera Law Project as a beneficiary of this edition.This is their mission statement: 'Sylvia Rivera Law Project (SRLP works to guarantee that all people are free to self-determine their gender identity and expression, regardless of income or race, and without facing harassment, discrimination, or violence. SRLP is a collective organization founded on the understanding that gender self-determination is inextricably intertwined with racial, social and economic justice.'

'Therefore, we seek to increase the political voice and visibility of low-income people and people of color who are transgender, intersex, or gender non-conforming. SRLP works to improve access to respectful and affirming social, health, and legal services for our communities. We believe that in order to create meaningful political participation and leadership, we must have access to basic means of survival and safety from violence.'