The new KAWS show at the Serpentine Gallery in London is set to become the most visited art exhibition in history. KAWS: New Fiction, which opened this week, is an interactive production made in collaboration with Fortnite and the Acute Art app.
The Serpentine gallery and it's Hyde Park grounds have been faithfully recreated in Virtual Reality, allowing the show to be accessed through Fortnite and interactively viewed all over the world via the Acute Art app. Renowned curator and Acute Art artistic director Daniel Birnbaum told Artspace this week: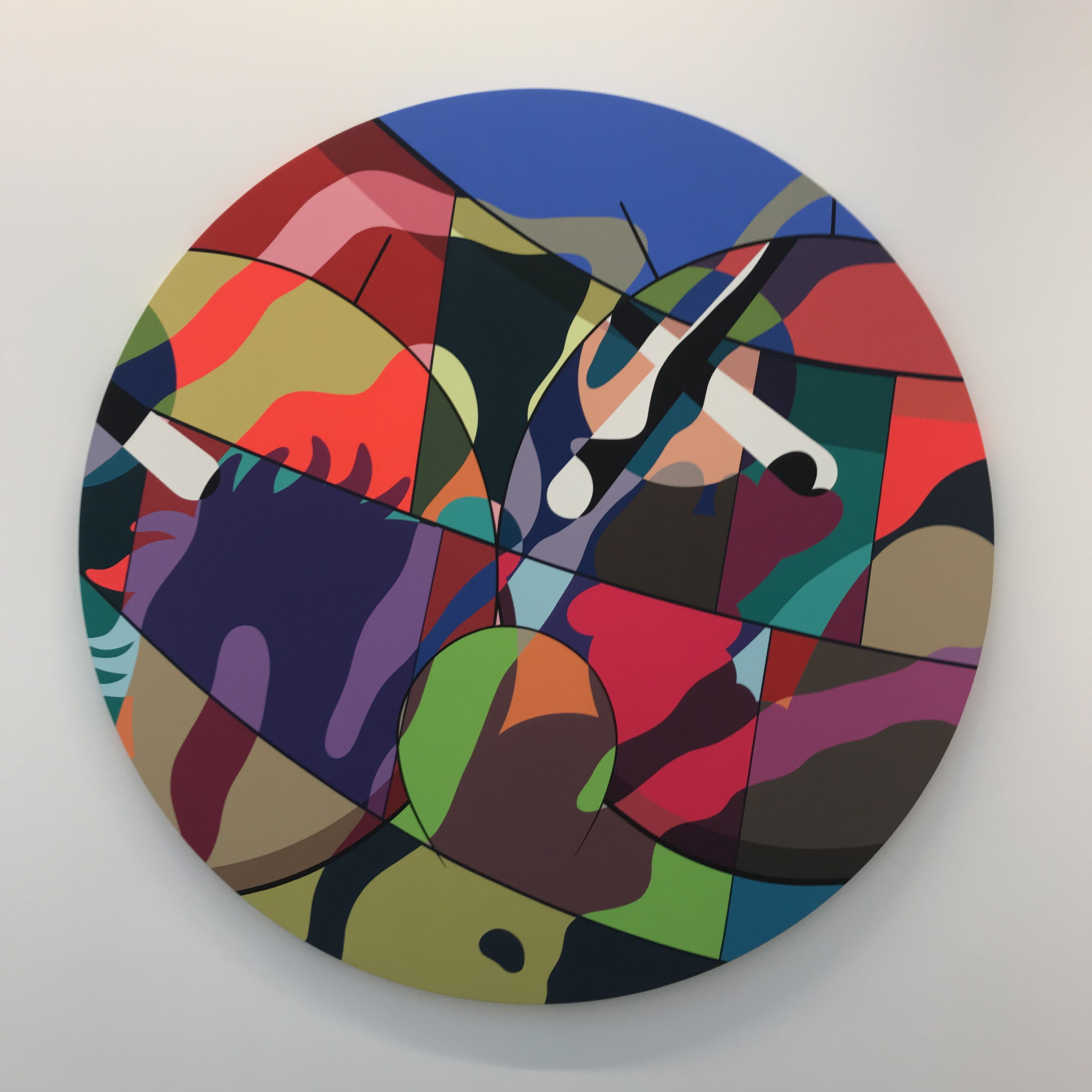 "There has been a lot of talk lately about the metaverse and the multiverse. I've been involved in so many conferences about it. But this is a bit different because it is not about that metaverse or multiverse of ours, it is the multiverse.
"The exhibition happens in many places at the same time, Birnbaum went on. "The exhibition is structured a little bit like an onion or those Russian dolls where one doll is inside another doll, with another doll inside. At the center is a physical exhibition, a rather classical show of paintings and sculptures."
Essentially there are four layers to KAWS' new show: The physical show in the gallery itself; the local augmented reality, the global interactive augmented reality, and the game. In many ways it encourages viewers, participants and gallery goers to ponder in very different ways the simple question: what is pop art today?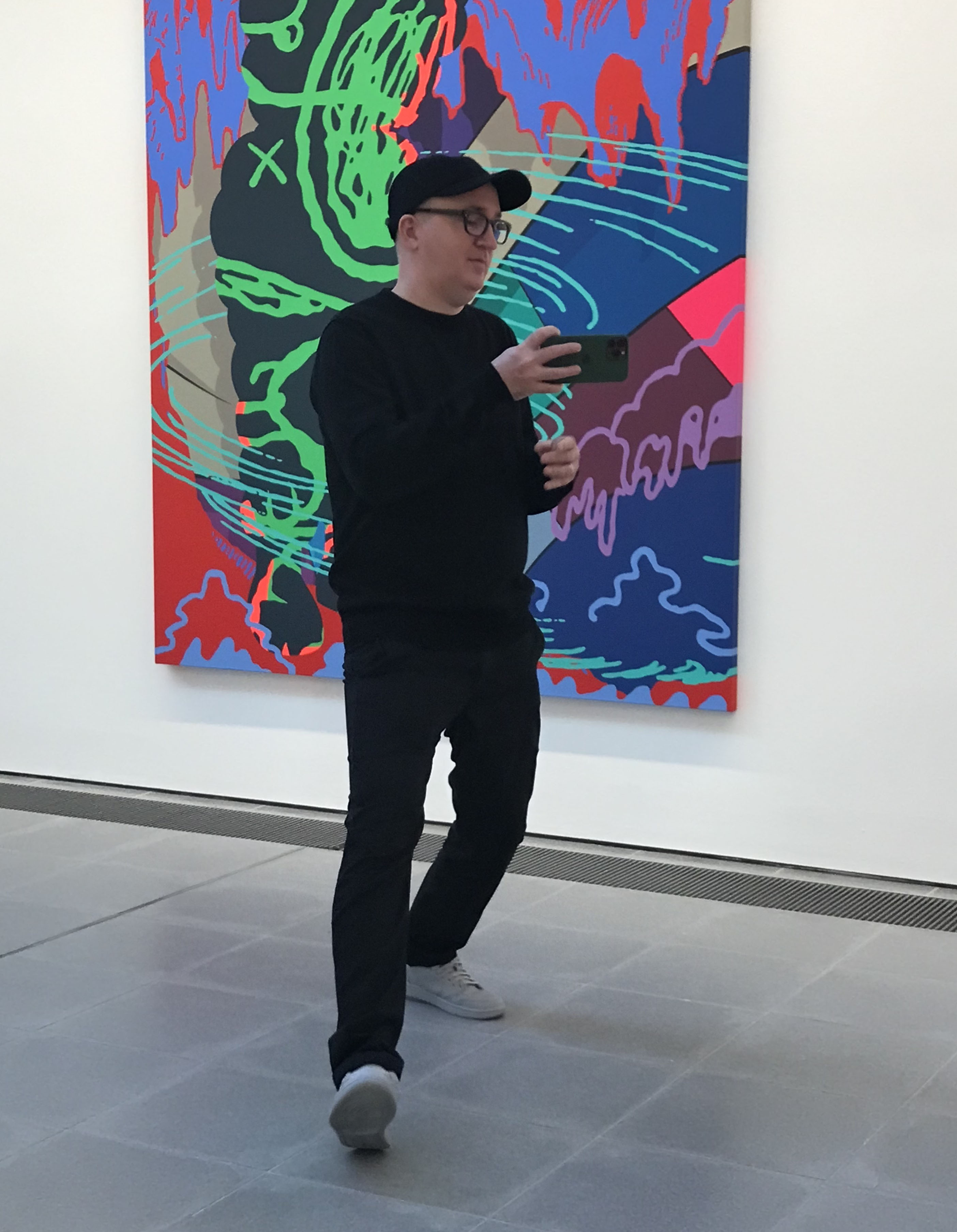 "It's just those things have changed so much," Birnbaum told Artspace. "I guess appropriating things from the media commodity culture yes - but it's about new media and new dematerialised forms of commodities.This is pop art for a globalised dematerialised commodity world."
KAWS (Brian Donnelly), has a background in street art interventions dating back to the 1990s when he took posters off the street, brought them home and added his own imagery and then put them back. "Now I guess he is probably the most visible artist in the world," Birnbaum said.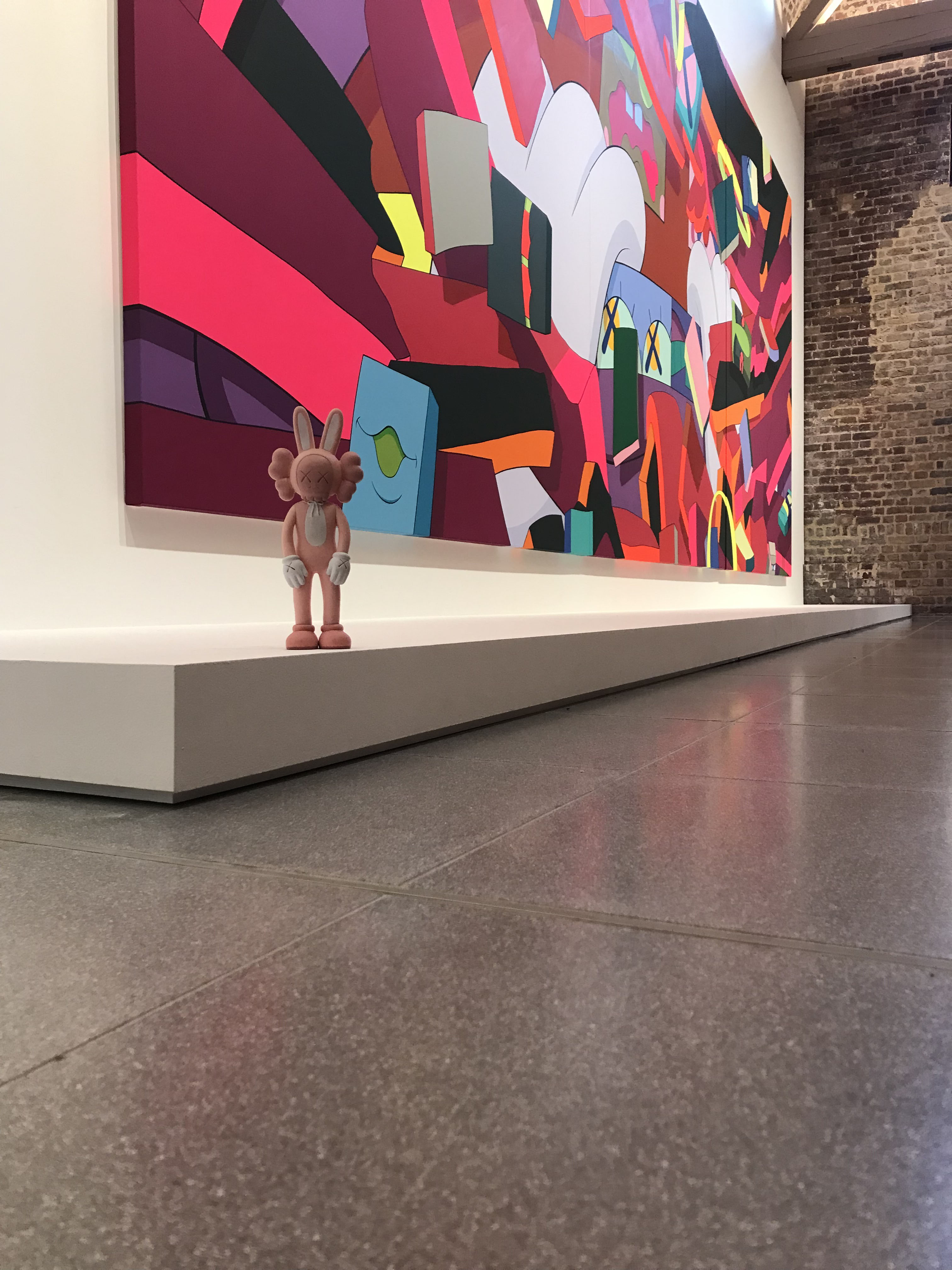 The curator and artistic director explained that once downloaded, "the app offers a miniature doll's house version of the exhibition. You can look at it in your kitchen and show it to your friends. Every object in the show is in the app so you can place every painting here in your house – if you have large rooms (they are relatively large artworks). It will reach maximum audiences and will be the most the attended exhibition ever produced, I think."
Artspace caught up with KAWS at the opening this week and we asked him how the show came about, his reaction to lockdowns, and where he might be taking the technology next. This is what he said.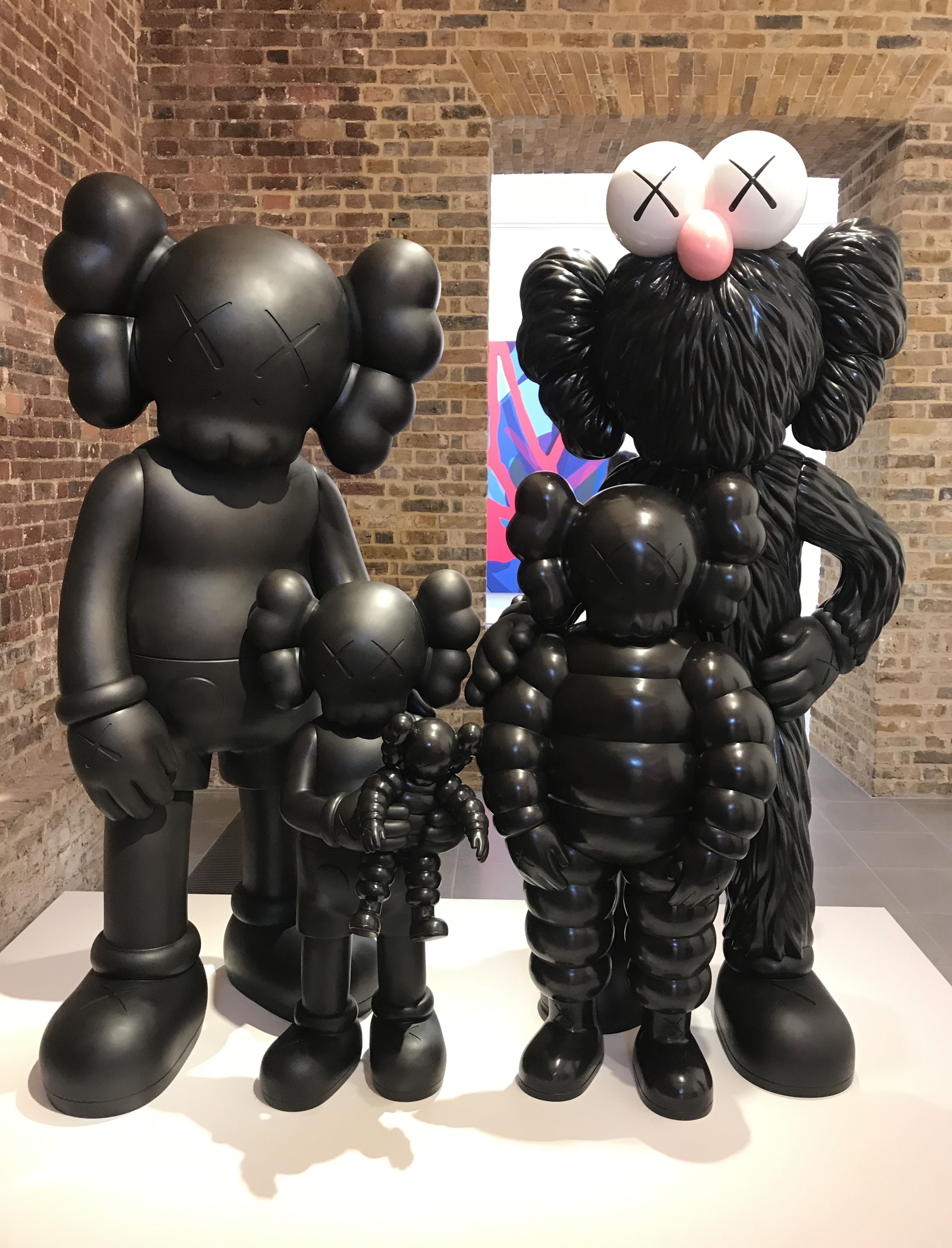 "I've been working with Daniel (Birnbaum) for the last two years. Then last fall I did the project with Fortnite, an introduction into the game and I had a view of an exhibition with Fortnite. I told Daniel and he mentioned it to Hans (Ulrich Obrist, Serpentine Director)."
"The Serpentine is ideal. It's a freestanding building, it can be replicated in the game and it just seemed like a lot of things were aligned. I worked with Daniel specifically for the building and the exhibition and I let the video game be the video game. It (the exhibition) has to feel right when you're walking round the space and if it feels right here, it will feel right in the game."
Are you a gamer yourself? "I am not much of a gamer. I have played Fortnite but I wouldn't say I'm a gamer."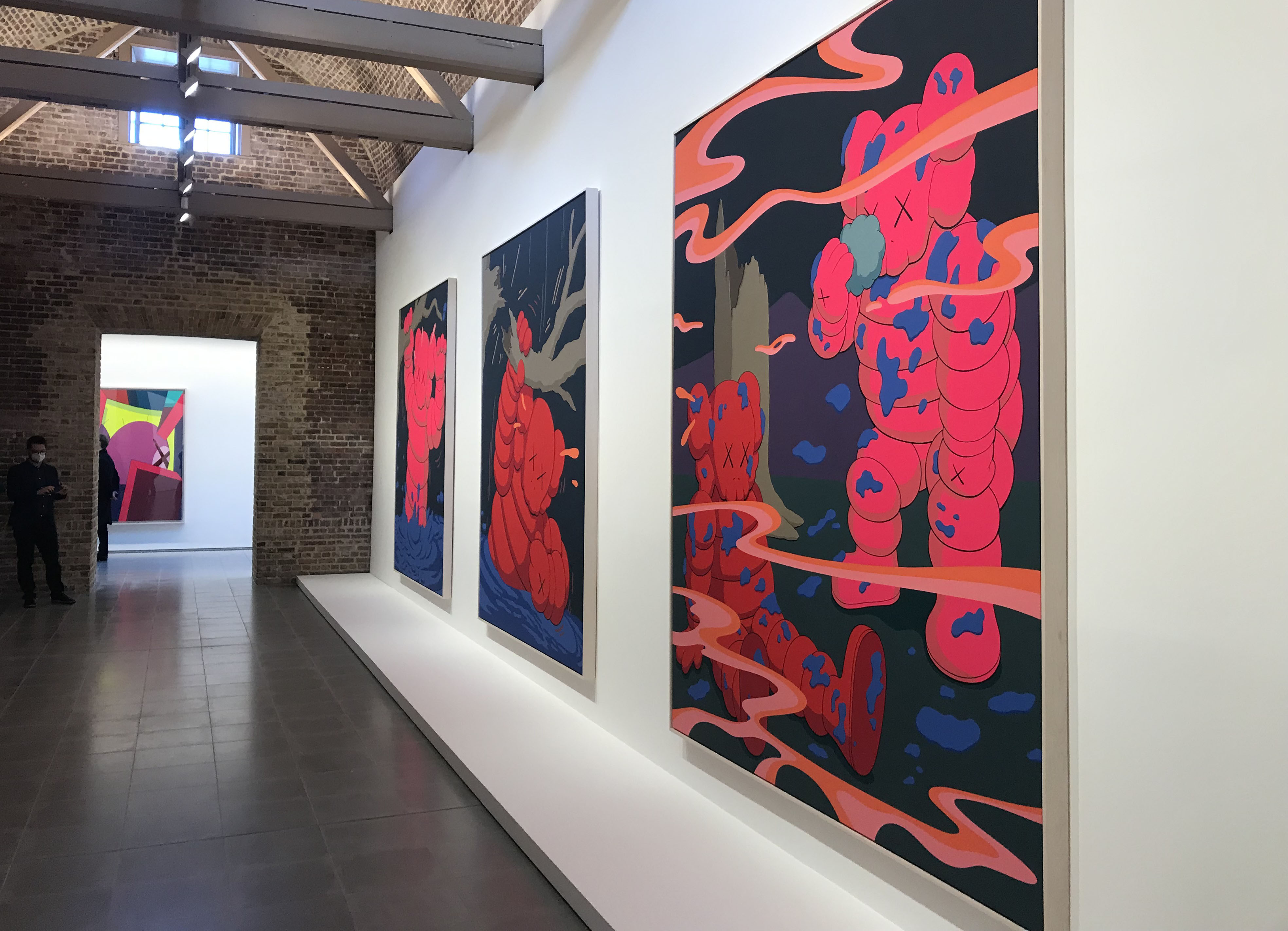 It's a little like your early explorations – bringing art into a place where one would not normally come across it, isn't it? "I love that idea of people unexpectedly turning on at 3 o'clock today and coming across it. That's why the communication for the show was on such a tight lock - we wanted to have that surprise element. But yeah, the idea of kids just being able to walk around a space that's not something they've ever been able to do in that game…"
It seems there is a significant difference between the way you're embracing technology here than, for example, the way some artists are embracing NFTs. "Obviously with this show there's nothing to sell. It's more about the experience and cross-pollinating audiences and having this very sort of inclusive exhibition. My perfect world would be for a gamer in London seeing it in both forms. And then maybe going home and seeing it and being able to come back and being able to compare. I also love that a kid In India can see it and walk around the exhibition and be on a headset to his friends in New York or London or wherever."
"I've never had such a platform as Fortnite allows. I look at it as a book. Again, it's like somebody seeing this thing and it being the first seed. If you're interested in anything you can find out more about the artist, if you're interested in the space you can one day travel to London and see the Serpentine. Who knows, it's just sort of planting seeds."
Is the show an indication of where you were naturally heading or has it come about partly as a result of Covid lockdowns? "It's hard to say. I've definitely become more aware of the digital space. I don't know if that has come from having to spend so much time at home or whether it's just now is the time that it's in your face all over the world."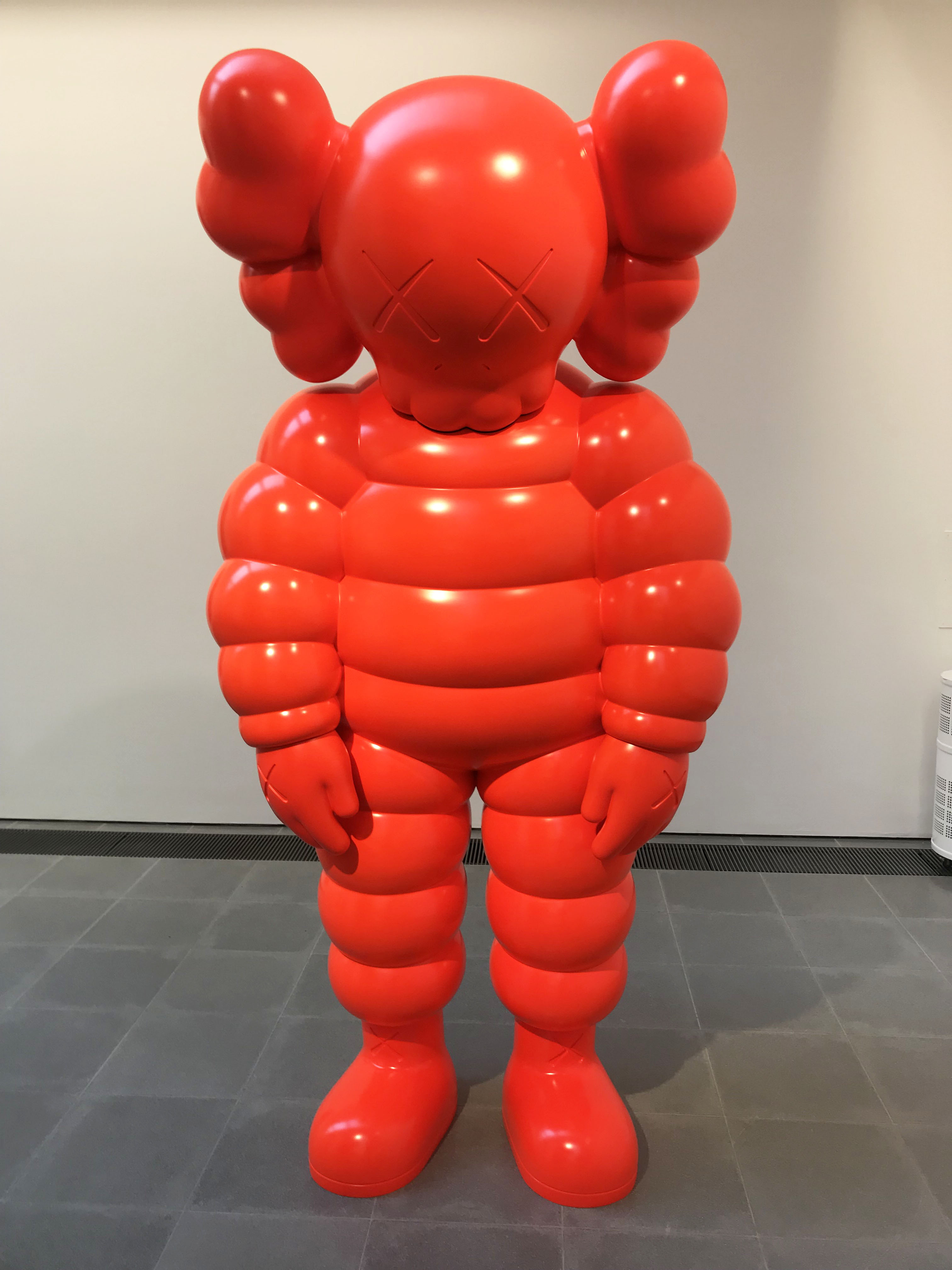 "I had a show at the NGC In Melbourne just as Covid hit. And one of the things they did was make a complete digital version that people could look through. But it was nothing like the technical capability of Fortnite. I'm doing the same thing I've always done. When I talk to the people at Acute, or the engineers at Fortnite, we're talking about color and surface and getting the right balance and getting the work to look true to what I'm thinking. I'm talking to the Brown Foundry I'm having the same conversation as with Acute. We're talking about something having too much sheen or a brown not being quite grey enough."
What can you learn from this and take forward with you? "I think it all just opens up and bounces around your head. Working with Acute I think really got me interested in working with the digital medium. Before that I was sort of… I would never want to make a gimmicky thing."
"And then I realised we're dealing with the same things I'm dealing with in traditional sculpture and I feel like that really added to the work. Now having this exist in Fortnite – I know I can't really answer the question for maybe a few weeks, but I can't imagine why institutions and galleries wouldn't want things to exist in other formats like this. Imagine having a catalogue of every exhibition you ever did that you could walk through, for instance."
How do you feel about the idea of this becoming the most visited art show in history? "It's not that I'm thinking about things like that when I start out! I'm worrying that the ratio of the hang in the show is correct and the gallery is correct. Everything else can do what it does. It's interesting. I really don't know. We'll see how it goes. I know the whole world's going that way with lockdown."

How do you go through your career, working on such varied things, but keeping a linking element between each facet? "It's not so methodical. It just has to feel right, it has to feel true to the work. The skin I make for Fortnite - it's within the language of my paintings and sculptures. To me that's very important that I have this consistency throughout all of the outlets. So if I'm doing a fashion collaboration or a collaboration like I just did a thing with General Mills. There's this language I feel that has a real comfort with each other even though it's working with the largest cereal company in the world."
"When I think of building a body of work I think in terms of what's an addition? What can I add to it? So for me it's really exciting to have the AR version of the entire museum. There are AR pieces in the show, you can do it at home. The entire museum exists in the Acute app. And if you tap it, the roof comes up and you can see a bird's eye view of the whole exhibition."
You can learn more about KAWS: New Fiction here, check out Phaidon's KAWS book What Party here and browse the Artspace archive for KAWS works to buy here.