Art is not illusion for the Los Angeles-based artist Noam Rappaport, who lays out warped frames, wobbly shapes, and teeny studio scraps across his hybrid sculpture-paintings. In a smaller work like Purple Negative, for instance, the pinched edges of the canvas peek out like untucked hospital bed corners. In Untitled (Grey #2), canvas stretcher bars sit atop a stiff sheet marked with a large matte block of color. In all of these pieces, the material is the message.
Exposing the inner working of a painting might sound like the austere and formally demanding territory of Minimalism—and indeed, Rappaport's spruce geometries have earned him comparison to Frank Stella. But Rappaport also adds a personal stamp (unfinished edges, faux-naïf shapes), and foregoes the hefty materials and gargantuan scale typical of the Modernists. In this way, he's perhaps more closely related to Richard Tuttle, working on a human scale.
Recently, Rappaport spoke to Artspace about the "casual sensibility" he shares with the artist B. Wurtz and how architecture inspires him.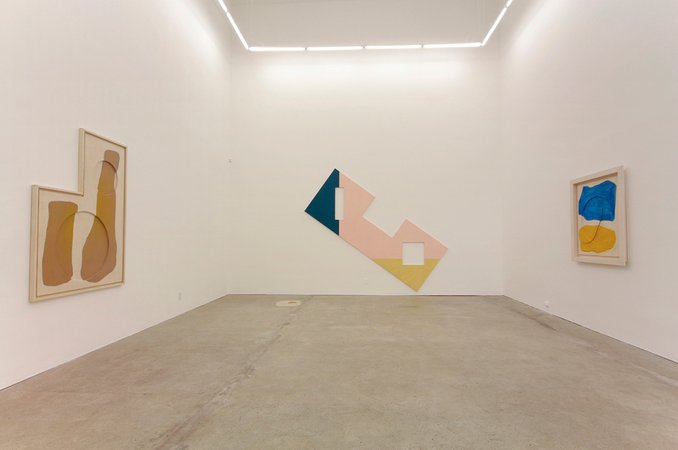 There are many different components—architectural, painting, sculpture—at play in your works. What is the point of origin for you and how do all the different elements come together just so?
As a way of stressing the physical relationship to the viewer, the work is made both to emphasize its own objecthood and to act as an opening—some sort of window or doorway. I think of them as both figures and entrances. For these larger works, I often start with a sketch and then loosely assemble the stretcher bars on the floor, making adjustments as I build the support. I might have a general idea of the colors and format of the painting before I start. Sometimes that idea is executed and finished quickly, but frequently it requires changes and ends up looking quite different.
How do you think about balancing your personal accents and malleable interpretations with the purer geometric forms in a work?
Essentially, process is the thing that interests me. I don't strive to hide it, but I also don't want to be dramatic about exposing it. I make things the way I know how to make them and trust that a personalized or authentic vision will be there both within each piece and through the succession of pieces that are made.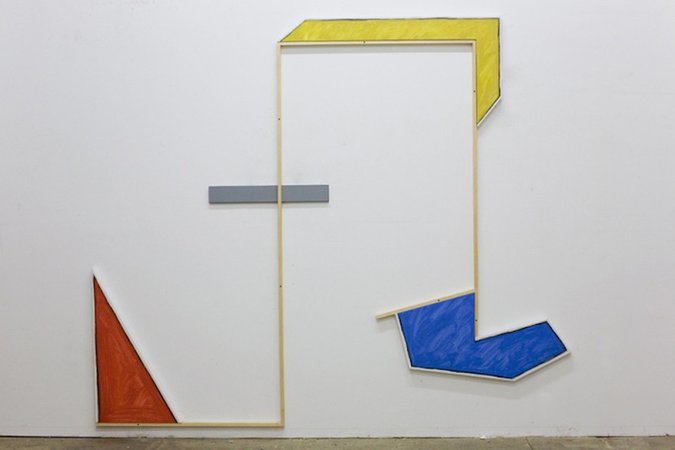 You grew up in the Mission neighborhood in San Francisco, a hodgepodge of architectural forms. What's your relationship to landscape and architecture as an artist?
Architecture mirrors the human form and draws us in and guides our movements. It's interesting that a door or a doorway is in a sense the shadow of a figure. A painting can operate in a similar way.
Your first solo show was in 2008, featuring large works that exist between sculpture and painting. Is there a problem or question that you find yourself circling back to in your work over the years?
Absolutely, the work from the 2008 show and the work I'm making now are hybridized and constructed paintings as opposed to solely painted paintings. The works from that show, with partially stretched canvas and exposed structures—I loosely referred to them as "door forms"—are precursors to the shaped paintings I've been doing for the last couple years. Both the earlier works and the recent works share an upright, vertical presentation and are hung low to the floor to invite figurative identification.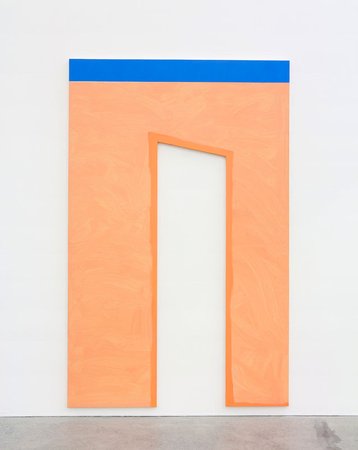 What has evolved in the work since 2008?
I do like to think that there was some shift in disposition from that work to the more recent work. The earlier door-like forms were somewhat withdrawn and self-effacing in their disposition but also tall and looming. That combination of withdrawal and imposition seemed to make a lot of sense in a psychological way. In the last couple years, I've been stretching the canvas, which was the primary shift from those works. Whereas there may be a casual look to a canvas that isn't fully stretched there is also an inherent elegance to that kind of draping, so, in the more recent work, making the canvas taught did not seem like such a leap. That said, the more recent work's disposition is more overtly playful and maybe even optimistic.
Some of your works are untitled or numbered, while others make are more light-hearted and humorous: Sunday or Smile. How do you approach titling your pieces?
"Untitled" usually seems to make the most sense, but sometimes even that seems too heavy handed, so an additive title like a number or color description can work. If not that, I may use a relatively simple title that relates visually. "Sunday" had an energetic tennis vibe, so that title seemed to make sense.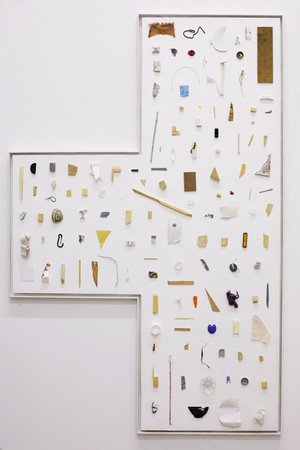 In 2009, curator Matthew Higgs put you and B.Wurtz in a show together. Do you think you have a shared sensibility?
In a way, the works of mine most directly in dialogue with B.'s work are my collection pieces, which are loose organizations of studio debris and scraps from daily life attached to panels. These pieces speak to my generally openended approach to making artwork, which I think is similar to B.'s casual sensibility. The collections also highlight a relationship between our work that is some sort of fusion of the ordinary and the extraordinary. I think this idea becomes evident in my work's use of everyday or industrial materials, graphic sensibilities, and a color palette that is more or less drawn from everyday life. One thing about B.'s work that I enjoy, and that might not be talked about much, is that while he uses materials drawn directly from his life, his works are also made with extreme sensitivity, even to the point of being quite sensual.