The work of the UK-born,  Spain-based artist Annabel Andrews swings between figurative and abstract - the latter being most apparent. While color is one of the most important features of her work, for a few years she worked with black and white, depicting ice and fountains seen in the monastery of El Escorial, the town near Madrid where she lives and works.
Her influences, she says, come primarily from her friendships with the abstract expressionist artist José Guerrero and the constructivist artist Pablo Palazuelo both of whom, "triggered a new pictorial adventure" for her. Having studied the techniques of the masters, she prepares her own canvases with home made casein glue base and zinc white, which gives the work a light and luminous finish for later applying acrylic colors in various layers.
"Having enjoyed many hours drawing and painting directly from nature and live models, all my paintings originate from that experience," she says.  "Though over the years many different possibilities arose experimenting with colors and forms."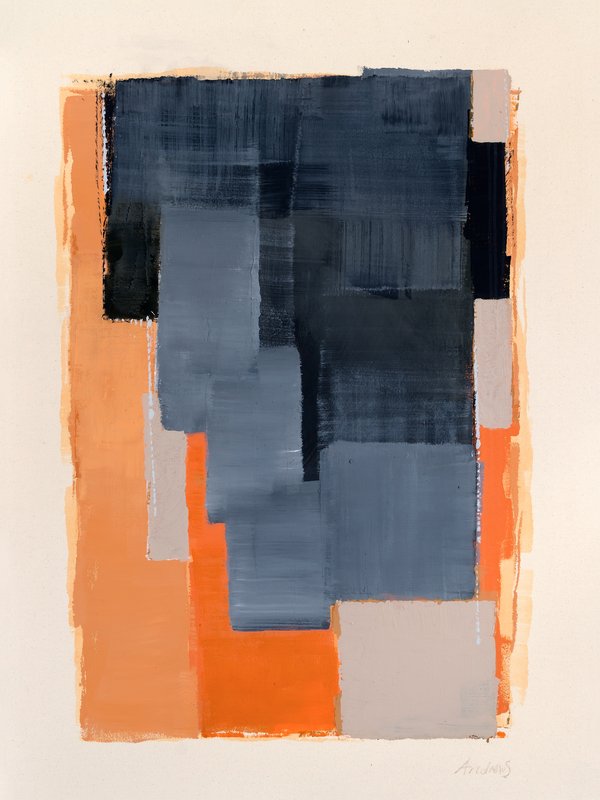 Annabel Andrews - Steps, 2019 - Acrylic and casein base on cotton duck canvas
Starting to paint and draw from a very young age, Andrews obtained an honors certificate from The Royal Drawing Society, London, and, to this day, continues her studies in private academies and municipal workshops in Las Palmas de Gran Canaria and the Circulo de Bellas Artes Madrid, Spain, also perfecting etching and lithograph techniques.
Her works have been shown in important galleries in Madrid, also in cultural centers around Spain, and she has received various awards. Her paintings and collages are held in private collections in Spain, England, Canada, USA, Italy, Germany, Belgium and the Canary Islands.
You can see all of her work here , but first let's hear a bit more about it from her.
How would you describe your work to a stranger? First by asking the stranger to describe to me what he or she feels. Then by establishing a conversation, hoping to arrive at an interesting understanding for both of us. I find that children are wonderful to listen to. They have open minds and enjoy bright colors, not having any trouble with abstraction or saying what they think.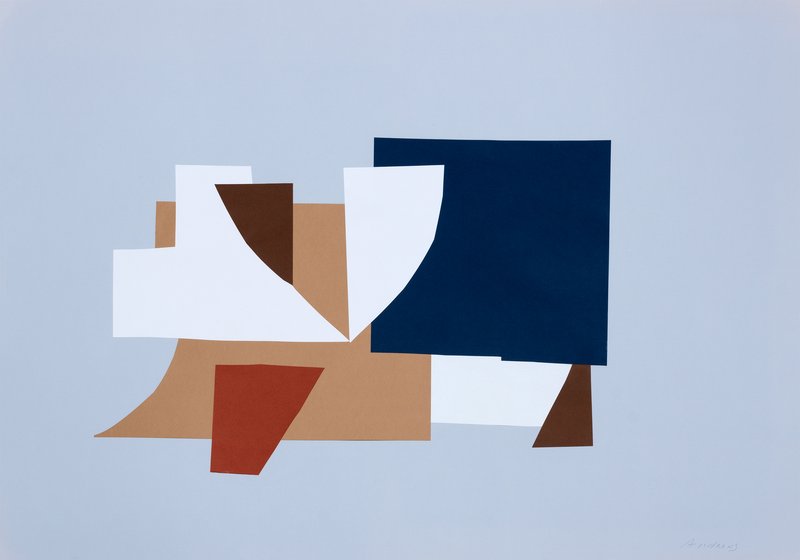 Annabel Andrews 5-HB, 2019 - Colored paper cut out and glued on cardboard

How did your own early artistic experiments manifest themselves? Being a young child during the war in the Isle of Wight meant there were not many toys. I was always fascinated with the bright colors of flowers, putting them between paper and press until they were dry enough to stick in my album. Later in school, my favorite subject was botany and the illustrations we did with watercolours, after pulling the plants apart and examining all their strange forms.

What feelings do you get when you create and how do you feel when you don't? If the painting is going well the feeling is stimulating, positive and pleasant, but when it becomes too difficult I go and work in the garden, walk in the woods or meet friends for a coffee and chat in the village where I live in Spain, San Lorenzo de El Escorial.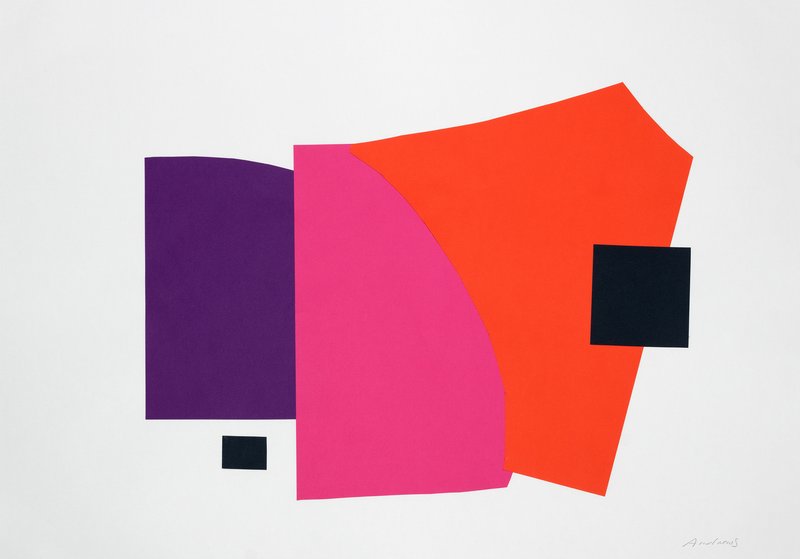 Annabel Andrews 6-HB, 2019 - Colored paper cut out and glued on cardboard

If somebody reading this buys one of your artworks today what should they say about it to friends? I would explain that the painting is minimalist, color constructivism mostly geometric, worked on cotton duck prepared by me with casein glue and zinc white pigment. This makes the colors bright. Some of the work is not completely abstract.
What do the titles mean? The numbers are just for reference.  The paintings are named regarding the objects I have seen with their forms and colors used in an abstract way to reflect their relevant features, not totally detached from perceptual imagery but the pure shapes have properties of their own.
Where do you fit in and who do you think you belong alongside? The artists who have influenced me most are José Guerrero and Pablo Palazuelo , who were also my friends in Madrid. José Guerrero had recently returned to Spain from New York where he was part of the N.Y. school of Abstract Expressionism. He made a great impression on me, inspiring me to try minimalism and abstraction. Pablo Palazuelo, who was geometric and constructivist, had an interesting group of friends around him. He also greatly influenced my work. The two influences were antagonistic, but both triggered a new pictorial adventure for me.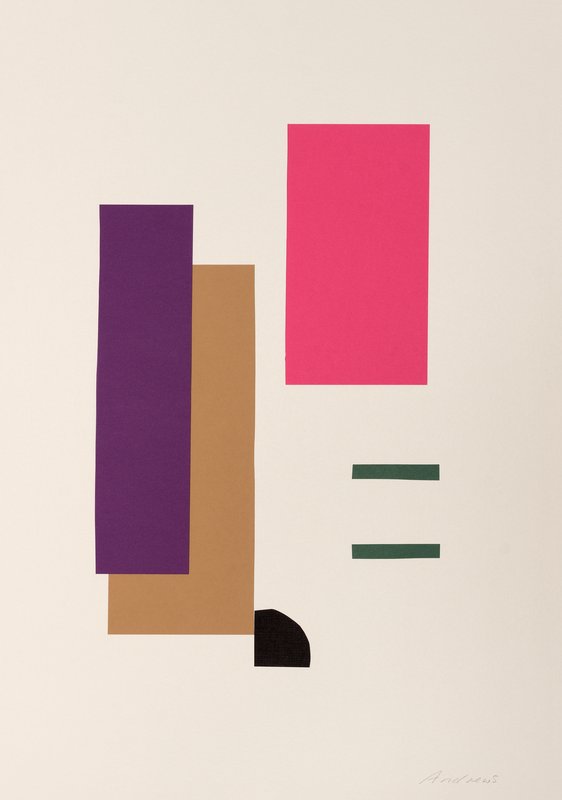 Annabel Andrews 2-VM, 2019 - Colored paper cut out and glued on cardboard
How does your work fit together? Looking back, I think there has been a natural evolution, starting with figurative landscapes painted from nature, which have gradually become more abstract and simple, although there are times of experimentation, which appear to go in other directions. I still enjoy drawing directly from nature and people.
Can you control where it takes you? Mostly the work controls me, as there are always surprises and happy accidents along the way, which can set the painting off in a different direction. If this happens, often the work can get heavy and too controlled and must be a must be thrown away. If I knew exactly how things would end there would be no incentive to continue!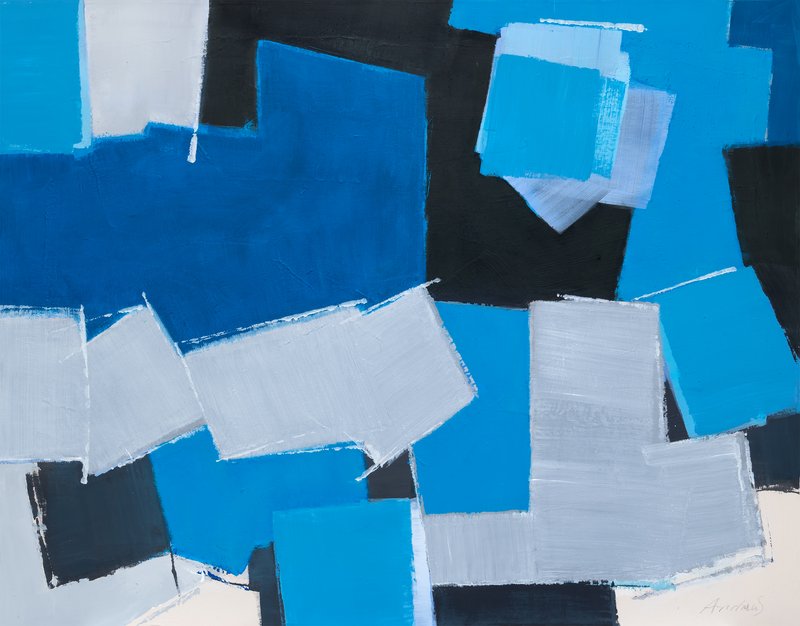 Annabel Andrews - Harbour, 2019 - acrylic and casein base on cotton duck canvas
Is there such a thing as a typical working day for you? With the first light of dawn I go silently up into the studio, with a cup of tea in hand to see what went on the day before. The semi-darkness makes it easier to judge the weight of the different colors and the picture balance. During breakfast I become more practical and work can start later. Every day is different. Most days I paint, others have to be spent preparing the canvas and making the glue or just looking and pondering on what is there without actually doing any work.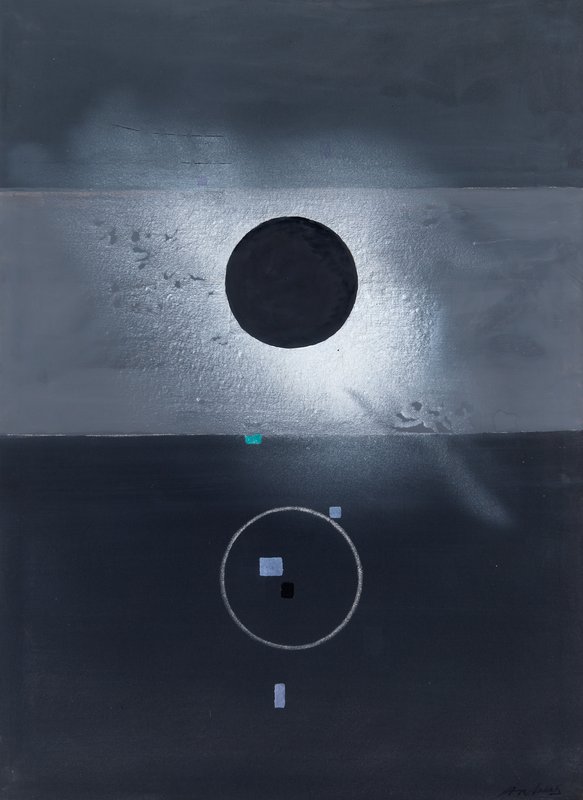 Annabel Andrews - Cosmic Information , 2007 -Acrylic, casein and mixed techniques on cotton duck canvas
What are the aspects of being an artist you still struggle with? Answering questions that translate visual experiences into words! It's almost impossible for me.

And what's next? At the moment I am recovering some of my old techniques using casein glue, pigments and charcoal to achieve a lighter and more open work. Having made collage for the past few months things have changed slightly. So many possible things to do that have to be thought out and simplified!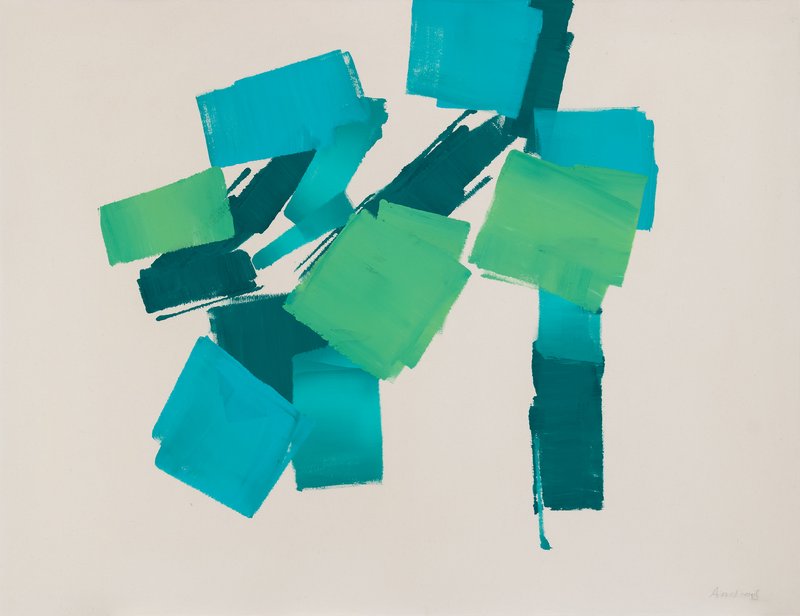 Annabel Andrews - Water, 2018 - Acrylic and casein base on cotton duck canvas
[Annabelandrews-module]