Last month, I examined the ongoing debate about whether fashion can be considered fine art, highlighting several designers who consider themselves to be artists, full stop, and their clothes to be works of art. However, a number of designers have also engaged with art in a more traditional manner, branching outside of fashion into such widely agreed-upon forms of fine art as sculpture and photography. Here's a look at four cutting-edge couturiers who have thrown themselves into the art world as visual artists—and whose work has been shown in galleries and museums around the world.
HELMUT LANG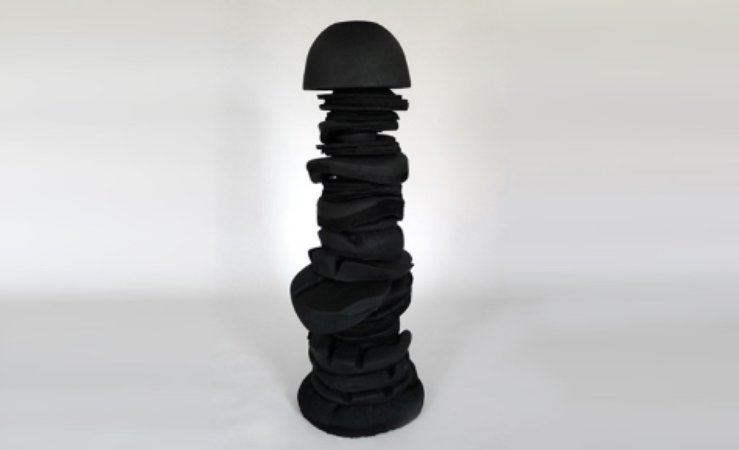 Helmut Lang's Untitled, 2012. Rubber, Chalk, Steel.
After Prada acquired his eponymous label in 2005, Helmut Lang retired from fashion design and turned his attention toward the visual arts, holing up in his New York studio for several years with the goal of reinventing himself as an artist. In 2008, Lang held his first solo show at Kestnergesellshaft, an art gallery in Hanover, Germany, where he debuted his first sculptural creations. Three years later, after a fire destroyed a significant part of his label's fashion archive, he shredded the remains of the garments to create a series of sculptures for an exhibition at East Hampton's aptly named Fireplace Project—a potent symbol of his determination to exchange fashion for art.
In May 2012, Lang erected an exhibition in New York to coincide with the first installment of Frieze New York. Titled "Helmut Lang: Sculptures," the show featured new works employing found objects to create tall, totemic structures that he painted in black and white, echoing his label's signature monochromatic palette and minimalist, architectural lines. In an interview with the New York Times just before the opening of the show, Lang explained that he was always "interested in materials and in transforming them." The difference, he noted, between his work as a fashion designer and that as a visual artist, is that "as a fashion designer, he was 'building around a body' and now he is building the body itself."
KENZO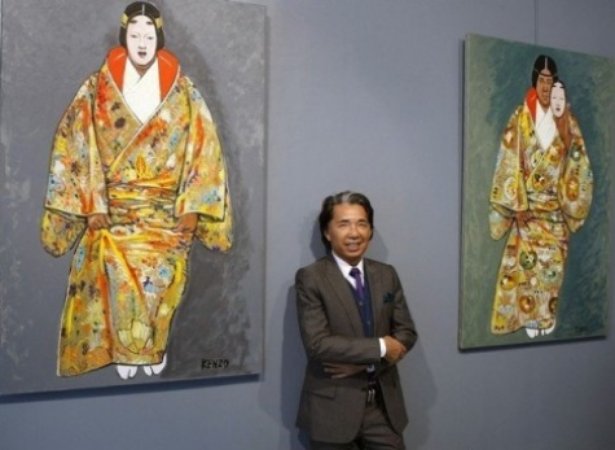 Kenzo Takada in front of two of his paintings at Studio 55 Gallery, Paris 2010.
Japanese fashion designer Kenzo Takada, founder of the high-end ready-to-wear brand Kenzo, also transitioned from fashion designer to visual artist after he sold his label to luxury good behemoth LVMH in 1993. Choosing painting as his new medium of expression, Takada held a solo show of his large-scale works at Studio 55 gallery in Paris in 2010. Like Lang, Takada's visual art displayed elements of his earlier fashion creations: the paintings feature depictions of the artist himself dressed in various flower-printed kimonos, a signature motif that often decorated his collections as a designer.
ISSEY MIYAKE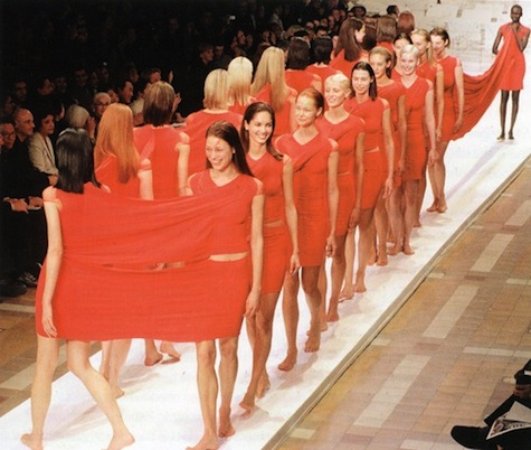 A single A-POC "Le Feu" outfit debuting as the finale of Issey Miyake's Spring/Summer 1999 show in Paris.
Issey Miyake, the avant-garde designer behind the label bearing his name, is a loner among his contemporaries in his emphatic proclamation that he is "not a fashion designer." He expanded on this notion to the Paris Voice: "Anything that's 'in fashion' goes out of style too quickly. I don't make fashion. I make clothes." In a groundbreaking move, Artforum magazine featured a "Rattan-Vine Body" created by Miyake on its February 1982 cover—the first time clothing had been featured on the cover of the preeminent art magazine.
Best categorized as a visual artist who expresses himself through clothes, Miyake has seen his work surveyed in a number of exhibitions, including the widely acclaimed "Issey Miyake, Making Things" at Paris's Fondation Cartier in 1998, which also traveled to New York and Tokyo. The show, entirely conceived by Miyake, highlighted his creative process, which from the outset has been based upon the concept of "one piece of cloth." It was this same year that Miyake began to develop "A-POC (A Piece of Cloth)," a revolutionary process beginning with a single thread that receives computerized instructions to create, in a single process, a material that is both a fabric and an complete article of clothing. In a defining moment of his work as an artist, the Museum of Modern Art in New York added the A-POC project to its permanent collection in 2006.
KARL LAGERFELD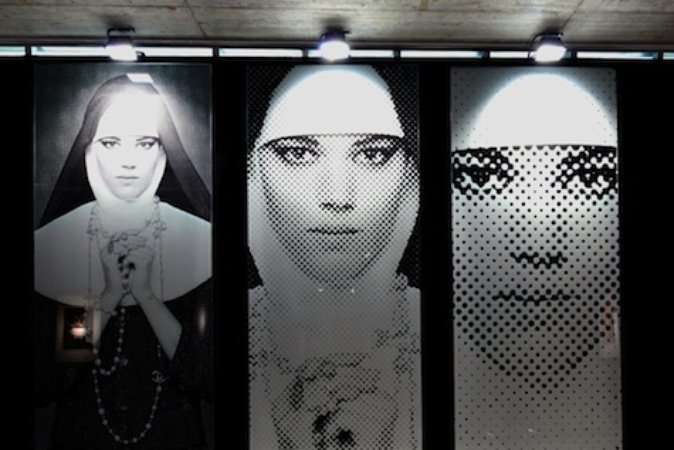 Karl Lagerfeld's portrait tryptic of Freja Beha Erichsen from his 2013 "Fire Etchings" show.
Quick to dismiss the notion that his work as a fashion designer should be considered art, Karl Lagerfeld—the iconic German creative director of Chanel, Fendi, and his own fashion label—somehow finds time to focus on his work as a photographer. Lagerfeld has held solo exhibitions of his work around the world, the latest concluding just last month. "Karl Lagerfeld: Fire Etchings" was installed at Galerie Gmurzynska in St. Moritz, Switzerland, and featured a series of large-scale new works created from "backlit glass that has had its image etched into the surface by fire." The photographs—described as Lagerfeld's "answer to contemporary portraiture"—focused on abstracted images of his muses-of-the-moment, including rapper Theophilus London and models Freja Beha Erichsen and Aymeline Valade.
Lagerfeld often shoots his own ad campaigns, and was recently tapped to photograph 30 iconic pieces from furniture company Cassina's archives for an exhibition that just ended at the brand's Parisian showroom, and is scheduled to travel to New York this fall. Lagerfeld, of course, is not the only designer to build an interest in photography—a critical element of the fashion world—into an artistic endeavor. The designer Hedi Slimane, formerly of Dior and now helming the rechristened Saint Laurent, has shown his photography at LACMA, and Domenico Dolce of Dolce & Gabbana has begun shooting the ads for his label.