Earlier this month while we were doing research for our " 7 Artists to Watch in April 2018 " article, we noticed that a ton of galleries in New York are hosting group shows this month. And a handfull of those exhibitions are definitly worth seeing. From blue chip gallery to artist-run spaces, here are seven galleries in the big apple hosting group shows this month that are worth having on your radar.
MRS.
"Dutch Masters"
April 14 - June 2
Chris Bogia, Caroline Wells Chandler, Courtney Childress, Maureen Drennan, Omari Douglin , Rebecca Morgan, Chris Martin , Dean Roper, Eduardo Sarabia , Matthew Spiegelman, Fred Tomaselli , Breanne Trammell , Brian Willmont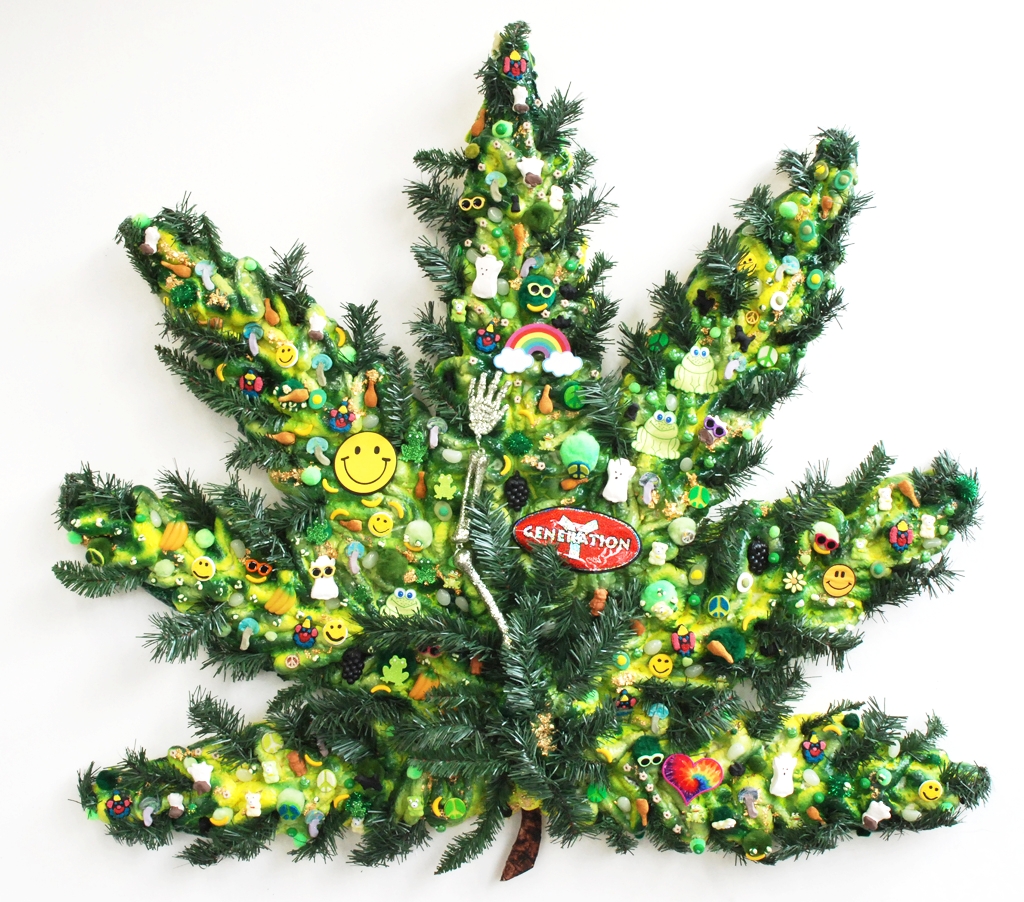 Caroline Wells Chandler, Green Goddess (2013). Image courtesy of Mrs.
Last month we were obsessed with Queens gallery Mrs. because of their booth at NADA New York , where they presented a solo presentation of Genesis Belanger 's matte-finish ceramic sculptures. This month we are obsessed with Mrs. because of their pot-themed exhibition, which presents the work of thirteen artists with "unique relationship[s] with marijuana." To be blunt, we're in dis-b'leaf over how dope this show is—the Queens-based joint really lived up to our high expectations, not that we were doubie-ous to start off with. The show is a hit, and this write-up is a toke'n of our appreciation. But jokes aside, this show is more than just an opportunity to get some of drug puns out of our system (we hear cranberry juice helps). Says the gallery in an email, "With the legalization of pot recreationally in eight states, along with the federal backlash from Jeff Sessions, we felt that this is the right time to explore this idea within the context of the arts." The entire press release is a single quote from Cynthia Nixon (formerly "Miranda" on Sex in the City ; currently running for governor of New York) that ends with: "The simple truth is: for white people, the use of marijuana has effectively been legal, for a long time. Isn't it time we legalize it for everybody else?"
CARRIAGE TRADE
"The Earth is Flat."
April 12 - May 27
Martin Beck, Henry Codax, Ceal Floyer, Katharina Fritsch, Sara VanDerBeek , Andy Warhol , Horacio Zabala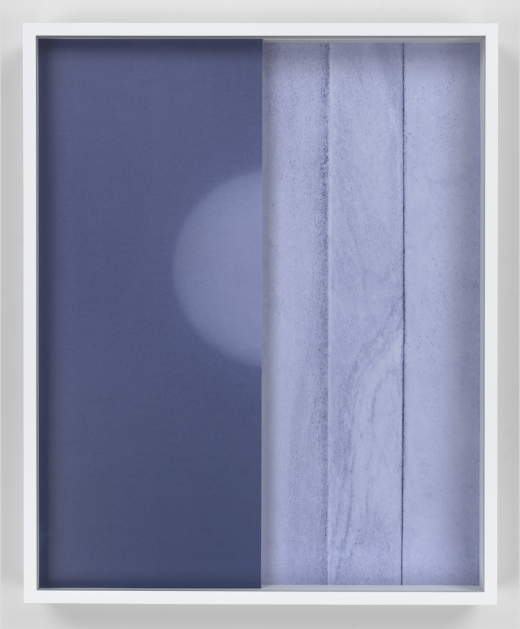 Shadow/Moon/Threshold/East (2015) by Sara VanDerBeek. Image via carriage trade.
Carriage trade is not your typical gallery. The Chinatown space, run by artist and curator Peter Scott, does not look to give individual artists a bump in sellability. Instead, Carriage Trade curates group shows to make a point. Combining well-known with lesser-known artists, historic pieces with newer work, and any and all relevant matter within the cultural milieu, Scott's particular curation provides new contexts and relevance to the works on view, allowing  them to converse through time and space on the larger social and political conditions of today. Carriage trade's current show, "The Earth is Flat" speaks to our current dark age of suspicion, vengeance, and irrationality. Andy Warhol 's 1971 dark mauve screen print of an electric chair, titled Electric Chair II , is paired alongside an eerie, dystopian sunset suggested in Sara VanDerBeek 's 2015 c-print, Shadow/Moon/Treshold/East . The show is a particularly haunting and subtle meditation on American ignorance and superstition during our time of zealotry, demagoguery, and spectacle, where democracy is in question, and "flat earthers" have a substantial and growing following of devout believers.
SARGENT'S DAUGHTERS
"In Times of Perseus"
March 16 - April 22
Zarouhie Abdalian, Liz Collins , Ala Dehghan, Brock Enright , Zipora Fried , Sarah Meyohas, Shoplifter , Daniel Subkoff, Saya Woolfalk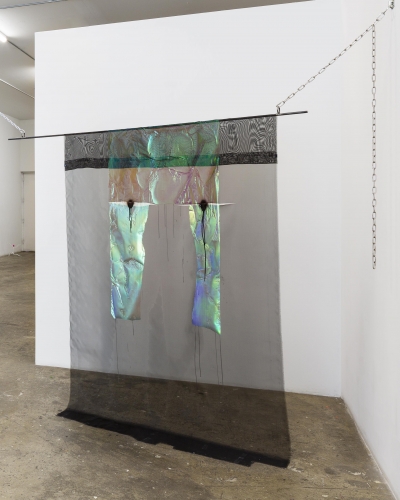 Triple Action/Tear Production/Hydrophobic Effect (2017) by Ala Dehghan. Image via Sargent's Daughters.
Among all the illustrious Greek myths , one of the most widely recognized is the legend of the Gorgon Medusa, and the hero Perseus who so famously beheaded her serpent-wreathed visage. While Perseus is frequently celebrated as a brave and honorable warrior, what's lesser known is how Medusa came to be such an iconic beast of a she-creature. As it turns out, Medusa was once a mortal woman who was extraordinarily beautiful. Of course, because no beautiful woman ever goes unpunished, Medusa was raped by the sea god Poseidon in Athena's temple. As if that weren't enough injustice, an enraged Athena proceeded to punish Medusa in what might possibly be the most horrifying example of victim blaming—she transformed Medusa's hair into a tangle of venomous serpents and made her face so terrible, it turned all onlookers into stone. It's worth looking back on this classic tale in our current age of #Metoo and intersectional feminism. On view at Sargent's Daughters, "In Times of Perseus" offers a retelling of the Greek myth, reclaiming Medusa as not a monster, but one of our own, weaving together motifs of stone, reflection, the gaze, and lots of hair. Triple Action/Tear Production/Hydrophobic Effect (2017) by Ala Dehghan is an extraordinarily poignant piece—its eyes literal slits torn out of the black mesh fabric, its spray painted pupils dripping and gazing unblinking into eternity, and the strips of mylar running down like crocodile tears reflect the onlooker, distorted and mutated.
RELATED ARTICLE: Icarus, Prometheus, Pandora: 10 Famous Contemporary Artworks Based on Myth
AMERICAN MEDIUM
"You Are Who You Think I Think You Are"
March 29 - April 28
Peter Böhmisch, Maren Karlson, Koak , Brian Kokoska , Jonny Neuron, Gladys Nilsson, Kenny Rivero, geetha thurairajah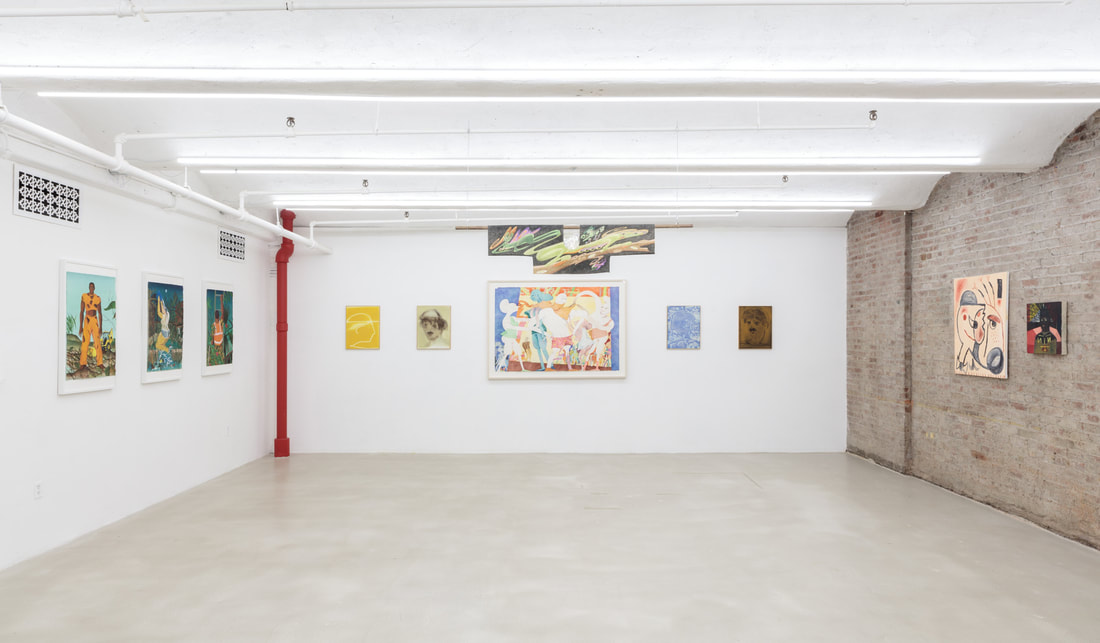 Installation view. Photo courtesy of American Medium.
"Contrary to logic, it has been proven that a caricature of a familiar face is more easily recognized than a realistic drawing of the same face," according to the press release of this on-trend group show at artist-run Chelsea gallery American Medium. Each artist in this show uses caricature in some way, exaggerating and deforming the figure with "the power to convey a depth of character that a 'true-to-life' representation does not." The roster is chalk-full of up-and-coming artists who seem to be leading the pack of emerging artists who fall under the trending category of surreal, figurative painting and drawing. Los Angeles- and Berlin-based artist Maren Karlson's distorted, flat figures, most often rendered over a black background, have been popping up on the pages of Artforum and Vice and on the walls of galleries like Insterstate Projects in Brooklyn and Pushkin & Gogol in Berlin. And we wrote about Koak 's styelized and color-limited drawings of nude women when she showed with Et Al. and Alter Space at NADA in Miami last year. The entire list of artists showing in "You Are Who You Think I Think You Are" should be on your artists-to-watch list.
BORTOLAMI
"Human Applause" curated by Nicolás Guagnini
April 5 - May 5
Eugenio Espinoza, Nicolás Guagnini, Sylvia Pilmack Mangold, Claudio Parmigiani, Superstudio, Claude Viallat, Dena Yago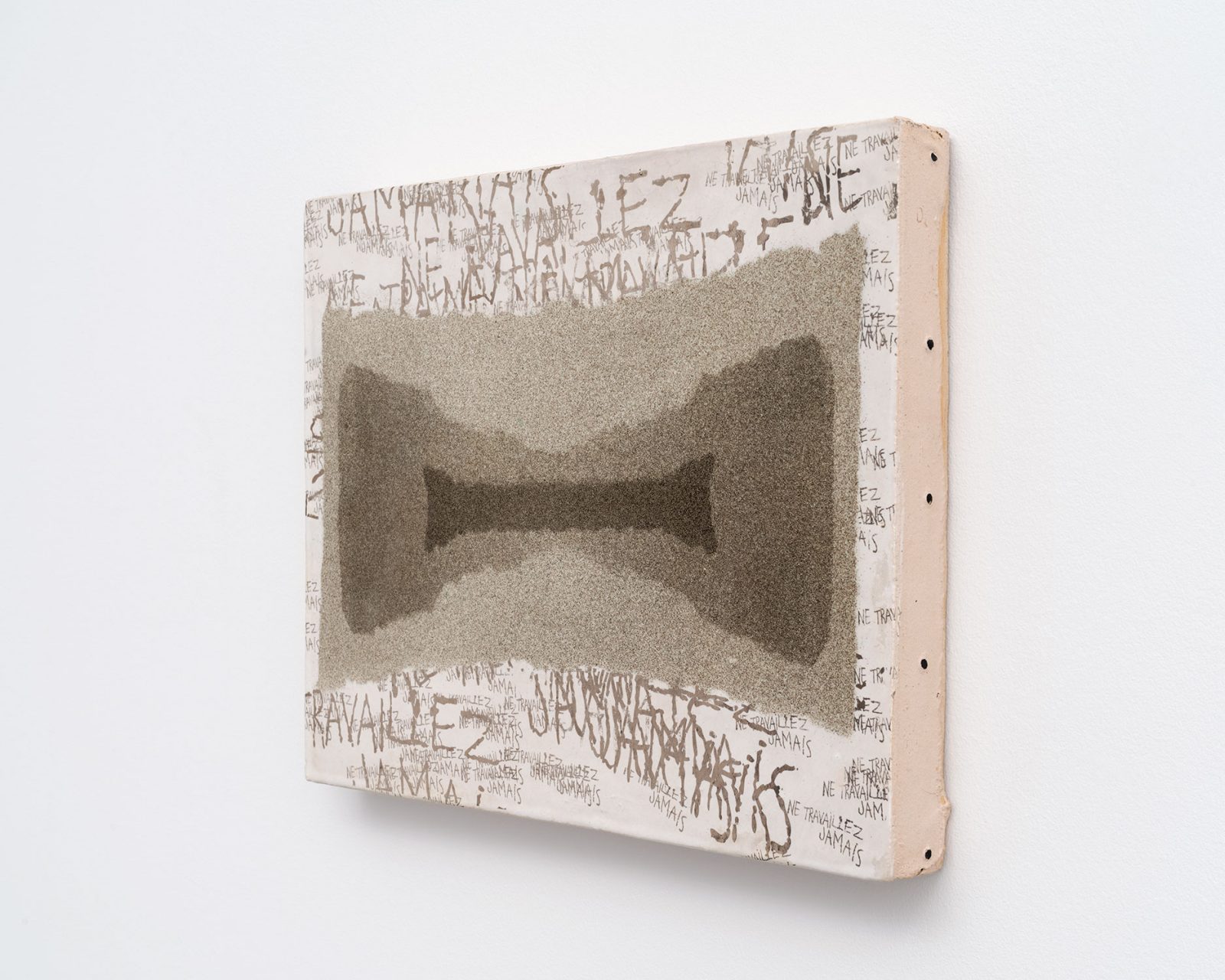 Nicolás Guagnini, The Fetishism of Civilization , 2018. Image courtesy of Bortolami.
"Human Applause" is quiet group show of mostly wall works with muted tones and abstract compositions. The show is curated by Nicolás Guagnini, an artist represented by the gallery and one of the seven artists in the show. The roster is surely multigenerational; Claude Viallat, born in France in 1936 shows a 1970 work characteristic of his signature painters on fabric; the wall piece by Dena Yago, born in 1988 in the US, lends the exhibition its name "Human Applause," also the title of a 1800 poem by Friedrich Hölderlin that "addresses a poet artist subjectivity and market valuation explicitly" written at the turn of the 20th Century. Guagnini's piece pictured above isn't what you think it is... Cast in a mold to look like a canvas, the piece is actually entirely glazed ceramic. Humans: applaud.
LEHMANN MAUPIN
"American Landscape"
March 15 – May 5
Teresita Fernández , Catherine Opie , Tim Rollins and K.O.S. , Nari Ward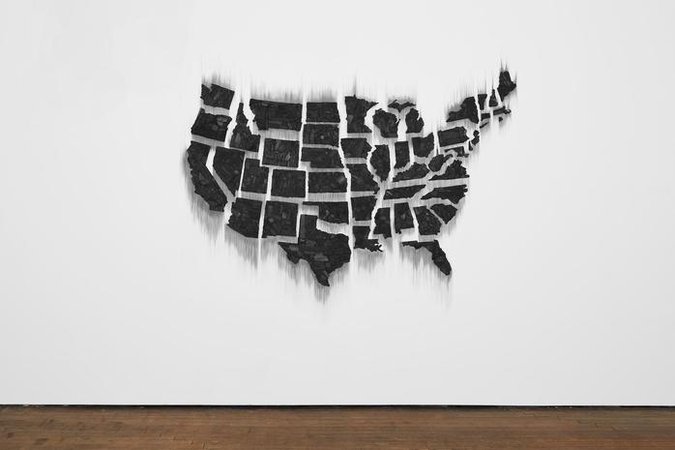 Teresita Fernández Fire (United States of the Americas) , 2017. Image courtesy of Lehmann Maupin Chelsea gallery Lehmann Maupin presents "American Landscape," a group exhibition featuring works by Teresita Fern á ndez , Catherine Opie , Nari Ward , and Tim Rollins and K.O.S. Spanning a variety of mediums from installation to photography to sculpture, each artist's work stands alone aesthetically, but speaks to a unified prompt: to offer viewers a new perspective on the concept of a "landscape." Brooklyn-based Teresita Fernández , known for her large-scale sculptures and public installations that often interrogate and explore the idea of a landscape contributes a large-scale charred and disjunctive map of America, suggesting the fraught history of this deeply divided country. Photographer Catherine Opie offers perspectives of American landscapes with photographs of Los Angeles mini-malls and sprawling rural spans of middle America, while Jamaican-born, New York-based Nari Ward illustrates urban environments, with found objects such as a discarded neon liquor sign from Harlem. A show of disparate parts, the dialogue between the works paints a poetic abstraction of American life, marked by a long history of violence and discrimination.
MAGENTA PLAINS
"Frame Structures"
April 1 — May 6, 2018
Keren Cytter , Linnea Kniaz, Sara Magenheimer , Steel Stillman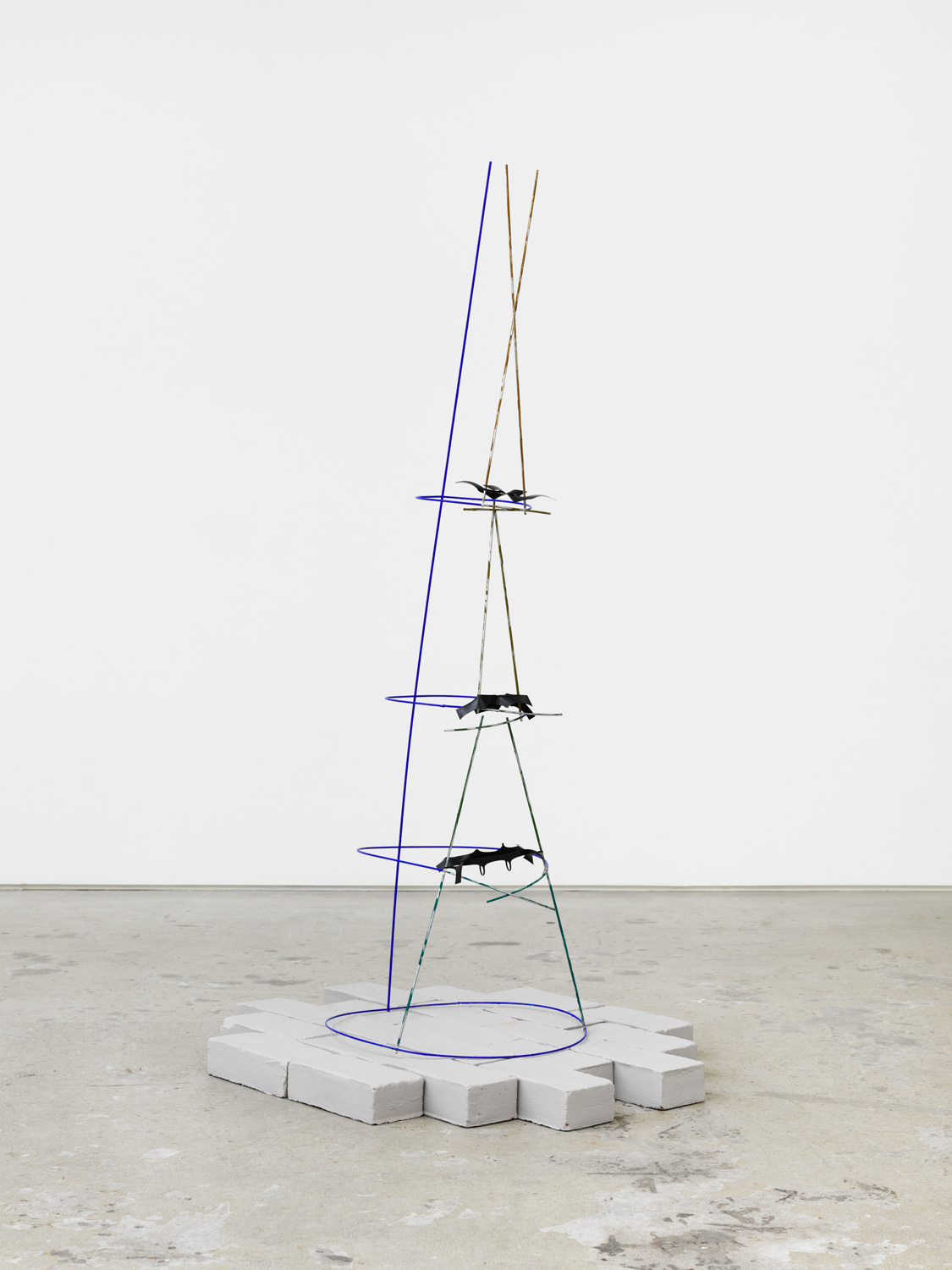 Linnea Kniaz, Framework 8 , 2017. Image courtesy of Magenta Plains.
If you're the type of person who relishes in opportunities for mental expansion, one rewarding puzzle is figuring out how the seemingly disparate works at Magenta Plains's "Frame Structures" come together, regarding the old artistic convention of "the frame." With each artist bringing their own distinct means of exploring the structure, and to equally distinct ends, the show offers eye-opening possibilities for such a modest subject. Multimedia artist Sara Magenheimer's Open Mic Solo blends the photographic frame within the structure of a painting, creating a collage-like circuit of images within an image. Meanwhile, Linnea Kniaz's work The One Special Mark is Given a Platform and a Glow but is Still Small subverts our preconceptions of the frame entirely, blurring visual hierarchies and demanding the viewer to reassess spatial priorities. The diversity present in "Frame Structures" could be entirely owed to the diversity in the artists participating—all four hail from different cities, from New York to Tel Aviv, Philadelphia, and Chicago. Magenta Plains also prides itself on its intergenerational approach, including artists from all points in their careers, with established and legendary photographer Steel Stillman and artist's artist Keren Cytter shown alongside up-and-comers like Maggenheimer and Kniaz.
[related-works-module]
RELATED ARTICLES:
Have You Seen All 5 of Keith Haring's Murals in NYC?