It says a lot that the Independent Art Fair was born out of a not-for-profit experiment. Founded by gallerists Elizabeth Dee and Darren Flook in collaboration with White Columns director Matthew Higgs, and now directed by Laura Mitterand of Gavin Brown's Enterprise, the Independent grew out of Dee's X Initiative, a nonprofit started in 2009 to show a progressively-minded program of exhibitions and events in the former Dia Art Foundation building on West 22nd Street in Chelsea. 
X Initiative was intended from the beginning to last only one year, and after its critically acclaimed run—during which it gave important showings to Hans Haacke, Sharon Hayes, Luke Fowler, Jeanine Oleson, and Artur Zmijewski, among other artists—Dee announced the birth of Independent in the same space. Some were skeptical that a commercial art fair could generate the same intellectual buzz as Dee's prior project—but from its inception, Independent represented a progressive and vital alternative to the clamorous glamour of the city's other, larger fairs. (It helps that its exhibitors include the same rich, ambitious, and well-established nonprofit galleries that gave X Initiative its edge.)
The fair also routinely attracts the participation of some of the most exciting galleries and emerging artists working today. Below are a few of the artists who caught our eye at this year's iteration.
SUE TOMPKINS  at The Modern Institute/Toby Webster Ltd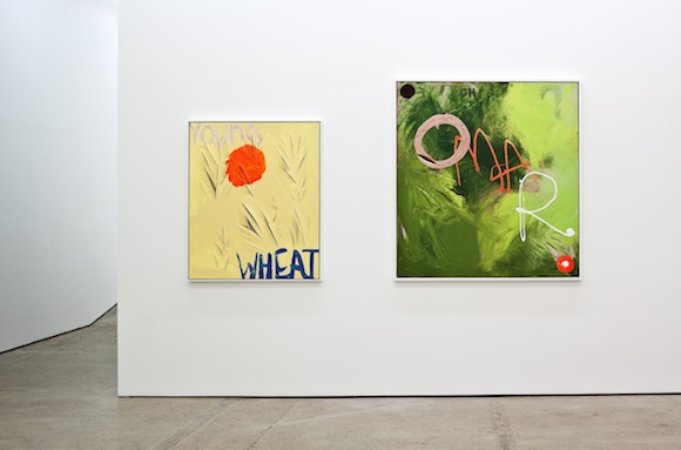 Installation view of paintings by Sue Tompkins at The Modern Institute, Glasgow
Tompkins is a successful crossover from the music world: she used to be the singer in Glasgow-based band Life Without Buildings. Her paintings are likewise imbued with a certain indie-rock sensibility—they're slightly irreverent, often witty, and graphically striking, including some canvases that are slashed Fontana-style and others that are layered with witticisms like "Sue Me." It's also worth mentioning that Tompkins's gallery was reportedly forced to do a complete re-hang of their booth less than an hour into the fair's opening on Thursday night when a collector bought up all of the paintings and insisted on leaving with them right then.
ALEXANDER SINGH at Sprüth Magers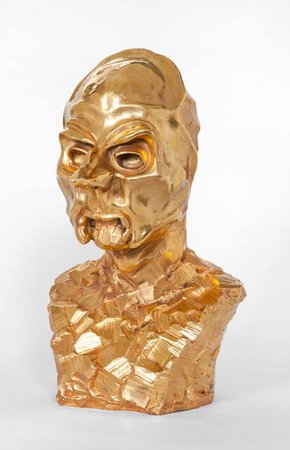 Alexandre Singh's Vernon Montgomery Spruce (2014)
You may have been too distracted by anotherpiece nearby, where a woman armed with an arsenal of power tools was systematically chopping up a wooden statue of the artist John Bock, to get a good look at Alexander Singh's pieces in the Sprüth Magers booth. But the artist, whose three-act performance work "The Humans" was recently shown in London (and at the Brooklyn Academy of Music before that), is deserving of a closer look. On display at the fair are just a few correlary pieces from "The Humans," which Singh developed through years of dramaturgical research. Unlike certain other recent operatic performance-based works of a much larger scale—remember Ragnar Kjartansson's "Bliss"—Singh's piece has a serious, comprehensive story and stands on its own as a sincere piece of theater. The sculptures, which are based on masks worn in the performance, and photographs that compliment the piece are equally impressive. 
MARTINA KUBELK at Galerie Susanne Zander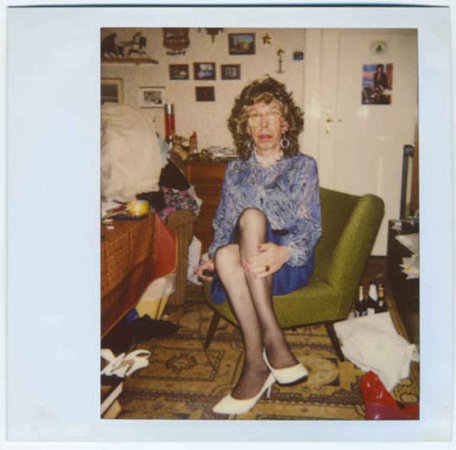 One of Martina Kubelk's untitled Polaroids her album Martina Kubelk. Dresses – Lingerie (1988–95)
Revisiting lesser-known artists was a recurring theme at both the fairs and the Whitney Biennial this year, but Galerie Susanne Zander takes the idea into new territory with their booth, which showed four artists about whom basically nothing is known. Photographs by someone going by the name of Martina Kubelk, in particular, were striking. Of course, Kubelk's true identity remains unknown; 'Martina' is the adopted name of the anonymous man depicted in this series of photographs wearing a variety of women's clothes, mostly lingerie, which were, according to Zander, found collected in a photo album labeled "Martina Kubelk: Clothes – Lingerie." The whole booth is an intellegent gesture, considering how much interest from both artists and institutions there has been in anonymous or psuedonymous artist projects recently.
NIKOLAS GAMBAROFF at Galerie Meyer Kainer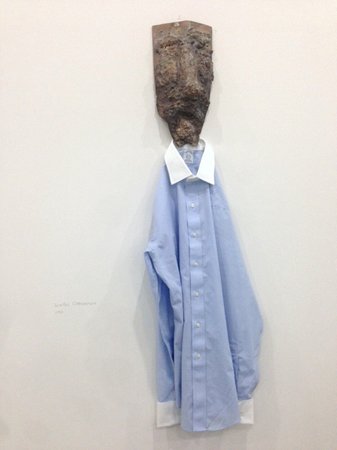 Nikolas Gambaroff at Galerie Meyer Kainer's booth
Nikolas Gambaroff is best known for painted collages made of layered, torn-up newspapers. He's also known for the collaborative work he's done with Ei Arakawa—the pair first showed the "dysfunctional language" card game that they call Two-Alphabet Monograms in 2012 at Galerie Meyer Kainer in Vienna, with a reprise at this year's Independent, where they've displayed card-tower sculptures derived from the same project. Gambaroff also has one of the most intriguing, if least ostentatious, pieces in the fair: a Giacometti-esque cast mask that appears to hold a buttoned-up, white-collared shirt to the wall. The "white collar" pun suggested here fits the ambiguous commentaries on labor and production that filter through any art fair.
PAUL LEE at Maccarone/Modern Art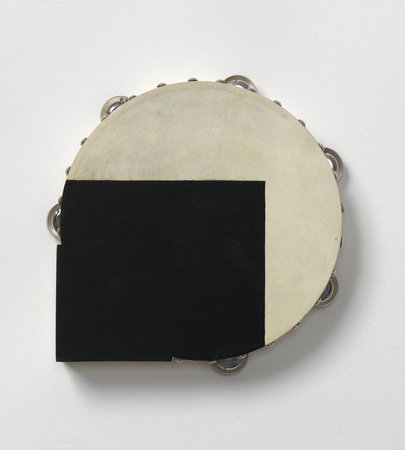 Paul Lee's Untitled (tambourine with black corner) (2011)
Paul Lee has one of the best-looking, and also weirdest, booths at this year's Independent: two walls of relief sculptures made of reconstructed tambourines spliced together with quasi-Constructivist black and yellow sculptures. Lee likes to use one readymade material and subject it to a series of systematic variations, as evidenced by his 2010 show at Maccarone gallery where he presented 96 sculptures made from terrycloth towels. His tambourine sculptures humorously play on contemporary art's reverence for minimal geometric forms, while also exploring the possibilities for engaging with readymade objects though subtle changes that are themselves minimal in effort.