NAM JUNE PAIK
TELEPHONE X (2000)
Famous as one of the inventors of video art, the Fluxus pioneer Nam June Paik was a restless early adaptor across the spectrum of new technologies, employing computers, primitive robotics, and telecommunications gadgetry to create spiritually questing works that remain radical and relevant today. A rare multiple by Paik—who has had a unique work reach an auction record just shy of $650,000—this piece was commissioned by the Whitney Museum in 2000. It raises to fetishistic status a device the late artist seems presciently spooked by: the cellphone.
PAULO NAZARETH
UNTITLED, FROM THE NEWS FROM THE AMERICAS SERIES (2012)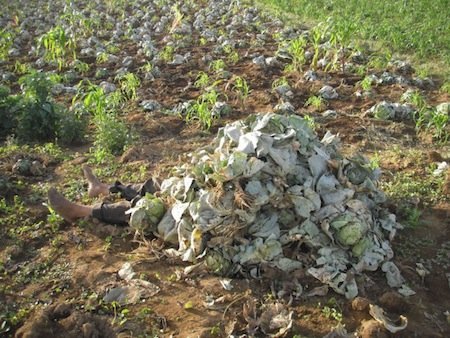 In March of 2011, Paulo Nazareth set out from Brazil travelling by foot and by bus through 15 countries to reach New York City. He had hoped to carry a sack of bananas with him to sell as part of his contribution to the "Art Positions" section of that year's Art Basel Miami Beach, but border agents confiscated them. Along the way he documented both his journey and the way people reacted to his increasingly disheveled appearance—he wore a pair of flip-flops and refused to wash his feet. This playful photograph of Nazareth buried beneath a mount of cabbage somewhere in Latin America stems from that series, called News From the Americas. The work, priced at $800 in an edition of 10, is an opportunity to collect this rising star, who was featured in the 2013 Venice Biennale's "Encyclopedic Palace" exhibition. 
STURTEVANT
ROCK & RAP SIMULACRA ACT 3 (2013)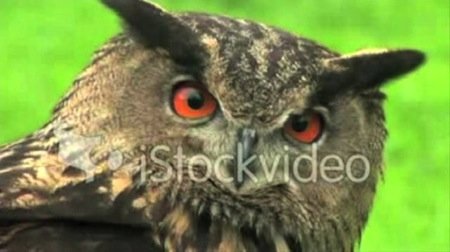 A revered American artist who has been based in Paris since the early 1970s, Sturtevant first came to fame as one of the handful of artists (including Mike Bidlo, and Richard Pettibone) who took Warhol's appropriations as license to one-up his postmodernism by appropriating his appropriations. Over time, Sturtevant—who dropped her given name, Elaine, years ago (take that, Warhol)—took on a whole range of artists, from Lichtenstein and Johns to Paul McCarthy and Joseph Beuys, but in recent years the octogenarian has turned to creating spectacularly current video installations and other digitally derived works that are utterly in key with the freshest art being made today. This edition is a wonderfully edgy and unexpected work by the great artist, who won the Golden Lion for Lifetime Achievement in the 2011 Venice Biennale, and whose works have been fetching staggering multiples of their estimates at auction in recent years, with a record of $710,000 set by one of her ersatz Lichtenstein paintings in 2011.
RYAN MCGINLEY
MARMOSET (LSD) (2012)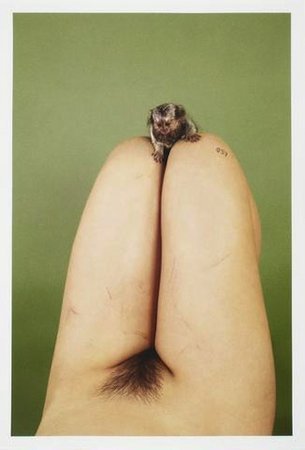 One of the so-called "Bowery School" artists who rocketed to fame in 2007 after the publication of Ariel Levy's New York magazine cover story "Warhol's Children" (the other two were Dan Colen and the late Dash Snow), Ryan McGinley was the youngest artist to ever have a solo show at the Whitney, at 23. In the last couple of years, he has outgrown his wunderkind image to build a remarkably versatile and expansive body of work. Best known for his raucous nudes of youths frolicking in the great American outdoors ("exuberance is beauty," as William Blake said), McGinley turned heads in 2012 with his provocative Animals series pairing nude models with even-less-bashful critters. This piece is a lovely example of that instantly recognizable series by the artist, who photographs frequently surpass their estimates at auction.
Born in Karachi, Pakistan, the artist Huma Bhabha creates raw, often spooky sculptures and works on paper that appear as if they were beamed in either from a barbaric distant past or, more likely, a dystopian future where society has regressed. This indeterminacy in her work, as well as the exquisite technical skill she puts into producing her art, has made her a favorite of some of today's most important curators, from Okwui Enwezor and Massimiliano Gioni to Ann Temkin and Bob Nickas, who have all included her in major shows. (She was also in the 2010 Whitney Biennial.) This unique piece, which unnervingly sets what looks like a prosthetic foot in a bleak landscape distinguished only by its horizon line (à la Philip Guston), is an opportunity to collect a signature expression of this major artist's work.
FRED SANDBACK
BLUE DAY-GLO CORNER PIECE (1968/2004)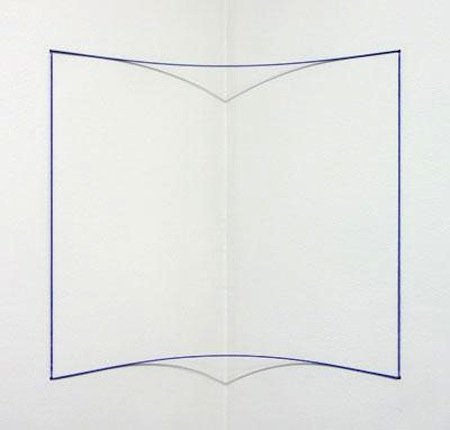 An important work from one of Fred Sandback's earliest series, this 1968 piece shows the legendary Minimalist artist working with the colored lines in space that would become his calling card. At the time, he was still finishing up his studies at Yale, where he had been mentored by Robert Morris and Donald Judd, and he was working through his formal ideas using wire and elastic rather than the yarn he would eventually use to build his larger installations. Originating during the most sought-after period of the artist's career and executed to complete an edition of 25 after the artist's death in 2003, this sculpture is a domestically scaled version of the room-filling works that have become icons of American art.