JOHN ARMLEDER
LARGE IMAGE J.A (Strictly un-edited) (2006)
A lively Swiss chameleon who has represented his country in both the Venice Biennale and dOCUMENTA, John Armleder is currently undergoing a surge in exposure thanks to the ardent support of two market-movers: London collector Frank Cohen—who recently devoted the inaugural show of his new Dairy Art Centre to the the artist's work—and the Nahmad family, which gave over its Upper East Side gallery to his art last month. This giant, wall-spanning piece is a dazzling introduction to his work, with the glowing celestial spheres echoing his famous disco-ball sculptures.
FRANCIS BACON
Etude de corps humain (1984)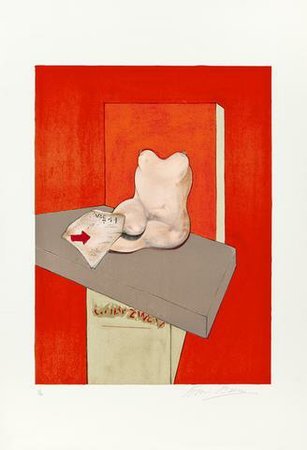 A British painter whose harrowing, anguished paintings and infamously licentious personal life have provided endless fodder for movie-makers, scholars, and artists alike, Francis Bacon has achieved the stature of a contemporary-art legend—all the more so now that his triptych portrait of his friend Lucian Freud made headlines when it sold for $142.4 million at Christie's, making it the priciest artwork to ever go under the hammer. This signature print, showing a surrealistically truncated body-like shape framed against one of Bacon's trademark cubic volumes, all suffused with an arresting bloody red, is a particularly elegant expression of his still-radical artistic vision.
LEONORA CARRINGTON
Beasts: Ox (1998)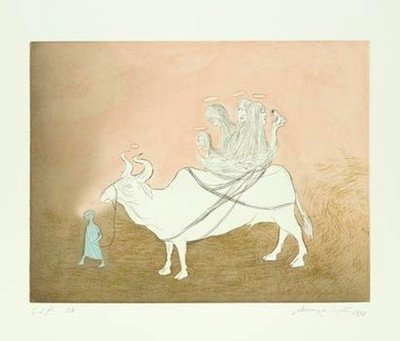 One of the key Surrealist painters alongside Salvador Dalí, Giorgio de Chirico, Magritte, and Max Ernst (her longtime and tumultuous lover), Leonora Carrington is known for her uncanny, myth-laden paintings of women and bestial creatures in fantastical scenarios—and she also just happens to be among the most valuable of all the Surrealists at auction, making headlines in 2005 when one of her paintings sold for $713,000 at Christie's, making her the priciest living member of the coterie. This piece, a beautifully lyrical scene steeped in the religious and folk traditions of her adopted Mexico, is an exceptional opportunity to collect work by the artist, who passed away in 2011.
RIRKRIT TIRAVANIJA
Untitled 2010 (no more reality) (2010)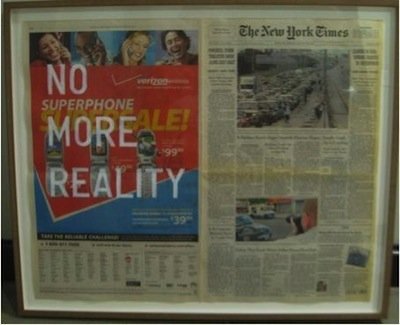 An artist who rose to fame in the 1990s with the simple Thai feasts that he served in galleries and museums, bringing people together to converse and epitomizing a brand of art that came to be called Relational Aesthetics, Rirkrit Tiravanija is one of the most acclaimed and influential artists of his generation. This piece, consisting of a broadsheet page taken from the New York Times and overlaid with a jarring text of protest, is a vivid example of the artistic interventions he has been working on in recent years, interjecting bold, curt admonitory words into unexpected context and seeming to communicate with a degraded, corrupt world in need of revolutionary change. (A similar New York Times piece sold all the way back in 2007 for $17,000 at Phillips.)
A conceptual artist whose work trenchantly dissects themes of race, gender, and identity politics, Glenn Ligon appropriates literary passages from writers ranging from James Baldwin to Gertrude Stein to Richard Pryor and uses them as the substance of inky black-and-white compositions that often render the words unintelligible. This quartet of expert prints, which seemingly scatters the letters of lifted sentences at random to form compositions that are sapped of the ability to communicate, is an elegant example of his trademark work, which in 2011 received a major survey at the Whitney Museum—and which has routinely sold for staggering multiples of its estimates at auction, going into the millions.
A rising star represented by the talent-spotting dealers David Kordansky (in Los Angeles) and Anton Kern (in New York), Jonas Wood creates his visually punchy portraits and still lifes by taking copious photographs of the scene he wants to depict and then cuts and pasts the results together for a Cubistic collage effect—and then he painstakingly transfers these compositions into paintings, drawings, or prints. This piece, showing a verdant plant clipping, is an exceptional chance to collect an artist whose prices have been rising precipitously, with one piece almost doubling its estimate in this month's Philips day sale to sell for $56,250.