DANIEL GORDON
Ratatouille and Smoke Bush (2014)
Go see the spellbinding survey of Matisse's cut-outs at MoMA, and then head down to Chelsea to check out the latest show by the artist Daniel Gordon, where his new series of phenomenally multilayered photographs take the calling cards of that great Modern master—decoupage, the fruited still life, vibrant Mediterranean colors—and reshuffle them for the digital age. Here's what he does: he trawls the Internet for images of objects and then prints them out, fashions the printouts into three-dimensional objects, sets them on a stage, photographs them, and then adds and subtracts elements digitally. This piece, from an edition of 10, stems from Gordon's acclaimed new series, which the New York Times says "may be his best works yet."
A masterful draftsman whose work channels the finely detailed wildlife studies of such 18th-century naturalists as John James Audubon, Walton Ford bends this tradition to emphasize not the beauty and exoticism of the natural kingdom but instead to focus on its cruelty—often in ways that are macabre, surreal, and/or eerily human. In this piece, a classic Ford composition, a Diana Monkey casually throttles a grey parrot amid the remains of an interrupted country repast. What is the monkey's expression? Smug contentment, indifference, or perhaps a kind of insane innocence.  
XYLOR JANE
Third Order Magic Square for Deep Sleep (2014)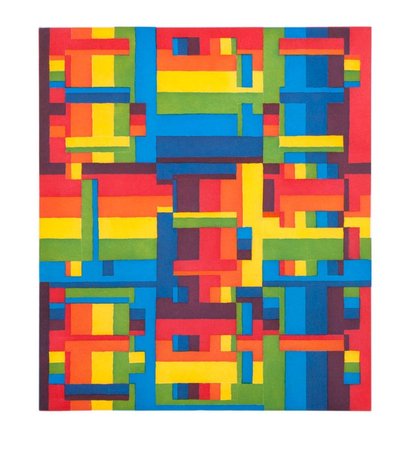 A painter with a cult following who was featured in Bob Nickas's classic book Painting Abstraction, Xylor Jane created exuberantly colored compositions that seem random but are in fact highly regimented systems, governed by numerical structures ranging from the Julian calendar to the mystical Fibonacci sequence. This generously sized signed aquatint, from an edition of 22, is a vibrant example of her deeply encoded work, which has been promoted by some of the art world's most reliable tastemakers (Jack Hanley and CANADA, to name two galleries) but remains undervalued today.
DAVE HARDY
Untitled (Painting with Storm Window) (2013)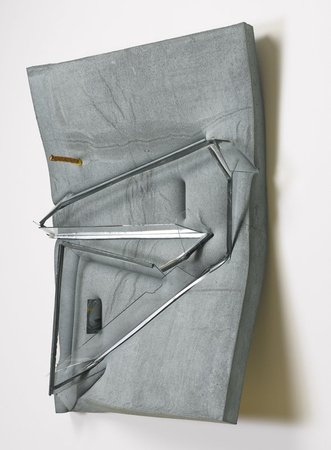 Dave Hardy's sculptures are arenas of haptic wonderment, where improbable comminglings of textures and materials fuse together into compositions that demand lingering attention. Featured in MoMA PS1's "Greater New York" survey in 2005, Hardy has propelled his approach to sculpture through one unique formal innovation: by soaking pieces of foam in liquid concrete, he's able to create a matrix that is rock-hard when solidified but easily moldable and permeable when still wet. You can see the fruits of that technique in this piece, where the curved foam is embedded with a bent storm window, an electronic key card, and a lone pretzel stick.
ANDY WARHOL
Self-Portrait in Drag (1977)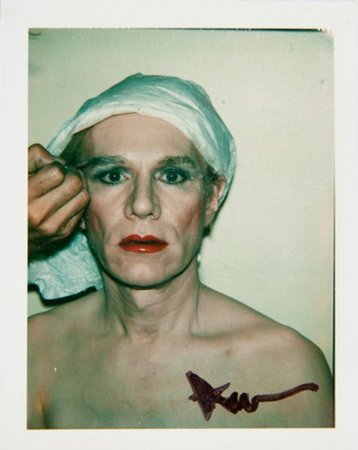 In the early 1980s, Warhol collaborated with the photographer Christopher Makos on a series of Polaroid photographs of himself in drag, wearing full makeup and exchanging his trademark white wig for a platinum woman's coiffeur—an echo of Duchamp's photos as the female Rrose Sélavy (created with Man Ray) and an encapsulation of his own interest in self-invention, theatricality, and the ersatz. Polaroids from this series are in the collection of the Guggenheim and the Getty Museum, and this unique historic work shows the artist denuded of his hairpiece, lipstick still on, gazing into the camera unguardedly, as if it were a mirror. 
JOANNE GREENBAUM
Untitled (2012)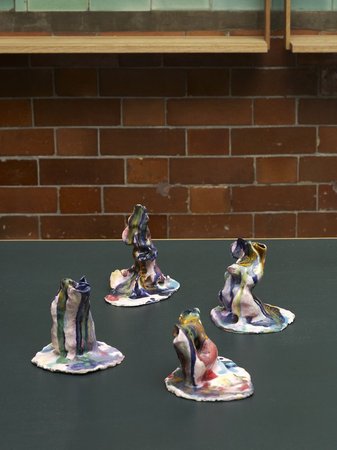 An abstract painter in the vein of Amy Sillman and Charline von Heyl, Joanne Greenbaum is increasingly famous for her vivacious canvases containing tumults of bright colors, heaping networks of dribbly lines, and shape that seem to occupy various depths of field at once. Her paintings have been featured in groups shows on the state of the medium at MoMA PS1 (curated, again, by Bob Nickas), and these tabletop sculptures continue her painterly approach into three dimensions, with colors and shapes melding together in hand-fashioned lumps of ceramic.