As the founder of Moscow's Baibakov Art Projects and Artspace's strategic director, the collector Maria Baibakova keeps close tabs on developments in the emerging contemporary art scene, traveling to biennials and art fairs around the world. Touring Art Basel in advance of the dinner she hosted with ArtBinder's Alexandra Chemla in the Black Forest, Baibakova singled out the works of five artists to watch.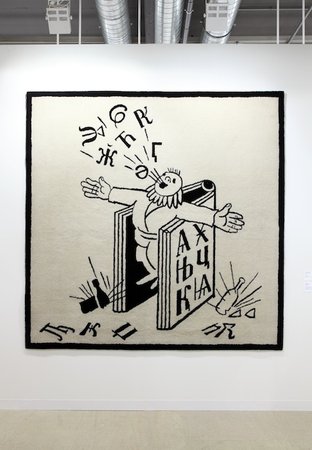 1. Slavs and Tatars at Three Star Books
I realize I have picked two wool pieces in a row, but Slavs and Tatars has always been a personal favorite for the way they weave together tough questions about the way ideas like "geography" and "ethnicity" have shaped our world, but with a sense of humor that makes complex ideas approachable. This tapestry offers a taste of the book they are about to publish—cheekily-titled Love Letters—which looks at the way alphabets have been used as a system of control. The image updates an old Mayakovsky illustration, adding the letters of the alphabet which did not previously exist in Cyrillic but were hastily added as a way to transcribe other languages.
2. Eva Rothschild at Galerie Eva Presenhuber
Another textile—this is starting to get ridiculous. Anyway, I've been following Eva Rothschild's work for some time now, and I'm fascinated by the way she's evolved. There's something about the plasticity here and her natural feel for form that just intrigues me.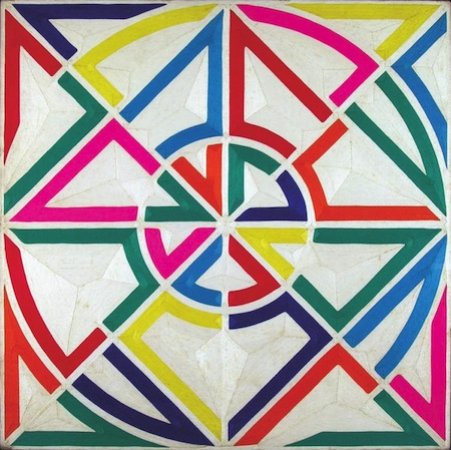 I first saw Eduardo Terrazas's work at the Sharjah Art Museum during the Sharjah Biennial this year, and I'm hooked. There was a solo project of his work at Proyectos Monclova, but I picked this one because I'm fascinated by his process. While it looks like it's sewn or stitched together, the work is actually made by gluing wool yarn down in these seemingly seamless patterns. Terrazas was in conversation with Hans Ulrich Obrist as part of Art Basel's Salon program—it was wonderful to hear the insights Hans Ulrich got out of this nearly 80-year-old artist/architect.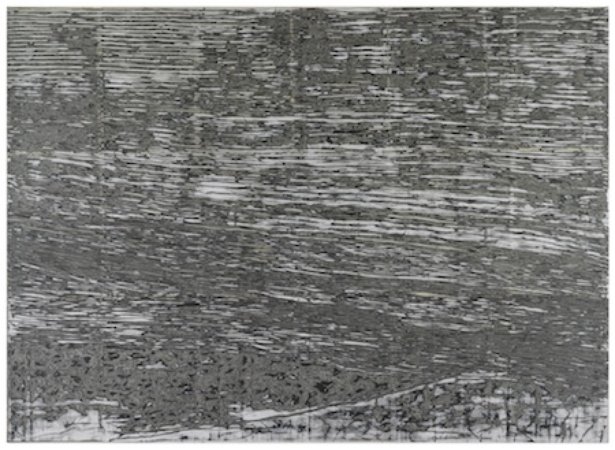 So, I might as well just get this out in the open: I LOVE Mark Bradford, both as a person and as an artist. This work not only signals the start of his new relationship with Hauser & Wirth, but also maybe the start of a new style for him. The texture almost reminds me of petrified wood, the way the material sort of stratifies. It's breathtaking!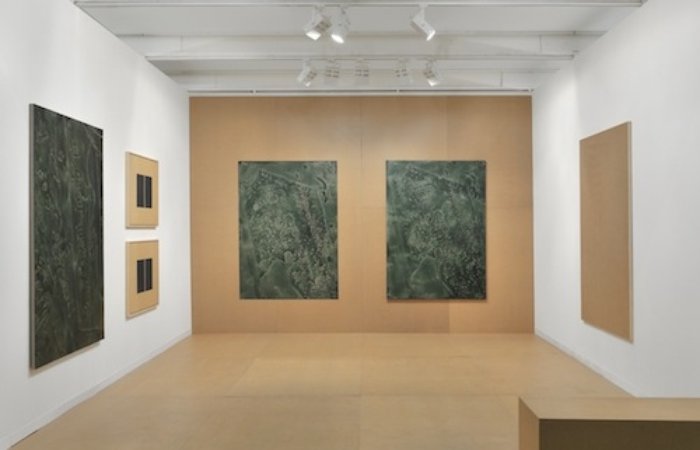 5. Daniel Lefcourt at Campoli Presti
Daniel Lefcourt is an artist I am only just learning about, but I was really won over by the installation at Campoli Presti in Statements. I want to know more about him.
Related Links: