This June, Artspace is proud to present The Center Benefit Auction , in support of The Lesbian, Gay, Bisexual & Transgender Community Center (The Center) in New York City. It's a great cause, and also a great opportunity to get to know the indomitable Glennda Testone. As Testone, the Center's Executive Director, tells us in this interview, she couldn't understand why only the boys were asked to fold and return the assembly chairs at her elementary school, so she promptly set about packing the chairs away herself.
In 2009, decades on from challenging that early gender stereotype, having worked in both the media and advocacy groups, Testone became the Lesbian, Gay, Bisexual & Transgender Community Center's first female director, beginning a new chapter in her illustrious career. Over the past 12 years, she has overseen the Center's rebranding, launched its new website , celebrated its 30 year anniversary, and completed a $9.2 million capital building renovation, to make the LGBTQ community's home on W. 13 Street in Manhattan truly fit for purpose. In addition, she also spearheaded the launch of innovative and groundbreaking programming at The Center for LGBTQ youth, transgender community members and LBTQ women; and has still found time to appear on media outlets, including CNN, FOX News and MSNBC, Vogue, The New York Times, The Chicago Tribune, Time Out and W Magazine.
During Pride Month, Artspace is staging a charity auction to benefit Lesbian, Gay, Bisexual & Transgender Community Center , with works by artists including Garrett Chingery, Anthony Goicoela, Jerry The Marble Faun, TM Davy and William Eric Brown available to bid on.
Ahead of the auction launch, we spoke to Testone about her favorite works in the auction; her role at the Center; its lesser-known functions, and how she feels the Center will progress, once the pandemic has come to an end.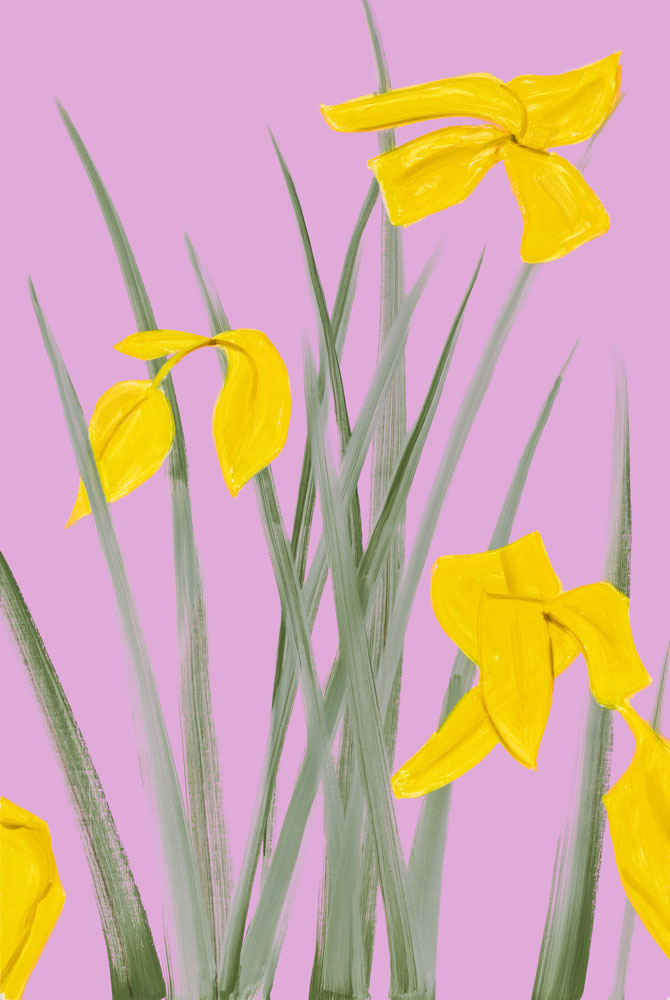 Alex Katz - Yellow Flowers 3
Tell us about your day-to-day work at The Center, how it has changed over the last year and what the next big things are for you? My day to day work at The Center is entirely collaborative. I get to work with the most amazing people to try and figure out how to best meet the needs of the LGBTQ+ community in New York. During the last year, the conversations have been largely over Zoom and the phone, but they are all about the myriad ways we needed to make sure our community is supported and connected. We saw a 40% increase in demand for our one on one mental health and recovery services immediately after the pandemic began. Our community faces higher rates of isolation to begin with, so we knew we had to mobilize quickly. We needed to make sure we had funding to support the increased community demand and that we were supporting our staff at the same time, as we all weathered this global pandemic. I'm really proud of how we did that. Over the last year, since I have been working from home, I've just been doing all that while juggling a very active and talkative toddler (Frankie), a new puppy (Gus, six-months-old), and a house that does not clean itself.
Going forward, one of the biggest things for us will be moving toward restarting in-person operations. We're currently exploring how to do this in the most safe and robust manner possible. The in-between is a little scary because it's new. We've never been in, or come out of, a global pandemic before. We've really missed connecting with our community in person, and it's exciting to finally be at this point after so many months, but I also don't want to lose the lessons we learned during the pandemic. We connected with new members of our community in new ways, and we were able to be more human with each other at work. We have an opportunity to not just "return to normal," but to create a new normal. I love Sonya Renee Taylor, and this quote from her towards the beginning of the pandemic. She says, "We will not go back to normal. Normal never was.We are being given the opportunity to stitch a new garment. One that fits all of humanity and nature." I strive for that every day.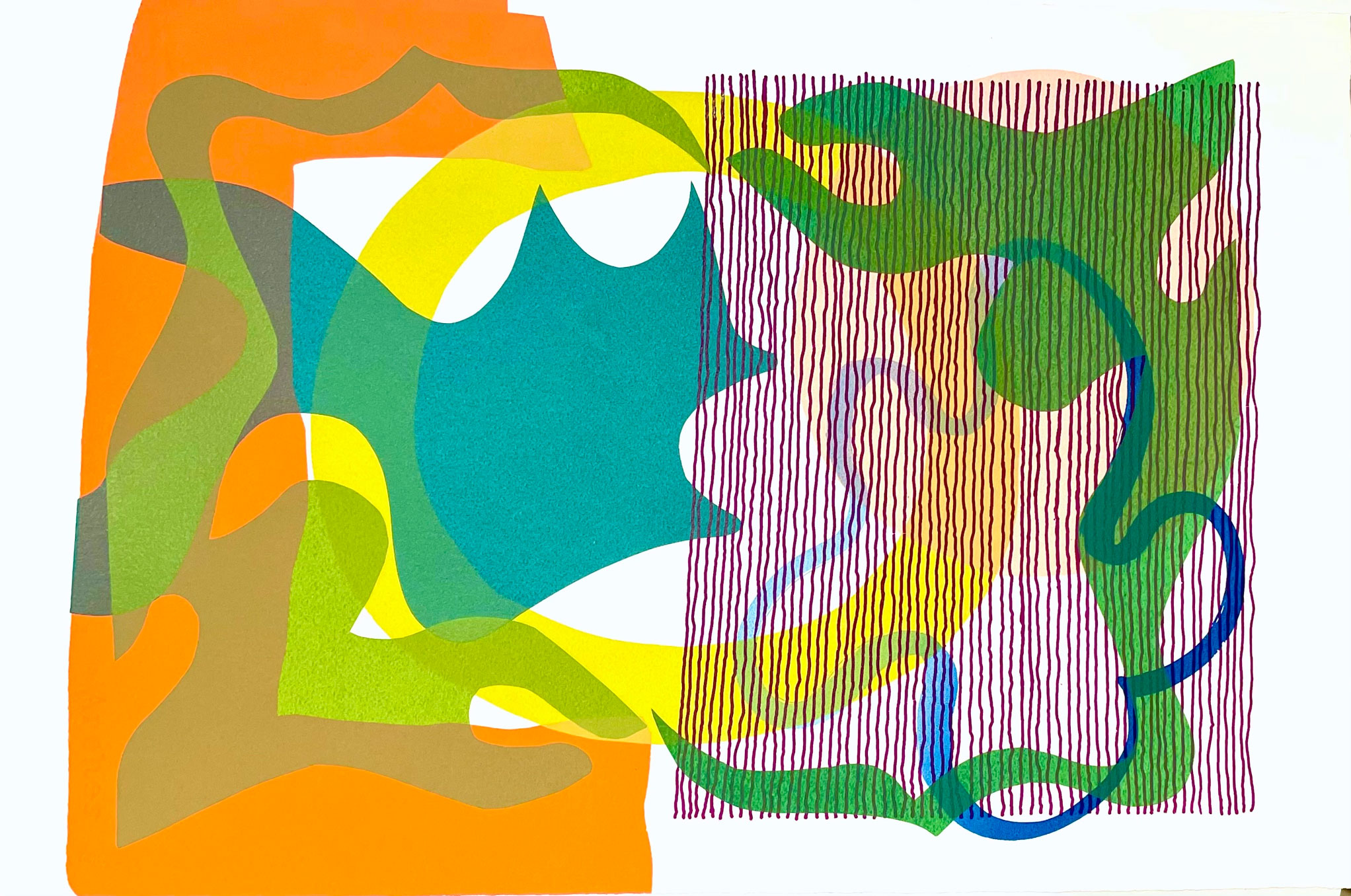 J Warwick - If I Wore A Hat
When did you have your moment in life when you thought, I want to get involved and help change the world? I have been having these moments for as long as I can remember. From the time I was in elementary school, the boys were asked to help fold and return the assembly chairs, but not the girls. They thought the boys were stronger, and I disagreed. I made a stink and ended up lugging chairs. To the moments over the last ten years, when I became fully aware of the fact that I benefit greatly from white privilege and a system of white supremacy, and thereby was upholding the racist framework in our country. I knew I wanted to change my participation in that system and the system itself. I started educating myself and prioritizing this work at The Center. This is lifelong work, and I'm completely committed to it.
What is the most important aspect of The Center's work that perhaps people might not be aware of? People may be more aware of our incredible Haring bathroom mural or the fact that ACT UP started at The Center, but there are so many layers of history to learn, especially with the help of The Center's National History Archive that preserves and shares precious stories from decades of our past.
However, there are definitely areas of our work that are less well-known because they're so new. For example, we recently launched holistic support services for survivors of domestic violence, and an economic advancement initiative for LGBTQ young adults ages 18-30 called Center Works. Most people are likely not as familiar with either program, because they just launched within the past year. For those who may want to learn more or take advantage of these services, among many others, I encourage you to contact us online or give us a call at 212 620 7310.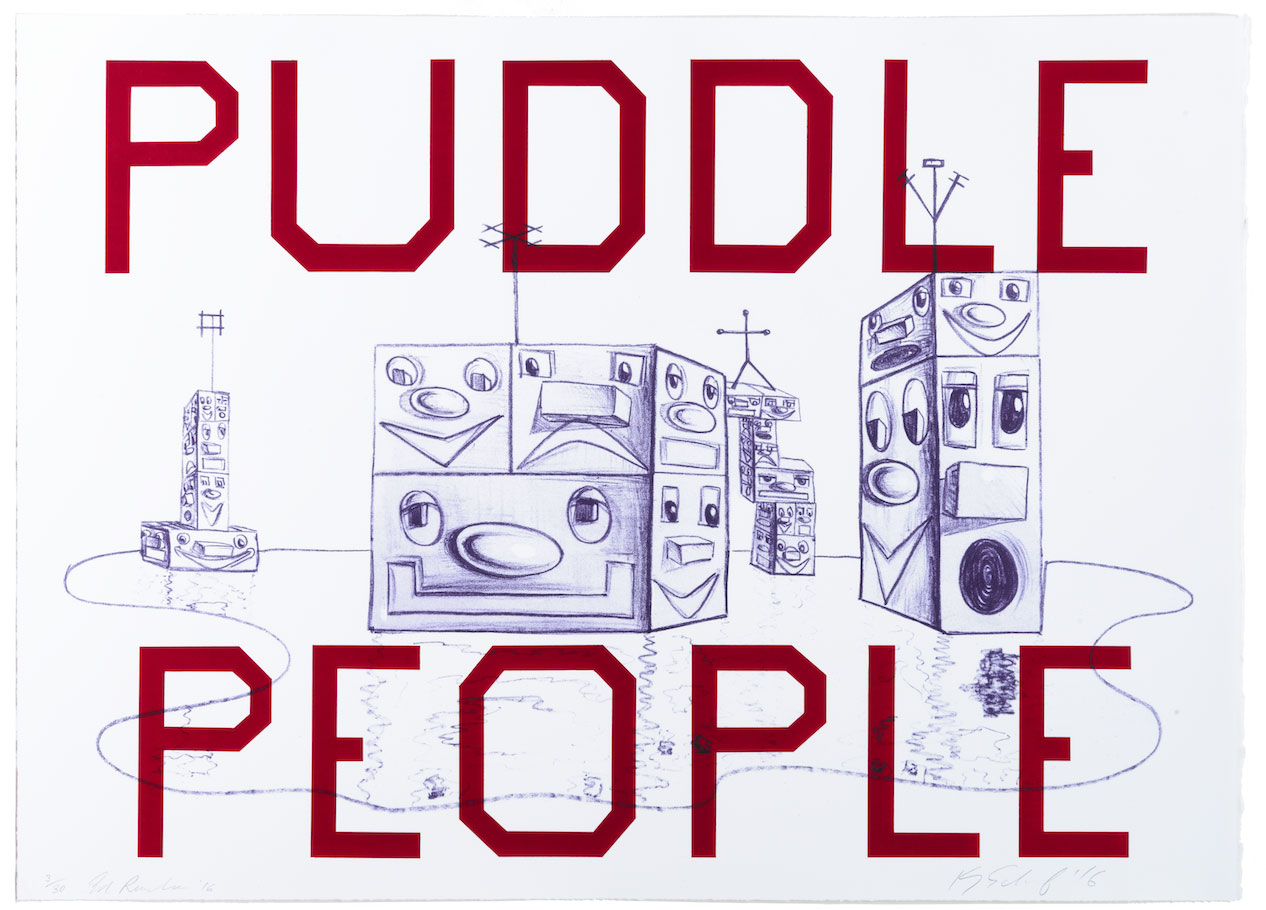 Kenny Scharf with Ed Ruscha - PUDDLE PEOPLE
Is there a piece of art in the auction you are especially fond of? I love the Kenny Scharf piece, both because it's an incredible piece, and because it reminds me of another piece by Kenny that we have in The Center's building. I can't wait for people to be able to go back and see all of the amazing art contained within—and on—our walls. In general, I love art with a strong point of view, especially those we don't see elevated as much in mainstream America; explicitly Black women and women of color. I love Mickalene Thomas , Julie Mehretu , and Zanele Muholi 's work, for example.
How can Artspace readers help The Center? There are many ways. You can donate money; our life-saving and life-changing programs are sustained thanks to the generosity of our community. From signing up for a Center membership, to holding your own personal fundraiser for The Center, and more, there are a wide variety of ways you can help out. Find out more here .
You can also volunteer. Our RiseOut advocacy program welcomes volunteers to help advance LGBTQ-affirming legislation and promote civic engagement in New York State. Go here for more on that . And you can also join our community; LGBTQ folks and allies alike are welcome to take part in the amazing events we offer! One that is especially near and dear to my heart is Cycle for the Cause, our 275-mile bike ride to fight AIDS. During COVID it has transformed into a virtual experience called The 275 Challenge, where we set out to accomplish a physical or creative challenge in 27.5 days in digital solidarity with one another while raising funds for The Center. Anyone, anywhere can make a difference for The Center this way. Check it out at cycleforthecause.org .
Go here to find out more about the auction . Established in 1983 as a result of the AIDS crisis, New York City's Lesbian, Gay, Bisexual & Transgender Community Center has grown and evolved over the last four decades, creating and delivering services that empower people to lead healthy, successful lives. The Center continues to serve the LGBTQ community through virtual support services, launched almost immediately after the building closed due to the COVID-19 pandemic. The Center offers a wide range of services including virtual one-on-one counseling; substance use treatment and support groups; virtual youth drop-in space; online arts and culture programming; health insurance navigation and a virtual "front desk" to respond to community inquiries. To show your support, please consider placing a bid.
[Glennda-module]