For most art dealers, opening a second location is a daunting prospect, a long-term, after-we-make-it-big goal that must be worked toward for years—if it's even in the cards at all. For Magnus Edensvard , the Swedish gallerist behind Ibid , the two-space solution is a matter of course.
Ever since he (and his then-partner, Vita Zaman ) first started showing art in an East London living room while still in art school, Edensvard had an eye for international expansion. The pair spent years maintaining an experimental space in Vilnius, Lithuania, while also running their (growing) U.K. gallery. After parting ways with Zaman and closing down the Eastern European outpost, Edensvard tried to sate his global ambitions with a spate of site-specific projects before finally settling down in what would become his adopted home: Los Angeles, California. There, as he notes in our interview below, he found the low-key attitude and scrappy sense of community among creatives a breath of fresh air compared to London's dog-eat-dog art scene. The City of Angels had claimed another adherent.
Now, just two years after opening his first project space in L.A., Edensvard is again growing his footprint—though this time he's keeping things closer to home. Located in the Boyle Heights neighborhood, near the now-gallery-laden Mission Road (home to the Californian outposts of Maccarone , Gavin Brown , and others), his new location is a sprawling, 13,000-square-foot complex with three distinct gallery spaces inside. The inaugural triple-exhibition, opened September 25th, features shows by David Adamo , Devin Farrand , and a curated group survey featuring works by big-name stars, including Rosemarie Trockel and Ed Ruscha . (Meanwhile, his London space is showing works by Adamo and Rallou Panagiotou ; he also has a six-week old baby at home in L.A., plus a new puppy.)
If all this seems like a lot to handle, Edensvard is by all appearances taking it in stride—even over the phone, his excitement for his new projects is palpable, as is his apparent love for the new community he's found in L.A. Here, find out how he's managed to make it all work.
You opened up a space in L.A. only two years ago, and you're already expanding. What attracted you to Los Angeles in the first place?
I guess we should go back to the beginnings of the gallery. It started in my living room in East London while I was still a visiting student at the Royal College of Art. By the time I graduated, the gallery had effectively opened and we had an audience. Soon after that, the gallery expanded to Vilnius, Lithuania, which was not part of the European Union at the time—it was really behind the Iron Curtain in Eastern Europe, so it was an interesting place to experiment.
Ibid started as a not-for-profit. It was a curatorial platform, almost like an artist project, where the artists that we showed were often in collaboration. It was also a way to reach out to artists that we felt didn't have opportunities to show in London at the time. In the first couple of years we showed a lot of Eastern European artists in London. This is 2003 and 2004. For three years, in one way or another, we were able to sustain running parallel programs and spaces in London and Vilnius. We had the space in East London in the living room, which was cheap, and in Vilnius we were collaborating with property developers that gave us the space for free for two years—that's how we were able to sustain and show non-commercial exhibitions in a context like Vilnius where there was hardly any market. It was very much an experiment and a way to develop a program, to really start discussing and showing artists whose work we thought was interesting and needed to be shown.
In 2006, Vita Zaman—who I started the project with—and I went separate ways, so I was effectively running the gallery on my own. I chose to close down the space in Vilnius because it went on a little bit too long—there was no pretext for us to continue there. Those first three years really stayed with the character of the gallery, however. Operating in two different contexts, with two parallel programs in two different parts of the world has been very exciting, and very rewarding. It's really close to my nature as a curator and as an individual, and it's very interesting for artists as an opportunity to have a gallery with two poles.
After 2006, we have participated, or staged, or curated, or inaugurated, offsite projects in many different places whilst keeping a space in London. That's been a way of keeping this dual platform situation going. We've done projects in Warsaw, Athens, Tokyo, Reykjavik, and New York. We did a project in L.A.'s Chinatown in 2006, which was the beginning of our relationship with the city. Throughout this time after Vilnius, I was always looking to set up a gallery that has two bases.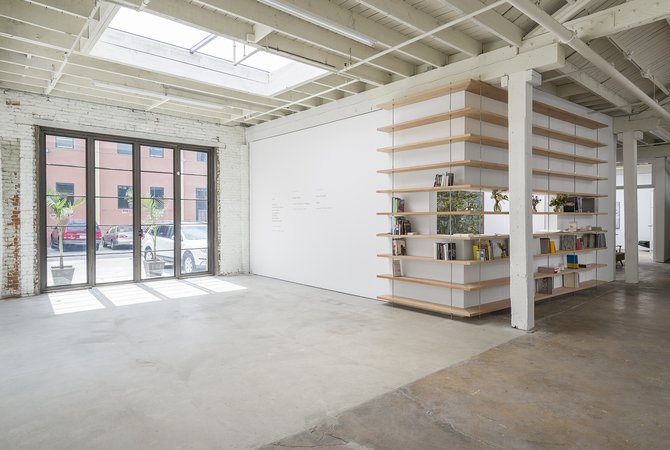 Inside Ibid's new L.A. location. Photo by Jeff McLane
When we first started doing art fairs and moving the gallery's outreach from a non-commercial to a commercial orientation, the first group of collectors and people that were interested in our program came, strangely enough, from Los Angeles and New York. When we were in East London in our living room, we had people knocking on our door that came all the way from L.A. and New York, having heard about the gallery from all kinds of channels that I had no idea about. I found this really interesting because this was in 2003 or 2004—the art market was international, but nothing like what we have today. The way things really spread was through word of mouth, so the fact that New Yorkers and L.A. collectors came to buy from our living room in East London was bewildering but also exciting. It also gave me a chance to realize that this could potentially sustain itself as a business.
We started to do art fairs in Miami Beach and Liste in Basel—the first museum sale we did was actually to MoCA through Paul Schimmel . It was a Christopher Orr painting, back in 2005. Again, it was interesting, given that we were operating from East London, that the first museum acquisition came from L.A. That link has just been there throughout.
When we did a second popup show in L.A. in 2013, we noticed that the city was itself starting to really evolve as an international city for contemporary art. I found L.A. up until then had always been charmingly local, so it's in its own bubble, which has been so great. We felt like L.A. was somehow widening and opening its doors, but in a very natural way that we hadn't experienced in other cities, where gentrification or an influx of wealthy people stir up the market. L.A. already had its own market and its own audience—it's just that it started to open up the possibility for people to come practice their craft, be it as an artist, gallery, curators, in a way that was different from before. You could almost sense it.
It really just snowballed from the popup project in 2013. We felt that, if anywhere, Los Angeles could be an extremely interesting second city to open a permanent gallery in. Of course, we did what we always do when we do a project of this nature—we asked all our artists what they thought. As soon as L.A. came up as an option, there was overwhelming support and excitement about having a gallery with a premise in Los Angeles. It was something that didn't really have to be decided—it was just what everyone wanted.
What did you find in L.A. when you finally did open up shop, in terms of your fellow gallerists? Mission Road, near where your new space is located, has become something of a center of the L.A. art scene. Is that what you've found there?
That's interesting. We had a project space that we tested, really to feel out how we could situate ourselves in L.A. We were working there from a pretty great premise, but it was only a year's contract, so we were testing it out. When that year was coming to an end, we realized how much we liked being in L.A., and how much the artists enjoyed it too. We started to look for a venue that could sustain us long-term, with a decent rent and a good amount of square footage. We were looking everywhere, and then we found this place on South Anderson Street, which is very close to Mission.
Don't forget that this impression that Mission Road has become the center is something that's happened recently. It was November 2015 when I signed on my premise on South Anderson Street. I didn't even know that area would be anything. It was a huge risk because it was all pretty run down. It stood out, though, because I knew the space had a lot of potential, had really decent rent, and I thought that over the 10-year period that I have this lease, I can make a lot happen for the artists. It wasn't a conscious decision to be in a particular area, but of course it's important to note it has now been developed to host some really interesting galleries that I can relate to.
Another funny coincidence is that most of the galleries on Mission also have another space elsewhere, so you have these bridges between L.A. and other cities. Ours is London, Adam Lindemann is New York, Nicodim is Bucharest, Gavin Brown is New York. It just seemed to happen that that particular area had that double outreach that we had. I mean, no one planned for this. It might well be the center of the scene now, but we just see it as something that just evolved without much planning.
It makes sense—another reason we moved to L.A. is the really strong sense of community, and we have that here. People are very open and welcoming, and even though it's competitive, I feel like people really do care about their colleagues. I think that's a great thing, and I think a lot of people responded to that. Same goes for the galleries. It's a good place to get on with your business while still remaining friends and friendly with others doing the same thing.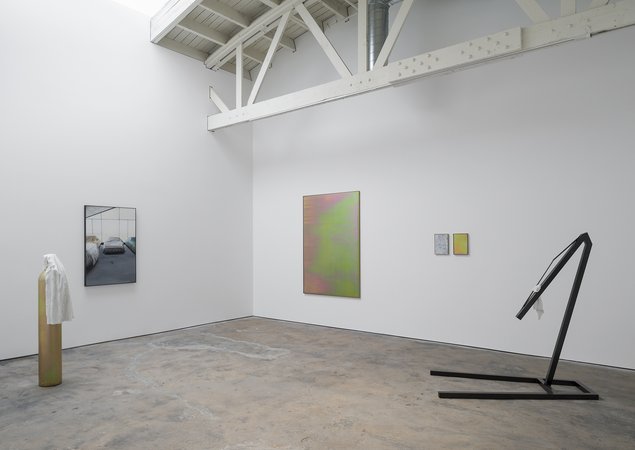 Works by Devin Farrand in Ibid's new space. Photo by Jeff McLane
How would you compare London to L.A. in terms of the climate for galleries and for artists? Is there anything that sticks out to you as a big difference between the two cities?
I find there are huge differences in collecting mentality, and in the way the artists live and work and practice. I think London may have had a more important role as an international city for contemporary art, over a longer period of time, while L.A. has always sustained itself doing very strong shows showing local artists. Now that's slowly changing, but I still think that London's economic and market climate has reached such a severe level now that it cannot sustain the community of artists and a lot of the community's galleries as it used to. L.A. can for various reasons: the rents for galleries and all the studios are lower, the living costs are lower, and the sense of community and the way people support each other is, in my experience, better here in L.A. than in London, where it's so tough and competitive that it's almost starting to be a place where people tend to themselves. That's the main distinction I would make between the two cities in terms of operating a gallery.
I'm wondering if you can say a bit more about the community that you've found in L.A. You've mentioned the real camaraderie between folks in the art world there. How does that manifest in your day-to-day work?
If you look at the tradition of Los Angeles, it developed as a city for people who come here and want to practice their craft. There are people from all over the world—that's how the city evolved. It's especially interesting because it's a big American city that doesn't have any historical links between the European world, unlike New York and Chicago and Boston. L.A. inherently has a different family tree of influences. You can sense that when you meet people, whether they're artists, collectors, or movie producers [laughs].
If you have something that people feel is of interest, or if you bring something to the table, it doesn't really matter who you are—people are very open to see what you've got to show, or what you're doing, or what you're talking about. There's a very open, egalitarian possibility for creatives in L.A. to get ahead and be able to work on their endeavors in a way that a lot of people can sense. That's why you notice a lot of people moving to L.A. for that reason. It's not just artists—there are musicians, film people, and a lot of designers, who just feel like this is a very interesting place for creative people to be working from.
As more dealers set up shop in L.A., there have been questions as to whether Los Angeles collectors are actually buying work or if the spaces there are acting more like showrooms for sales that happen elsewhere. What's your experience?
For us, it's both. It's a very interesting and attractive and exciting showroom for your artists to promote internationally. There's an excitement about the city, but also the architecture. You have these incredible industrial warehouses that allow a lot of galleries to have more space than maybe they could in other cities, which in turn allows artists to expand or push the envelope of their practice one step further than they could have done elsewhere. When you show an artist that you've been working with for some time in L.A., I can sense that there is excitement from collectors internationally. I also wanted to add that there is also a healthy local market in L.A. that are coming by the gallery and paying attention—and they buy as well. It's a good marriage of the two.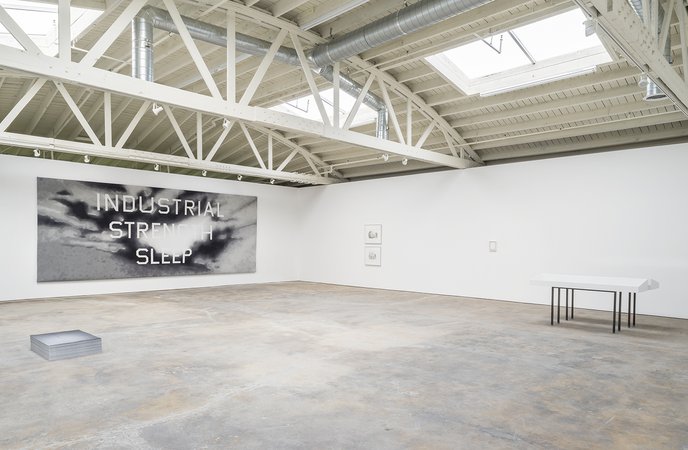 Works by Ed Ruscha and others in Ibid's new space. Photo by Jeff McLane
Where does the bulk of your business take place? Is it mostly in person, at art fairs, online, a combination?
I would say a combination of the three. However I do feel like the most sales that we do today happened face to face, in a gallery, with the work physically in front of you. I feel that's definitely the preferable way to acquire art today, compared to let's say a couple of years ago when it was much quicker, and people could decide on a JPG.
You think people are less likely to buy off of a JPG now than they were a few years ago?
I experienced that change, yeah. It goes up and down, but for the time being, I feel like people are really more serious about what they are buying. They want to take their time, they want to see the work in person, they want to talk to you in person, and then decide. That goes the same for art fairs—it's still a really important platform for trading, but it's the same premise. You meet with the collector in front of the work, and you talk about it, and you sell it. I felt that a couple of years ago, when a work came up that a collector wanted, they would maybe just commit more easily over the internet.
What do you ascribe that shift to?
I think a couple of years ago people were very busy with their own work, making a living, and they allocate less time to do the trip and go to the gallery and stand in front of the work. They knew enough to commit to a JPG. I also feel that the market was very fast a couple of years ago, so people felt like if they didn't get the artwork, someone else would. People took chances, if you like. Now things have calmed down a little bit. People who want to buy are a bit more serious and dedicate a bit more time to the actual work they want to buy. That means going to the gallery, talking to the dealer, looking at the work, and then deciding.
What kinds of relationships have you built with the Los Angeles community as a result of these interactions?
There are local L.A. collectors and families that are very supportive and help with a lot here. There's something else, too—the reason why we waded in and found such a strong platform in Los Angeles was because, on top of all these project spaces and our popup shows here, I also found my now wife, Gina Olivia. Gina is from an LA-based family that's involved in the arts—she's lived here since she was a year old, and is involved in the arts herself. That was another thing that added to the sense of welcome. Somehow the hand fit the glove, but it was just all pointed towards L.A. Now we're married, and we have a new daughter, Stella.
My wife is now an associate partner of the gallery—we decided to merge our interests professionally. We now have this new space that we were able to sign on for that has more space than we need, so we can assign an annex of 4,000 to 5,000 square feet as an extra space that we can rent out. We designed and decided first, then purely by conversation, it turned out that my brother-in-law, Josh Roth, who runs UTA Fine Arts, was looking for a space, so they have taken on our annex for a year as their Artist Space.
It really is a family business.
Yeah. So that answers your question of how the L.A. contingents and relationships grew naturally where it felt like we could work well from here.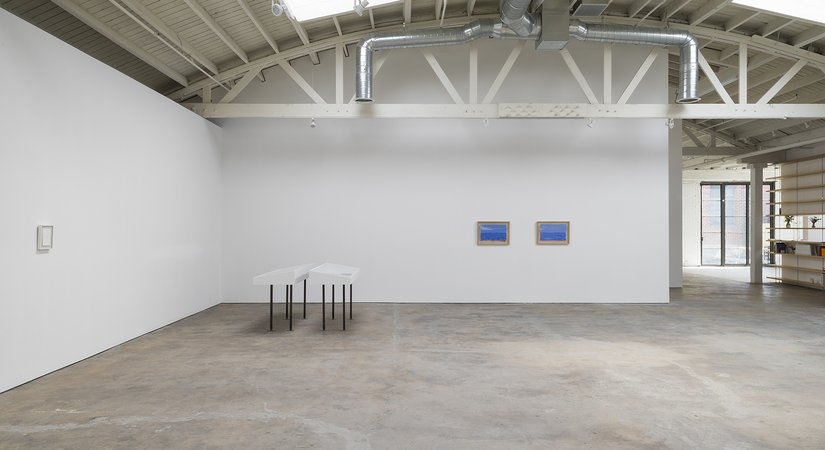 Install shot of "Sleep" in Ibid's new location. Photo by Jeff McLane
I wanted to ask you a few questions about your space. I know the press release said that within that space, there are several spaces for different programming, including a space for curated shows of emerging artists and then works of significant provenance that tend to be more modern as opposed to contemporary. Why the move into this more diverse programming?
That's a good question. We haven't really moved into this area until recently—we just finally found a platform where we had space to grow and articulate it. When I say that, I refer to the program in London for the last five years. At least once or twice a year we've done a show, mostly from an experimental curatorial basis, where we integrate or set a contemporary artist in conversation with a modern master or a 20 th century artist of repute that we've been admiring or that I studied in art school. L.A., with its rent dynamic, allows me to take a space where I could actually dedicate one gallery for each of those strands of interest as a curator.
The space was very consciously and carefully developed with Kulapat Yantrasast, the architect from wHY, who is very scholarly and knows a lot about contemporary art, archives, collecting, and patronage. When we said we were going to expand the gallery in L.A., we spent a lot of time talking about what this space could be and should be and how it could be developed to host these three different platforms.
Gallery Three is the space for emerging artists, or for their first solo show in L.A. That gallery has been designed so it can also be converted to an artist's studio, where an artist can come to L.A. and work or finish work in a couple of weeks. We inaugurated Gallery Three with the magnificent solo show "Heft" by LA-based artist Devin Farrand.
Then you have the Gallery Two, which has a very unique ceiling structure—the gallery has been designed in between two warehouses, so the ceiling stretches up on two sides. It's hard to describe, but it has a very special, timeless quality where we felt like it was a proper place to focus on art historical material, or shows that have had provenance in a museum. That's why we inaugurated that space with David Adamo's installation, "(Untitled) Music for Strings," which has been previously shown at the 2010 Whitney Biennial that Francesco Bonami and Gary Carrion-Murayari curated.
It's not just for the sake of it—everything is personal to the gallery. The reason why we showed David Adamo's piece as inauguration to this space is that that very piece is the one work that somehow brought David Adamo's practice to a wider audience. When it was in the Biennial, that piece was a breaking point for Adamo—it became a very strong moment. The piece represents so much for him and us and for a lot of collectors that had been following it. We felt like Gallery Two was a great platform to be highlighting the different aspects of the quality of his work—and the provenance, of course.
Gallery One is another platform, which we are inaugurating with Paolo Colombo's show. It's a curatorial premise, but with Paolo's experience and network we were able to bring in the most extraordinary artists: works by Ed Ruscha, Robert Gober , and Felix Gonzalez-Torres , whose foundation we worked with. In the case of Ruscha and Gober, Paolo consulted and agreed directly with the artist as to what would be shown in the space. These possibilities and the space and the conversation that we've developed in this space have been, as you can imagine, very exciting. I can only attribute this to the way you feel when you come to Los Angeles—if you let your imagination just take its flight, then you can land somewhere good, whereas in other cities, you might crash land, and it might be much more difficult to execute. I feel like Paolo's show was really a testament to that—if you have some idea and a real commitment, then you can really achieve some remarkable things. We want to really continue to program shows of this nature.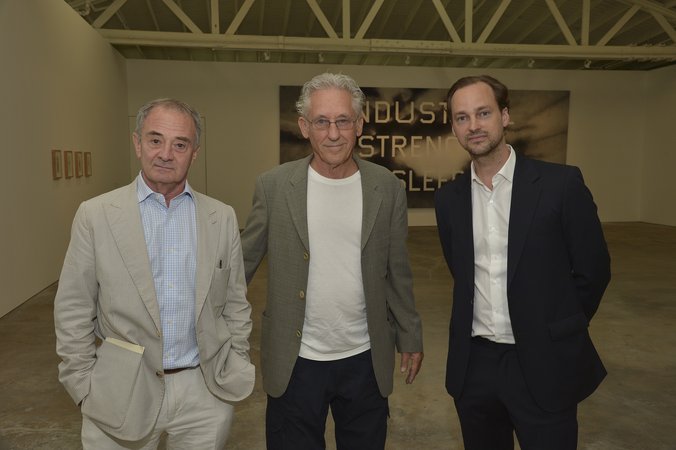 Left to right: curator Paolo Colombo, artist Ed Ruscha, and Edensvard. Courtesy Getty Images, photo by Charley Gallay
It really is an incredible list of artists that are in that show.
It's like going to Santa Claus and asking for six, seven favorite presents. Doesn't matter how much they are. Paolo Colombo, who so effortlessly and so brilliantly can just say, "I know the artist." Or, "I know where we can get the work." He's such an experienced and well-situated and well-respected curator. The collaboration that we have is very special.
I thought we could end with a couple of questions about your role as a dealer. I noticed in the conversation and in reading online, it seems like your program has a real focus on curated projects and—it's a noticeably well researched and thought-out program. How do you approach being a dealer and making shows, and more generally, your relationship with the artists that you work with?
First and foremost, it's very interesting to me to be talking to artists and engaging with ideas, and looking and talking about works of art that truly interest me, maybe other reasons than what the market dictates. When I go into the studio and talk to artists, we're really talking about art and ideas and possibilities. And we are developing exhibitions with the artists quite closely.
Throughout the years we've been operating, we've stayed pretty close to that method of working, with some exceptions. It's been something that has always needed to be led by certain interests and inspiration. We always try to do something that we ourselves think is an interesting situation—even if no one comes to our opening. We're lucky that people are actually turning out, but I think that's the beginning. It starts in the studio when you're talking to the artist about feeling like we're doing something that's worthwhile and means something to us both. If we start that conversation and make those plans, then more often than not, it starts to corner the market and collect interest as well. Not always, but that's the starting point. And if that registers, as we do art fairs and exhibitions, then great.
What do you look for in artists when you're out in the studios and looking at people? How do you characterize your artist roster?
I think it's often different between the different artists. When we talk to artists and think of maybe doing a show, you want to feel very strongly the sense of commitment, dedication, and belief as well as a sense of trajectory and ideas for the next few years. You want to understand how they situate themselves with their practice in the general vehicles of contemporary art, and you want to hear convincing arguments and believable ideas that you feel overwhelmed by, and are very excited to exhibit.
I feel like with all the artists I now represent, I have that feeling. It goes back to what I said about the program—you have to have a sense, just between you and the artist, that you're so excited to show this work that you can't pace yourself. If you have that feeling, and if you believe in the artist that much when you've been to studio visits, then most likely it will ripple wider than the studio. The practices could be very different, and the work and method could be different, but you want to have the sense that the artist is really unique and saying things that you haven't heard before. That's what makes you excited to help execute these ideas as part of your program.
[related-works-module]