The city of Prague has been called "the Golden City" and the "the Heart of Europe" for its long, rich history as a center for cultural production for the better part of the past 1,000 years. More recently, however, the city has been through a bit of a dark time. After being invaded and bombed during World War II and languishing under Soviet control for the decades leading up to the 1989 Velvet Revolution, Prague is only now regaining its reputation as a city for the art of the future as well as the past.
Leading the charge are a group of dedicated dealers and art lovers looking to see Czech artists—many little-known outside the region—flourish on the world stage. Among them is Micael Mánek, the gallerist behind one of the more exciting contemporary art galleries in the city, SVIT. He's dedicated his career to nurturing both emerging and more established Czech artists while also introducing the city's small but growing collector base to the latest in the international art scene—helped, as is the case for many European dealers, by healthy subsidies from the Ministry of Culture, one happy remnant of the Soviet era.
Mánek, a longtime fixture in the Prague art scene, believes that art fairs are key to his goal of expanding the footprint of the Czech artists he loves so much, and has dedicated much of his time over the gallery's six-year lifespan to attending such events across Europe. This year, he's making his first foray into the American market as the winner of the first-ever NADA x Exhibitionary International Gallery Prize, which grants a sponsored booth at NADA Miami Beach for one lucky international exhibitor. Artspace's Dylan Kerr spoke to Mánek to find out what this means for the ambitious dealer and to learn more about the unique cultural context of his beloved city. (For more on his program, be sure to stop by SVIT's booth at NADA Miami Beach from December 1-4.)
Let's start by talking about how you came to run a gallery in Prague in the first place.
Well, it was a long story for me. I've been close to many artists in Prague since at least the '90s. At the beginning of the new millennium, a friend of mine was closing a gallery, which they established in 1990 to work with local artists. Ever since he closed the gallery in 2002, I knew I would probably have my own gallery—but I decided maybe a little bit late, 2010. At the time, there weren't so many galleries working really closely with emerging artists, so that was my idea to start.
Is that still the focus for the gallery?
Of course, but now we also have many contacts with international artists and galleries. Over time, we opened our program to some new international artists and invited them to Prague. It was part of our idea to develop connections with different people internationally.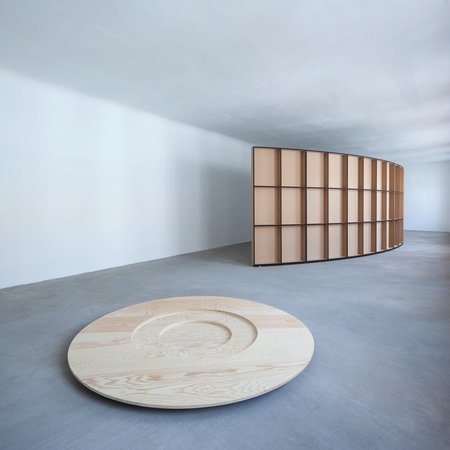 Installation shot from Michal Budny's 2014 exhibition "Mira"
Is that international eye reflected in your gallery roster?
The people that we represent are all Czech artists, but they are not connected with a single generation. For instance, at NADA we're showing one emerging painter, David Krňanský, and, on the other side, Jiří Kovanda, who's already one of the most recognized artists from Prague. The range of artists we represent is quite broad, and we also work with some artists from abroad, from Berlin and from Warsaw. 
Looking at that generational slice, what are some commonalities or shared concerns between the artists that you represent?
Hard to say—I can't generalize this. It's not easy for me to explain, because there are many good artists and galleries here. We are not in the position to work with more artists than we currently represent, because it's not possible for us to really do it the right way.
Can you say more about that? As a gallerist, what are you looking to provide your artists?
We communicate their work and we bring them some recognition, internationally. We've done many art fairs in the last six years. We have to do it, because there is not a big collector base, even though it is really changing. It's developed a lot over the last five, six years.
What's changed in Prague over these past several years?
There's a healthier generation of people coming to galleries and discovering the art scene. It's developed as a nice response to what we're doing.
What are these new Czech collectors looking for when they're considering artworks? What are the kinds of things they're asking you about when they're thinking of making a purchase?
There aren't so many collectors I know based here who are interested in international artists. They already go to Liste or Art Basel and they buy works for their collections there. I know, maybe, three or up to five people from here that are collecting like that.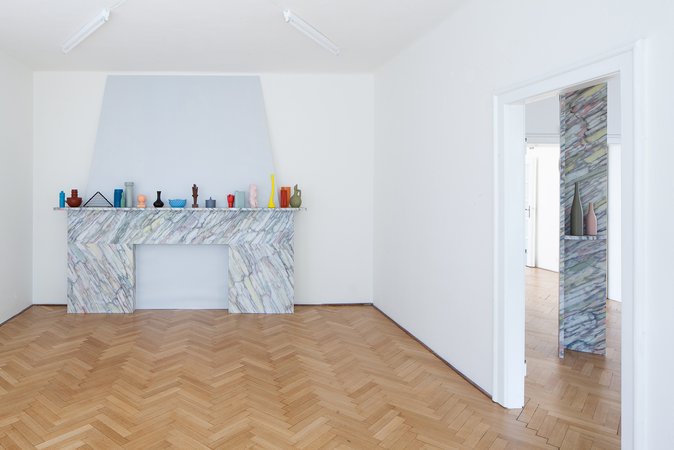 Installation shot from Lucy McKenzie and Laurent Dupont's 2015 exhibtion "Paintings"
Prague has a long, rich history as a cultural capital—how does the kind of cutting-edge, contemporary art that you're interested in fit into that history?
Prague had really good position before the war—there were Picassos sold here. But the 40 years of… darkness, changed everything. The older collectors are very focused on the art coming from the '20s and '30s, on Modernism. The younger generation are, more or less, interested in the emerging artists.
What are the starting points or touchstones for these emerging artists, coming out of that context?
There are many. A lot of people are working with some kind of restoration of modernism. I think that's not just local, specifically—it's happening all around. Most collectors are still interested in paintings, but I know some private collections focusing on video. It's changing. But I suspect it's not going to be so slow, because we're already 27 years, out from the political changes. I don't think it's comparable to the '30 in Prague, in terms of recognition of the Prague art scene internationally. But, of course, we have good artists.
As someone who has been in the city for most of your professional life, what has you the most excited about the Prague art scene right now? What's the biggest thing that comes to mind?
There's now a new generation of artists that are very active in art residencies. They go back and forth from Prague to Berlin to Paris to New York—I think it's developing nicely. There are many good art spaces, open spaces, in Prague, like Futura and some others. It's developing more intensely than, let's say, at the beginning of the millennium.
One thing that we at Artspace have recently become interested in is the difference between the gallery models in different countries. Your website mentions that you receive funding from the Prague Ministry of Culture—as a commercial space, how does that work?
We do open programs written by the artists, so we get some support for our program. It's not for our appearance in the art fairs—it's based on the public programs that we do.
You can see in our program that there are many artists not represented by galleries. We get some support from the city and from the Ministry of Culture, for the more international artists in our program.
Is that the case most for other Prague galleries?
Yes, of course. There are, at the moment, maybe five or six galleries working with contemporary and emerging artists, and many of them receive support from the Ministry of Culture. I think it's good, generally.
This is so different from here in the States, where the idea of a gallery getting money from the government is almost laughable. Why do you think it's such a good thing?
I think it works. It used to work in many European countries. Of course, it's connected with the political situation. I have many friends in Poland who, in the past, got really great support from the government. At the moment, though, it's very shaky thanks to the radical change in the political situation in Poland.
As far as I know, we're like other European countries in the area—Austria, for instance, also supports Austrian artists for international projects or presentations. It's not really an extra-specific thing to here.
Are your friends in Poland concerned about the drying up of funds for the arts?
Yes. But, you know, they have great institutions in Poland and they are now facing a different situation than they have for the past five or seven years.
I think the institutional scene here in Prague is now developing nicely. About 2 years ago, there was a new director selected for the National Gallery and the curator Adam Budak came to Prague from Washington. Now, it's developed to be more open, which is really important for the ambience here.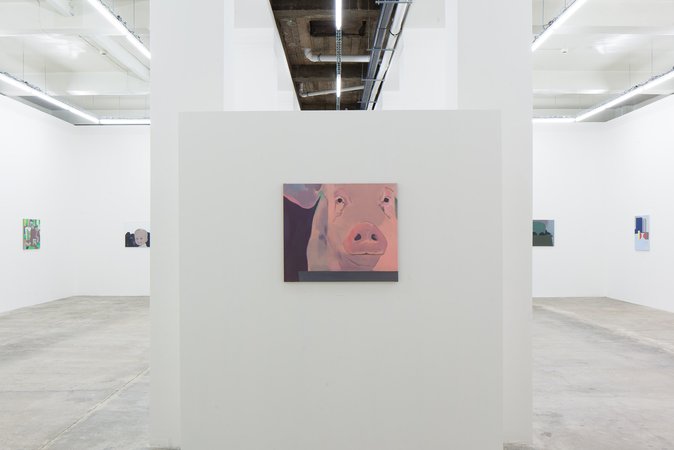 Installation shot of Jan Merta's 2016 exhibition "Appetizer," held in the gallery's new downtown Prague location
Let's finish with a little bit of art fair talk. You received the first NADA x Exhibitionary International Gallery Prize this year which gives you a free booth at NADA. What does that prize mean to you?
We've never done an art fair in the United States before. We did many fairs here in Europe, and we participated twice at NADA in Cologne, so we have some connection to NADA, galleries, before. We did Frieze in London in 2012, we did Vienna Contemporary five times, ABC in Berlin 3 times, and Artisima in Torino two times. It was, for me, a very big step to apply for NADA. I'm really happy they decided to support us and give us the newly invented Exhibitionary prize.
Yeah, it's great. It sounds like you've done plenty of art fairs over the course of these past six years since you've started the gallery. How do you think about art fairs in relation to the rest of your programming?
If you think about our area, there are mid-career artists are still not recognized internationally, even though they are very good—it's about time.
We introduced two photographers four years ago at Frieze, which was one of our first experiences with such an established international art fair, and we didn't get such a big response [laughs]. But lately, like three months ago, the acquisition committee of the Tate Modern was in Prague—they were very excited to see the exhibition of these two guys. It just took some time. Of course, there's also the commercial activity to new collectors and to communicate our artists to give them some recognition as well.
What are your hopes and expectations for NADA Miami?
I'm excited! We already know some collectors already, and I really look forward to seeing them again. I'm excited to see America too—I've never been there. I'm so happy to be there for the first with my gallery. I'm totally looking forward to it.
[related-works-module]