How should we prepare ourselves and our friends for the 2021 festive season? Perhaps by reaching for some party advice from a little under a century ago. "Wear the gold hat, if that will move her," reads the epigraph to F. Scott Fitzgerald's 1925 masterpiece, The Great Gatsby (attributed to the fictional poet, Thomas Parke D'Invilliers), "If you can bounce high, bounce for her too,Till she cry 'Lover, gold-hatted, high-bouncing lover, I must have you!'"
Gold hats weren't a big thing in the roaring twenties, and they're unlikely to catch on now. Still, Fitzgerald's evocation of that desire to adorn oneself and be seen is as accurate today as it was 94 years ago. That's why we've put together this gift guide, for those friends and family members who like a little sparkle and gilt when it comes to gifting. There's jewelry, pins, earrings and an outstanding neo-expressionist trench coat. Let your loved-ones embellish themselves with these, and they will be hard to resist. Here's how to artfully satisfy a love of adornment, via Artspace's enviable archive.

JEAN-MICHEL BASQUIAT – Anthony Clark trench coat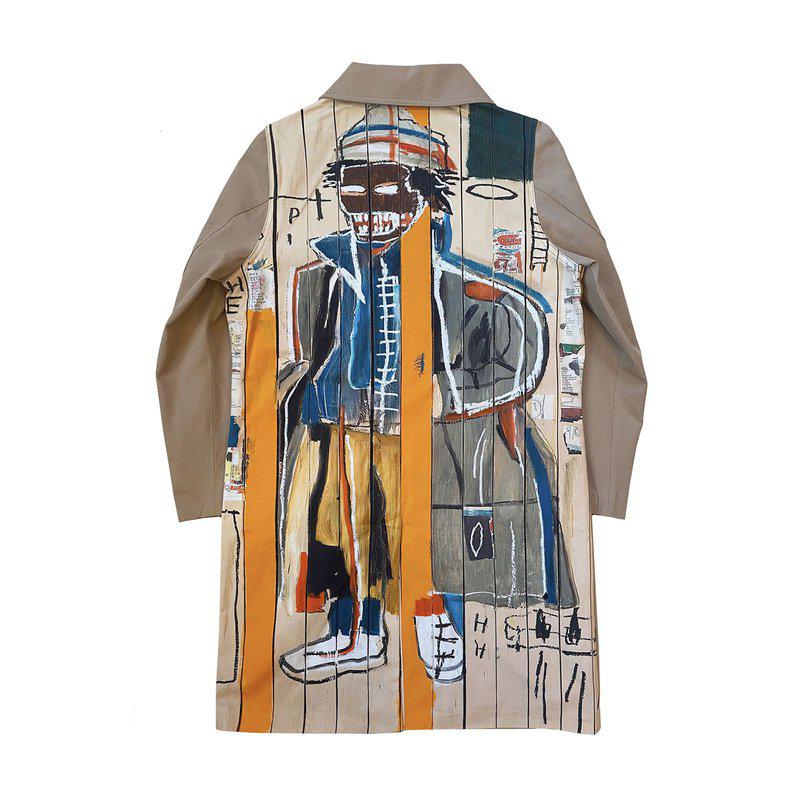 Anthony Clark – better known as A-One – was renowned as one of the preeminent graffiti writers who emerged from New York at the point where graf moved from being the ad-hoc 'redecoration' of walls and subway cars to critically revered gallery work. Part of Rammellzee's Tag Master Killers crew (along with Delta2, Kool Koor and Toxic) he was an artist who pushed the boundaries of what graf could be, talk about and look like. Clarke was a close friend and collaborator of his contemporary Jean-Michel Basquiat, who painted Clarke's portrait twice – firstly in 1982 with Portrait of A-One A.K.A. King, and then three years later with an eponymous work. This later piece was produced from acrylic, oil and collage on wooden boards and forms the basis of the print on this decorative trench coat. 100% cotton twill and lined in cotton, the coat comes with a hidden welt pocket on the front left interior, a back vent, and Basquiat's signature embroidered to the front, with a full colour rendering of the original artwork on the back. This coat is a great twist on a classic wardrobe staple and a fitting homage to one great artist by another.

IRIS APFEL – Be Bold Over - Chouette Noir Pin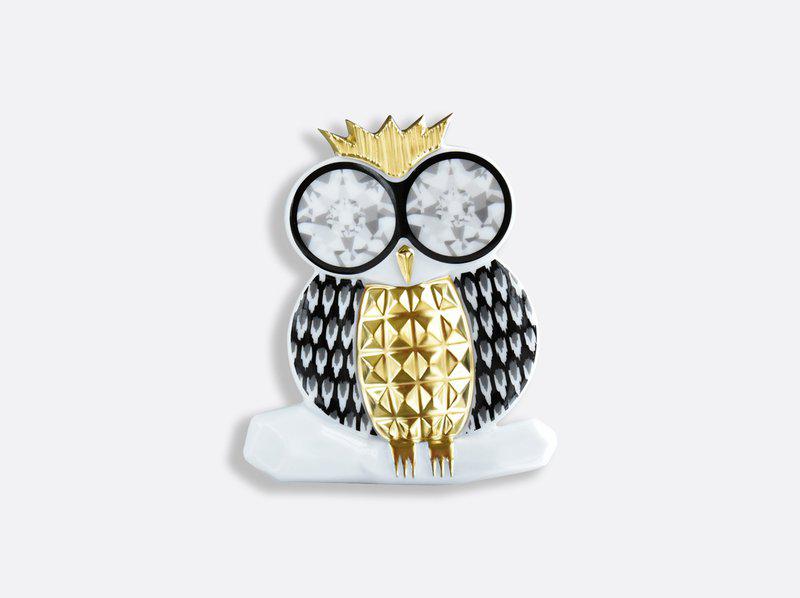 Now aged 100, Iris Apfel has spent her entire life working in decorative arts. The only child of a glass and mirror dealer, she started her career dressing apartments and sourcing rare items, before establishing a long-standing textile firm, Old World Weavers, with her husband Carl. Old World Weavers' clients included The White House, where Iris oversaw the upkeep of the interior's fabrics for nine presidents from Truman to Clinton. Since then she's worked in academia, been signed as a model and become the oldest person to ever have a Barbie doll modelled on their likeness. Celebrate her life and work with this decorative pin, made in Limoges, France, depicting an intricately engraved black and gold owl, topped off with Apfel's trademark oversized black-rimmed spectacles. The owl is also available from Artspace in an 'Or' gold colourway.
JULIO LE PARC – Miroir by Julio le Parc - Green pendant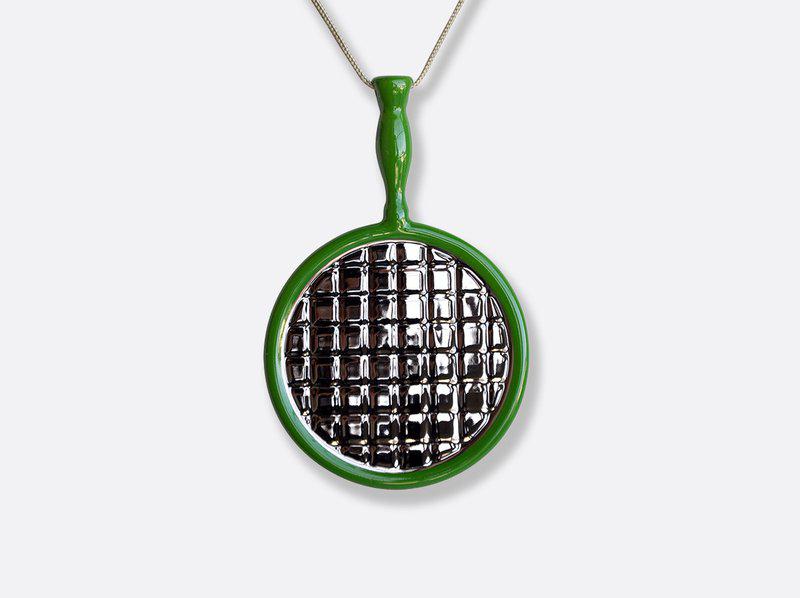 Julio le Parc was raised and trained in Argentina, but moved to Paris in 1958, and has made the city his home and creative base ever since. A true polymath, from 1959 onwards he produced geometrical abstract paintings, worked with Constructivism, produced reliefs and 'Continual Mobiles', looking at the interplay of movement and light and the dynamic energy they could give to a work of art. This pendant continues Le Parc's ideas, with a differently textured mirror on each side, creating constantly shifting and flickering reflections as the wearer moves. Manufactured by French workshop Bernardaud, this pendant is one of an edition of 500.
TOILETPAPER – Mirror Gold Frame - Sea Girl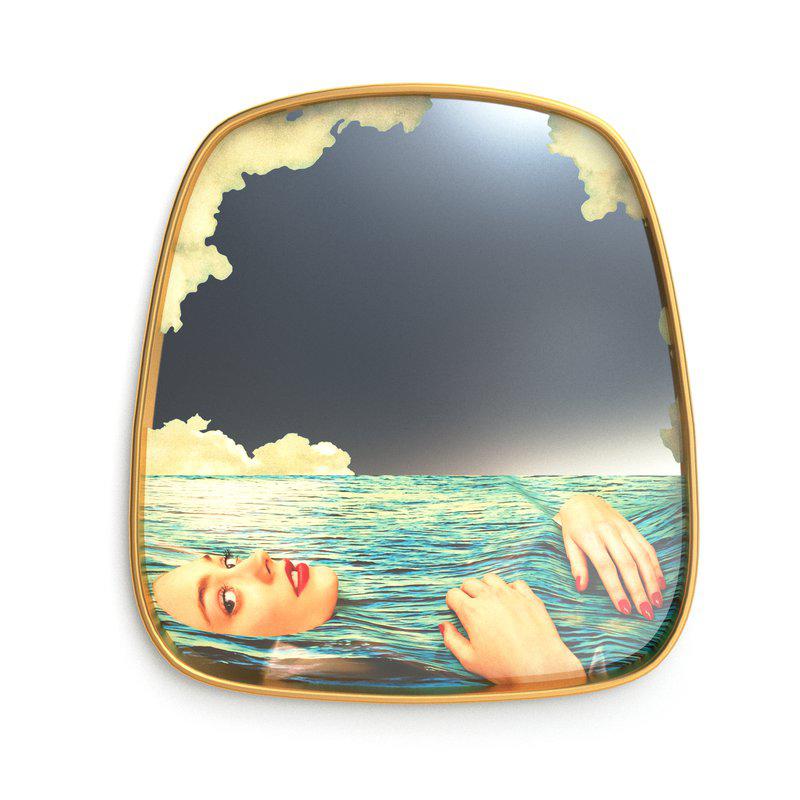 Seletti Wears Toiletpaper is a collaborative range produced between the self-styled 'world's most eccentric design brand' (first established in Cicognara, Mantova in 1964) and the art magazine co-founded by Maurizio Cattelan and Pierpaolo Ferrari in 2010. 'The magazine (Toiletpaper) springs from a passion/obsession that Maurizio and I have in common,' said Ferrari in 2014. 'Each picture springs from an idea, even a simple one, and then becomes a complex orchestration of people who build tableaux vivants. This project is also a sort of mental outburst.' The collaborative project with Seletti sees images from the surreal, eye-popping art magazine reconfigured into everything from furniture to drinking bottles, and in this case a wall mirror. Printed with the magazine's Sea Girl image, the glass mirror is covered by hand in a brass foil with a gold-coloured frame and is a bold statement piece for adding depth and a focal point to a bare wall. Measuring 23.23" x 21.26", this piece ships in 20-30 business days from Florida.


ALEXANDRA GRANT - grantLOVE Necklace
Words are the common thread running through the work of Los Angeles-based artist Alexandra Grant. Whether working with painting, drawing, sculpture, film or photography, she has built her art pieces around text, exploring its meaning, impact and what it sparks in the viewer. At different times she has collaborated with other creatives on this work, from the author Michael Joyce to the philosopher Hélène Cixous. She has also illustrated two books by the actor Keanu Reeves, with the pair also co-founding the X Artists Books imprint in 2017. Additionally, she runs the grantLOVE foundation which helps to support artist projects and art-based charities. This necklace was created in 2020 and sees Grant's signature 'Love' text rendered in 18k gold. Handmade in California and available with either a 16" or 18" chain, a portion of all profits from the grantLOVE necklace will be donated to the foundation.
GENEVIEVE FLYNN - Ginkgo Leaf Earrings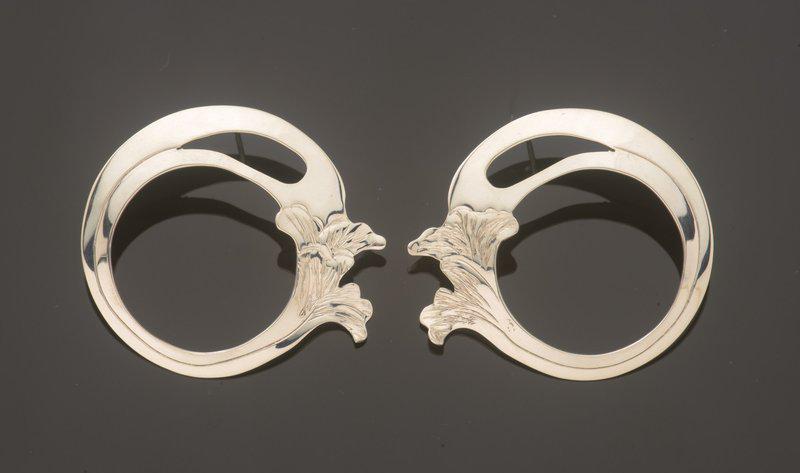 Genevieve Flynn is an award-winning silversmith who has been working with precious metals for more than 40 years, crafting everything from delicate art jewellery pieces to centerpiece hollowware. 'Using nature as my inspiration, I endeavor to create expertly crafted heirloom jewelry and vessels,' says Flynn. Also drawing on elements of Art Nouveau and Art Deco, she entirely fabricates all of her work, meaning that no manufactured items are used, each element instead being cut and shaped from individual sheets of metal. 'Ancient metal techniques such as chasing, repoussé, engraving, granulation (a process that fuses gold to silver), saw piercing and many others are incorporated to add detail, interest and beauty,' she adds. In a series of her jewellery pieces, Flynn has captured details of plants from calla lilies to orchids, and in this case a pair of delicate gingko leaves in solid silver. The pieces measure 1.25" x 1.25" and each is a unique piece accompanied by a documentation sheet. 
To view these gift choices, and many more, browse Artspace's 2021 Holiday collection here.