Back in 1973, the Canadian psychologist John Alan Lee set about trying to define different types of love. In his book, Colours of Love: An Exploration of the Ways of Loving, he described, among other things, eros (romantic, passionate love), storge (familial love), and ludus, or fun, playful love.
Plenty has changed in human relations over the past half century, but playfulness remains a key part of the way we relate to loved-ones, especially during the holidays. During the Christmas period, we will often play charades or monopoly with family members, enjoy winter sports, or simply pal around with old friends.
Indeed, numerous studies have indicated a strong link between play and creativity, which might lead you to conclude that a little downtime spent at play may sharpen you up for work.
This gift selection from the Artspace archives emphasises this playfulness, with a selection of items that should pique ludic love in your loved-ones. There are puzzles, toys, a saucy card deck, all created in concert with great artist names such as KAWS, Catherine Opie, Jean-Michel Basquiat and Mickalene Thomas. Give one of these items this year, and you may well rediscover yours and your loved-ones' playful side.
JEAN-MICHEL BASQUIAT – In Italian puzzle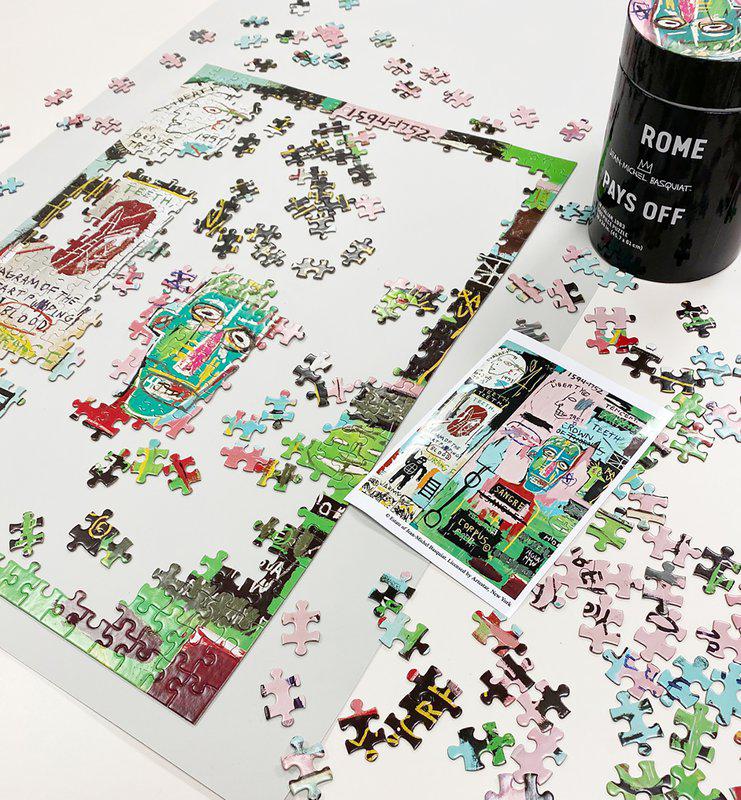 When the post-prandial slump has worn off on Christmas Day and none of you can agree on a film selection, a jigsaw puzzle is a safe bet for intra-guest harmony. However, rather than blowing the dust off the same one you've been completing for the past few years (Dutch master, bowls of fruit, several missing pieces etc) up the ante and establish your superior art credentials with this effortlessly superior Jean-Michel Basquiat puzzle. This 500-piece brain teaser comprises his 1983 artwork, In Italian, challenging you and your guests to put together a typically complex Basquiat scene, including the profile of George Washington, a latin verse and legend 'Crown of Thorns.' Produced by NYC-based Rome Pays Off, a studio specialising in objects based on artists' work, the finished puzzle measures 18.1" x 24.4", includes a full-color reference card and comes packaged in a tube canister for ease of storage.
YOSHITOMO NARA – 123 Drumming Girls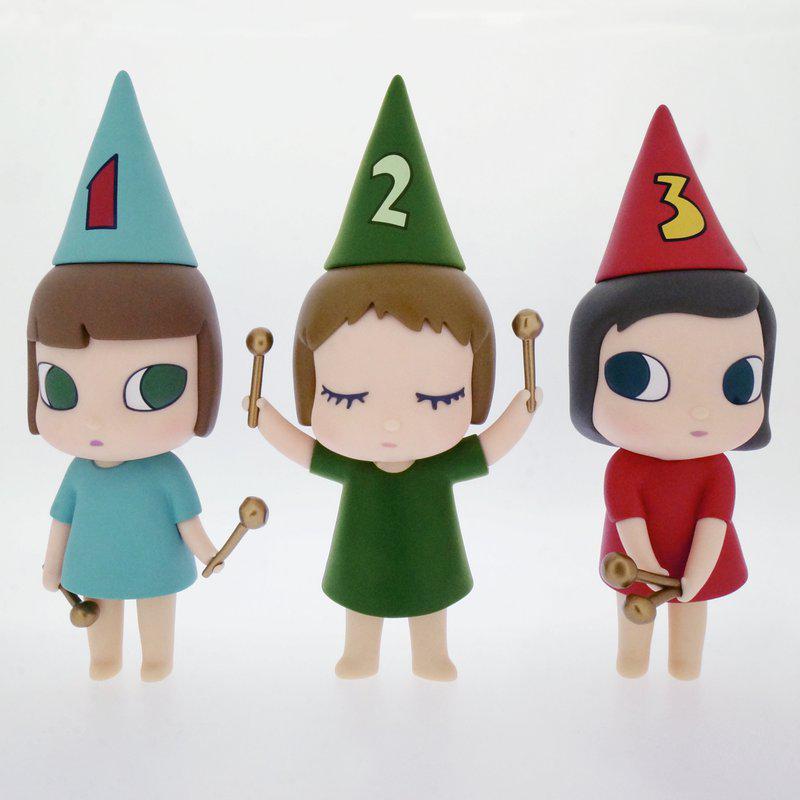 Of all the figures to emerge from Japan's Pop art boom in the 1990s, one of the most renowned is Yoshitomo Nara. Born in 1959 in Hirosaki, he spent his childhood in a city dominated by traditional Edo-period architecture and immersed in Japanese comic books. 'I was lonely, and music and animals were a comfort,' he later admitted. 'I could communicate better with animals, without words, than verbally with humans.' His studies would take him first to Tokyo and then Düsseldorf where he became fascinated with Neo-Expressionism and punk rock. In 2001 he returned to Japan, incorporating more traditional elements of Japanese theatrical design into his figures and connecting with the Superflat artists group, including Takashi Murakami and Chiho Aoshima. This bright, cartoonish, heavily patterned work both celebrated and subverted the stereotypes of Japanese pop culture and saw Nara's commercial profile grow rapidly. He also moved into other mediums, producing sculptures of the heads of his figures as well as photographs, bronzes and large-scale installations. This piece is a smaller-scale example of Nara's work and makes the perfect gift for any Japanophile. The three drumming girl figurines come with an Artspace Collector Guarantee of their provenance and are sold as issues in their original box. Each stands 14-15cm high.
MICKALENE THOMAS – Le Déjeuner Jigsaw Puzzle, 2018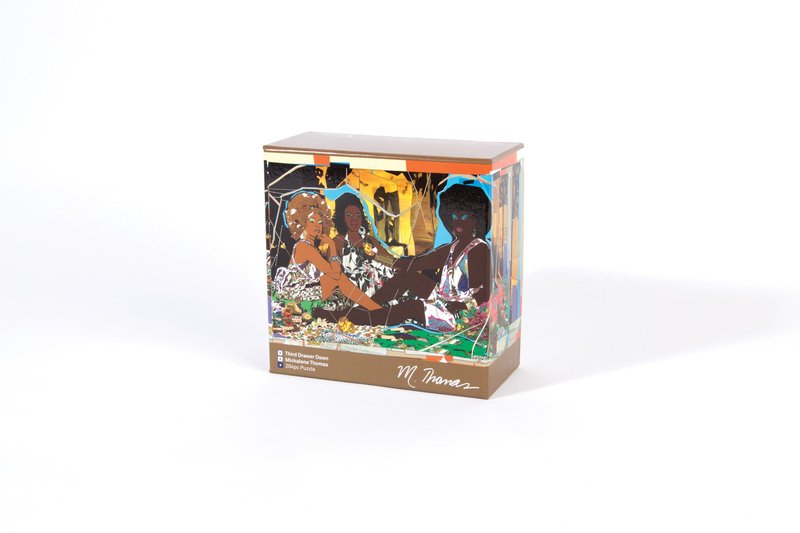 Mickalene Thomas was born in New Jersey in 1971, graduating from Pratt Institute and Yale University in turn before participating in the Artist-in-Residence program at the Studio Museum in Harlem. Her work re-examines the history of female portraiture and how black women were frequently written out of the history of western art, with figures from her own contemporary life being inserted and added to iconic paintings. Her profile rose dramatically with 2010's Le Déjeuner Sur L'herbe: Les Trois Femmes Noires – a vast reworking of Edouard Manet's 1863 painting, standing more than 7 metres x 3 metres and glowing with rhinestones, acrylic and enamel. A year earlier, Thomas had conducted a casting from which she staged a series of photographs in the Museum of Modern Art's Sculpture Garden, with the images forming the basis of her painting. This was originally shown in the window of The Modern Restaurant, next door to the gallery on 53rd Street. "When I was looking through the lens and trying to compose the image I wanted to have the depth of field that Manet has with the woman in the background," she later said. "Everything fell into place. Everything felt right. I didn't have to try reconstructing things or forcing things. I saw it and I responded and it worked." This jigsaw recreates the work at a more manageable domestic scale, with the 204 pieces making it a remarkably challenging puzzle to keep you occupied through the holiday season.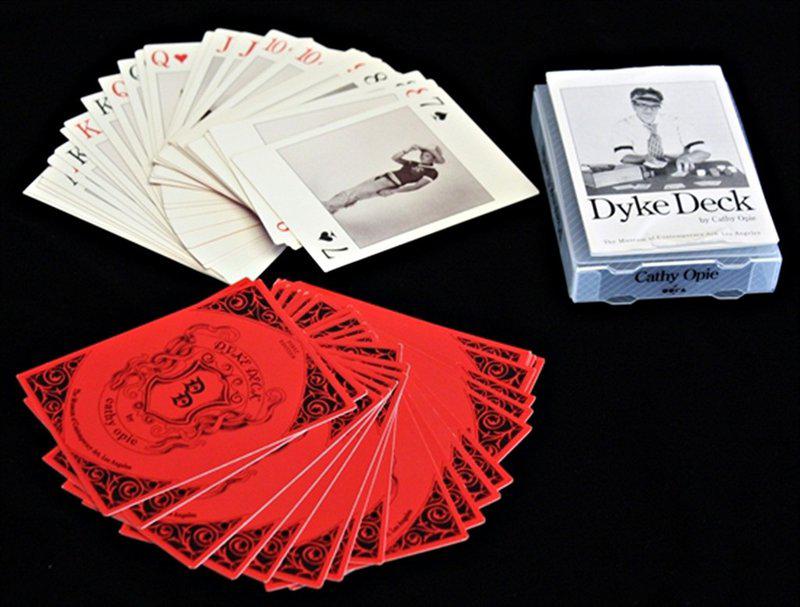 Catherine Opie was described in 2017 by The New Yorker as "An all-American subversive." The magazine detailed how she had turned her gaze on the most conventional scenes of day-to-day life since the later stages of Reagan's America when gay art was under heavy political attack. "In the course of a thirty-year career, the photographer has made a study of the freeways of Los Angeles, lesbian families, surfers, Tea Party gatherings, America's national parks, the houses of Beverly Hills, teen-age football players, the personal effects of Elizabeth Taylor, the Michigan Women's Music Festival, Boy Scouts, her friends, mini-malls, and tree stumps." This card set sees her reimagining the standard deck as a humourous examination of the lesbian body in photography. Many of the figures depicted on the cards are friends of the artist, while others were recruited through open casting calls in San Francisco. Divided into four suits – Couples, Jocks, Femmes, Butches – the pack is a full set of 52 cards, plus 2 jokers, an instruction sheet and carrying case. Originally issued in 1995, the cards come stamped with the work's title, artist's name and MOCA's identifying mark.

KAWS – Elmo (Sesame Street), 2018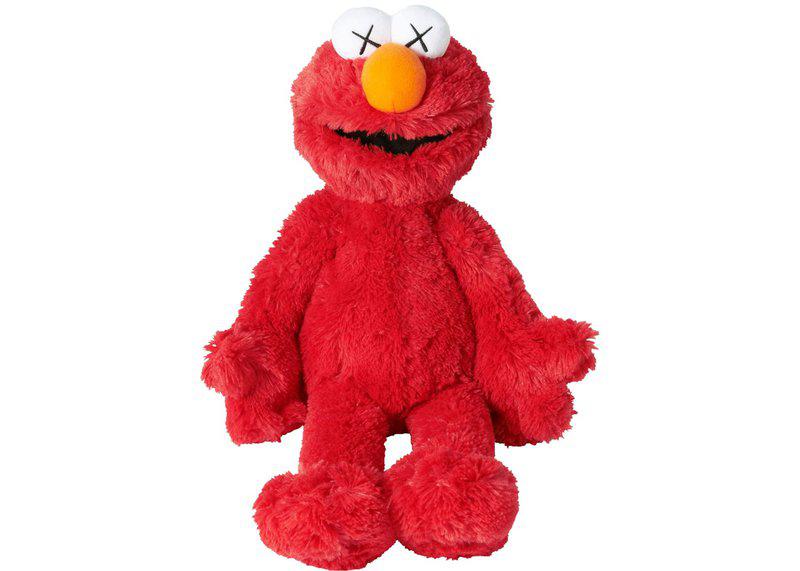 Fall of 2018 saw graffiti-turned-blue-chip artist KAWS applying his signature blank-eyed style to some of the best-loved characters in American popular culture. Working in collaboration with Uniqlo and Sesame Street, the artist produced a series of T-shirts and plush toys showing Bert, Ernie, Big Bird and the Cookie Monster in all their glory but with crossed-out pupils throwing the whole scene off-balance. The centerpiece of this reimagining of the nation's childhood was Elmo, the deep red chaos merchant beloved of children since his introduction to the show in 1979. The collection sold out almost immediately, and this piece from it is sold in 'as new' condition with the original tags as issued. This Elmo is made from 100% polyester, and stands just over 17" high.
NINA CHANEL ABNEY – Uno vs Nina Chanel Abney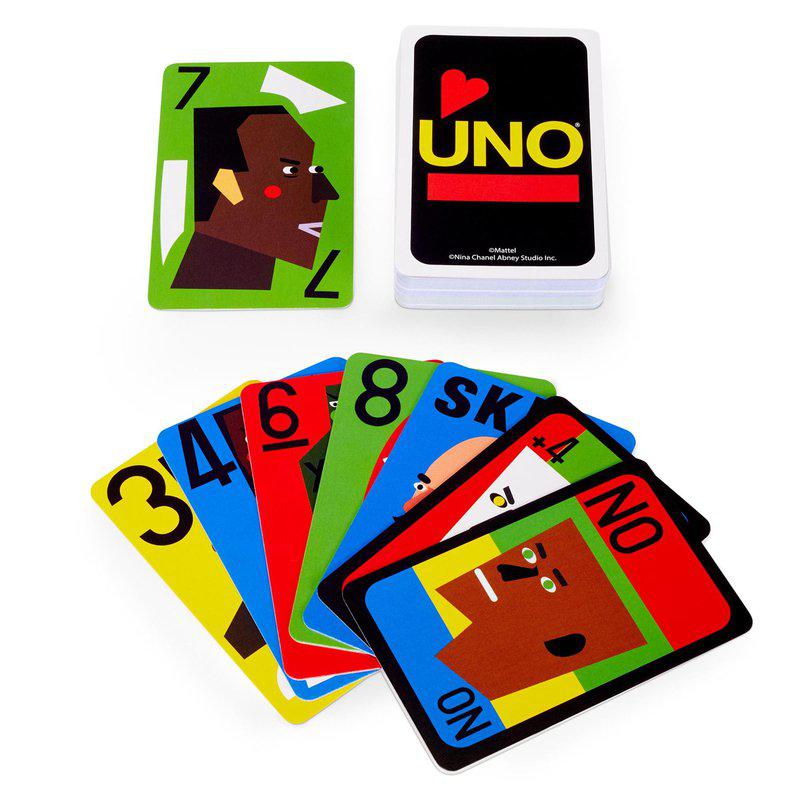 "A bold colorful composition of figuration and abstraction," is how Chicago-born artist Nina Chanel Abney describes her own style. And for this piece – created by Mattel Creations in collaboration with Pharrell Williams Black Ambition non-profit organisation – she has applied her visual style to a unique deck of UNO cards. '(It) is probably the game that I have played most during my life,' she told Mattell on the cards' launch. "It's extremely fun to play with a group, but I also like that you can play against one person as well. What I enjoy most about UNO is that it is extremely easy to learn how to play. Anyone can pretty much pick up the game immediately." Much of the artist's work tackles complex issues including race and gender through a blend of autobiography, pop cultural references and storytelling – all of which will elevate your holiday card games beyond the usual level of competition.
To view these gift choices, and many more, browse Artspace's 2021 Holiday collection here.