As expected, this year's Armory show had its fair share of outstanding works from established artists; however interspersed among the booths were refreshing notes of color; offering a fresh new life to the fair and a diverse range of commentaries on a post-colonial world. Here are some exciting artists to add to your collection; whose works just so happen to be under $20,000!


KATIE STOUT
Girl Lamp, 2017
R & Company Gallery, New York
$9,500 USD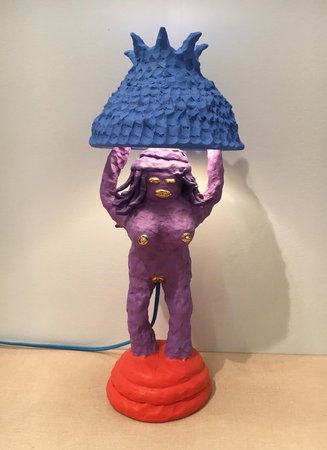 Bushwick-based Katie Stout had her debut show, "Side Dish" at New York Gallery R & Company back in September of 2017. A breakout star on the scene, Stout's painted ceramic works are wonky and whimsical in all the right ways. They are unrefined and lumpy, and assume postures that say "I am wild and free, and I don't care what anyone thinks of me." You just want to hug them. Stout is clearly not afraid to go all in with color: painting her figures with bright purple and orange hues highlighted with gold. R & Company's gallerist tells me that these nude figurine lamps are gaining the artist a lot of attention, but she also creates loads of other fun, functional works including psychedelic shag rugs, watercolor paintings, stuffed chairs, and furniture. What distinguishes Stout's work from other works in the show is her interest in making objects that you can interact with daily. We are certainly excited to see what else Stout's imagination has in store.


EBECHO MUSLIMOVA
Fatebe , 2018
Galerie Maria Bernheim , Zurich
$2,000 USD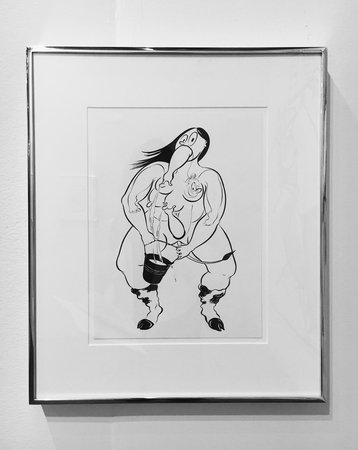 Ebecho Muslimova's gloriously cartoonish ink drawings of FATEBE, her satirical alter-ego, never fail to please. We last saw her at Magenta Plains back in February, where she displayed never before seen large scale paintings in color. Now Galerie Maria Bernheim displays exciting new small-scale ink drawings from the artist, along with Muslimova's first venture into large-scale enamel work. (That one runs at $28,000, so it's not included, but it is certainly one to see). FATEBE represents Muslimova's unabashed, unapologetic side. She is seen playing with her flesh; milking herself (as in the work above); and splayed out in a number of bizarre situations. She is basically everything that women have ever been told not to be. Funny, cathartic, and gorgeously rendered, Muslimova's works are not one to be missed.

NADIRA HUSAIN
Équilove , 2017
PSM Gallery, Berlin
$13,000 USD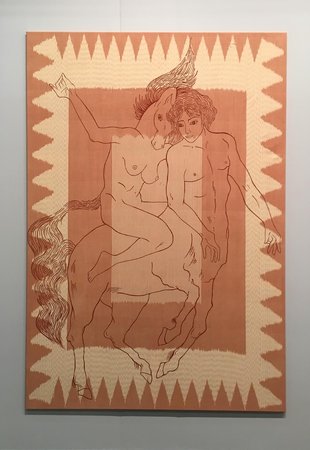 One of the most exciting booths at Armory this year was Berlin's PSM Gallery, displaying solo works from artist Nadira Husain. This marks the first Armory Show for the artist, and features a series of new paintings which explore themes of economic and cultural globalization. The 38-year-old French artist draws reference to her family's Indian heritage, mythical creatures, as well as signifiers from pop culture including the Smurfs and the Pink Panther. Husain's work speaks to a postcolonial world; incorporating the wide range of mythologies which influence us daily in the modern world; conflating the source of references to create dynamic image that create an equal reverence for each component. By flattening the imagery, she deflects the viewer's unconscious search for a hierarchy within the work.

SOJOURNER TRUTH-PARSONS
"Help Me," 2016, 72 × 60 in.
Downs & Ross, New York
$15,000-$20,000 USD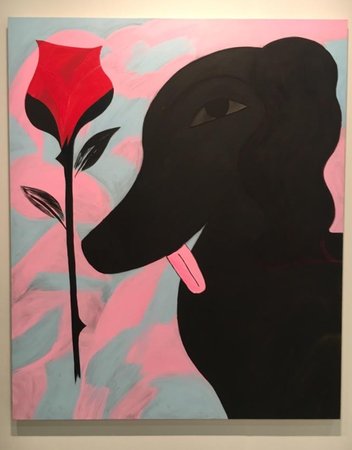 New York gallery Downs & Ross presents Young Canadian artist Sojourner Truth-Parsons, alongside woven works from artist Sissel Blystad. Truth-Parsons, now based in L.A. is known for her brightly colored paintings and playful approach, often including mixed-media including fabric, cardboard, and glue. At Armory, Downs & Ross present large-scale gloriously colorful paintings of dogs; their tongues the color of bubblegum. The paintings are simple but captivating, and her colors and delightful child-like sensibility stand out at the fair. The gallerist tells me, Truth-Parsons has an affinity for depicting dogs, as opposed to rendering the human form in an effort counter a racialized reading. The rising artist has exhibited at a number of galleries, particularly in Toronto and Los Angeles; and judging from her reception at Armory, this artist's career is just about to take off.
TABITA REZAIRE
INNER FIRE: Bow Down , 2017, 170 x 100 cm
Goodman Gallery, Cape Town, Johannesburg
$2,800 USD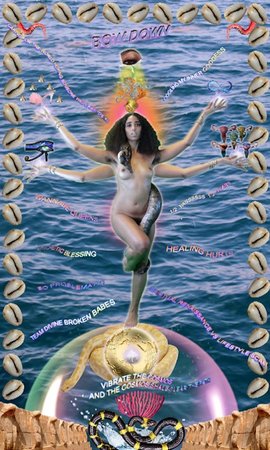 French-Guyanese/Danish Tabita Rezaire investigates what she terms "decolonial healing" through the politics of technology. In her visually stimulating works, she reimagines a politics in which traumas and burdens are not inherited, specifically by Black womxn's "soul-bodies." She re-asserts Black, femme erotic power as a form of creative and transformative energy; positioning herself as a spiritual healing guru, offering a reprieve from our current state of disconnection. Addressing the pervasive effects of colonialism, and visually explicating its long-term consequences on health, spirituality, identity, and sexuality; Tabita's work attempts to "dismantl(e) our white-supremacist-patriarchal-cis-hetero-globalized world screen." The Johannesburg-based artist has garnered an increasing amount of global interest in the past few years; shining a light on new digital art from Africa. In 2016 alone, Rezaire's work was featured on exhibitions at the 9th Berlin Biennale; The Broad, LA; The Museum of Modern Art, Paris; and the Museum of Contemporary African Diasporan Arts (MoCADA), New York. In 2017 she received two museum commissions from the Oregaard Museum in Hellerup, Denmark, and NRW-FORUM in Düsseldorf; and held exhibitions at House of Electronic Arts Basel in Basel, the KNOCKDOWN CENTER in New York, and Impakt festival in Utrecht, among others. Rezaire's large-scale photographic works and hot pink gynecological chair ( Sugar Walls Teardom, 2016) are a refreshing sight at the Armory show this year, situated amidst a number of established art historical figures.

PAUL IMPAGI-SEPUYA
Mirror Study , 2017
Yancey Richardson Gallery , New York
$9,000 USD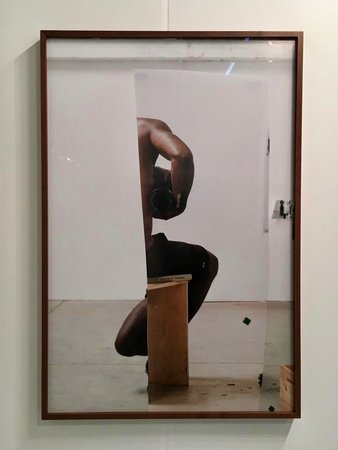 We last saw Paul Impagi-Sepuya's work at the New Museum's show "Trigger: Gender as a Tool and a Weapon" back in September, a show that featured an intergenerational group of artists whose work ventures into the notion of gender beyond the binary. Since the show, the artist has gained a great deal of praise and attention. Figuratively, the young photographer's work explores the social relationships between muse and artist; however what sets Impagi-Sepuya's works apart are his compositional choices. Using mirrors and refracted imagery of bodies, the artist creates an image which conflates time and space; inciting within the viewer a desire within the viewer. His subjects often appear as fragmented, and the images create a dialogue between the artist, the viewer, the model, and the work itself as an object. Yancey Richardson Gallery presents signature works from the artists including abstracted self portrait mirror studies of the artist in his studio in a stunning display alongside works from Sharon Core, Mickalene Thomas, and Zanele Muholi. This is not one to be missed.
Related Article: Paul Mpagi Sepuya on Capturing the "Slippery Boundaries Between the Platonic, Romantic, and Sexual" in Queer Social Circles
CARTER MULL
Clock (Week of September 17, 2017, a13&3) , 2018
Lundren Gallery, Palma de Mallorca, Spain
$16,000 USD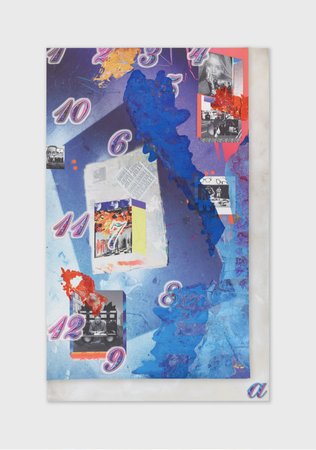 This year, Palma de Mallorca's Lundren Gallery presents works from Los Angeles based artist Carter Mull. Along the walls are 8 of Mull's eye-catching prints; an ongoing project which combines elements of the digital and photographic. A lexicon which seems to be on the rise in recent years, Mull delights in iridescent foils, organzas, aluminum, and glittery resin. With traditional compositions of painting in mind, Mull restructures art for the 21st century, with a particular awareness of the practice of creating and formatting a work. Complementing the prints is a sculpture on a center table, consisting of three jackets which Mull designed in collaboration with Guess. The video features non-binary model Austin Wang, and investigates the "liminal manifestation of new systems of culture for our rapidly changing climate." Mull's work has been exhibited widely, most recently at The Museum of Modern Art in New York, Marc Foxx in Los Angeles and Gagosian Gallery in New York. We are excited to see what new glittery works the artist has in store.
INGA MELDERE
Process , 2018, 135x98 cm
Temnikova & Kasela, Estonia
$8,700 USD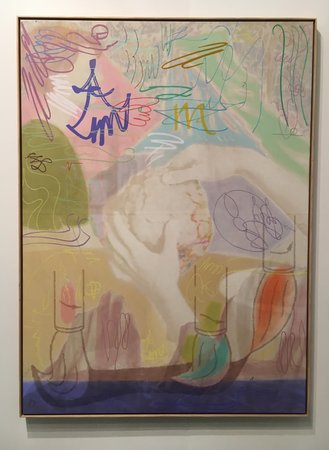 Helsinki based artist Inga Meldere's (b. 1979) primary mediums of choice are painting and installation; creating semi-figurative works which intertwine personal and collective memories, art historical and contemporary references, and humor and sadness. Her works operate as visual poems, in which part of the narrative is concealed. Her work featured in the Armory show appears as a classical image that has been scribbled over like a pen-testing pad at an art store. Its pastel colors and muted tones are understated but evocative. Meldere has held recent solo shows at the Latvian National Museum of Art in Riga (2017); SIC in Riga (2017); the Contemporary Art Centre in Riga (2016); and Temnikova & Kasela gallery in  Tallinn (2016). We certainly hope to see more from this artist in upcoming years.