At this point in its brief history, referring to the curator-driven New York art fair Spring/Break as "up-and-coming" or "scrappy" seems a bit beside the point; those terms suggest a certain aspirational striving for recognition and market share that is refreshingly absent in the young fair, currently being held in Moynihan Station's upper floor through March 7th. While most of the works on display are for sale (mostly at accessible price points), the pervading feeling is that of an MFA thesis show in the best possible sense, with friends and colleagues coming together to share and discuss the genuinely cool stuff they've been working on for the past year. It's worth getting lost in the warren of booths and rooms for the sheer delight of discovery, but these five booths serve as particularly excellent landmarks that showcase some of the best the fair has to offer.

"A New Davonhaime Thrift Store"
Featuring Azikiwe Mohammed
Curated by Dustin Yellin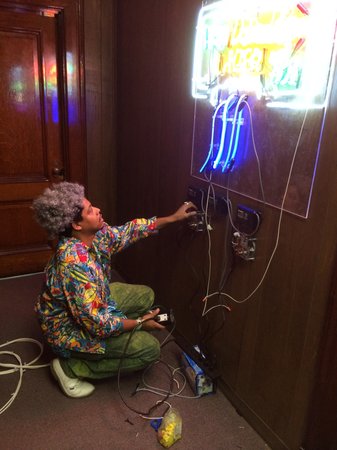 The last time we spoke to Azikiwe Mohammed, the meme-loving New York artist had already started work on a project based around New Davonhaime, a fictional town whose name derives from the five cities with the highest African-American populations (New Orleans, Detroit, Jackson, Birmingham, and Savannah) that fulfills the social and democratic promises to black people those areas have largely failed to uphold. Mohammed encouraged friends and strangers alike to send him "memories" of their time in New Davonhaime on specially-made postcards, which he then incorporated into the sculptures and ephemera populating his Spring/Break booth-cum-thrift store. Assuming the persona of "Jimmy," the booth's wild-haired and flamboyantly-dressed proprietor, Mohammed explains that a thrift store is a redux of a given location insofar as it reflects both the past needs and future wants of a populace. The objects themselves range from junk-shop kitsch (think needlepoints, ceramic figurines that double as lamps, and neon signage) to mirrors and vases painted by Mohammed himself, all of them subtly referencing the triumphs and pain of African-American history while positing a hopeful vision of how a more just community might look and feel.
"Grossmalerman's Studio"
Featuring Guy Richards Smit, Joshua White
Curated by Catherine Mahoney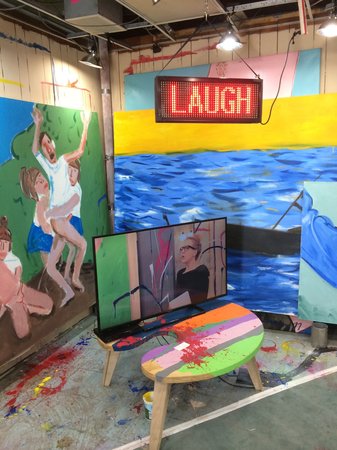 Starring the painter and performance artist Guy Richards Smit and directed by longtime Michael Smith collaborator Joshua White, The Grossmalerman Show is an '80s-style sitcom filmed in front of a live studio audience that follows the struggling and somewhat obnoxious fictional New York artist and ArtReview critic Jonathan Grossmalerman and his friends as they navigate the twists and turns of the art world. With plot lines that swing between the truly zany (Grossmalerman's studio being haunted by the ghost of Jean-Michel Basquiat) and the all-too-real (stuck up dealers gleefully ravaging a series of new paintings), the show reads as both a send-up and a celebration of the affected ridiculousness that pervades the social and professional circles in which Smit and White have spent much of their lives. They've re-created the set of the show for their Spring/Break booth, a pitch-perfect reproduction of the stereotypical studio space complete with paintings in various stages of completion leaning against the walls, garbage and empty liquor bottles strewn everywhere, and a paint-stained couch where you can sit and  watch the show. If you find yourself suffering from "fair feet" in Moynihan Station, this is a perfect place to take a rest and have a laugh.
"Blue-Sky Thinking"
Featuring Scott Lawrence, Shamus Clisset, Sandra Erbacher, Piper Brett, Eddie Villanueva, Clark Maclean Graham
Curated by Corey Oberlander & Lindsey Stapleton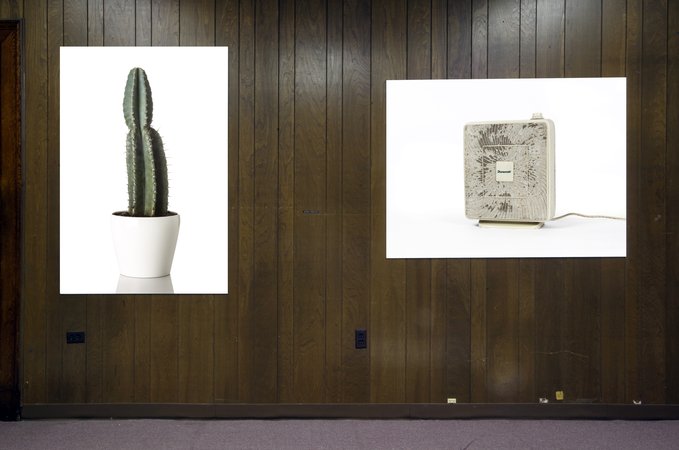 Spring/Break is held in the maze of rooms that make up the upper floors of Moynihan Station, a space that combines '80s office nostalgia (think bad carpeting and faux-wood paneling) with the creepiness of a semi-abandoned building (one artist reported finding a pigeon carcass in his space, picked clean and surrounded by rat droppings). In their booth "Blue-Sky Thinking," Corey Oberlander and Lindsey Stapleton have chosen to work with rather than against the vibe of their rooms, showcasing a variety of works that take the humdrum reality of the office space as their inspiration and departure. Of particular note are the German photographer Sandra Erbacher's large prints monumentalizing the tools of the cubicle worker's trade (calculators, keyboards, and potted cacti) as well as the gifs by Shamus Clisset that digitize and repeat subtly violent acts of boredom (carving a countertop with a pair of scissors, for instance, or playing a game of five-finger fillet). The booth reads as celebration of the small decisions that amount to subtle revolts against the ordinary, a message workers of all kinds will be able to appreciate.
"4RL"
Featuring Magali Duzant, Kat JK Lee, Xiaoshi Vivian Vivian Qin, Katie Torn
Curated by Nati Hyojin Kim & Kat JK Lee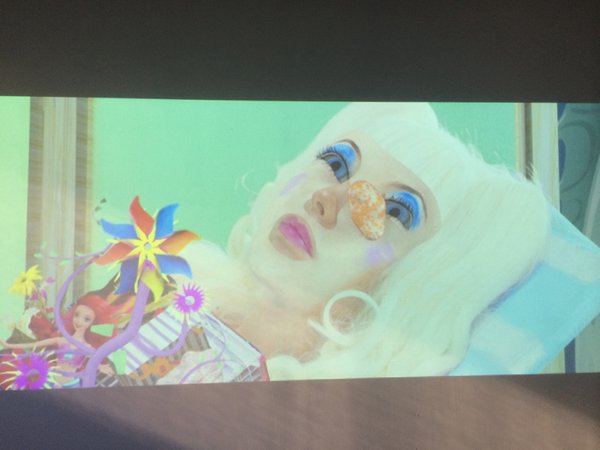 The theme of this year's edition of Spring/Break is "Copy+Paste," an appropriate departure point for a fair whose participants largely take appropriation and remixing as a matter of course. "4RL" and its curators Nati Hyojin Kim and Kat JK Lee take this starting point to heart with five works that showcase the diverse ways in which young artists make this 21st-century approach their own. Lee's own work Da Great Gatsby, a book printed and bound in the style of a Penguin Classic that translates the text of Fitzgerald's classic novel into African-American Vernacular English, highlights the constant (and often invisible) presence of coded language in all media we consume. Katie Torn's digital video works take this gesture to the next level, harvesting digital models and imagery online to create a kind of virtual environment of accumulation and decay where Barbie dolls, water bottles, and all manner of consumer detritus coexist in a beautiful and shifting tableaux. The stance in her works comes off as neither critical nor celebratory; rather, as their curators suggest, it's a nostalgic reflection of the materialistic upbringings of many young artists. "We grew up loving all this stuff," the videos seem to say, "so why would we stop now?"
"Glory Hole"
Featuring Sam Cannon, Rémy Bennett, Anna Del Gaizo, Brooke David, Tafv Sampson, Nicolas Des Jardins, James Concannon, Kelsey Bennett, Michael Bible, Maria Candanoza
Curated by 1985, Rémy Bennett, & Kelsey Bennett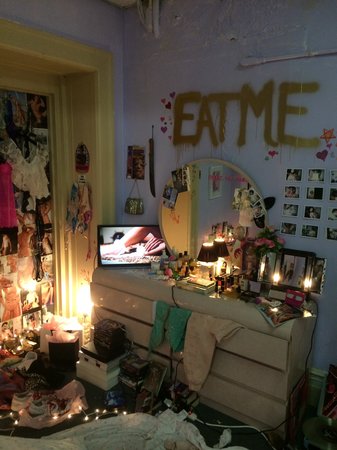 The varying layouts, relative seclusion, and sheer strangeness of the rooms in Spring/Break lend themselves well to creating immersive installations for those so inclined. The curatorial group 1985 and Kelsey and Rémy Bennett have taken this ability to its logical extreme, creating multiple distinct environments within their space. The stories these scenes tell vary widely, with the themes of kinky sex and occult spirituality connecting them to one another. Highlights include Kelsey Bennett's lenticular-filled shrine to her New Age female saints incoporating symbolic attributes such as anal beads and bondage gear, Rémy Bennett's re-creation of her cannibal/Satanist cam-girl horror film set (including shots of penises sent in by real-life cam-girl patrons), and James Concannon's threateningly sexual mixed-media works inspired by a crack-addicted former roommate's experience getting a ride home from a man whose love for pornography was as deep as his Christian faith. There's plenty of sex and strangeness to go around this particular art fair, but few booths revel in it quite as convincingly as "Glory Hole."