This year's edition of the Outsider Art Fair, which opened early this week at the Metropolitan Pavilion in Manhattan, received some hype in anticipation for Jim Carey's solo booth, though we opted to focus our attention on artists who are truly under-known. First, we interviewed Brett Littman who curated an outstanding collection of comic books made by Chinese artists, whose works are unavailable due to censorship in their native Communist country. You can read that here. Next, we scoured the booths for hidden gems to feast our eyes on, and fed our souls one some sincerely authentic artistry. Below you'll find our favorites artists (spoiler alert: none of them are Jim Carrey).
HENRY SPELLER
Tops Gallery, Memphis
Untitled (Caught In the Act on Grid Background), c. 1983-1988
$1,600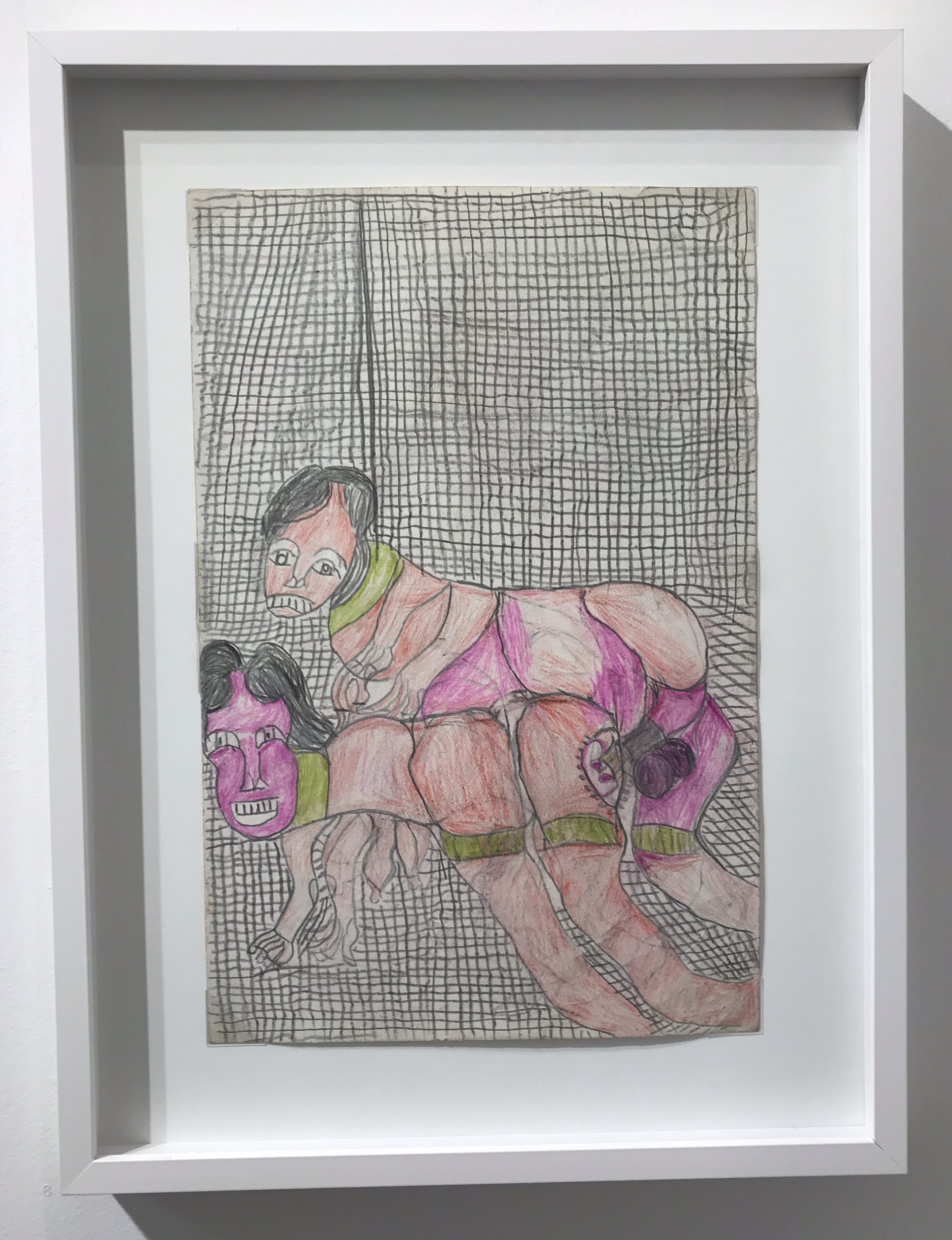 Primarily known during his lifetime as a Delta blues musician, Henry Speller was the son-in-law to Hoy "Hot Shot" Love, one of first musicians to cut a 45 with Sun Records, which would later become famous for recording the likes of Elvis Presley, Johnny Cash, and Roy Orbison. Tops Gallery in Memphis produced a 1978 home recording of Speller and Hot Shot, which they included in an exhibition of Speller's drawings at the gallery in 2017. Speller was most active as a visual artist in the '70s and '80s when he lived a block from Memphis' Beale Street, famous for its rich history studded with Black-owned clubs and restaurants, pioneering blues music, and the occasional prostitute. Much of Speller's work is erotic in nature, influenced by what he saw within the late-night Beale Street scene, as well as by t.v. (the show Dallas, in particular.) Grids, like the one depicted here behind a couple "caught in the act," were frequently used in the artist's earlier compositions, but became less common as Speller began loosing his eyesight and struggled to accurately render straight lines. Though this image is borderline terrifying (what is going where?), we couldn't help but love it: two bright bodies floating in a room that's clearly and articulately spatially defined, yet devoid of specific detail. Before passing in 1997, Speller made hundreds of drawings in crayon in pencil while working menial jobs. While Tops doesn't exclusively represent self-taught or local artists, Speller happened to be both (he lived in Memphis much of his life).
WILLIAM A. HALL
Henry Boxer Gallery, London
Untitled, 2018
$7,500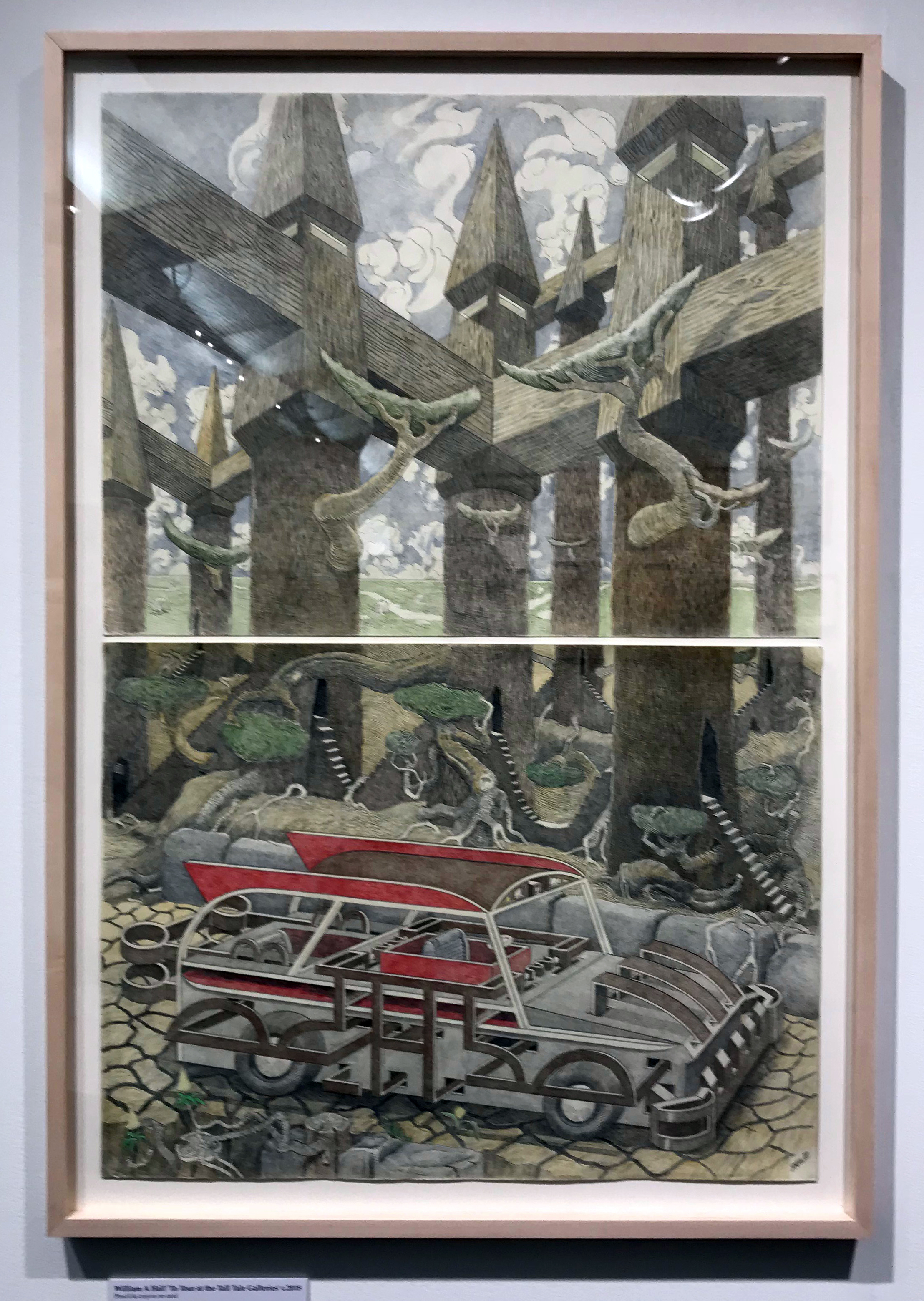 About four years ago, William A. Hall parked his car—which he had been living in for 18 years—in someone else's driveway. When the driveway's owner, a teacher, came to speak with Hall, they noticed a pile of drawings in the back of Hall's car. After sifting through these intricately rendered fantastical drawings, they called their friend Henry Boxer, a gallerist in London, to share their discovery. It was a match made in heaven (well, in a driveway). Since becoming represented by Henry Boxer Gallery, Hall has been living off the streets for the first time in decades, supported by his work as an artist. And it's not hard to see how. Hall's drawings are unlike any others we saw at the fair. Precise, realistic, yet completely otherworldly, they depict retro-futuristic-looking cars, often surrounded by armature or protection. "His niece was killed in a traffic accident," the dealer told us. The only diptych in the booth, this 2018 work extends the idea of protection to the surrounding landscape; trees become architectural fortresses, the M.C. Escher-like staircases wind throughout them to exaggerate their size. Now 75 years old and living in Los Angeles, the artist also makes hypothetical mechanical drawings and detailed notes about quotidian events (like the dates and times that people walk by his car)—often on the backsides of his epic drawings. Henry Boxer was the first gallery to show Hall's work just several years ago, and he's since exhibited at the American Folk Art Museum.
DANIEL E. ROHRIG
Marion Harris, New York
Untitled, c. 1953
$3,400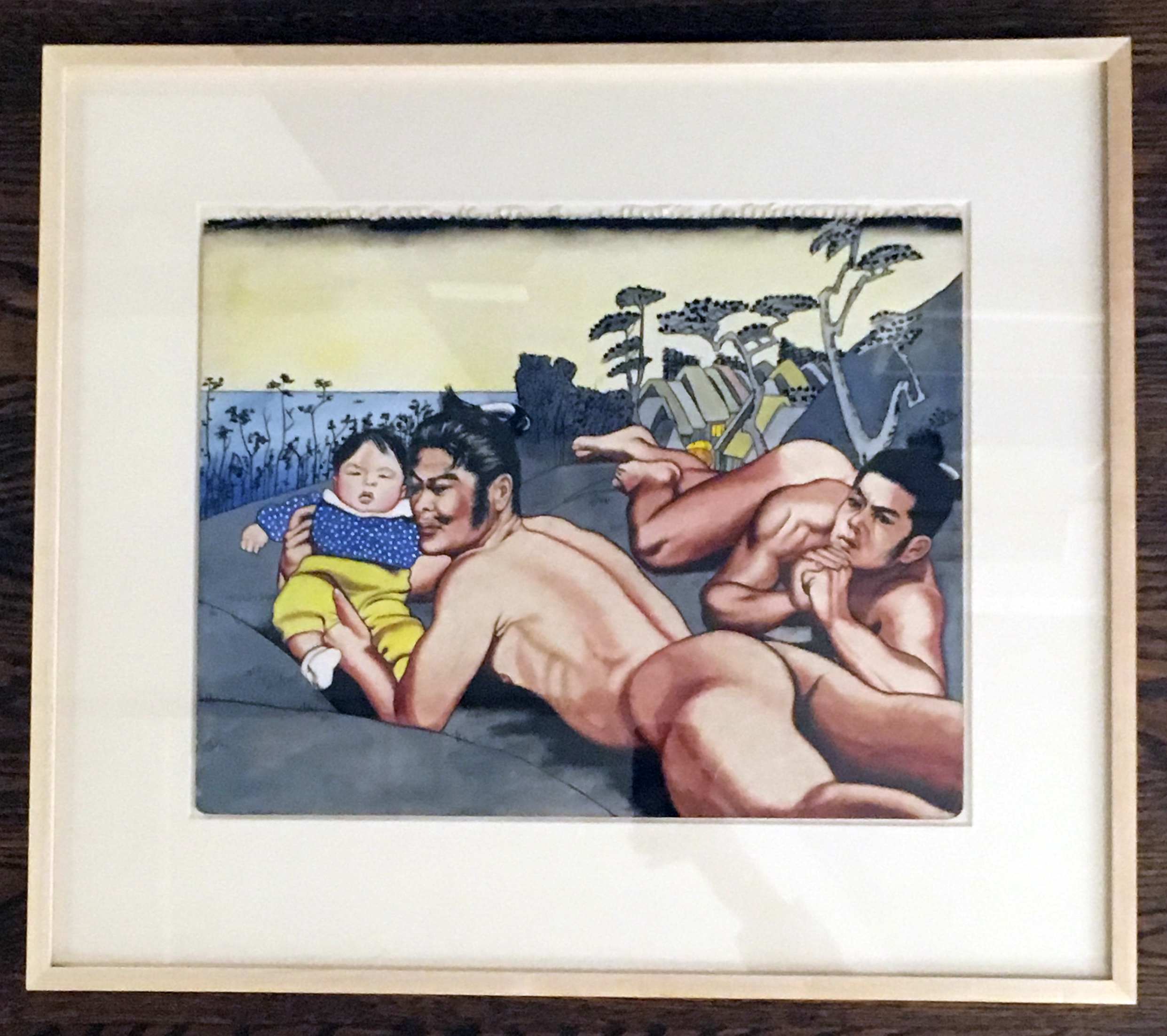 Like so many outsider artists, the work of Daniel Rohrig was never shown during his lifetime. In fact, it was never shown at all until earlier this month went his entire collection of 70-plus drawings went to auction at RAGO, where the American Folk Art Museum acquired five of his drawings. Rohrig, born in 1911 in Harmony, Indiana, worked as a zinc miner until he was drafted in 1941. It was the time he spent stationed in Guam, the Philippines, and Japan that inspired his work: mostly gouache and ink paintings on paper, mash-ups of imagery culled from East Asian magazines, advertisements, and ephemera. Aesthetically, the work that he produced in the '40s and '50s preceded the mass media-influenced Pop art of the '60s, or even the pastiche painting that became so popular in the '80s. It's hard not to see David Salle, Richard Hamilton, even Jamian Juliano-Vilani in these works. Rohrig died of appendicitis long before these artists would make their marks, in 1969.
YUICHIRO UKAI
Yukiko Koide Presents, Tokyo
Obake, 2017
Price undisclosed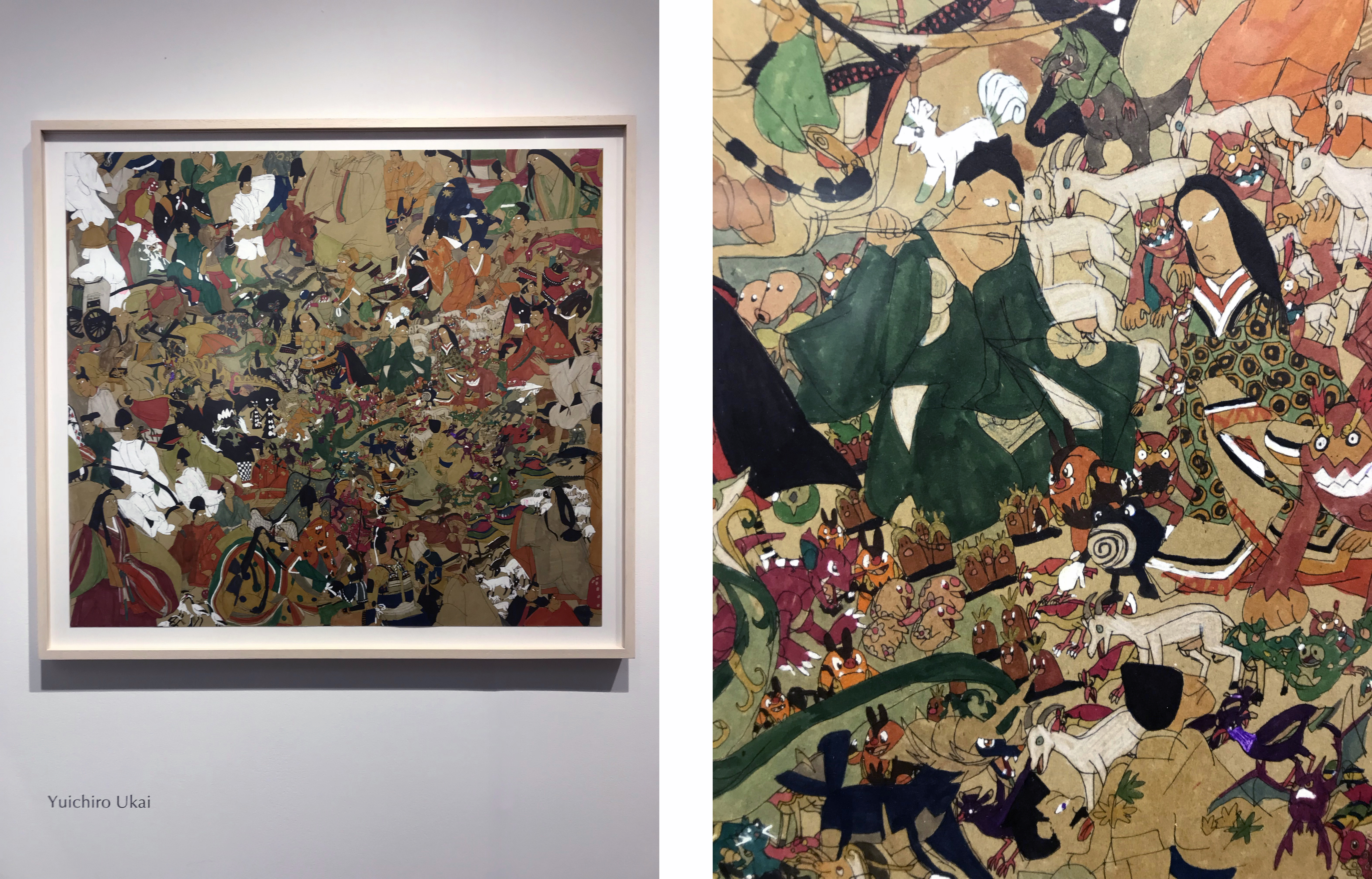 Right: detail
The works by the young artist Yichiro Ukai are reminiscent of emaki, a style typical of 11th - 16th century Japan that involves a horizontal scroll depicting a narrative. The subjects of Ukai's paintings are far from traditional, however. Dinosaurs, anime characters, monsters, and samurai are packed densely into his Where's Waldo?-esque compositions. From afar they almost look like abstract patterns, but look more closely and you'll get lost in the menagerie of energetic figures. It's Ukai's mix of old and new references, like traditional Japanese drawing and present day animation, that make this work so captivating.
HELEN RAE
The Good Luck Gallery, Los Angeles
August 1 2017, 2017
$3,600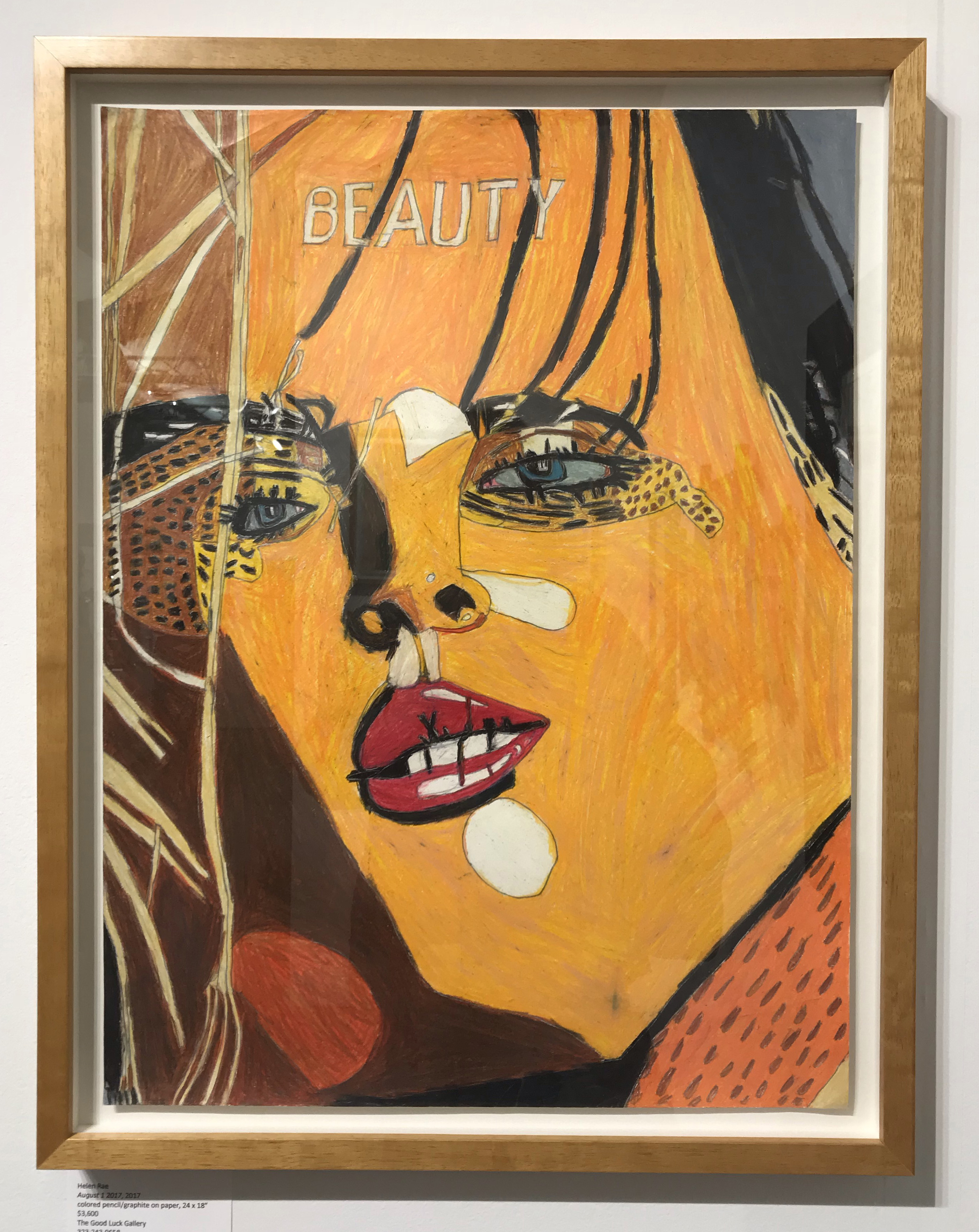 At the age of 80, Helen Rae is one of the longest members of the First Street Gallery program in Claremont, California, which supports adults with developmental disabilities. Rae is nonverbal; unable to speak or hear, she uses visual art as her language, the Good Luck gallerist tells me. Pulling source material from mostly fashion magazines, Rae begins by copying what she sees, drawing outlines in graphite. Afterwards, she uses colored pencil to densely fill in her lines, making deeply saturated compositions that fill the page. August 1 2017 is particularly striking; with an almost geometric composition, it would read as an abstract work if it weren't for the sharp and distinct facial features. Rae had her first solo show four years ago at the age of 76 at Good Luck Gallery in Los Angeles, had a season-opening solo show at White Columns in New York in 2017, and is currently exhibiting a solo exhibition at Good Luck now until February 24.
RELATED ARTICLES:
China's Underground Comic Scene Debuts at the Outsider Art Fair: Here the Curator Describes His Journey into the Clandestine Subculture
The Mysterious Story Of Outsider Artist Henry Darger & The Vivian Girls Of The "Realms Of The Unreal"
"It Feels Good To Be An Outsider": Yayoi Kusama On Avoiding Labels, Organizing Orgies, And Battling Hardships