The proverbial cat that gets skinned a new way every day, fresh-to-market paintings provide a snapshot of the languages artists are using, the stances they're taking, and the places they're looking—making them a good section of the art market to drop a dipstick and see what comes up. Here, from the sexy to the sophisticated, the paranoiac to the playful, here is a broad range of our favorite paintings (with, yes, lots of figuration) that you can buy right now at NADA New York.


ORION MARTIN
Bodega (New York)
$15,000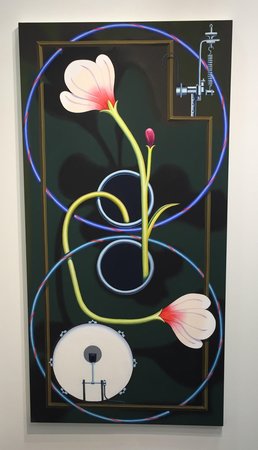 Painted in the whisper-thin style of Art Nouveau, with the whimsical composition hovering on the foreground and fitting neatly within the confines of the frame, this elegant yet witty canvas by the 27-year-old Orion Martin shows why he was given top visual billing in the Whitney's recent "Flatlands" show of shallow-depth paintings.
JOE FYFE 
Galerie Christian Lethert (Cologne)
$4,500 to $6,000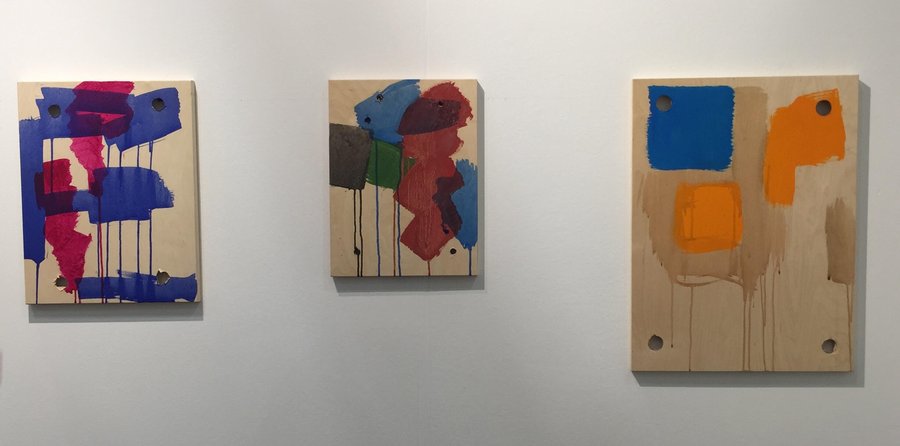 In a way that recalls Richard Tuttle, Joe Fyfe does as little as necessary to his found-material paintings, giving them a casual grace and charm.
PAMELA JORDAN
Klaus von Nichtssagend Gallery (New York)
$12,000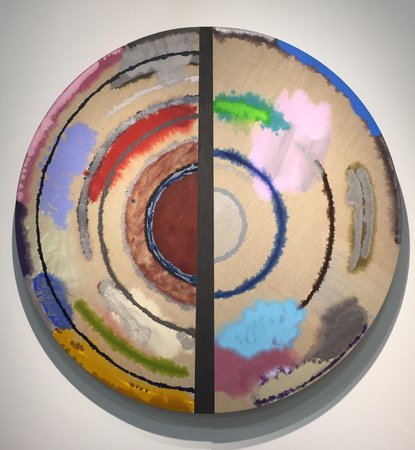 You gotta love a tondo, and Pamela Jordan swirling orbs of color and line mimic the eye that they are pleasing.
DALE LEWIS 
Edel Assanti (London)
£8,000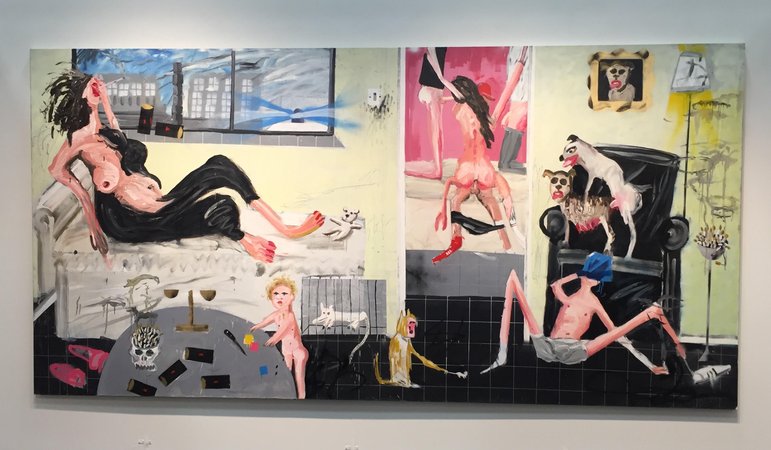 Only selling art for a year and a half and already collected by Charles Saatchi, Dale Lewis merges sordid memories and art history to produce sweeping paintings like this surveyance of the flat of his high-school drug dealer, who (portrayed in the manner of a Henry Moore reclining figure) would bare her breasts in an attempt at seduction while her daughter was invariably in the bedroom making hay with the local youths. 
CHLOE WISE
Galerie Sébastien Bertrand (Geneva)
$18,000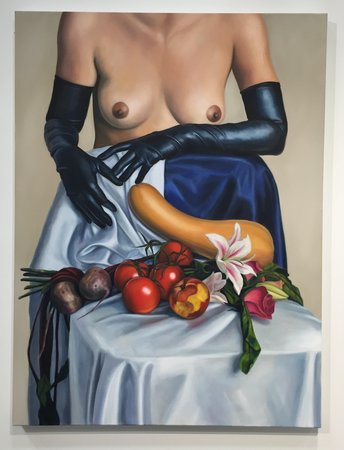 Bagel-bag-sculptor Chloe Wise knows her way around comestibles, and in this (sold) painting she presents a shapely nude together with ripe produce as a commentary on the way ads treat women's bodies like food.
LUCIEN SMITH 
Moran Bondaroff (Los Angeles)
$15,000 to $25,000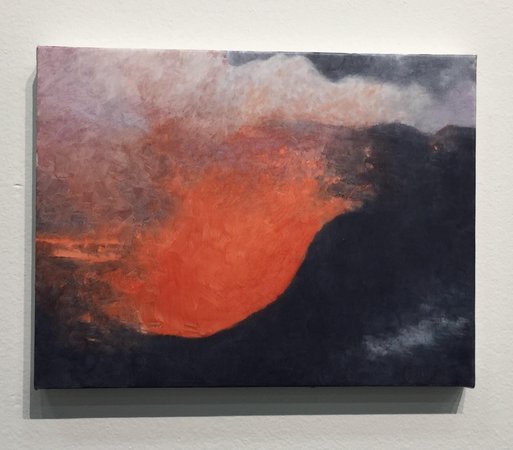 So long pie paintings, hello virtuosity in these exquisite canvases by Lucien Smith based on various scenes of genesis, like this small, stately volcanic eruption that shows he can paint with the sedulous sensitivity of Corot when he feels like it. 
VANESSA GULLY-SANTIAGO 
227365 (New York)
$6,000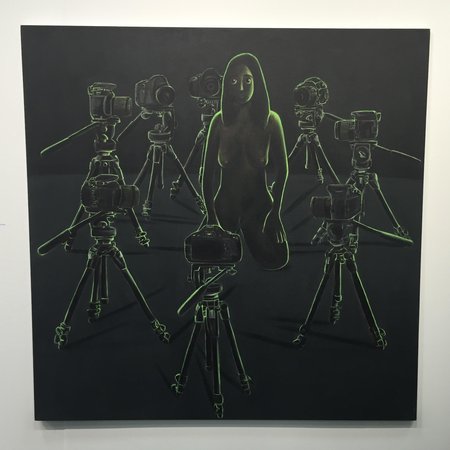 Both creepy and kind of goofy, Vanessa Gully-Santiago's paintings mine the pleasures and paranoia of online exhibitionism, with the tripod-mounted camera a sinister recurring prop.
GUY YANAI 
Galerie Derouillon (Paris)
$9,800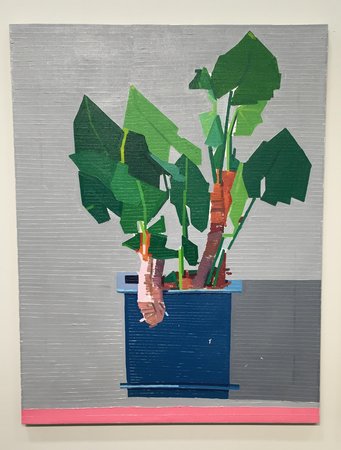 Born in Haifa and taught painting in Boston alongside Jonas Wood (you might see their affinity), Guy Yanai identifies with the rootless state of the potted plant, which he here painted from a photo that he once took of a plant in Matisse's house in the South of France.
MAX MASLANSKY  
Five Car Garage (Santa Monica)
$4,000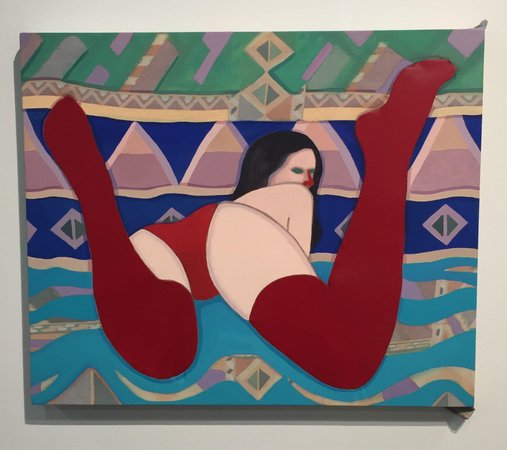 Painted on a pillowcase, this seductive painting by Max Maslansky is entirely a bedroom affair.
SOJOURNER TRUTH PARSONS 
Tomorrow (New York)
$7,000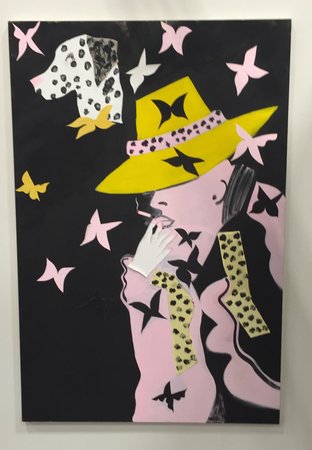 Inspired by the musician Antony (now Anohni), this painting by Sojourner Truth Parsons cleverly rhymes the dots of the figures hatband and scarf with the dalmatian hovering prettily in the background; these sold to collectors like the Horts faster than you can say "butterflies." 
ALEXANDER KOSOLAPOV
Galerie Sébastien Bertrand (Geneva)
$67,000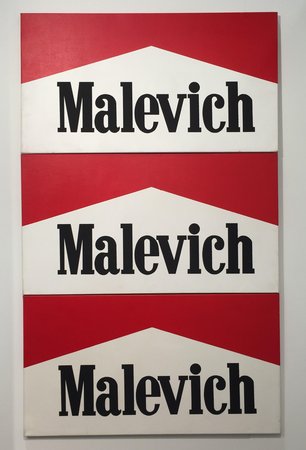 The most expensive painting at NADA, this 1985 triptych by Alexander Kosolapov pays homage to his great Suprematist forebear with corrosively acid humor of the proud Russian tradition.
GRAHAM COLLINS
Soloway (Brooklyn)
$9,000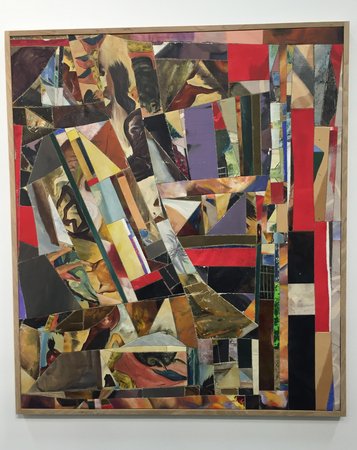 Graham Collins is best known for his car-part constructions, and here he diverges with works he makes by buying up paintings online (Bulgaria is a frequent source) and at flea markets upstate, cutting them up, and stitching them nicely back together.
MARLON MULLINS
Adams and Ollman (Portland)
$4,000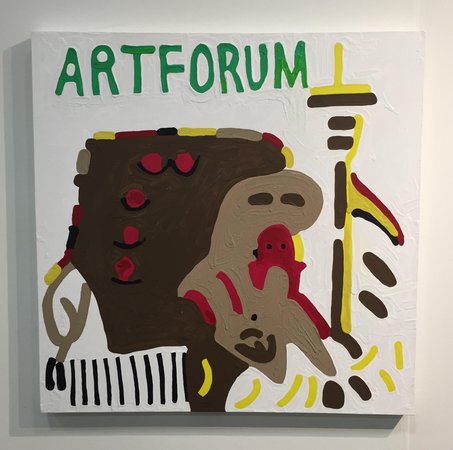 The self-taught artist Marlon Mullins works with San Francisco's NIAD Art Center for the developmentally disabled, where he is particularly fond of the art magazines they have lying around (of which Artforum is his favorite—and, like with so many, not precisely for the articles!).
NIKKI MALOOF
Jack Hanley (New York)
$3,500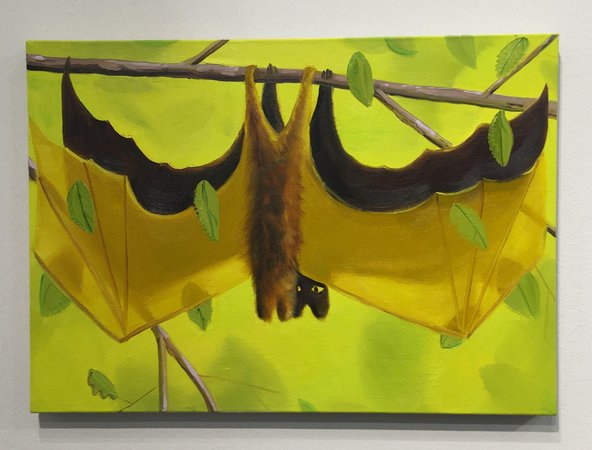 The Brooklyn-based painter Nikki Maloof specializes in animals whose postures and gambols can be descriptive of the human experience, and her bats have been a hit these days for reasons that are beyond obvious (soooo cute).
TOMER ALUF
Tempo Rubato (Tel Aviv and now New York too!)
$6,800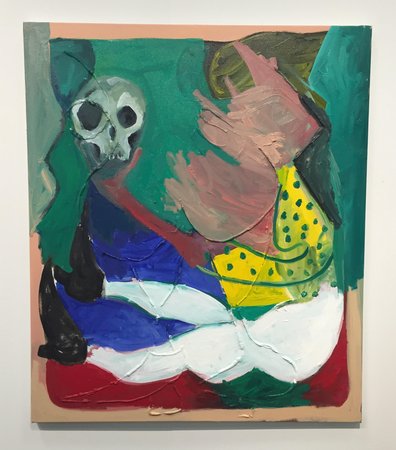 The Israeli-born painter Tomer Aluf mixes up abstraction and narration to express scenes of personal significance, and in this series each painting has a secondary image rendered in relief, like Picabia's transparencies. 
AKIRA IKEZOE
Proyectos Ultravioleta (Guatemala City)
$3,000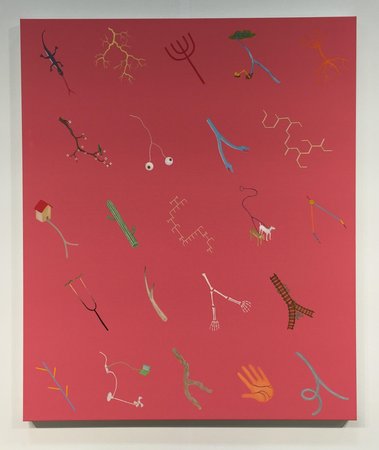 The New York-based Japanese artist Akira Ikezoe makes appealing, minutely figured paintings of groupings that describe in poetic, often sly ways the relationships between man and nature.
JAMIE SNEIDER
Neochrome (Torino)
$7,000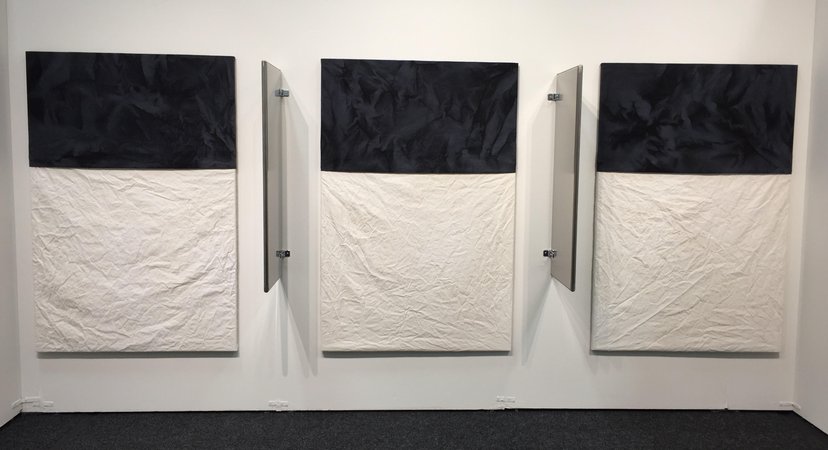 Shown at NADA separated by dividers that recall a men's bathroom, these bed paintings are made from raw canvas dyed with squid ink at the top and more canvas bleached over repeated washing-machine cycles on the bottom.
TSCHABALALA SELF
Theirry Goldberg Gallery (New York)
$20,000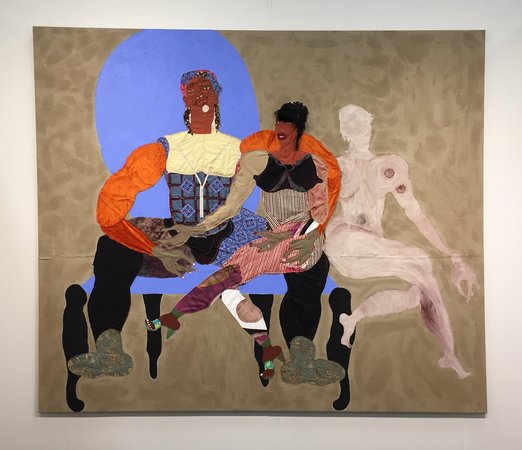 Called "The Engagement," this sewn-together painting by Tschabalala Self presents a woman with her fiancé and her own ghostly double, who may have other ideas.
BERNHARD BUHMANN
Carbon 12 (Dubai)
$2,900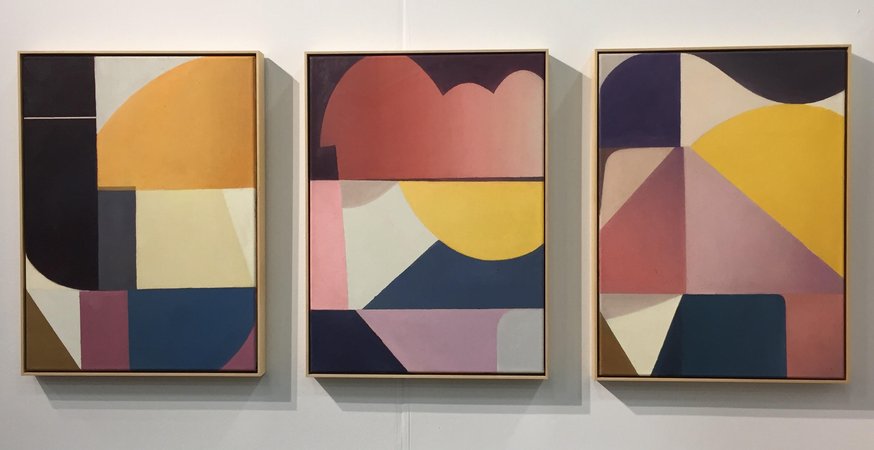 The Viennese artist Bernhard Buhmann one painted narrative-driven portraits but has now segued into abstractions where the shapes and colors themselves become the characters. 
MATTHEW CHAMBERS
Mesler/Feuer (New York)
$15,000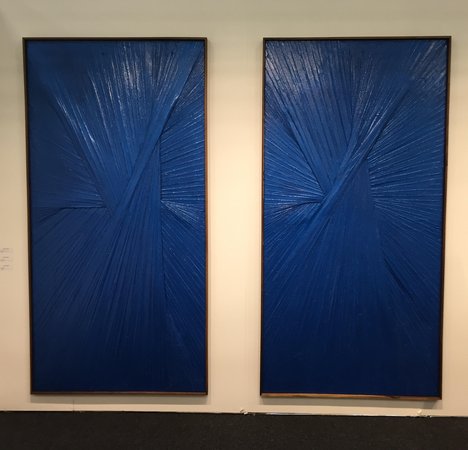 Reminiscent of Mark Grotjahn's vortex paintings, these sculptural blue monuments actually represent the afterlife of failed paintings that Matthew Chambers tore to shreds, reconstituted, and sprayed with metallic car paint.
HAMISHI FARAH
Minerva (Sydney)
$9,000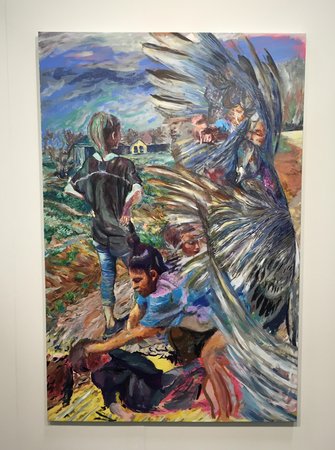 The Somali-Australian artist Hamishi Farah (who was turned back at the U.S. border and prevented from attending the fair) tries to reclaim art history, since he doesn't see himself represented in the canon, in throwback paintings like this one that depicts a fight between two girls that was captured on a smartphone and made viral online, presented in a bucolic setting bracketed by a giant pigeon.
GAHEE PARK
Marginal Utility (Philadelphia)
$2,500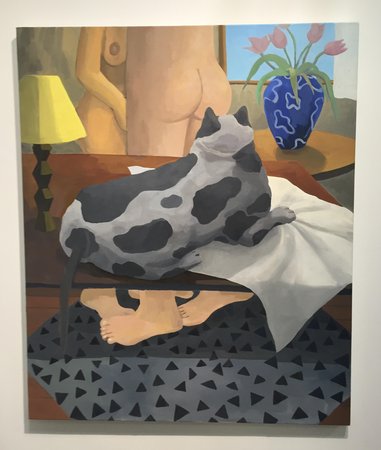 Called Cat Watching People, this amusing, intimate scene spawned from the imagination of Gahee Park, who grew up in Korea in a strict Catholic family and now paints the results of her long-suppressed desires.
RACHEL ROSSIN
Signal (Projects) (Brooklyn)
$9,500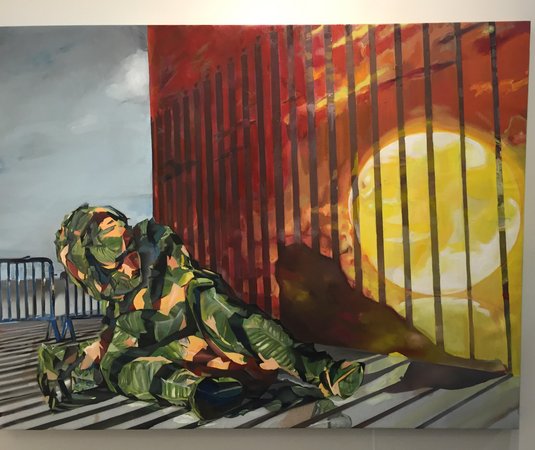 Shown together with her affecting VR video of people fighting in the sky—lifted from non-player characters in first-person shooters like Call of Duty and Life Is Strange—these paintings by Rachel Rossin recreate screen-captures of her virtual-reality work.
ANN HIRSCH
American Medium (Brooklyn)
$6,000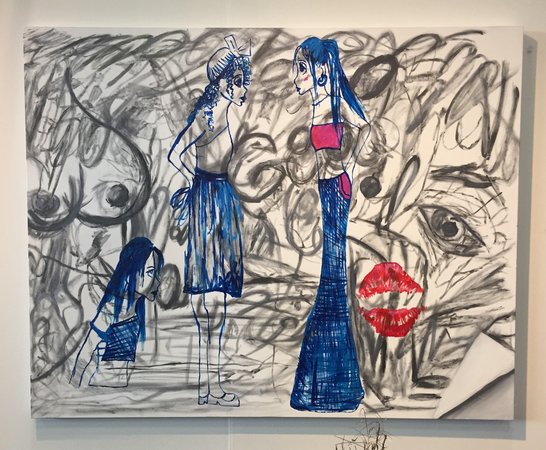 When she was 12, Ann Hirsch embarked on a chat-room romance with a quadriplegic man 23 years her senior—a virtual sexual relationship that she recorded at the time in both drawings (which she now has transformed into these paintings) and saved chats, which became the fodder for a play she recently staged at the New Museum and videos that are now on view in the Zabludowicz Collection's show "Emotional Supply Chains."
ADRIANA RAMIČ
Kimberly-Klark (Queens)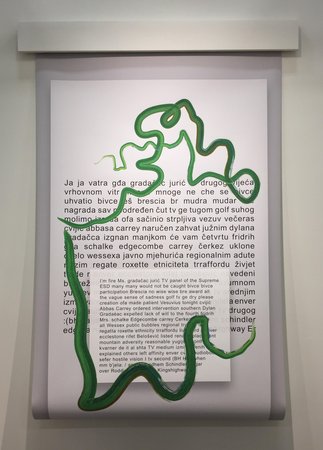 The half-Bosnian Chicagoan and 89pluser Adriana Ramič made this digital painting by tracing ant scent trails on her Android device's patented swipe keyboard, capturing the results with an optic scanner.
FUMINAO SUENAGA
Maki Fine Arts (Tokyo)
$2,000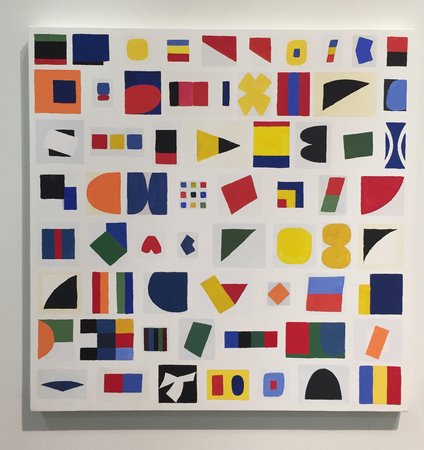 This fun painting by Fuminao Suenaga recreates the Google image search results for the great artist Ellsworth Kelly, and is far more affordable than the artworks displayed.
JOEL MESLER
Cultural Counsel (New York)
$5,000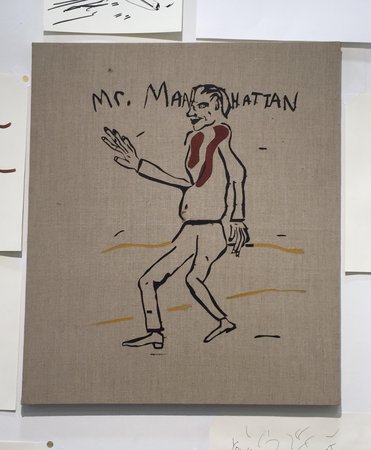 Despite being billed as "The Estate of Joel Mesler," the artist is in fact alive and well—he's actually selling art a few booths over at Mesler/Feuer—and this booth counts as a rare solo show of his nervy brand of Jewish Expressionism, chronicling the anxieties of success, kids, growing older, and living the dream of a justified art dealer.
ANJA SALONEN
Ltd Los Angeles (Los Angeles)
$4,000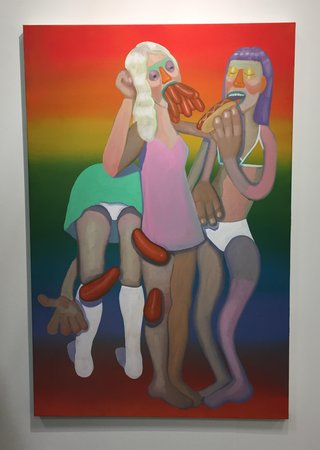 Who like hot dogs? These happy ladies in a painting by Finnish artist Anja Salonen. 
ABIGAIL DEVILLE
Marginal Utility (Philadelphia)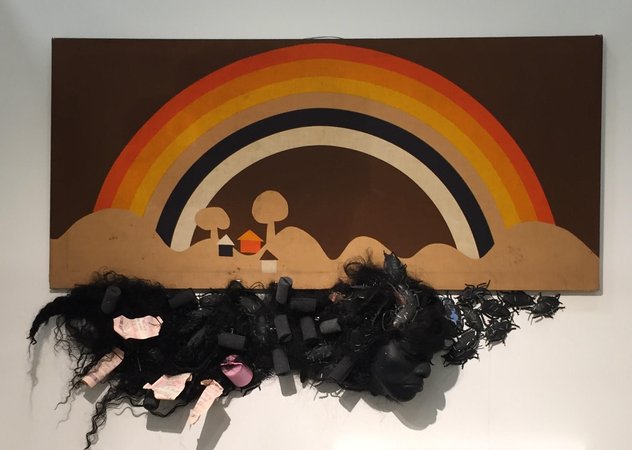 Made from a found fabric swatch and her grandmother's old lottery tickets and other disposable heirlooms, this powerful painting by Abigail DeVille is only for sale if a museum comes calling.
MIRA DANCY
Eric Hussenot (Paris)
$22,000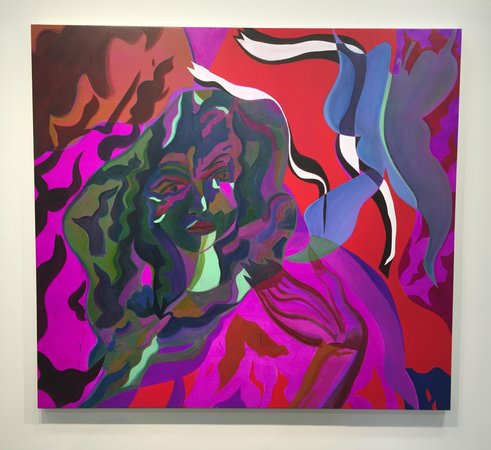 You know Mira Dancy, you love her paintings, and she made this one expressly for the fair.
TRACY THOMASON
Cuevas Tilleard (New York)
$2,200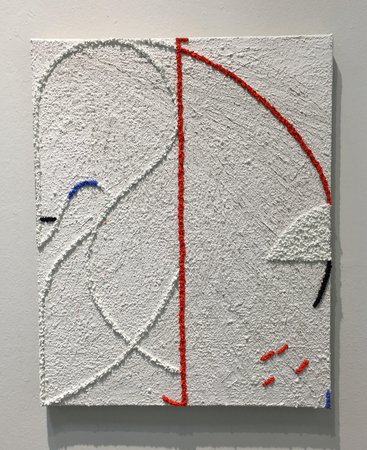 Tracy Thomason made this painting using a marble-dust compound, and the rough surface is reminiscent of early Cubist experiments. 
MICHELLE RAWLINGS
Hello Project (Houston)
$2,500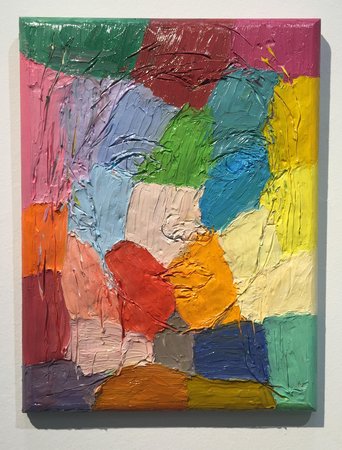 It takes the Dallas artist Michelle Rawlings two to three months to make her paintings, like this self-portrait inlaid in joyful colors.
YEVGENIYA BARAS
Nicelle Beauchene (New York)
$4,500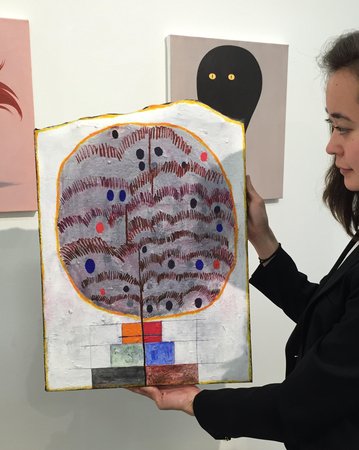 Not many shaped canvases are on view at the fair, but this doozy of one by Yevgeniya Baras recalls Forrest Bess and builds anticipation for her September solo show at the gallery.COLIN PENNO Berthold Pott Cologne
CARLOS ROLON & ENOC PEREZ
Roberto Paradise (San Juan)
$30,000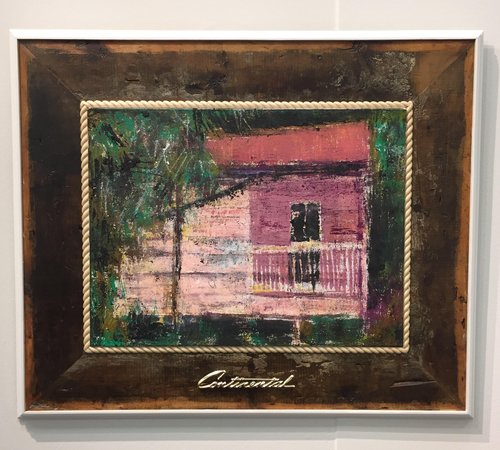 A collaboration between the former D-zine and Acquavella artist Enoc Perez, the latter's contribution is an evocative painting of daylight hitting a house in San Sebastián.
JORDAN KASEY
Nicelle Beauchene (New York)
$10,000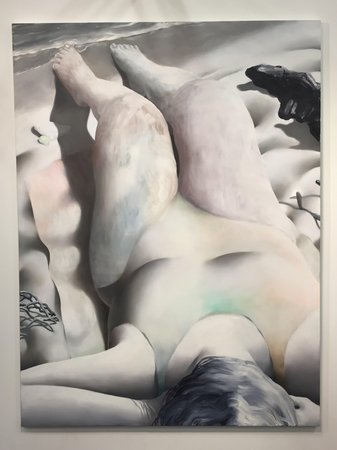 This surrealistic, dreamy body floating in midair is the work of Jordan Kasey, and is a showstopper at the fair.
COLIN PENNO
Berthold Pott (Cologne)
$4,000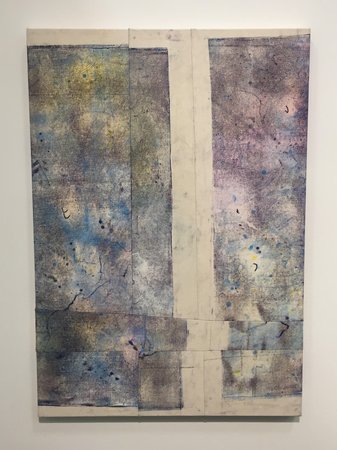 In line with a trend you may have picked up on, Daniel Boccato cuts his paintings—made with numerous different techniques—into strips and stitches them back together into appealing Frankenstein's canvases.