No one wants to be on the receiving end of "shoulda, coulda, woulda," and yet, we all have regrets. Some, however, are more costly than others. In an art market where hundreds of millions of dollars can exchange hands at the drop of a hammer, missed opportunities abound. Take collectors Robbi and Bruce E. Toll, who revealed in an ARTnews article that they regretted selling a large Pissarro roughly 30 years ago for around $100,000. If they still had it today, it would be worth approximately $5 million.
We've compiled a short list of our favorite moments—some laughable, others cringe-worthy, and one extremely refreshing—where collectors unknowingly (or actively) let millions slip away.
Richard Polsky
I Sold Andy Warhol (Too Soon), 2009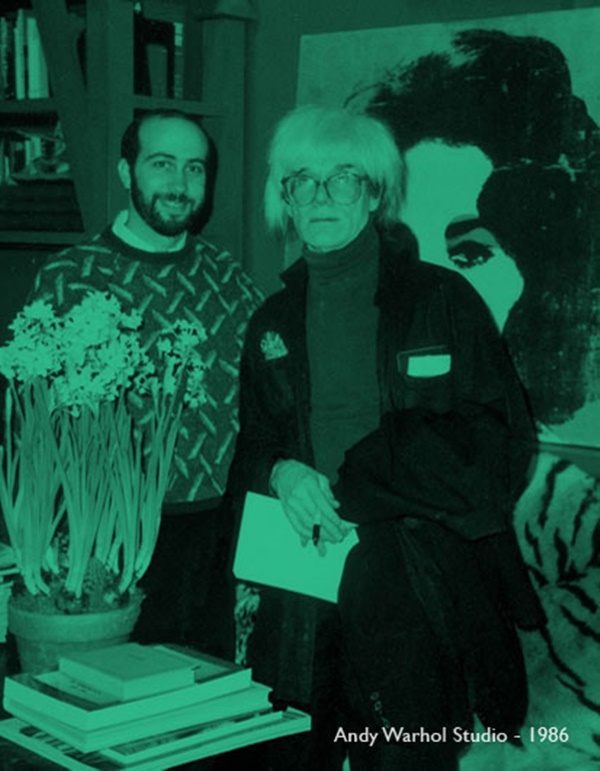 Photo of Richard Polsky with Andy Warhol. Image via artnetNews
In his tell-all memoir, author and private art dealer Richard Polsky writes about the 2005 sale of his cherished Andy Warhol Self-Portrait with Fright Wig. At the time, the market was robust, and his attempt to turn a profit proved successful when he sold the piece for $375,000. Unfortunately, Polsky couldn't foresee the mindboggling prices the Warhol market would fetch over the next few years; had he waited to sell, he surely would have made millions (in a 2016 Sotheby's contemporary art evening auction, a Warhol "Fright Wig" sold for $7,698,000). I Sold Andy Warhol (Too Soon) is Polsky's memoir, but it's also an analysis of a pivotal era when he claims the "art world" became the "art market," as the industry shifted its focus from art to money.
Lisanne Skyler
Brillo Box (3¢ Off), 2016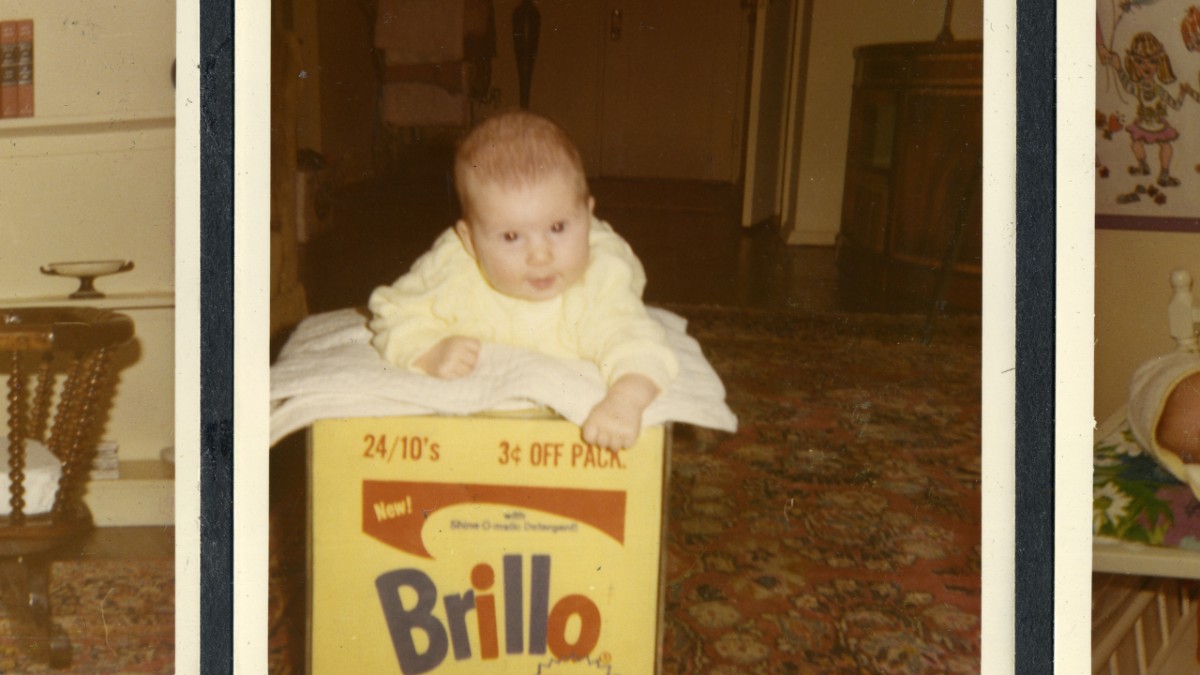 Image via HBO
Another Warhol piece that got away too soon belonged to the parents of writer and director Lisanne Skyler. The piece was one of his renowned Brillo Box (3¢ Off) sculptures—replicas of the shipping carton for Brillo soap pads. In 1969 the couple purchased the yellow sculpture for $1,000. The box lived in the family's living room (inside Plexiglas to prevent damage) for two years, before her father decided to trade the artwork for a drawing by abstract artist Peter Young. Forty years later, Skyler learned that her family's once beloved Brillo Box was going to be auctioned in New York at Christie's. She decided to make a film out of it by combining archival video, interviews with her parents and contemporary art world figures, and footage of the record-breaking Christie's auction to reconstruct her family's Brillo Box history. Spoiler alert: it ended up selling for more than $3 million.
Dorothy and Herbert Vogel
Their entire collection, 1992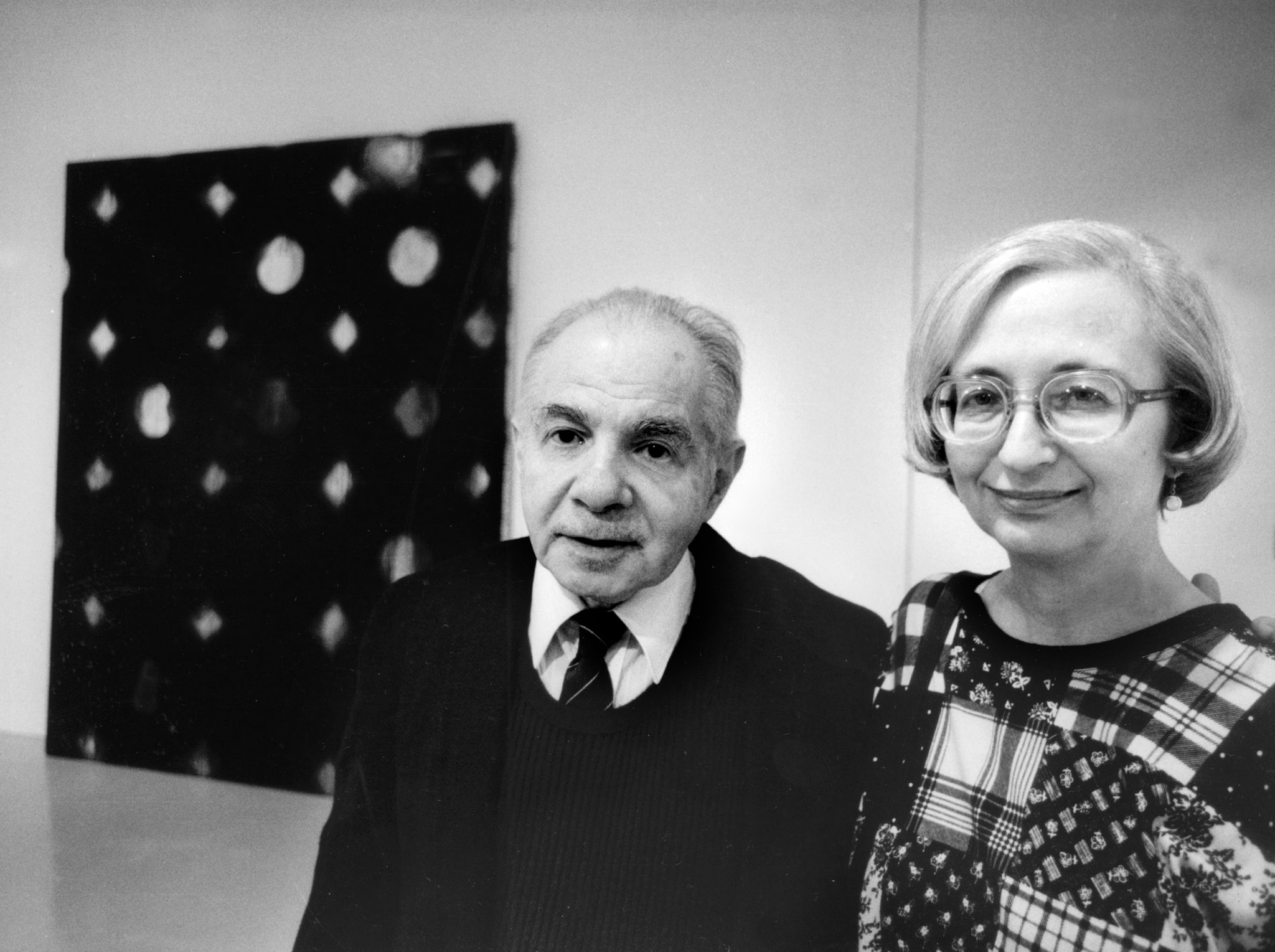 Image via the New York Times

Speaking of great art world documentaries, Herb and Dorothy (2008) is a must-see. The film, made by Megumi Sasaki, tells the exceptional story of the Vogels, an unassuming, working-class couple who inconspicuously amassed one of the greatest post-1960s art collections in the United States. Herb, a clerk for the post office in Manhattan, and Dorothy, a reference librarian at the Brooklyn Public Library, had an extreme passion and serious eye for art. Befriending emerging artists at the time, like Christo and Jean-Claude, and carrying home the affordable work purchased via taxi or subway to store in their rent-controlled studio apartment, the couple eventually accumulated over 4,782 works.
Focusing mainly on conceptual and minimalist art, their collection includes art from Roy Lichtenstein, Robert Mangold, Richard Tuttle, Sol LeWitt, Lorna Simpson and more. And the best part—they never sold a thing. Instead, in 1992 they donated their entire collection to the National Gallery of Art since it charges no admission and doesn't sell donated works, essentially gifting their collection to the public. Herb told the Associated Press, "We could easily have become millionaires. We could have sold things and lived in Nice and still had some left over. But we weren't concerned about that aspect." If only there were more legendary couples like the Vogels in the art world...
Yvonne Force Villareal
Takashi Murakami's Miss ko2, 1997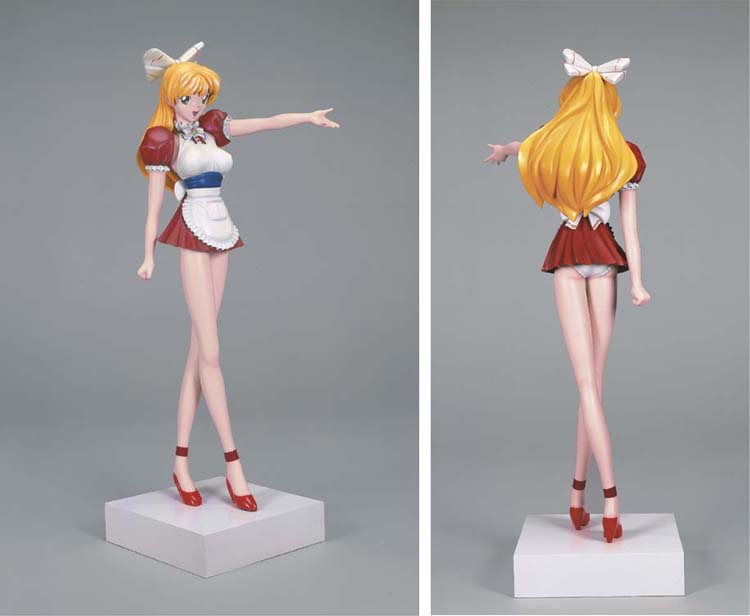 Image via Christie's
Co-founder of the Art Production Fund, Yvonne Force Villareal's chance to potentially make a lot of money was hanging by a thread—or in this case, a nylon string. In 1997, Takashi Murakami's Miss ko2 was exhibited in New York City's Feature Gallery and Villareal fell in love. The collector told Blouin Artinfo that she was about to purchase the life-sized sculpture for $25,000, but hesitated after noticing a thin nylon string fixing the sculpture to the gallery's ceiling. The string completely shifted her perception of the piece, and she ultimately chose not to buy Miss ko2. Since then, Murakami's work has seriously blown up, in both value and hype. In a 2003 Christie's evening sale, the same sculpture sold for $567,500. While Villareal doesn't want to let the regret get to her, she does question her decision of not purchasing the work based solely on the string.
Nye & Company
Rembrandt's The Unconscious Patient (An Allegory of Smell), 1624 or 1625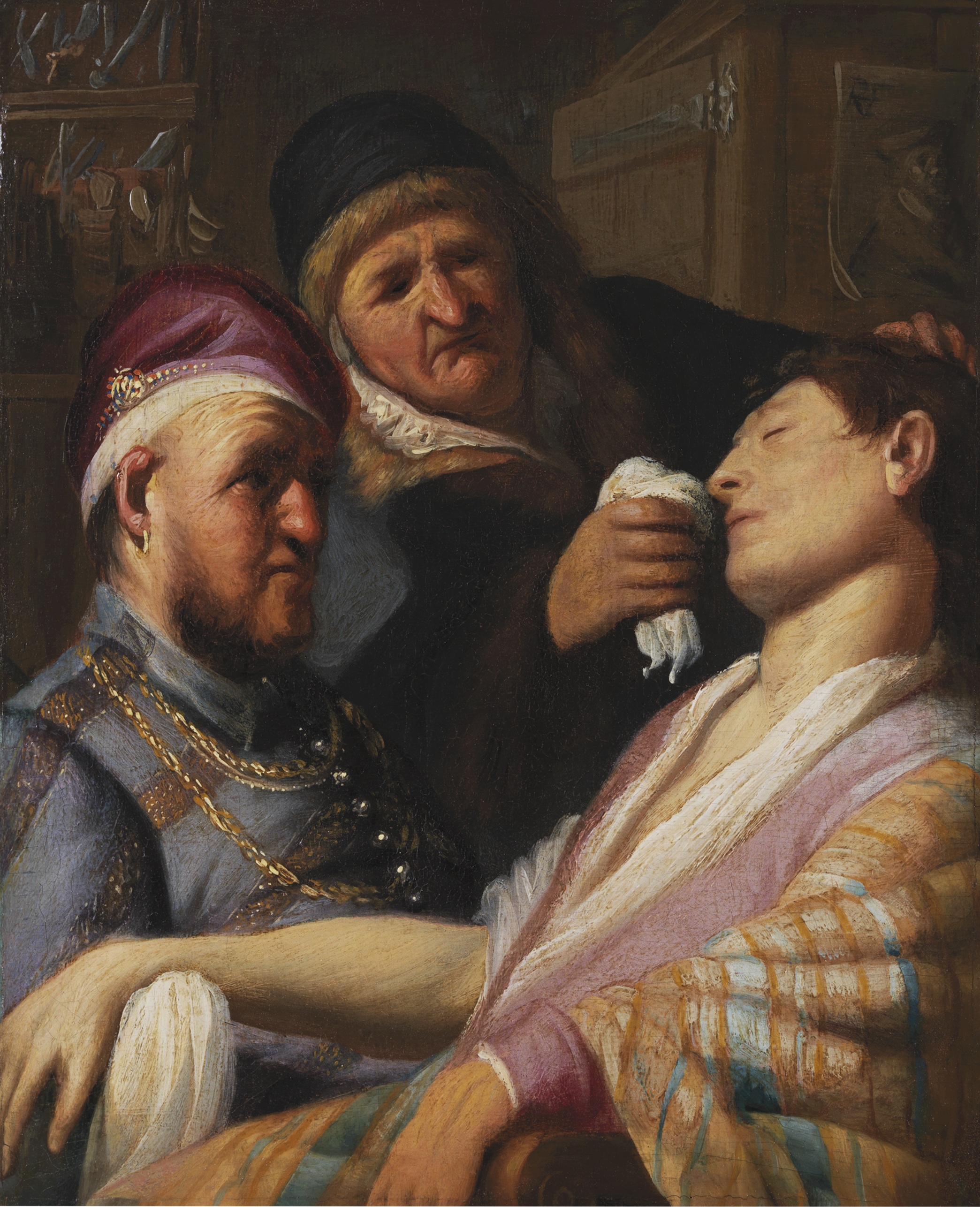 Image via the Leiden Collection
After a couple in New Jersey passed away, their adult children hired Nye & Co., an auction house in Bloomfield, New Jersey, to assess their late parents' property for valuables. Among furniture, silver, and many artworks, there was a rather unremarkable painting (whose surface was flaking) depicting an unconscious man being revived by what look like smelling salts. In a September 2015 auction sale, the work received far more than Nye & Co. anticipated when Paris art dealers immediately suspected that the painting was a long-lost Rembrandt, as it had similarities to other paintings in the artist's five-sense series. The Paris art dealers, who bought the work for around $1 million, later turned around and sold the piece to Dutch Golden Age art collector Thomas Kaplan for a reported $3 million to $4 million. Too bad Nye & Co. (or the deceased homeowners' children) didn't realize what they had on their hands.
Phoebe Chason
Basquiat's Untitled, 1982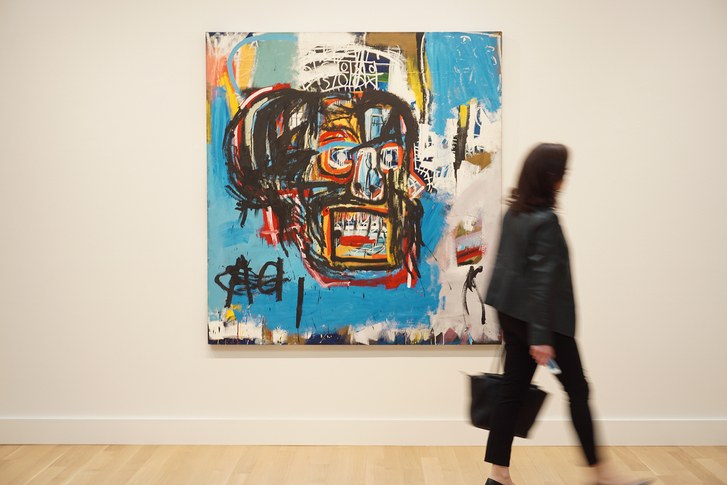 Image via the New Yorker
Art collector Phoebe Chason purchased Untitled by Jean-Michel Basquiat in 1982 from New York's Annina Nosei Gallery for $5,000. Later that year, she sold the piece to Alexander F. Milliken, and it was sold in auction in 1984 for $19,000. The large-scale painting, depicting a colorful skull-like head in Basquiat's iconic graffiti style, would become a paragon of the artist's legacy. Just 35 years later, in 2017 (29 years after the artist's premature death), Untitled became the most expensive American artwork ever sold at auction, selling at Sotheby's for $110.5 million. Ms. Nosei, who attended the auction and originally sold Chason the piece, told the New York Times, "I never understood money. If the market says that's what the painting is worth now, that's what it's worth." Hindsight is obviously 20/20, but Untitled probably would have been a good artwork for Chason to hold onto for a few more decades.
Poul Rée
Portrait of Eva Mudocci attributed to Edvard Munch, 1903-1904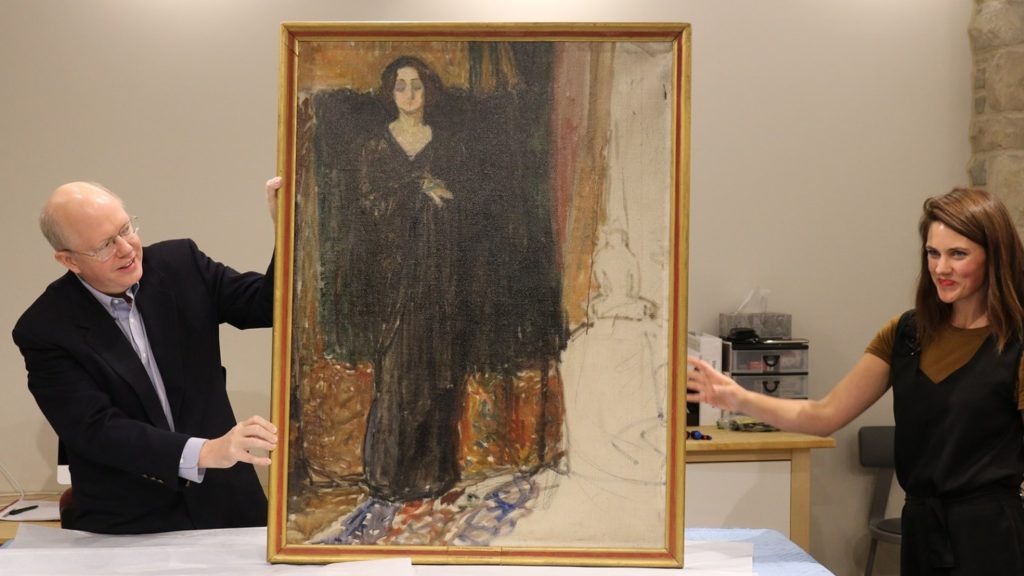 Image via artnetNews
St. Olaf College in Northfield, Minnesota is quite confident that they have a long-lost Edvard Munch painting on their hands, and a recent discovery of the painting's provenance and a scientific analysis of the painting's materials largely support this claim. Richard Tetlie, a 1943 graduate of the college, donated the painting (thought to be a portrait of the violinist Eva Mudocci) to the school's Flaten Art Museum in 1999. But it wasn't until Mudocci scholar Rima Shore was researching for her new book Lady With a Brooch: Violinist Eva Mudocci—A Biography and a Detective Story that the author found letters to and from Munch referencing him painting her around this time. Shore also found an auction record from 1959 showing that Poul Rée purchased the work from a close friend of Mudocci's. Rée then sold the work to Tetlie for $10,000—declining to have it authenticated by a prominent Munch dealer who offered to, as seen in another letter Shore dug up. Perhaps if Rée chose to have the painting authenticated he would have kept it and sold if for a lot more later on. According to artnet, another one of Munch's paintings of Mudocci, The Brooch: Eva Mudocci, sold at auction for $288,166 in 2014.
Steve Wynn
Pablo Picasso's Le Rêve (1932) and Le Marin (1943)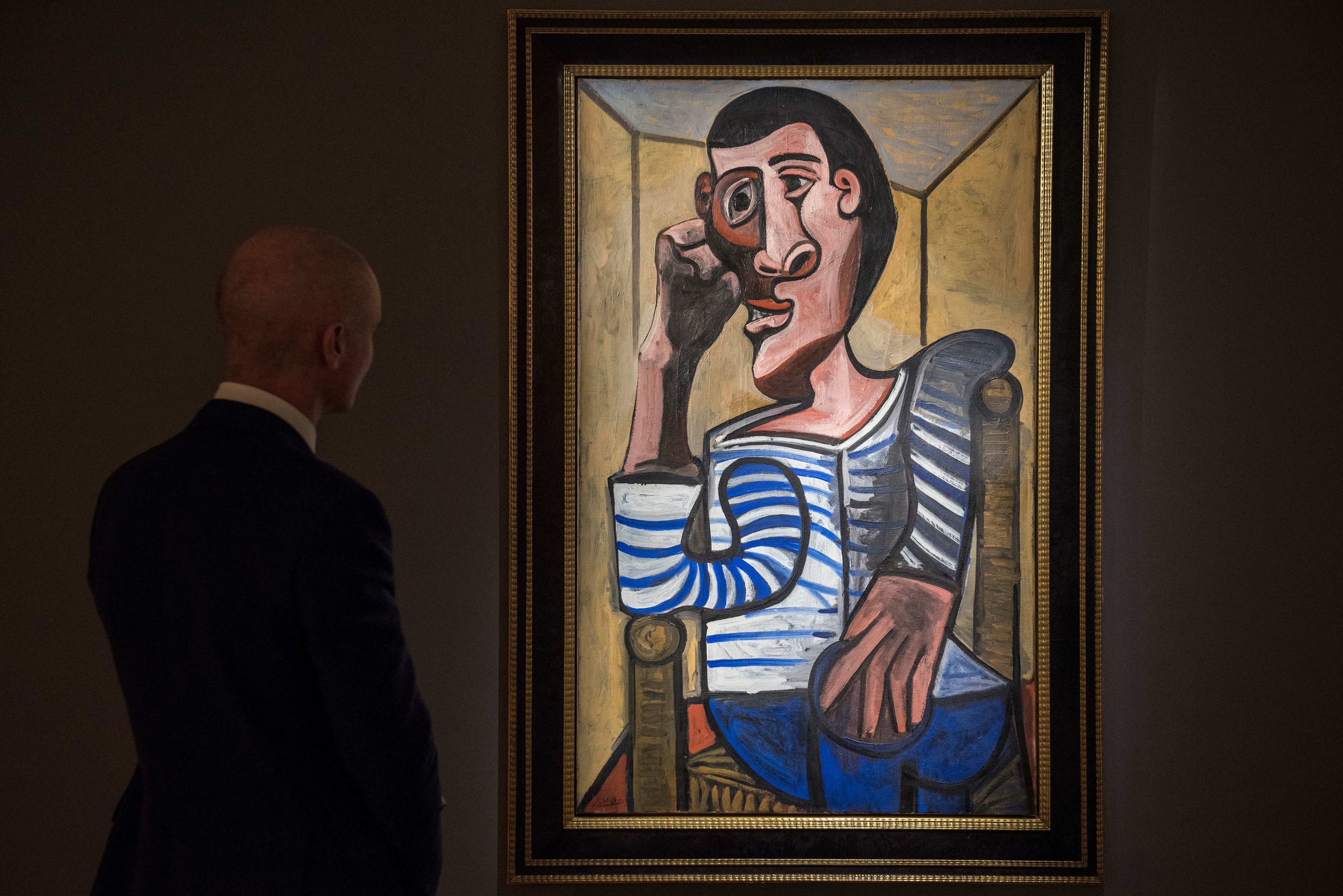 Pablo Picasso's Le Marin (1943). Image via Fortune
Damage your Picasso once, shame on you. Damage your Picasso twice, shame on you? In 2006, luxury casino and hotel magnate Steve Wynn (who in February 2018 resigned as chairman and chief executive of Wynn Resorts due to allegations of sexual misconduct) accidentally put his elbow through the canvas of the Picasso masterpiece he owned, Le Rêve, just before he was contracted to sell it to hedge fund collector Steve Cohen for $135 million. While Wynn temporarily missed out on a serious payday—due to what the New Yorker referred to as the "$40-million elbow"—he eventually had the painting restored and sold it to Cohen in 2013 for $155 million (so I guess in this case it was ultimately Steve Cohen who lost millions). But, unbelievably, this past year Wynn had another Picasso upset when Christie's—who was set to auction off another Picasso he owned, Le Marin, valued at $70 million—accidentally damaged the work with a metal rod that fell on the work, creating a hole in the canvas. Somehow, I still feel like this one was Wynn's fault too (or maybe he just deserved it? See above regarding sexual misconduct). I'm sure he'll get millions from his Picasso eventually; you know what they say—third time's a charm!
RELATED ARTICLES:
Are You Sitting on the Next Garage Sale Masterpiece?: 6 Fortunate Folks Who Unknowingly Found Famous Artworks
11 Of Andy Warhol's Signature Series
Art Market: What Happens When A Priceless Piece Of Artwork Is Destroyed?