Four reasons to collect the paintings of Mark Mann :
1. Many of these works were exhibited in Mark Mann recent (May 17 - June 30) solo show, "O Uncolored People," at Owen James Gallery in New York.
2. Mann paints closely cropped and blurry found images from the mid-'50s to '70s. "Sun burnt, and unaware, the figures are white, middle class relics of a bygone era," states the press release from Owen James Gallery. Gone are the days when Americans were most comfortable as tourists at domestic resorts and attractions.
3. The title of the exhibition, "O Uncolored People," is an homage to Ed Ruscha, another artist who documents the mundane aspects of American culture. Ruscha's artist book Colored People (1972) presented photographs of cacti on plain white backgrounds. Alongside his paintings, Mann exhibited a series of white plaster cactus sculptures. ("Cacti are known to be among the hardiest plants on Earth. However, the sculptures are blank, and fragile if dropped."
4. The Brooklyn-based artist has had two solo shows with Laurence Miller Gallery, and his work is collected by the Los Angeles Country Museum of Art, the Museum of Fine Arts Houston, the Norton Museum of Art in Palm Beach, The George Eastman House in Rochester, and the Sire Elton John Collection.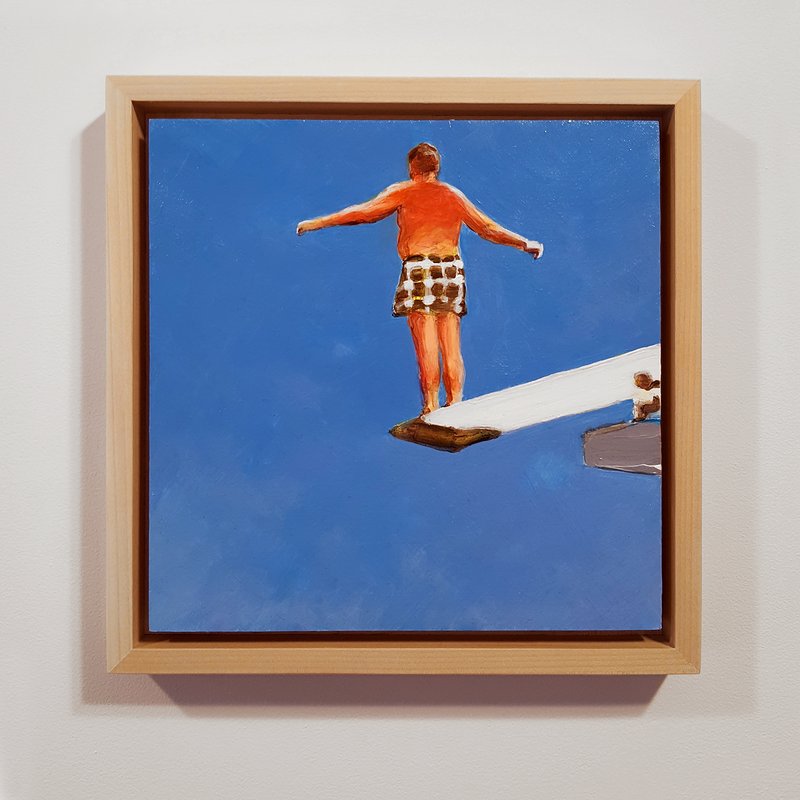 Mark Mann, Diver (2016) is available on Artspace for $800
[related-works-module]