4 reasons to collect Tracy Emin 's offset lithograph print, You Loved Me Like a Distant Star :
1. Tracy Emin is not one to hold back. In fact, she's best known for putting it all out there: in one artwork she listed the names of all of her sexual partners, in another, she installed her own bed inside a gallery. Though the artist wears her heart on her sleeve, you can hang it on your wall.
2. Emin is prominent artist of the YBA (Young British Artists) movement, which burst onto the London scene in the 1990s with intense, attitudinal work that injected brainy, Duchamp-influenced Neo-Conceptualism with a liberal helping of grit, sex, and death.
3. Emin has consistently used neon since early in her career—a medium that traditionally serves a commercial purpose, but in this case, illuminates the artist's own sloppy handwriting and deeply emotional yet blunt expressions.
4. This limited edition offset lithograph, signed in marker pen, is of one of Emin's most notable neon works, You Loved Me Like a Distant Star , created in 2012.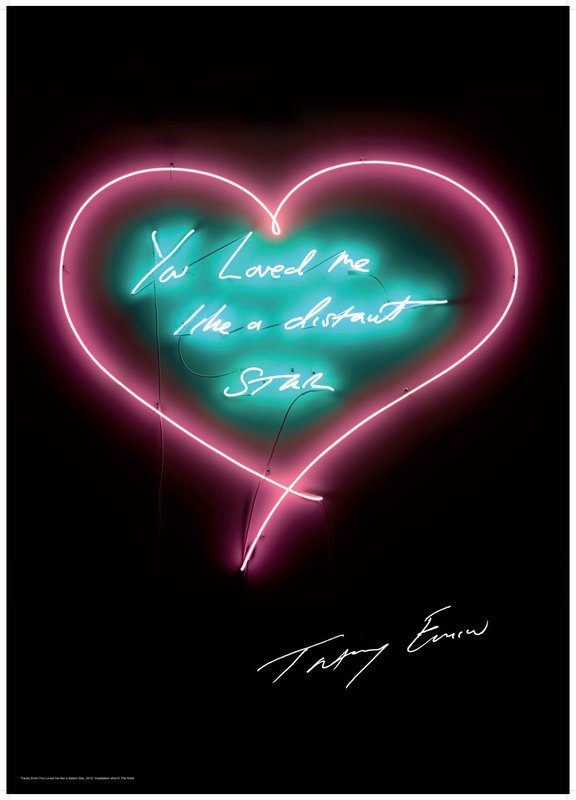 You Loved Me Like a Distant Star (2016) is available on Artspce for $1,250 or as low as $110/month
[related-works-module]