Five reasons to collect Raymond Pettibon :
1. An anti-establishment draftsman rooted in the punk-rock music scene, Raymond Pettibon makes art that recalls the sketchy style of the illustrators of the Ashcan school, typically in the form of black-and-white drawings.
2. His work has been the subject of exhibitions at some of the most renowned museums of the world. You may remember his major survey at the New Museum in New York in 2017. "A Pen of All Work" brought together over 700 drawings from the '70s to the present.
3. More recently, Pettibon collaborated with Dior's artistic director, Kim Jones, for the Dior Homme Fall/Winter 2019-2020 collection. In an interview with Vogue about the project, the artist said, " I think fashion and art meet together like a finely knit sweater."
4. Pettibon's exhibition "Raymond Pettibon: And What is Drawing For?" is on view until April 25th at the Tel Aviv Museum of Art in Israel. The press release states, " Pettibon delves into America's cultural and historical layers, from the formative ethos of the American spirit through to its marginal subcultures. The dynamic relationship between text and image in every drawing opens up a space of reflection on behavioral patterns and cultural conditioning."
5. The work below, in particular, is a limited edition lithograph that reflects the influences of visionary draftsmen like William Blake and Goya combined with the satirical bent of political cartoons and the DIY aesthetic of zines, album covers, and underground comics. A stark, black-and-white portrait is accompanied by the enigmatic caption, "I see before me words you should not have written." Read a conversation between Pettibon and curator Massimiliano Gioni for more insight into the artist's thought process, and browse available works by the artist on Artspace.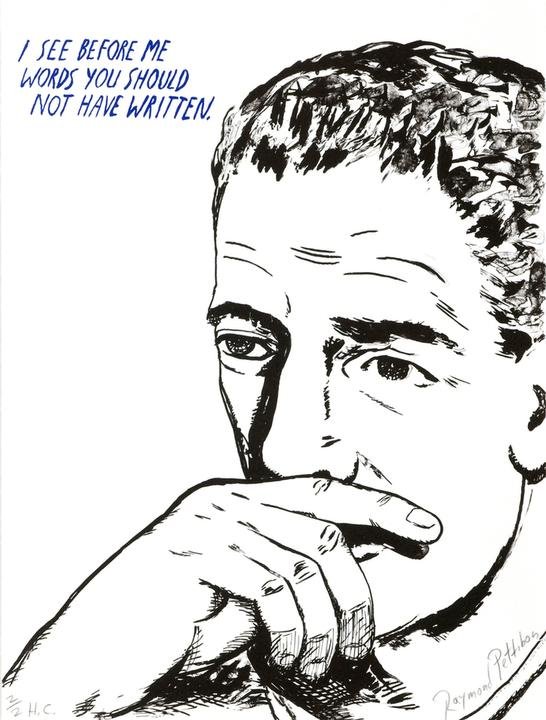 Untitled (I See Before Me...) (2002) is available on Artspace for $2,500
RELATED ARTICLES:
Understanding Raymond Pettibon: 3 Tips to Help You 'Get' It
"The Language Is On Fire and You Just Spit It Out": Massimiliano Gioni Interviews Raymond Pettibon