Six reasons to collect Chiho Aoshima :
1. Influenced by anime and manga cartoons, Chiho Aoshima stands apart from her peers through her exploration of the dark currents lying beneath Japanese pop imagery. She presents nature at odds with man, girls at odds with traditional gender roles, and visions of renewal after the apocalypse.
2. Not formally trained in art, Aoshima graduated from the Department of Economics at Hosei University before going to work for the artist Takashi Murakami, who eventually made her a member of his Kaikai Kiki collective, which includes artists like KAWS, Virgil Abloh, Mark Grotjahn, and Mr.
3. Aoshima was included in the Walker Art Center exhibition "Superflat" (2001)—an exhibition organized by Murakami to define a movement influenced by manga and anime. "Superflat," which is also the name of the movement, refers to the flattened forms in Japanese graphic art, pop culture, and animation, as well as the "shallow emptiness of Japanese consumer culture."
4. Aoshima has created public art installations and murals all over the world, from the Union Square subway station in New York to London's Gloucester Road Tube station. She was invited to participate in the 54th Carnegie International at Carnegie Museum of Art, Pittsburgh, where she unveiled her largest wallpaper piece, measuring 106 feet in length by 15 feet in height, in 2004.
5. In 2005, Aoshima collaborated with the New Zealand-based animator Bruce Fergson to create her first animation, City Glow . The five-channel video work—"a mediation on humankind's strains relationship with nature"—is currently on view at Washington State University until December 14.
6. This signed and numbered print, Japanese Apricot 1 , is produced by Kaikai Kiki and is highly representative of the artist's signature style. Japanese pop art is generally considered a great investment—For $700, collect a stunning artwork from one of the most interesting artists in the Superflat movement!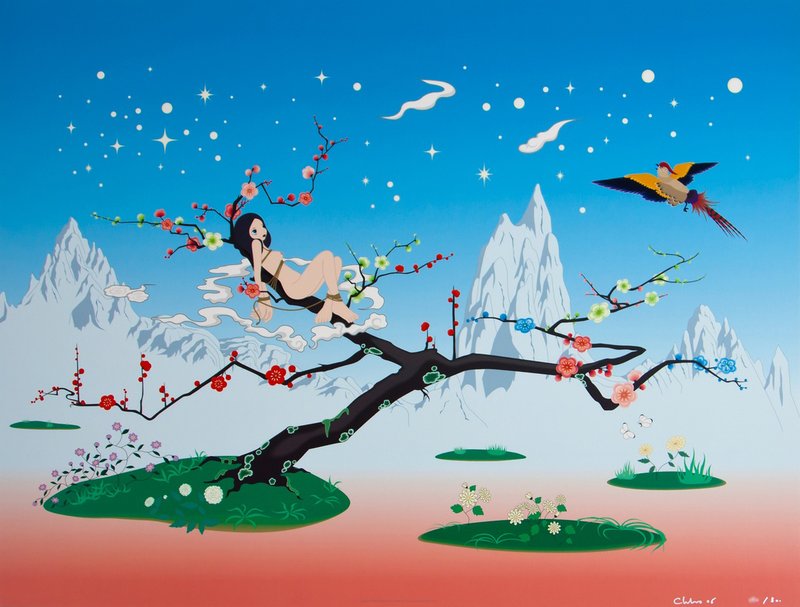 Chiho Aoshima, Japanese Apricot 1 (1999) is available for $700 or as low as $62/month
[aoshima-module]