Here's everything you need to know about Cary Leibowitz's gut-busting belt buckles.
1. The irreverent New York artist Cary Leibowitz often uses text as the basis for his art, rendering visual jokes across various media, sometimes to poignant effect. The result is comedy served extra-dry, equal parts depressing and hilarious.
2. Made for the artist's 2013 solo show "(paintings and belt buckles)" at Invisible Exports, these inscribed belt buckles each commemorate a folksy get-together from a culturally sophisticated reimaginging of rural America, from the "Forty-Fourth Fluxus Ice Cream Cone Lick-Off" to the "Alice B. Toklas Clam Bake Bake Sale."
3. Known as "Candy Ass" when he first burst onto the New York art scene in the 1990s, Leibowitz has carved a distinctively self-deprecating niche for himself that has earned the artist the title of a proud "losers' loser," with Artforum referring (admiringly) to his oeuvre as a "compendium of disappointments."
4. In the grand tradition of functional art, these belt buckles will not only lift spirits when hanging on your wall—they'll also hold up your pants. Wear them proudly.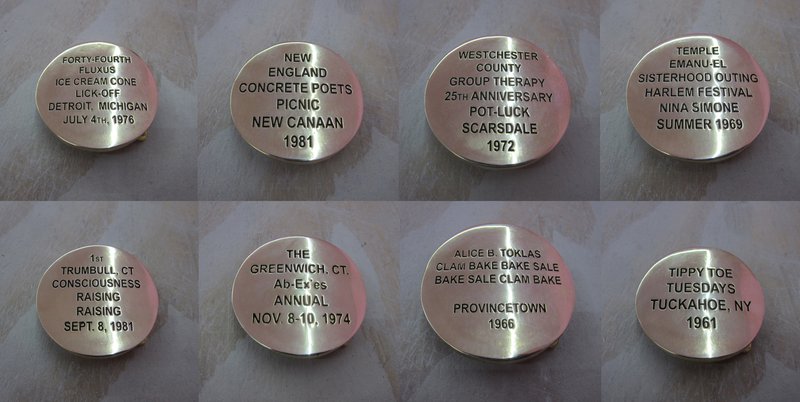 CARY LEIBOWITZ
Collection of 8 brass belt buckles , 2013
DESIGN AND DECORATIVE ARTS
Brass belt buckles, edition of 50
partner