Here are four reasons to collect prints by Egon Schiele:
1. His "signature style"––of young people's bodies, sinewy, emaciated, contorted, sexualized and glam, the turn-of-the-century version of a Velvet Underground album cover––marked Egon Schiele as a predecessor of Abstract Expressionism and one of the 20th century's major figurative painters. He was especially known for the way he painted fingers, flush or dripping, so extended as to almost be stringy.
2. Schiele's pieces regularly go for huge sums of money at auction. Sotheby's sold Lovers––Self-Portrait with Wally (c. 1914) for $10.4 million, and Houses with Laundry (Suburb II) for $32.5 million. His drawings beautifully lend themselves to the medium of printmaking, making his prints significantly more accessible while retaining their nuanced grace.
3. Schiele began exhibiting his own work in 1908, at only eighteen years old. He was a protege of Gustav Klimt, although, after moving to Vienna in 1905, he also managed to meet and socialize with prominent painters including Edvard Munch and Vincent van Gogh. That being said, Schiele, who died of Spanish Flu at the young age of 28, was controversial within his own lifetime; he even served time in prison.
4. The pieces featured here on Artspace showcase Schiele's signature thematics and style. Zwei Sich Kussende Mädchen, or Two Kissing Girls, foregrounds his interest in erotics, while Vorstadtkinder, or Suburban Kids, gives a sense of his contorted line-drawing technique.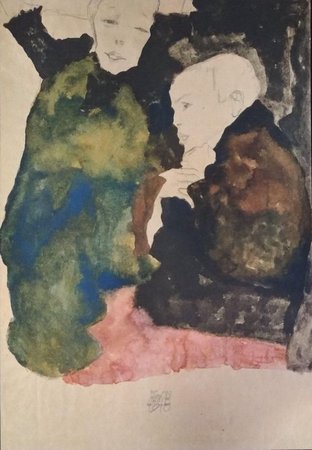 Vorstadkinder is available on Artspace for $1,200 or as low as $106/mo
[related-works-module]