Polish-born and Los Angeles-based artist Karolina Maszkiewicz fuses high art and design to create playful and chic objects fit for the white cube or the home. Here are four reasons why you should seal this steal with a kiss.
1. Why spend $30,000,000 on an Alexander Calder mobile when you can get Mazkiewicz's playful kinetic sculpture Besos for a bargain price of $500 or $44/month?
2. Not only does Besos formally recall Modernist sculptors like Calder, but the artist also is reviving a long-lost Modernist tradition by fusing high art and functional design (just think of the Bauhaus School). Maszkiewicz originally studied design in L.A and has become quite a fashionista since then: she owns her own retail store, has designed for brands such as Juicy Couture and Wren, and has worked as a trend forecaster for Collezioni. 
3. Maskiewicz trained with the renowned Malibu-based sculptor Brad Howe. But in contrast to her mentor's monumental outdoor works, Maskiewicz's Besos is designed to comfortably fit inside the home without any extravagant garden needed.
4. Besos is characteristic of Maskiewiecz's developing oeuvre: it combines natural forms (like human lips) and simple austere beauty. When the artist isn't creating beautiful wire mobiles, she's most well known for her real-life hanging plant sculptures.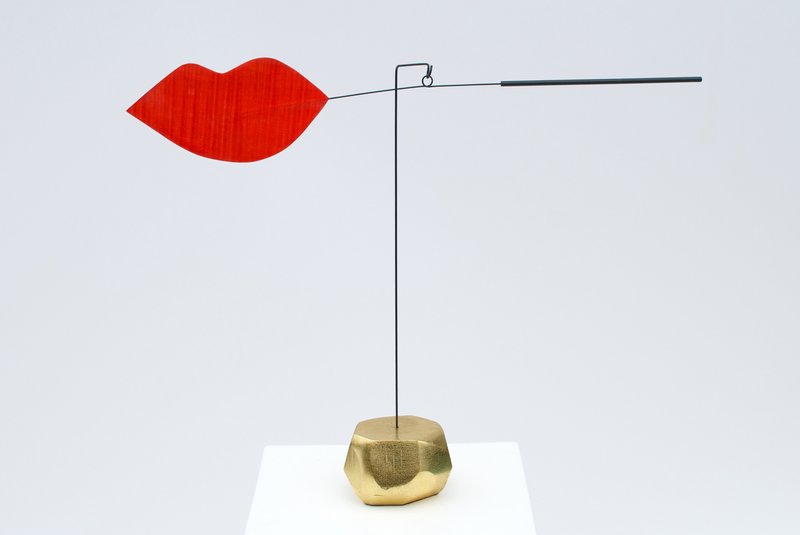 Besos is available on Artspace for $500
See more of Maszkiewicz's tabletop sculptures, starting at $300.
[related-works-module]