Here are four reasons to collect William Kentridge'sStill Life (2007):
1. Still Life has more in common with the political work of Goya than the canonical still lifes of 17th-century Dutch painters. The son of two lawyers who defended victims in the South African Apartheid, William Kentridge has dealt with the political and racial tensions that continue to shape his home country. The edible content may appear neutral, but to display Kentridge's work in any context is always a political gesture.
2. The sporadic charcoal lines in the background of Still Life imbue the static fruit with a sense of movement in time. Time is major theme in Kentridge's work—he erases and alters a single drawing while recording the changes with a stop-motion camera to create his animated films.
3. For $5,600, this etching is a steal. Adding him to your collection would mean sharing him with reputable museums that have also acquired his work. Speaking of museums, if you're on the West coast make sure to check out SFMOMA's re-installment of his gesumptkunstwerk multimedia installation and opera The Refusal of Time (2012).
4. Prior to his international renown as a visual artist, Kentridge was best known for his work in avant-garde theater. He continues to work in the performing arts, often to great acclaim: in 2010, he directed a new production of Dmitri Shostakovich's The Nose at the Metropolitan Opera, which was widely praised by critics.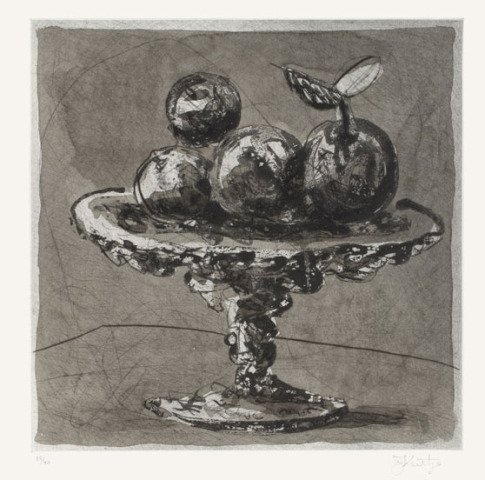 Still Life is available on Artspace for $5,600 or as low as $493/month
RELATED ARTICLES:  
London Art Patron Robert Devereux on Finding Art's Promise in Africa
William Kentridge's Optical Illusions and Aural Contraptions at Marian Goodman
 [related-works-module]