The power brokers behind Andy Warhol's ever-prosperous art market came out en masse last week to celebrate the opening of a new survey of the artist's works at the Brant Foundation Art Study Center, the Greenwich-based museum owned by newsprint magnate and longtime Warhol collector Peter Brant.
Brant began buying Warhol's work when he was 20 with a 1967 Campbell's Soup can drawing and now owns an estimated 200 works by the artist, as well as the magazine Warhol founded, Interview. Co-organized with Heiner Bastian—author, collector, and curator of the 2000 Warhol retrospective that traveled to the Tate Modern and the Museum of Contemporary Art Los Angeles—Brant's exhibition gathers dozens of works mostly from his personal collection.
There are examples on view from pretty much all of Warhol's major periods. There's his famous hypercolor, hypercontrast prints of hibiscus flowers; his tabloid "Death and Disaster" series from the early 1960s; square celebrity portraits of Elizabeth Taylor, Marilyn Monroe, and Jean-Michel Basquiat; a 1986 self-portrait of the aging artist in his "fright wig"; a grouping of massive Pop-ified Chairman Maos; and stacks of Brillo boxes.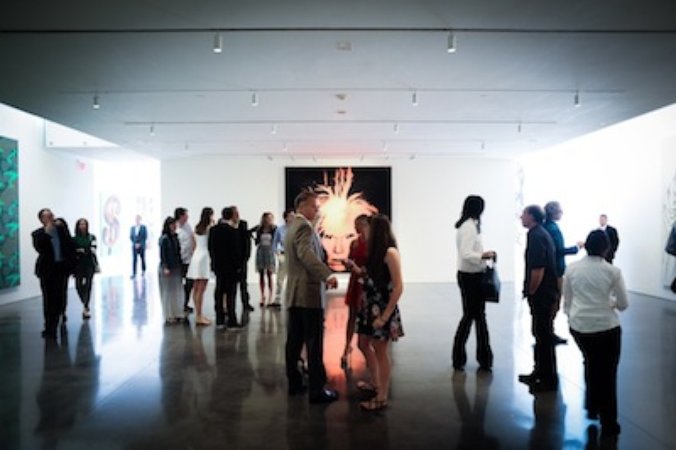 Some of Warhol's less iconic work appeared as well, such as a cartoonishly large, 16-by-33-foot rendition of The Last Supper, which Warhol traced onto canvas in black ink from a crudely photocopied image of Leonardo da Vinci's masterpiece. The picture is among Warhol's last, done as part of his final series before he died in 1987.
At the opening party on May 12, Brant invited a list of bold-faced guests to feast on spit-roasted lamb and lounge on the lush grounds of his Connecticut compound. Fresh off the set of The Great Gatsby, Leonardo DiCaprio, for one,looked at home strolling the polo fields surrounding the museum, where he was joined by fellow Hollywood stars Christopher Walken, Sharon Osbourne, and Owen Wilson, who had brought along his mom for Mother's Day.
Plenty of art-industry players were on hand too, of course, including Jose Mugrabi, the biggest Warhol collector in the world, and his sometime business partner Aby Rosen; auctioneer Simon de Pury; dealers Tony Shafrazi, Larry Gagosian, and Mary Boone; L.A. MOCA director Jeffrey Deitch; fashion photographer Patrick Demarchelier; and artist Julian Schnabel, who was accompanied by his very pregnant new wife, May Andersen. (Schnabel, who wore a jacket emblazoned with one of his own artworks, is rumored to be the subject of the Brant Foundation's next show.)
Warhol would have no doubt been proud.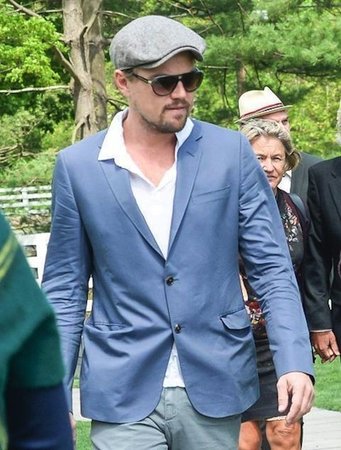 Leo (Photo courtesy of Billy Farrell Agency)