It's no secret that gallerists and curators, hungry for fresh and undiscovered talent, scour the aisles of MFA studio buildings in hopes of finding the "next big thing." And... we're not going to lie—we do the same thing. For Artspace's second exhibition featuring recent MFA graduates (the first was with the New York Academy of Art— you can read about that here ), we're thrilled to have had artist, curator, and Artspace's very own editor-in-chief, Loney Abrams, curate a selection of works by current MFA students and recent graduates from Pratt Institute's MFA program . While a student at Pratt in 2012, Abrams co-founded Hotel Art Pavilion , a gallery with a proven track of giving now-known artists some of their very first shows.
Pratt, located in the Brooklyn neighborhood of Clinton Hill, was founded in 1887. It's now known as one of the top schools for art and design, with notable alumni like Ellsworth Kelly, Robert Mapplethorpe, Jacob Lawrence, Stefan Sagmeister, Félix González-Torres, Jim Hodges, and Eva Hesse among their ranks. Read up on the next generation Pratt artists below, and see the entire exhibition online here . Sales from the exhibition will benefit Pratt's MFA scholarship—so don't hesitate to collect some of the brightest graduate talent from Pratt!
YAW OWUSU
Over This Sea , 2019
$7,000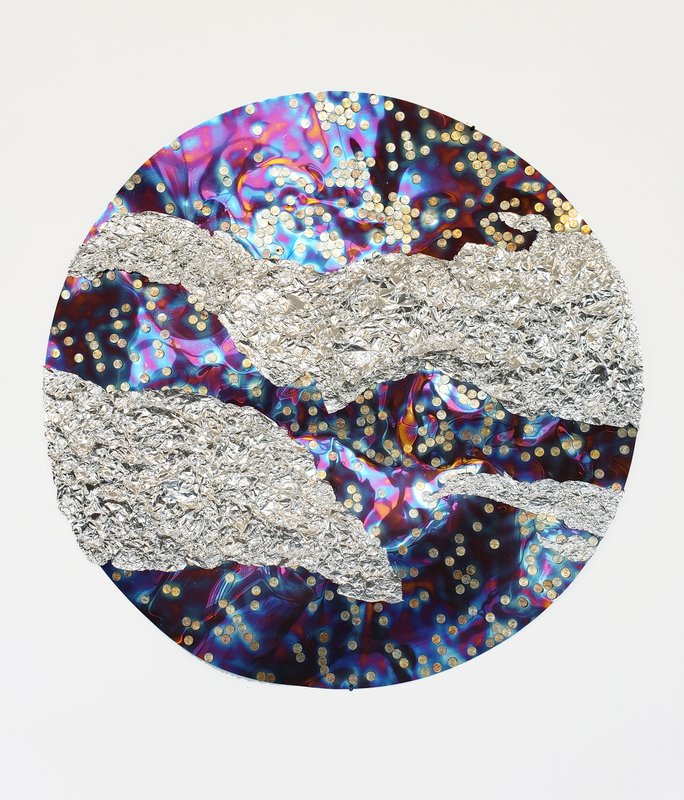 Yaw Owusu creates sculptures that repurpose found objects like pennies and tin foil, transofrming otherwise materials of little worth into valuable objects. Though he sees his work as a meditation on how value in itself is made and unmade—a conceptually weighty task, his approach is playful, and his joyous experimentation comes through in the work. Born in 1992, Owusu was selected to participate in the 89plus workshop at the Nubuke Foundation in 2015. He participated in Part IV International Artist Project Residency in Berlin in 2016, and his works have been included in group exhibitions in Ghana and across the world including the Science and Technology Museum in Accra, the Museum of African Contemporary Art Al Maaden in Marrakech, and Gallery1957 in Accra, which currently represent the artist. He is the recipient of the  Kuenyehia Art Prize for contemporary Ghanaian Art, 2018. He lives and works between Ghana and New York.
KATIE CROFT
Value , 2019
$600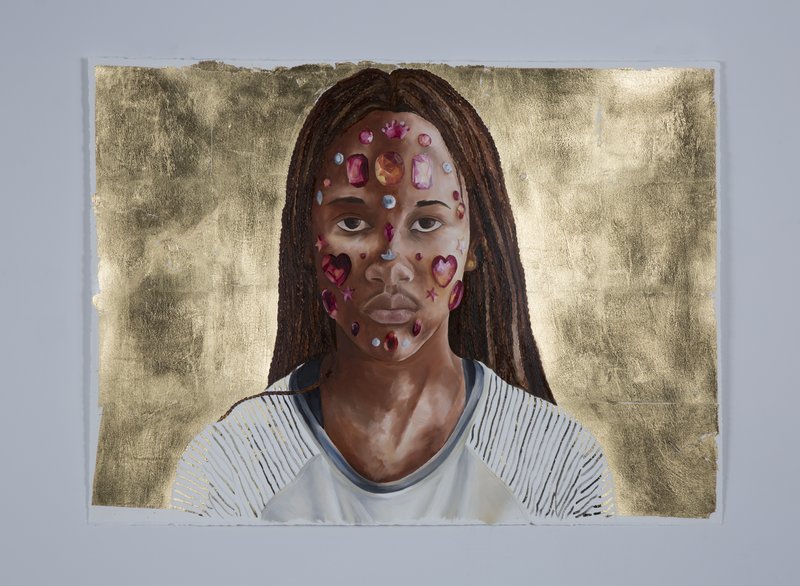 Katie Croft's collage, Value , was made using oil on paper, glue and gold leaf. Much of the artist's work focuses on Croft's relationship with her daughter, pictured here. Croft's daughter poses wearing her choice of outfit, makeup, and styling, and the resulting portrait reflects how she choses to represent herself. " I am conscious of teenagers, both boys and girls, constructing their sense of self-worth from the environment that surrounds them, from their nuclear families, social media, and pop stars," writes the artist. "From this matrix they extract ideas of who they should be and how they should act and unfortunately, they construct a sense of their perceived value in this world." Croft's career began in Texas while working with The Waco Cultural Arts Fest, a nonprofit community-based arts initiative. Since, she's been involved in the arts as an activist, curator, and artist. She was a finalist for the 2019 AXA Art Prize and currently lives and works in Brooklyn, NY with her two children.
HANK EHRENFRIED
Charms , 2019
$1,000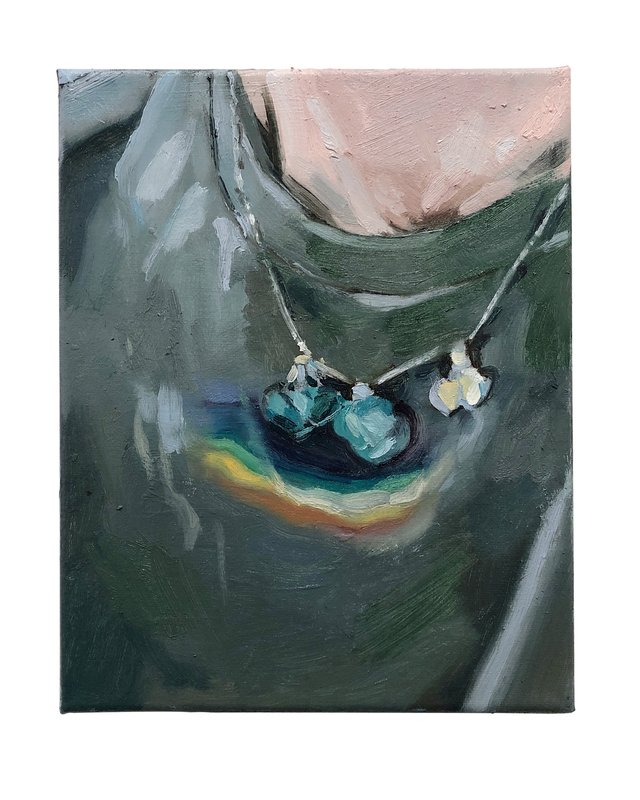 Painter Hank Ehrenfried works from an ever-expanding archive of family photos in order to parse a traumatic and deeply painful family history—"to understand how their ordinariness can represent at once life after trauma and its ultimate impossibility," says the artist. "The work is in the reimagining, in opening myself to history and to the future as I guard those pieces that are most tender and private." Ehrenfried is a New Jersey-born artist currently living in Brooklyn. He received is his BFA in painting, drawing, and printmaking from Carnegie Mellon University in Pittsburgh, PA in 2014 and his MFA in painting from Pratt Institute in May 2019. He has been in recent exhibitions at Danese/Corey Gallery in New York, Susan Eley Gallery in New York, Pratt Institute in Brooklyn and Manhattan, and Welcome Gallery in Charlottesville, Virginia. He is currently part of the Trestle artist residency program in Brooklyn.
RACHEL GISELA COHEN
Wingspan , 2019
$1,100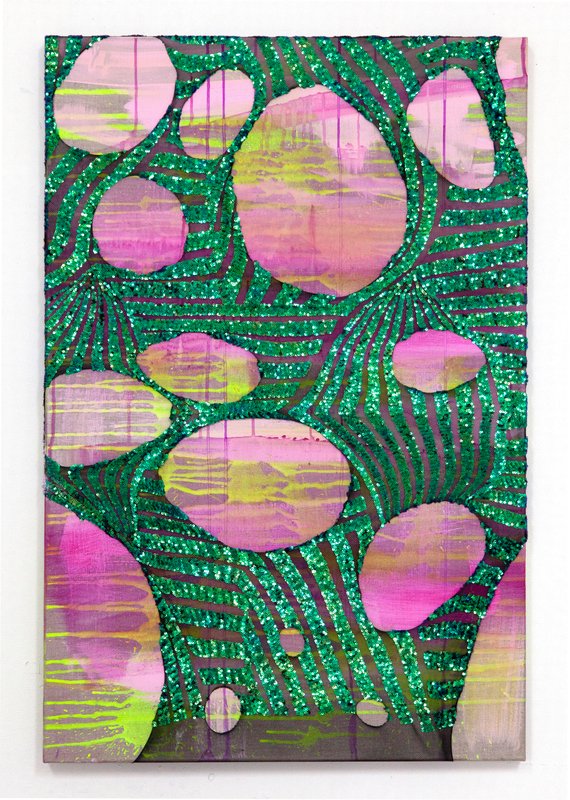 Rachel Gisela Cohen's work reflects on beauty, surface, and the excess of contemporary culture. She stretches fabric and textiles over canvas, cutting and tearing holes to expose the painting's multiple layers and interior—not unlike rifts in the earth, a garment struggling to cover the body, or a web of growing bacteria. The color and patterning of Cohen's sequined encrusted chromatic paintings reference both the natural and material worlds, from aposematic organisms found deep inside Costa Rican rainforest ecosystems to New York City's garment district. Coheneceived her MFA in painting and drawing from Pratt Institute and her BA in Art History and Studio Art from Drew University. She has been awarded fellowships and residencies from the National Endowment for the Arts, the Constance Saltonstall Foundation, Vermont Studio Center, the Montclair Art Museum and the Tyler School of Art. She has exhibited works both nationally and internationally, exhibiting work at Pierogi Gallery's The Boiler, the Visual Arts Center of New Jersey, Hunter College Art Galleries and the Armenian Art Fair.
LIZZY LUNDAY
The Most Dramatic Season Ever , 2019
$6,500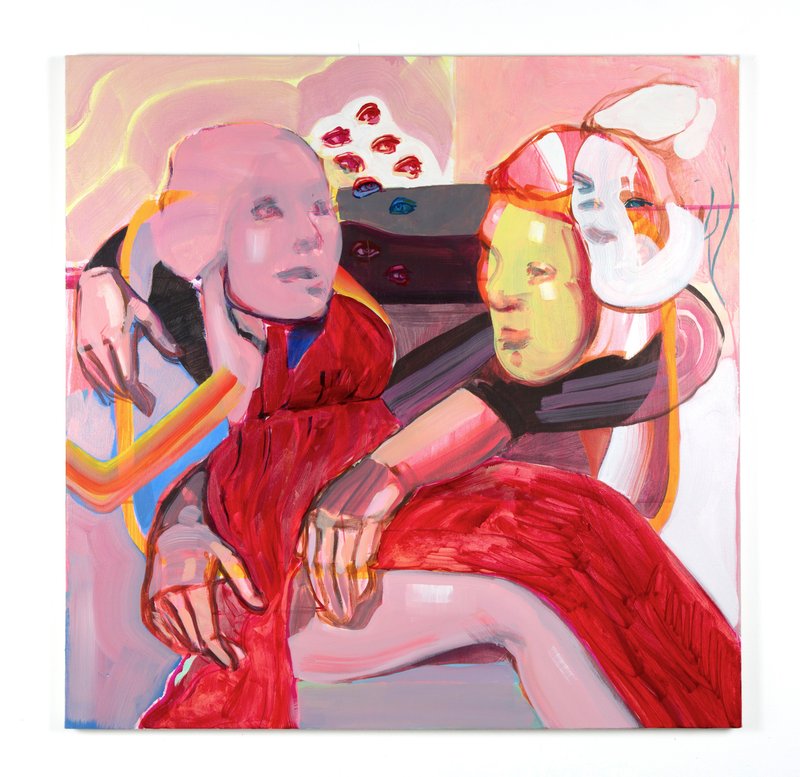 This painting by artist Lizzy Lunday uses scenes from the most recent season of The Bachelor , a reality television show where singles compete for the marriage of one "bachelor," as reference material. Layered, sliced up, and rearranged, the figures are intertwined and indistinguishable from one another. Lunday recently received her MFA from Pratt Institute, during which she was awarded Pratt's Graduate Student Engagement fund in 2018 for independent research in Ireland. Lunday's work has been featured in several exhibitions nationally and internationally, and she was most recently awarded an upcoming residency at 77ART in Rutland, Vermont for August 2019.
NOAH TAVLIN
Stepping on Legos , 2019
$300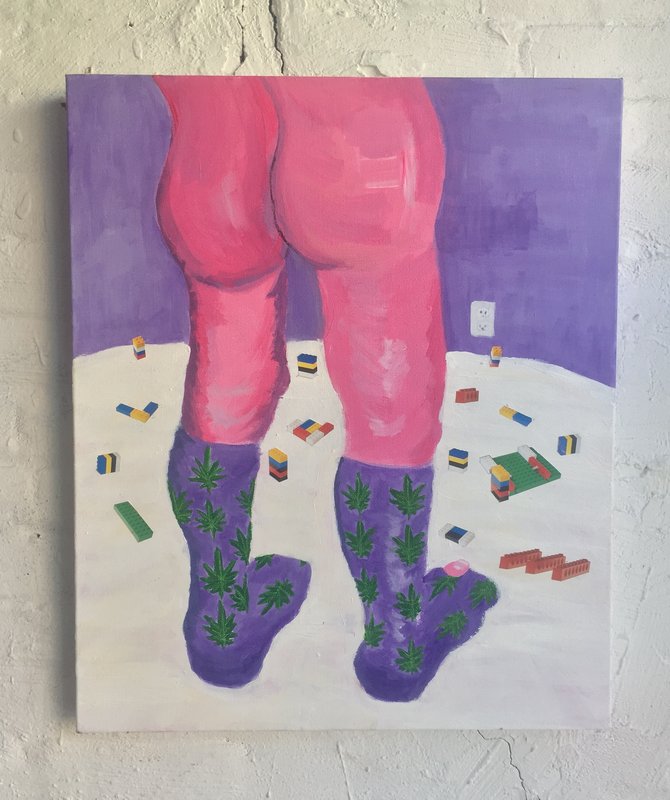 Using both painting and collage (the legos in this image are cut from a found lego instruction manual), artist Noah Tavlin sees his painting, Stepping on Legos, as a reflection of the mundanity and absurdity of everyday life. Currently a MFA candidate at Pratt Institute, Tavlin's work has been regularly exhibited in New York and New Jersey, as well as in Canada and the UK. His work has been featured in a SaveArtSpace public billboard exhibition, he was a featured speaker at Kolaj Fest 2018 in New Orleans, and is co-curator of the annual Rat Ball exhibition. He is co-owner of The Bunk, a gallery space in a renovated shipping container, located in Bushwick, Brooklyn.
LODEWIJCK KUIJPERS
C uties Painting , 2019
$4,000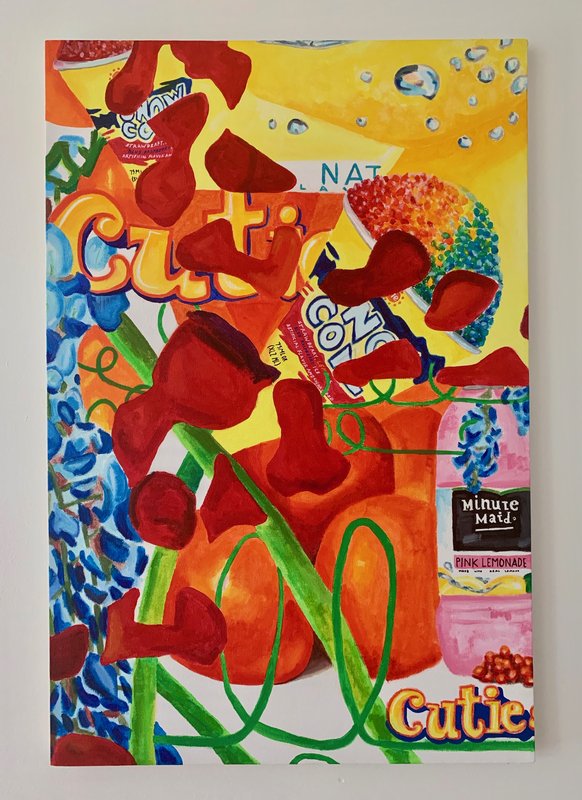 Lodewijck Kuijpers collages images sourced from advertising campaigns and the internet, abstracting them from their original purpose to better understand how they wield their power. In Cuties Painting, the artist collected images from Google that resonated with the Cuties Citrus logo, before combining, croping, and manipulating them to create a composition. The composition was then made into a painting (pictured above), a digital print, and a beach towel. By repeating the compositions in various media, Kuijpers encourages viewers to interact with the objects and continue the chain of abstraction.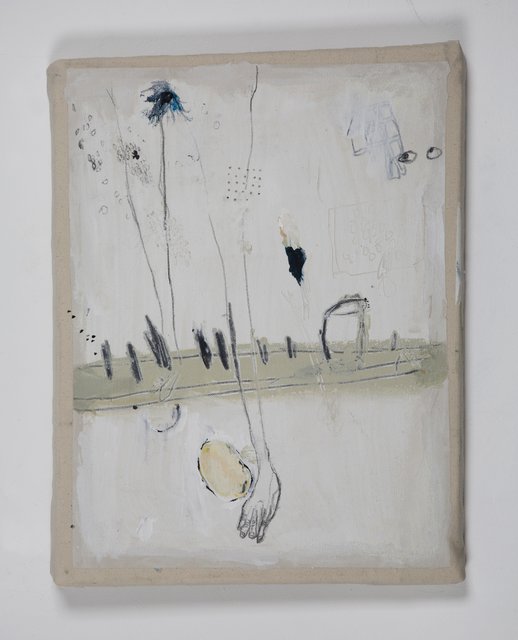 Jean Oh's canvases are intentionally crooked (the artist makes her own canvases with slightly irregular wooden stretcher bars), making her neutral-toned paintings akward but not unsettling—endering. The artist creates a surrealist balance between unrelated abstract and figurative elements, or mis-matched combinations, like a hand connected to legs. Oh holds a BFA from the Maryland Institute College of Art (MICA) and an MFA from Pratt Institute. Oh won the Silver Award for AHL-T&W Foundation Contemporary Visual Art Awards, and her work presented by numerous group shows at venues like Pratt Manhattan Gallery, Trestle Gallery in Brooklyn, and Concept 2018  at the CICA Museum in Gimpo, South Korea.
ABBY CHENEY
Patch Up , 2019
$750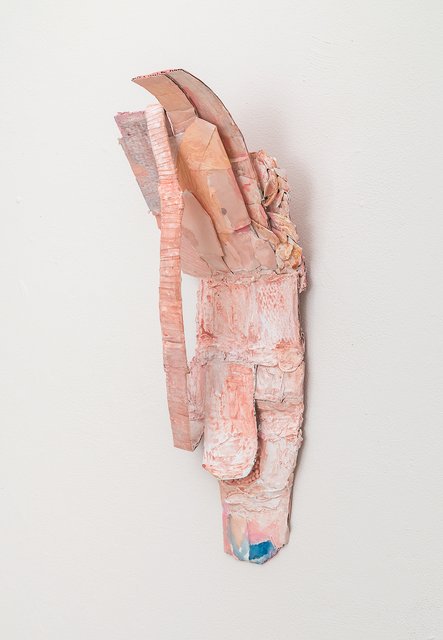 Abby Cheney's paintings and sculptures are made from discarded cardboard and found materials, exploring the power of common objects in our everyday lives and memories. Patch Up , for instance, is an abstract sculpture that combines many textures and materials to create a bodily form. The work uses cloth and paper products like bandages, underwear, and sanitary products—typically used to protect or cover the body—in an attempt to mimic flesh tones. Originally from Baltimore, Maryland, Cheney currently lives and working in Brooklyn. She received her MFA from Pratt Institute in 2018, and her BA from Kenyon College in 2014. She has held residencies at COPE NYC, Ox-Bow School of Art, Trestle Art Space and Vermont Studio Center. Her work has been exhibited in numerous group exhibitions in Maryland, New York, Ohio, and Madrid, Spain.
CHAO WANG
Arriving , 2019
$1,800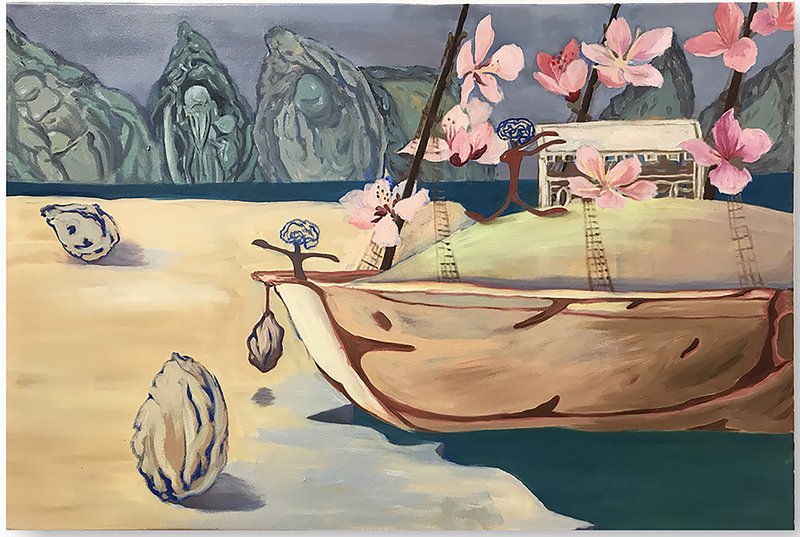 Chao Wang makes speculative paintings that suggest how our landscapes might look 100 years from now. With an interest in health and technology, Wang uses both organic and artificial objects as reference material for her paintings in oil and other textured materials. Wang is currently a second-year graduate student at Pratt Institute.
MATHILDE VAN NUFFEL D'HEYNSBROECK
Tell Me More , 2019
$2,500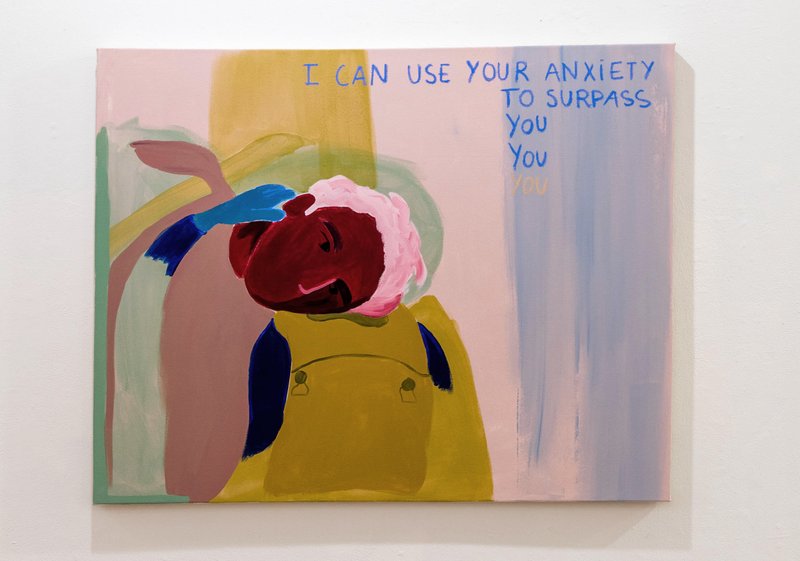 "This painting depicts a moment of tenderness, a hand on the neck to calm and appease the pulse, writes artist Mathilde van Nuffel d'Heynsbroeck. "The sentence, similar to an attack, comes in a sneaky way to disturb the reading of the subject. Is the main figure talking to the other or the opposite? Is the author talking to the figure or the public?" V an Nuffel obtained her BFA in photography at La Cambre in Brussels, Belgium and her MFA in fine arts at Pratt. She has exhibited photography, painting and ceramics in group shows in Belgium and the US, including; Plaies/Pause in Brussels, The Watering Hole in Brooklyn, and F1: Out Inside in Brooklyn. She will present her first solo show in October 2019 in Rochester, New York. Van Nuffel has received two fellowships from Made in NYC and a merit-based scholarship through Pratt Institute.
JIAWEI ZHAO
What Is a Chinatown , 2018
$1,500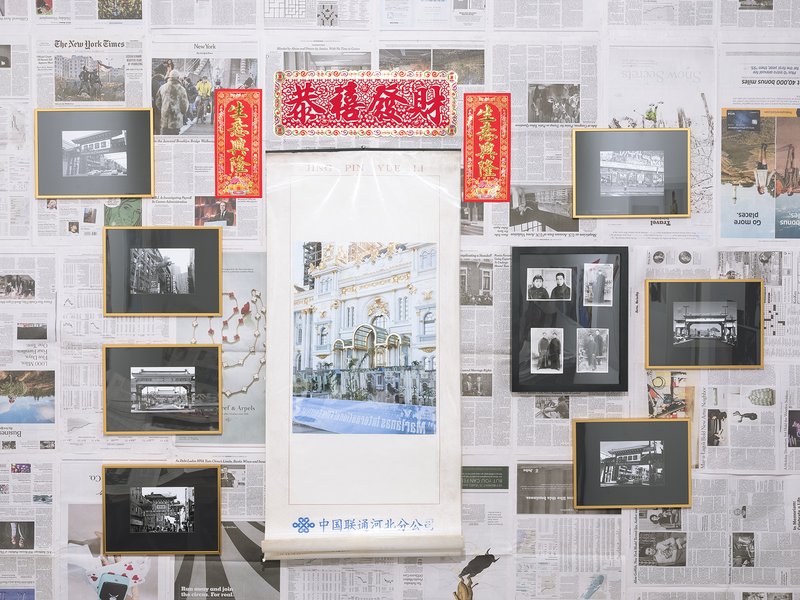 Jiawei Zhao is a Chinese-born visual artist who came to the United States to attend school. His photo-based artist practice stems from that personal experience. "There are 350,000 young Chinese people currently studying at academic institutions in the U.S., and they are not staying here for immigration," he writes. "Chinese students are sandwiched between Chinese culture and American culture, and they have been building up their own cultural identity." His work looks at how Chinese students have found comfort and community in certain spaces, juxtaposing the architecture of Chinatown with that found on academic campuses. Confusing temporal and spatial relationships, many of his photographs are taken of photographic installations, such as What Is Chinatown, pictured above. In 2018, Jiawei received his MFA Fine Arts degree from Pratt Institute, where he was awarded a $50,000 merit-based scholarship. His work is in the collection of the Kala Art Institute, where he finished a residency in January 2019. Jiawei has participated in group exhibitions in New York and California. His work has been selected for the 56th Annual Juried Competition at the Masur Museum of Art. Jiawei has participated in residencies at MASS MoCA and ChaShaMa North.
ABBY ZHANG
Striped Bass $4.99/lb and Some Others , 2018
$1,000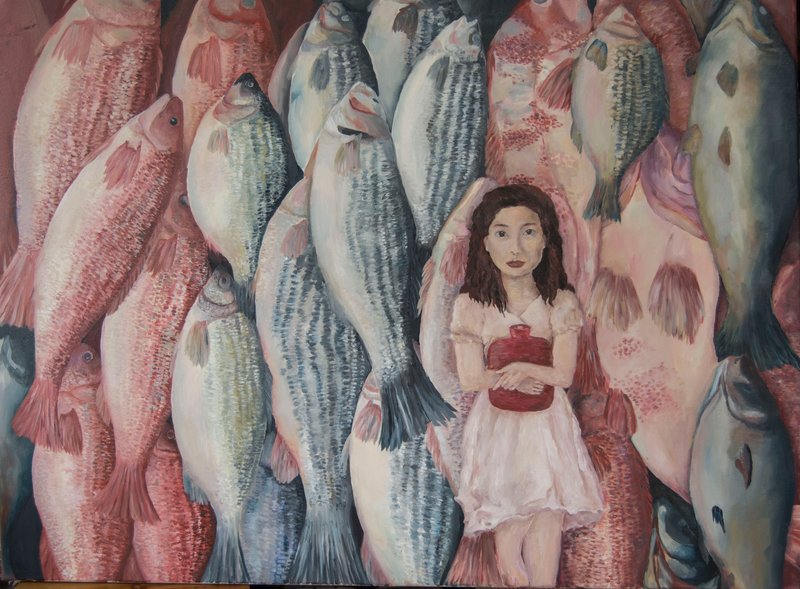 This self-portrait, depicting a younger version of the artist on her period, is about the experience of menstruation. To the artist, raw and smelly fish "represent not only the coldness and pain during [menstruation], but also many other difficulties that a female faces in her life. In front of these difficulties, I feel rather small to defeat them, but I am still able to find the warmth to pull myself through." Born and raised in Dalian, China and having lived in multiple places in the United States over the last five years, Abby Zhang has gained her knowledge and skills in art via self-education. She's currently based in San Francisco, California and will move to Brooklyn to attend Pratt Institute this fall.
CHAEWON MOON
Untitled (217) , 2019
$700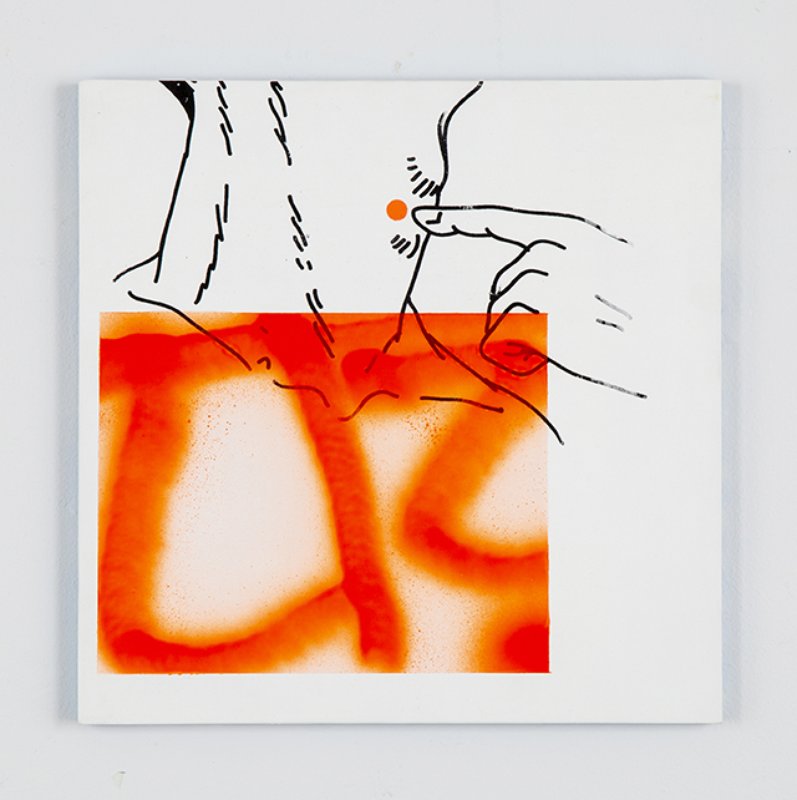 Using the manual and instructions allow me to observe symbols, colors, and marks around me. Mostly they indicate specific meaning, such as orange color for danger, but occasionally I find obscurity from them. For example, spray marks all around the city. I applied one of the marks I collected and combined with the image that contains indication.
The work of ChaeWon Moon parodies the language of the instruction manual—repurposing it to become strange and absurd. Untitled (217), for instance, appropriates imagery from an instruction manual, but also references orange spray paint often found on city streets to indicate danger. Moon's practice focuses on the experience of failure—despite following directions. Moon holds a BFA from Kookmin University and a MFA from Pratt Institute. She's shown her work in group shows at galleries like CIRCA Gallery in Minnesota, CP Project Space in New York, Pratt Institute in Brooklyn, and Kookmin Art Gallery in Seoul.
SOJUNG KIM
Trailing Lights , 2017
$500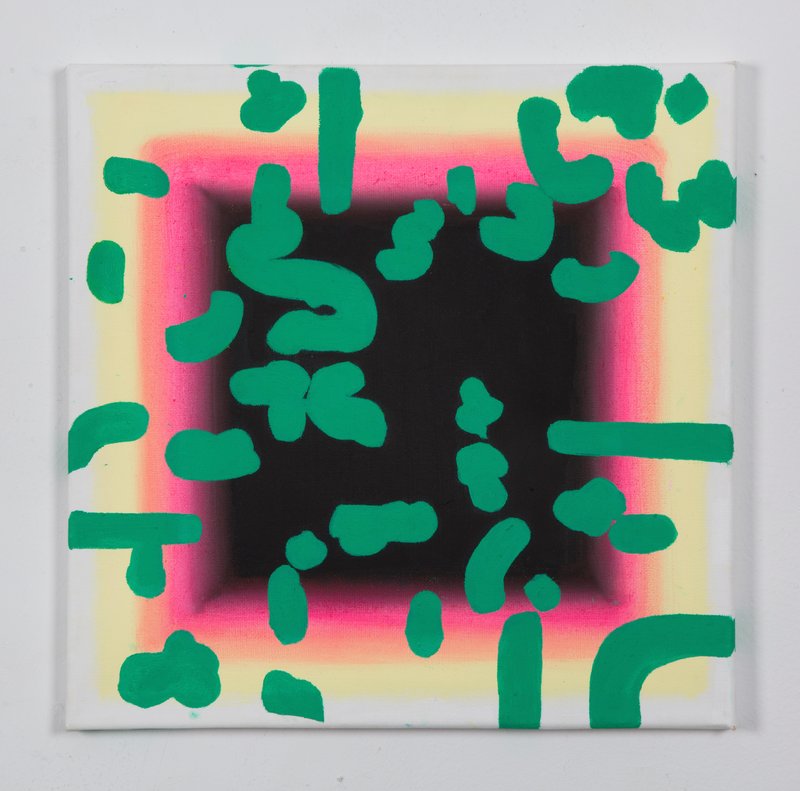 Sojung Kim uses abstract painting to elicit jolting emotional reactions from the viewer, with radiant colors, hypnotic patterns, and biomorphic forms. "I communicate through forces that are instinct, while activating desires that drive the subconscious." She has exhibited her work in both New York and South Korea, and was awarded Good Day Art Contest (2015) and Geumgang Art Contest (2015). Sojung holds MFA degree at Pratt Institute (New York, 2018), and BFA at Hongik University (Seoul, Korea, 2016) as a scholarship student.
JENNIFER HO
Culture , 2019
$700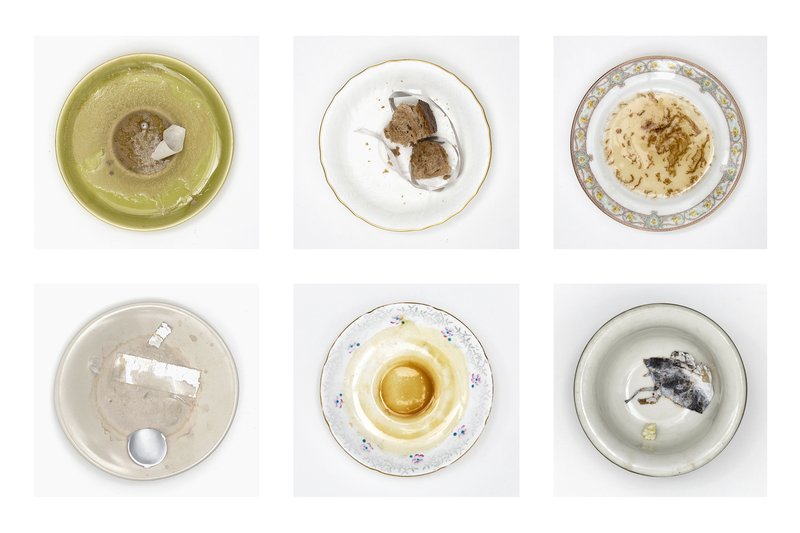 Jennifer Ho's background as a scientist for seven years led her to focus on minute details of human activities and the psychology behind human memory. Her works often repurposes scientific methods or equipment that she used to use in the laboratory to collect, systemize, and archive negligible or insignificant traces in life. In the same scientifically analytical fashion, her work uses these methods to deconstruct her sentiments with time's passage and the pathos of life. Jennifer Ho is a Taiwanese, multidisciplinary artist based in Brooklyn, NY. She received her MSc. in Human Nutrition from the University of British Columbia, Canada and is currently obtaining an MFA at Pratt Institute, Brooklyn, NY. She transitioned into art to find a way that bridges her interests in science and art.
JACKIE SLANLEY
Between Spirit and Magic , 2019
$1,200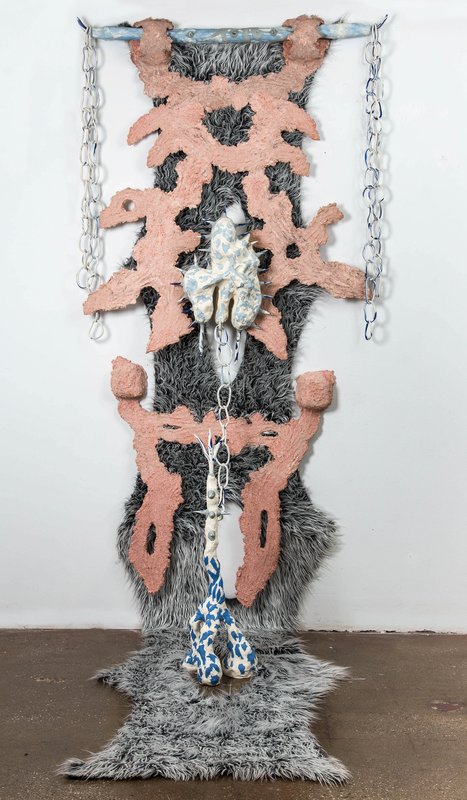 Jackie Slanley is an artist working in a wide range of materials, primarily clay. She's interested in the history of material culture and the beauty of the domestic, and she uses a process of accumulation, adornment, and ornamentation in handmade objects to evoke thoughts of ritual, profusion, and power. The result is both familiar and fiction. In Between Spirit and Magic , pigmented porcelain and white stoneware seem ritualistically intertwined, shrine-like.
JOSH MEILLIER
Slow Decay v , 2019
$4,000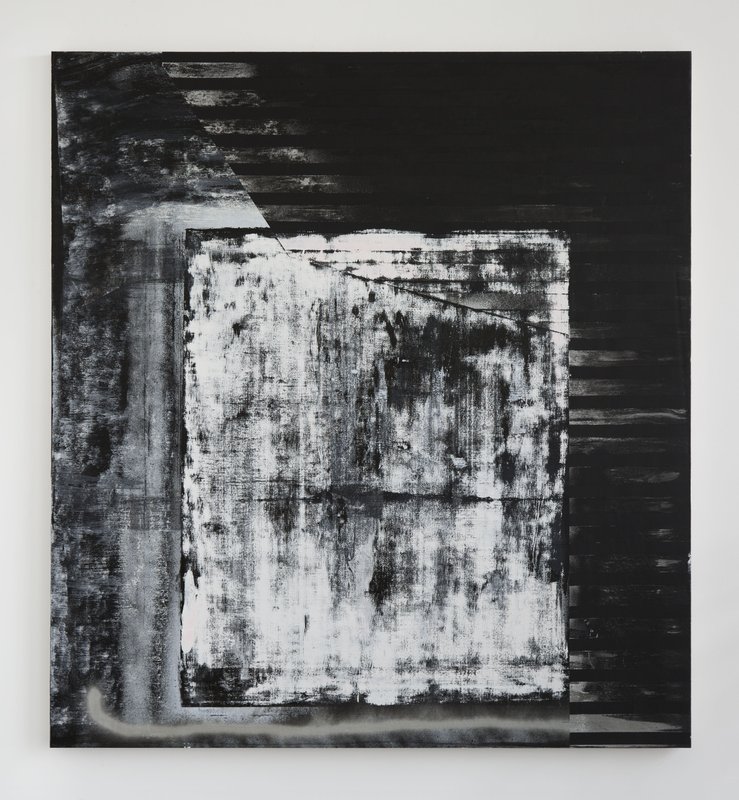 While growing up, Josh Meillier worked with his family building the homes they lived in, which would then be sold and another built. His paintings and sculptures begin with a similar building process, relying on every-day, construction, and fine-art products. Slow Decay v , for instance, was made using a silk screen that was repeatedly printed without an image in the screen. After each pass the ink that was left in the screen was allowed to dry generating an image out of the negative space that was unprinted. This printed image is framed creating a painting in a painting to elude to digital screen created by analog screen. Josh Meillier is pursuing an MFA at Pratt Institute while living and working in Brooklyn, NY. He completed his BFA at Minneapolis College of Art and Design in 2013.