The must-see group show in Chelsea right now—or anywhere in New York, for that matter—is "What Nerve! Alternative Figures in American Art, 1960 to the Present," at Matthew Marks Gallery's three branches along 22nd Street. The exhibition, a version of one seen last fall at the RISD Museum in Providence, feels like the opening of a safety valve; ideas that have been bubbling up over the past decade or so, about outsider art and artist collectives and newly canonized figures like Mike Kelley and Ken Price, are released in one torrential stream.
Focusing on four artist groups that emerged from the regional "hubs" of Chicago, San Francisco, Ann Arbor, and Providence—the Hairy Who, California Funk, Destroy All Monsters, and Forcefield—the show treats geography as destiny. In a way, it proposes a new category of "outsider" artists: those who are set apart not by disability or lack of formal education, but rather by the fact of working at a physical remove from the major art centers. (It's similar, in that regard, to the Studio Museum in Harlem's recent survey of Southern self-taught and visionary artists.)
"What Nerve!" also affirms the importance of the collective for artists working outside the big art centers. As curator Dan Nadel writes, "When confronted with a system that seems impenetrable, outsiders tend to band together"—the system, in this case, being "the canon of modernist abstraction and Conceptual art" that had a hegemonic grip on New York and Los Angeles in the 1960s and '70s. Groups like the Hairy Who and Destroy All Monsters placed more stock in comic books than in critical theory, which had no place for the raw, figurative, often grotesque kind of art they admired.
Along the way, the show raises an important question: What has become of the regional art group in the digital era? Now, individual artists who feel alienated in some way may search for like-minded others online and form looser, virtual collectives. Even in the exhibition, there's a telling chronological gap between the Hairy Who (active from 1966 to '69) and the most recent of the show's groups, Forcefield (1996 to 2003), which emerged during the early days of net art and echoed some of it in their digressive, identity-shifting videos and performances.
"What Nerve!," then, represents a kind of golden age of the countercultural American art collective. That concept makes it even sweeter to savor the concentrated, had-to-be-there group dynamics of Chicago's Hairy Who (Jim Falconer, Art Green, Gladys Nilsson, Jim Nutt, Suellen Rocca, and Karl Wirsum), which are on full display in several vitrines of notes and drawings for their signature comic books (and in a new book published by the gallery, The Collected Hairy Who Publications, 1966-69). Here, you can see that some of the characters in the comics began life as "Exquisite Corpses," the collaborative, composite figure drawings favored by the Surrealists.
Not all of the show's groups are so cohesive, however. As Nadel admits, California Funk was a "slippery category"—essentially, a show title that stuck. (The exhibition was at Berkeley, in 1967). Applied here to a loose group of artists including Ken Price, Peter Saul, and Peter Voulkos, it's best defined in opposition to other things going on in the West Coast art world of that time (a trip to the DeWain Valentine show at David Zwirner, which embodies the Light and Space/California Minimalist movement that was anathema to many Funk artists, is useful here.)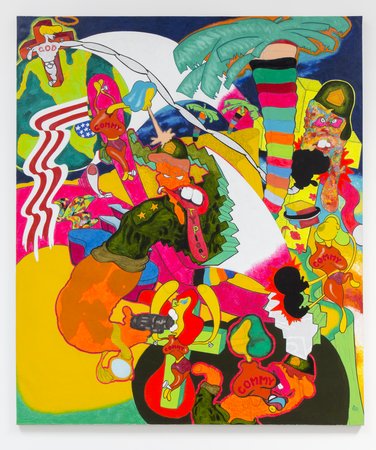 Peter Saul, Vietnam, 1966. Oil on canvas. 79 x 67 inches; 201 x 170 cm. © Peter Saul, Courtesy Matthew Marks Gallery.
The Michigan-based group Destroy All Monsters (Kelley, Cary Loren, Niagara, and Jim Shaw) looks similarly diffuse on the gallery walls, with Kelley's Jim Nutt-influenced drawings and Niagara's goth-girl paintings seeming to occupy different niches of "alternative" culture. But that's because their teamwork often took the form of art-noise band sessions and Xerox collages-turned-'zines, methods of production that don't lend themselves to a white-box setting.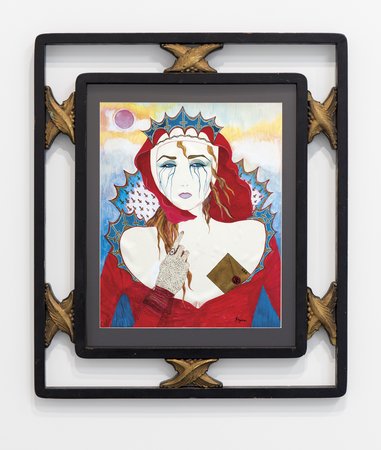 Niagara, Letter from the Devil, 1978. Colored pencil on paper. 17 x 14 inches; 43 x 36 cm. © Niagara, Courtesy Matthew Marks Gallery.
Meanwhile, the knitted and chain-mail shrouds left behind by the short-lived Providence group Forcefield (Mat Brinkman, Jim Drain, Leif Goldberg, and Ara Peterson) look so good in the gallery that it's difficult to see them as the performance relics they are. The same problem plagued the group's installation at the 2002 Whitney Biennial; it disbanded the following year (reportedly due to disagreements over the importance of object-making to their work.)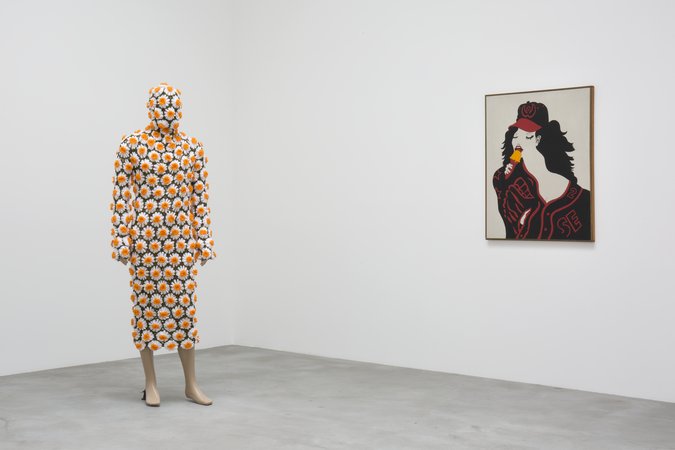 An installation view of "What Nerve! Alternative Figures in American Art, 1960 to the Present," with works by Forcefield (left) and Karl Wirsum (right). Courtesy Matthew Marks Gallery, New York.
As Nadel memorably describes Forcefield: "It wasn't an art collective—it would never be something so formal—nor was it 'only' a band. It was a thing that happened when certain individuals made it happen." That sense of contingency is most apparent in a highly ritualistic video, Tunnel Vision, which sets dizzying abstract animations to a screeching soundtrack and includes footage of a torchlit processional through the sewers of Providence.
In Forcefield, you can see the seeds of more contemporary art collectives—but regional identity, or at least a sense of place, still matters. As Nadel points out in the catalog for "What Nerve!," the group emerged from and was defined by Fort Thunder, a vast and chaotic warehouse/studio/performance space in Providence that attracted a number of RISD graduates in the late 1990s. Artists are still collaborating and forming collectives today, of course, but with the anywhere-anytime sensibility of tech start-ups (just look at DIS or K-hole, artist groups that operate as a digital platform and branding agency, respectively). The four groups in "What Nerve!" in other words, may not be much of a model for the present—but they have a lot to teach us about the not-too-distant past.