Nestled in a picturesque valley between the National Elk Reserve and Grand Teton National Park, and just a short drive away from Yellowstone, the town of Jackson Hole is already a prime summertime destination. This year, however, hotel rooms are more expensive, the crowds are larger, and store shelves are overflowing with commemorative t-shirts, hats, patches, coffee mugs and more. Yep, you guessed it—like many cities along the "path of totality," Jackson Hole has come down with the Solar Eclipse Fever.
"When I first moved to Jackson six years ago, I remember hearing about the eclipse and thinking that there is no way I would still be living here, and if I was, then it would be time to get out," said artist and curator Andy Kincaid . In addition to having an active art practice, Kincaid runs Holiday Forever , a project space in town that's shown a wealth of hot emerging artists like Ivana Basic , Jacky Connolly , and Parker Ito , among others. Even though he was apprehensive at first, Kincaid has fallen for the small but robust mountain town, and has caught the eclipse excitement bug.
"Conceptually, the project began with the idea of creating an 'eclipsennial,'" Kincaid explained, in the sprawling lawn behind the Jackson Hole Performing Arts Center . Along with curator and art advisor Camille Obering and artist Matthew Day Jackson , the three have organized Observatories —an outdoor exhibition consisting of a number of discreet (you guessed it...) observatories in which to view and celebrate the fast-approaching solar eclipse. Though the rural location might seem a bit random, the line-up is decidedly impressive— Liz Magic Laser , Paul McCarthy , Shana Moulton , and Glenn Kaino are among the ten artists who were invited to participate.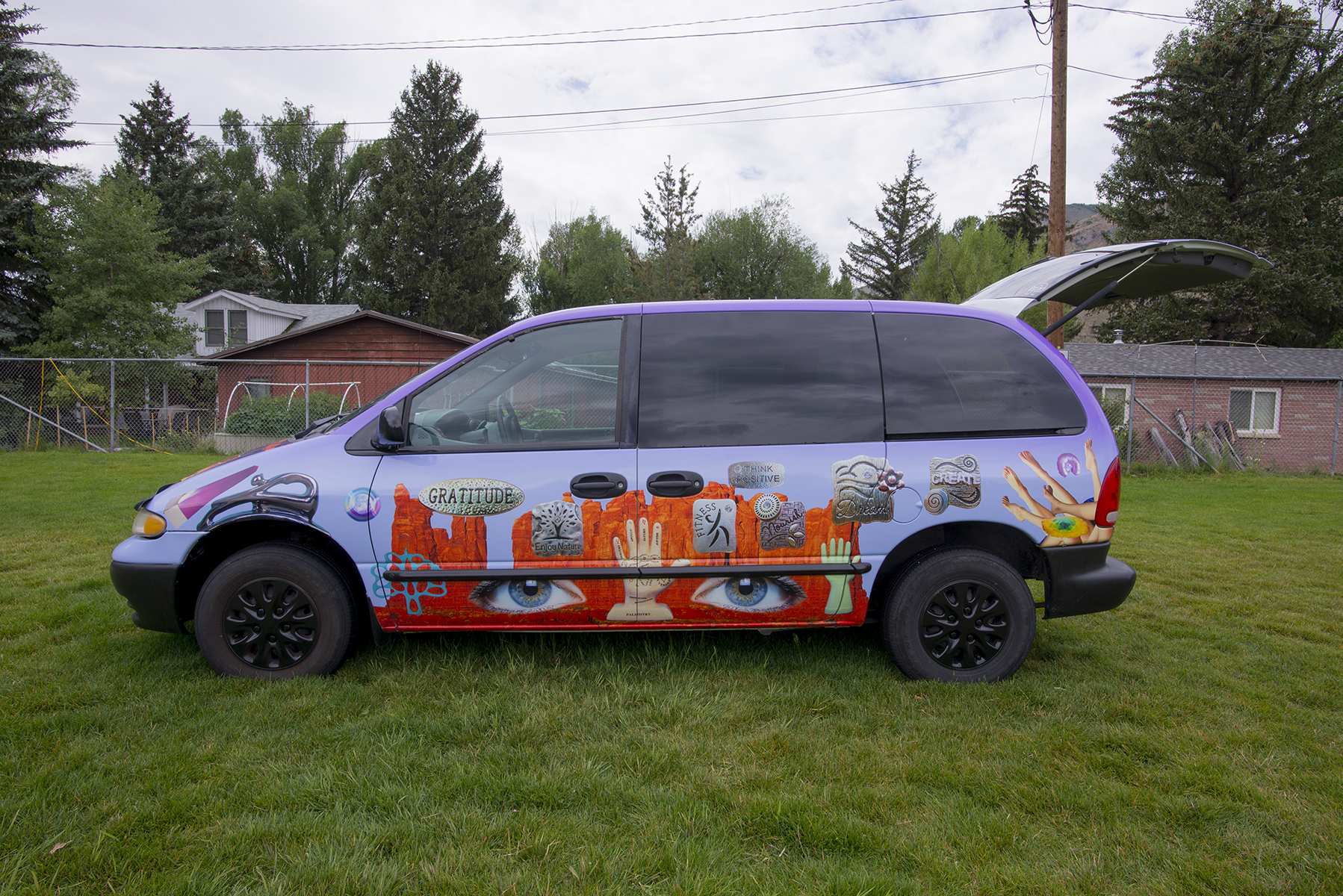 Shana Moulton, Self Transforming Machine Van
Despite (or because of) the quite unusual prompt and contextual constraints, and the artists' contributions are stellar. Shana Moulton 's new video Eclipse Routine plays on a flat-screen attached to the inside roof of a minivan; the vehicle itself covered in a trippy collage of "wellness" iconography. What looks like an abandoned, rustic shed actually houses Glenn Kaino 's Hollow Earth ; it's the perfect spot to snap a selfie as you peer into the beautiful (but frightening) abyss. Eduardo Navarro created fifty special eclipse-viewing masks, their spherical shape mimicking the darkening sun above. Sarah Brahman fashioned an old shipping container into an eclipse-viewing den—its angular tilt making it look like the piece crash-landed into the lawn.
Not all the pavilions take the act of viewing the eclipse as their inspiration, however. Native American artist Anna Tsouhlarakis has never personally viewed an eclipse, as her cultural tradition asserts that the rare event is a time for quiet reflection and not a time to gawk at the sky in disbelief. Even though the practice has changed throughout the years, Tsouhlarakis emphasized that, "what has stayed constant is the belief that eclipses hold power and significance." For Edges of Her , the artist used wood from her family's land on the Navajo reservation to build a spiral shelter—but with a surprising end. Wood, chicken wire, and horseshoes block off the center of the spiral, the part of the pavilion that could act as the perfect viewing shelter (or hiding spot).
To clue you in to the upcoming barricade, Edges of Her is decorated with an array of ominous metal signs—customized versions of the ones commonly seen in factories or on construction sites. The artist informally surveyed various tribes for their thoughts related to the eclipse, and excerpted their statements on the aluminum placards. Transposing these statements into the context of directive signage transforms Tsouhlarakis' research into arresting poetry; a small yellow sign halfway along the spiral reads, "CAUTION: REMAIN REVERENT UNTIL IT IS OVER." Another that faces the outside states, "WARNING: THE SUN DIES."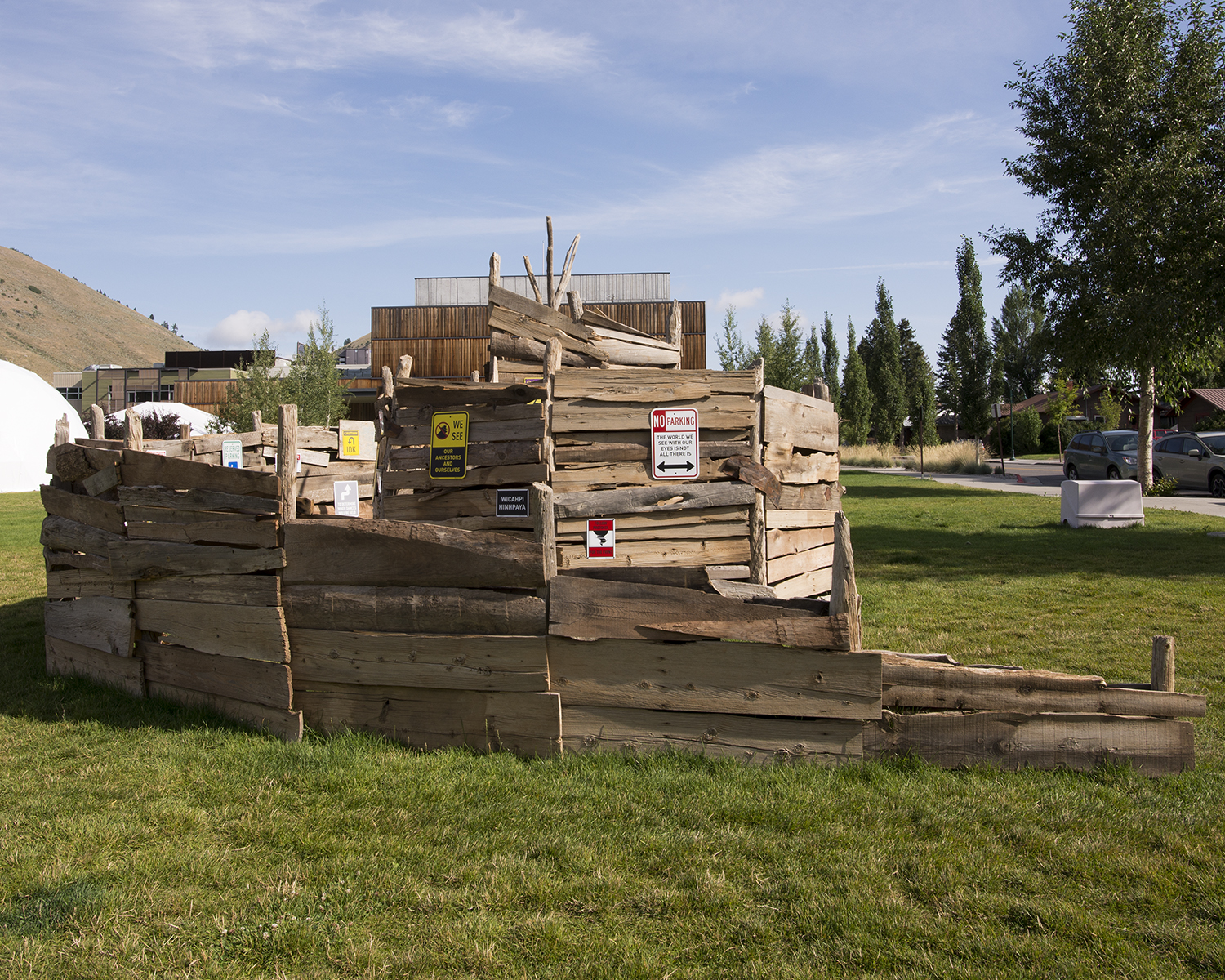 Anna Tsouhlarakis, Edges of Her
The most exciting, and perhaps controversial, piece in the show belongs to artist-provocateur Paul McCarthy . The Los Angeles-based artist is known for his grotesque performance and video works , and particularly for the 2014 public sculpture Tree . We won't mention here what Tree actually looks like but, suffice it to say, it would be awkward to explain to your parents or kids. For "Observatories," McCarthy brought a refashioned stagecoach to the Center's lawn. Inside the stagecoach is video of a performance conducted at Hauser & Wirth Los Angeles , in collaboration with his son Damon McCarthy . The performance is graphic and unsettling, featuring throat slashing, hanging, and more. It's sure to break through the West's "romanticized veneer," Kincaid says, "which disguises some ugly truths."
"Each work [in "Observatories"] is a kind of contained unit, a pavilion, and an observatory, which presents a space of consideration," Kincaid concludes—and that consideration applies to more than just the upcoming eclipse. In Arturo Bandini 's pop-up gallery pavilion, a collage by artist Suzanna Zak hints at the eclipse while cleverly touching on wider environmental concerns. The piece is dominated by an aerial view of Earth, with a small silver sticker in the right hand corner. Acting as a statement from Mother Earth's id, the decal reads, "I don't have an attitude problem. You have a perception problem."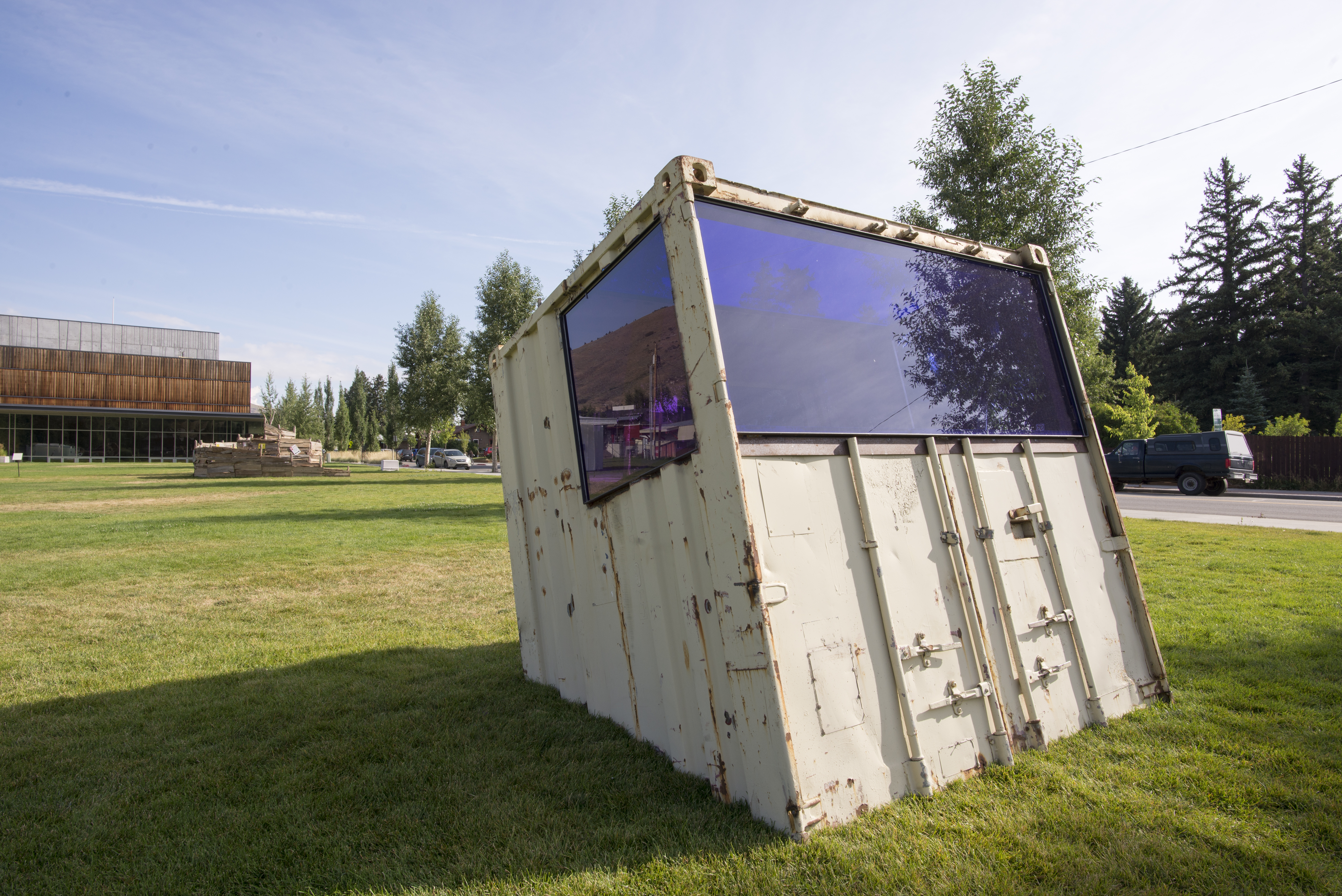 Sarah Braman, Hello
If you can't make it to Jackson Hole in time for the eclipse, don't fret. The show, which also features observatories and performances by Ati Maier and James Luna , will be up until September 9 th —and, by that time, you won't have to wear any special glasses when you look at it.