Comedy has always been a great lens for analyzing the culture at large. Whether it's performing stand-up to cope with a tragedy, or writing a sketch show that sheds light on politics, comedy holds a mirror up to society, reflecting serious issues in a not-so-serious way. This comedic mirror also shows us how ridiculous life can be, and when we stand in front of it, we learn to laugh at ourselves. Maybe this is why some of our favorite comedic moments are ones that make fun of the art world. There are countless examples in entertainment where the art world is the butt of the joke (we've written about art-related reality TV , and Gossip Girl ), because let's be real, the art world—full of clichés and stereotypes—is such an easy target.
Here, we've compiled some clips of our favorite laugh-out-loud art-related moments from comedy television. While they reveal how outrageous our whole industry can be, we think we're definitely getting the last laugh! Our feelings aren't hurt... but our abs are!
Always Sunny in Philedelphia
Season 2, Episode 3
When Frank (Danny Devito) poses as fictitious art collector Ongo Gablogian it's comedic gold. 'Ongo' barges into an art gallery in a wig that's somewhere between Andy Warhol and Grace Coddington , and then throws around terms like "dirivitive" to criticize just about all of the art. When he inquires about an air conditioner that he mistakes for a work of art, and then uses mumbo-jumbo art speak to justify its artistic significance, the curator agrees with his emphatic, yet pulled-out-of-his-you-know-where take. The exchange can be seen as a dig on the commercial gallery that can make just about anything seem important, as long as it's in the context of a gallery, and spoken about with pretension.
Netflix Presents: The Characters
Season 1, Episode 4
We highly recommend watching this entire episode of The Characters , a Netflix Original sketch comedy show, as the whole hour continually throws punches at the art world. Through multiple characters, comedian Kate Berlant (daughter of real-life artist Tony Berlant) acts as both artist and gallerist and it's too funny for words. She plays on stereotypes surrounding young, privileged gallery owners, self-centered artists, creative "geniuses," corporate sell-outs, and so much more.
The Simpsons
Season 10, Episode 19
This episode, which first aired in 1999, is an oldie, but a goodie! When Homer and Marge visit a museum, Marge educates Homer with some informed (and sometimes made up) information about artists like Claes Oldenburg , Joseph Turner, Picasso , and Warhol. (She says that after Picasso had his Cubism period, he moved on to his "angry jerk period.") Homer is impressed, which is the writer's way of ironically saying, more or less, "If Homer thinks it's great, it's probably dumb." Says Homer: "These guys are geniuses. I could never think of something like soup or a pencil." LOL.
Nathan for You
Season 2, Episode 5
In the highly anticipated "Dumb Starbucks" episode—where Nathan opened up a coffee shop with an identical menu to Starbucks and called it "Dumb Starbucks"—he proved that this stunt was legal by claiming it was an art piece. In order to prove that, he needed to show an exhibition history that engaged with "corporate parody." Hence, his hilarious art show exposes several issues within the art world, like artist intention vs. audience reception and how the pricing of art can be arbitrary.
Portlandia
Season 3, Episode 9
There are tons of examples in this show alone where the show's writers and stars, Fred Armisen and Carrie Brownstein (both avid art collectors), make fun of fine-art and the attitudes surrounding it. This sketch, where they poke fun at performance art, is one of our favorites. The characters get away with a slew of shenanigans in the name of "art." Where do we draw the line?!
Broad City
Season 1, Episode 4
On Comedy Central's Broad City, the aspiring (yet hopeless) artist Abbi finally gets to exhibit her work—in a sandwich shop. At first, the exhibition makes her feel like she's "made it," until she realizes that no one else cares—except about their sandwich order. Will the cafe gallery ever be taken seriously?
Who is America?
Season 1, Episode 1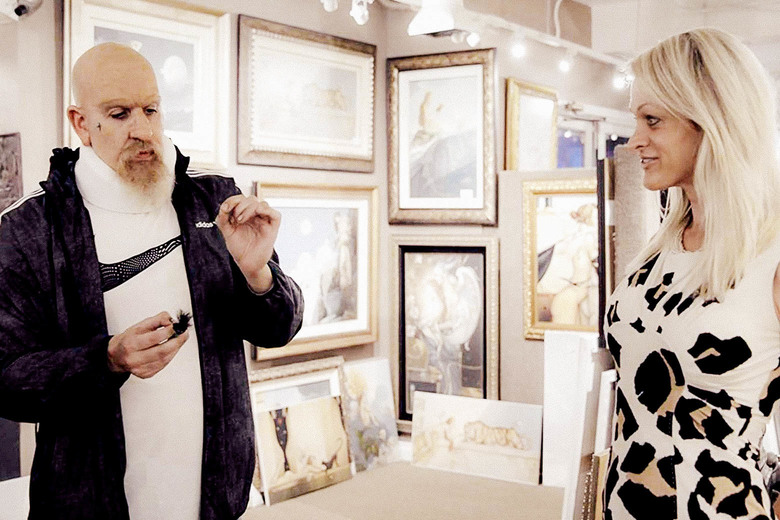 Image via Slate.
In the pilot episode Sacha Baron Cohen's shocking new show—which aired recently on July 15, 2018—Cohen (disguised as a British ex-con turned artist) interviewed Christy Cones, a fine-art consultant working at Coast Gallery in Laguna Beach. They discuss his artwork made from his own feces and semen, and eventually Cones even trims her pubic hair to participate in his art project involving a paint brush made of different pubes. The cringeworthy interview satirizes the concept that art can be any medium. Again, highlighting that anything is seemingly acceptable in the name of art.
Parks and Recreation
Season 2, Episode 9
In this episode, the town decides it will replace it's "Spirit of Pawnee" mural. Hilarity ensues when each Pawnee department is asked to propose a new mural. While the episode takes multiple digs at the dialogues surrounding art, we love how this clip pokes fun at different reactions to abstract art and the emotion it can elicit from viewers.
Curb Your Enthusiasm
Season 9, Episode 4
Larry David can't believe it when his frenemy Richard Lewis announces he's having an art show—and that one of the paintings is a self-portrait, depicting a much younger and handsome-looking Lewis. This episode mocks "artsy" fashion and the perception that modern art is difficult to understand.
Girls
Season 3, Episode 8
Marnie runs into Soo Jin who is opening her own gallery in NoHo, and the episode makes fun of that fact that someone seemingly un-educated about art can open their own gallery—as long as their parents can finance it.
Saturday Night Live
Season 30, Episode 14
This list wouldn't be complete without a sketch from Saturday Night Live. In this one, the new neighbors (again, Fred Armisen!) are "art dealers" with an eccentric collection, outlandish fashion sense, dysfunctional interior design, and thick ambiguously accents. Pretty much everything they do and have is completely impractical—but it's okay because it's art!
The Eric Andre Show
Season 3, Episode 1
Probably the worst thing you could ever do in an art gallery, is touch the art. We take that back. The worst thing you could ever do in an art gallery is break the art, and then break even more art. Eric Andre (in a totally extra way) takes this taboo to the extreme, at the horror of his onlookers.
RELATED ARTICLES:
What 'Gossip Girl' Got Right (And Wrong) About the Art World
The Good, The Bad and the OMFG: Art's Complicated Relationship with Reality Television