The 62nd Annual Grammy Awards ceremony, which honors achievements in the music industry, takes place this Sunday in Los Angeles. And while that seemingly has nothing to do with the art world, the two disciplines actually often overlap. Whether it's the 1995 music video that Damien Hirst directed for pop quartet Blur (yes, that really happened) or Beyoncé paying homage to Pipilotti Rist's Ever is Over All (1997) in her 2016 "Hold Up" music video, collaborations between musical and visual artists hae been a thing forever.
But did you know that some visual artists have actually won a Grammy for their outstanding music-related work? While distinguishing a visual artist from a musical one can be difficult when they are one and the same (David Bowie or Joni Mitchell for instance), for this list we chose to examine artists whose work primarily shows at museums or galleries, and whose music practice is often secondary to their artistic oeuvre. Here's a brief overview of 8 contemporary artists who have won the gilded gramophone trophy. What they actually won it for may surprise you.
ROBERT RAUSCHENBERG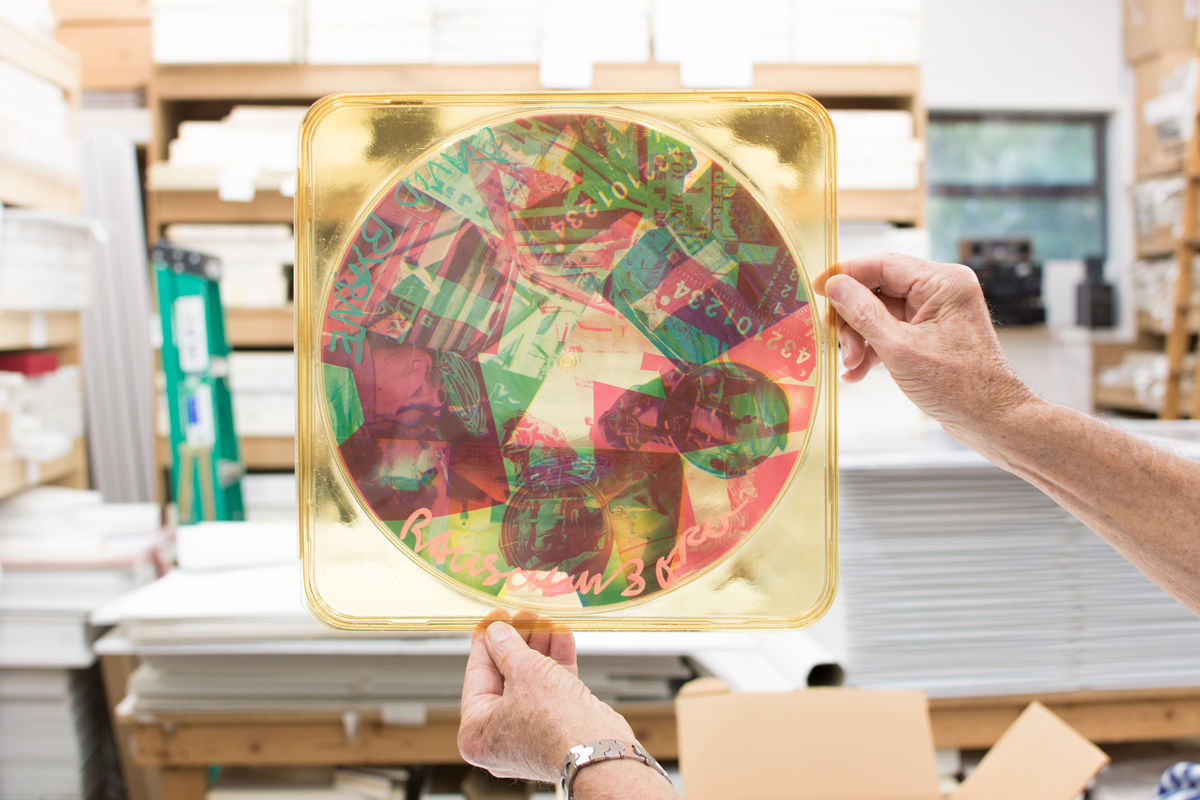 Image via artsy.net
American abstract painter Robert Rauschenberg—best known for forming combinations in three-dimensional collage, which he deemed "combines"—won a Grammy for Best Album Package in 1984. The award was for his work on the rock band Talking Heads' fifth studio album Speaking in Tongues, where Rauschenberg designed the cover of the limited-edition LP version. The band's lead singer David Byrne wrote in the New York Times that he approached Rauschenberg to design the LP cover after being inspired by some of the artist's black-and-white photo collages that he has seen at Leo Castelli's gallery on West Broadway. The package Rauschenberg created was a conceptual collage piece that included a clear vinyl disc with see-through plastic packaging that deconstructed a full cyan, magenta, and yellow color image by separating the colors into layers. Byrne writes, "It was a transparent explication of how the three-color process works, yet in this case, one could never see all the full-color images at the same time, as Bob [Rauschenberg] had perversely scrambled the separations."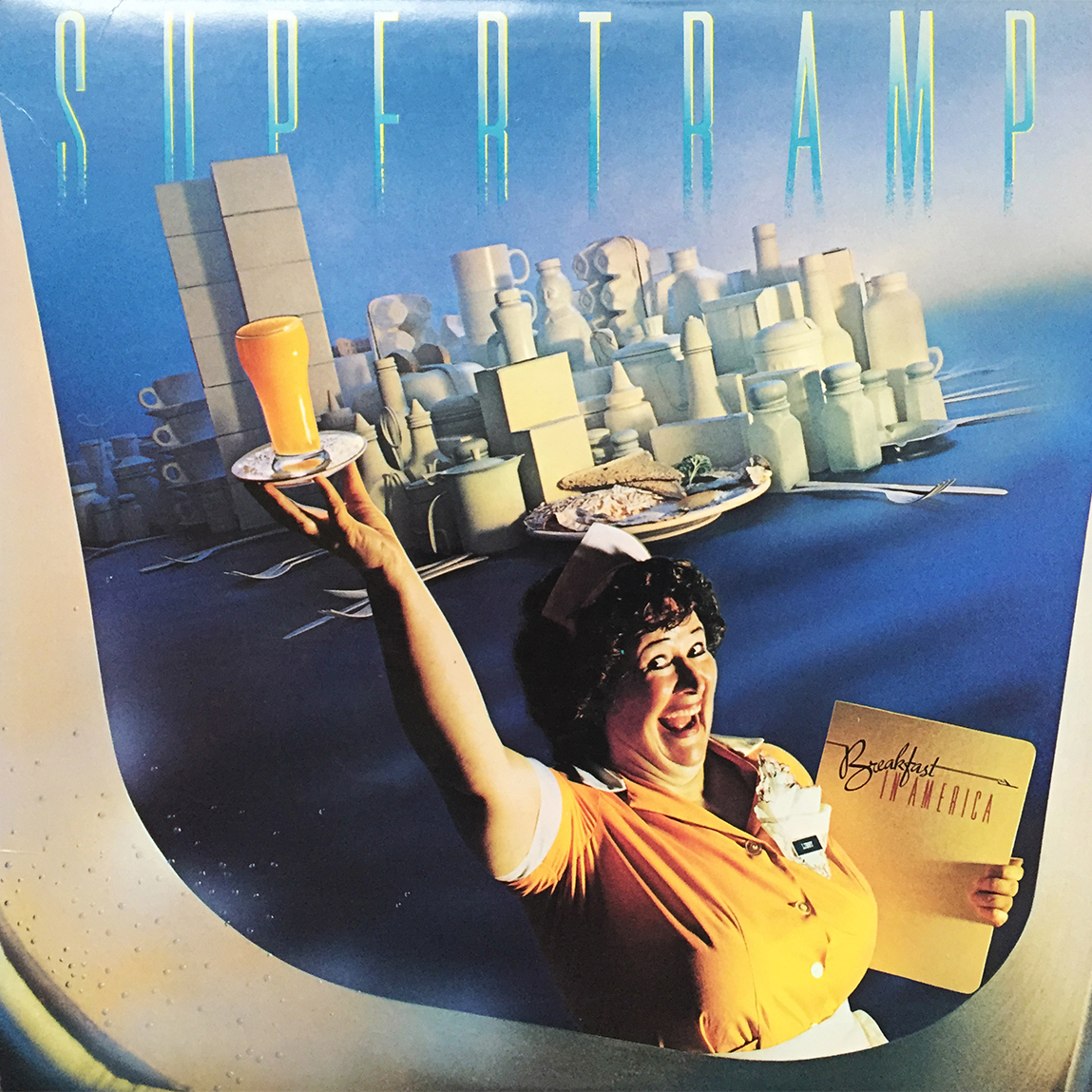 Image via A&M Records
Based in Los Angeles and South Africa, British graphic designer and illustrator Mick Haggerty is renowned for his album cover designs for musical legends like Jimi Hendrix, the B-52s, and David Bowie. His album cover for The Police's 1981 cover Ghost in the Machine is included in MoMA's permanent collection. Haggerty has received five Grammy award nominations, four for Best Recording Package and one for Best Music Video (short form) in 1986 for The Daryl Hall and John Oates Video Collection. In 1980 his album design for Supertramp's Breakfast in America earned him a Grammy, which he was jointly awarded with Mike Doud. Lately, Haggerty has focused on creating fine art prints that resemble his interest in vibrant street signage. You can see his work here.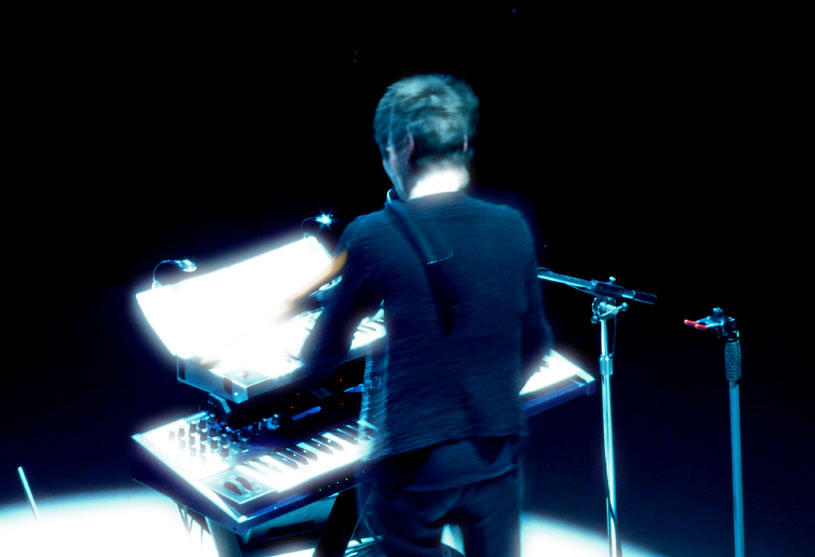 Image via WikiCommons
Although she was nominated for a Grammy back in 1991, 1983, and 2011, avant-garde visual artist Laurie Anderson finally won the award last year for Best Chamber Music/Small Ensemble Performance for her album Landfall—a collaboration with Kronos Quartet, a contemporary classical string quartet based in San Francisco. The 30-track album was inspired by Anderson's experience during Hurricane Sandy, featuring songs titled "CNN Predicts a Monster Storm" and "The Wind Lifted the Boats and Left Them on the Highway." Anderson lost a majority of her personal archive, artworks, instruments and more when the hurricane flooded her Canal Street studio. In a statement, Anderson discussed the album's unique blend of electronic and acoustic strings, revealing that much of the work "is generated from the harmonies and delays of unique software designed for the solo viola and reinterpreted for the quartet."

PETER BLAKE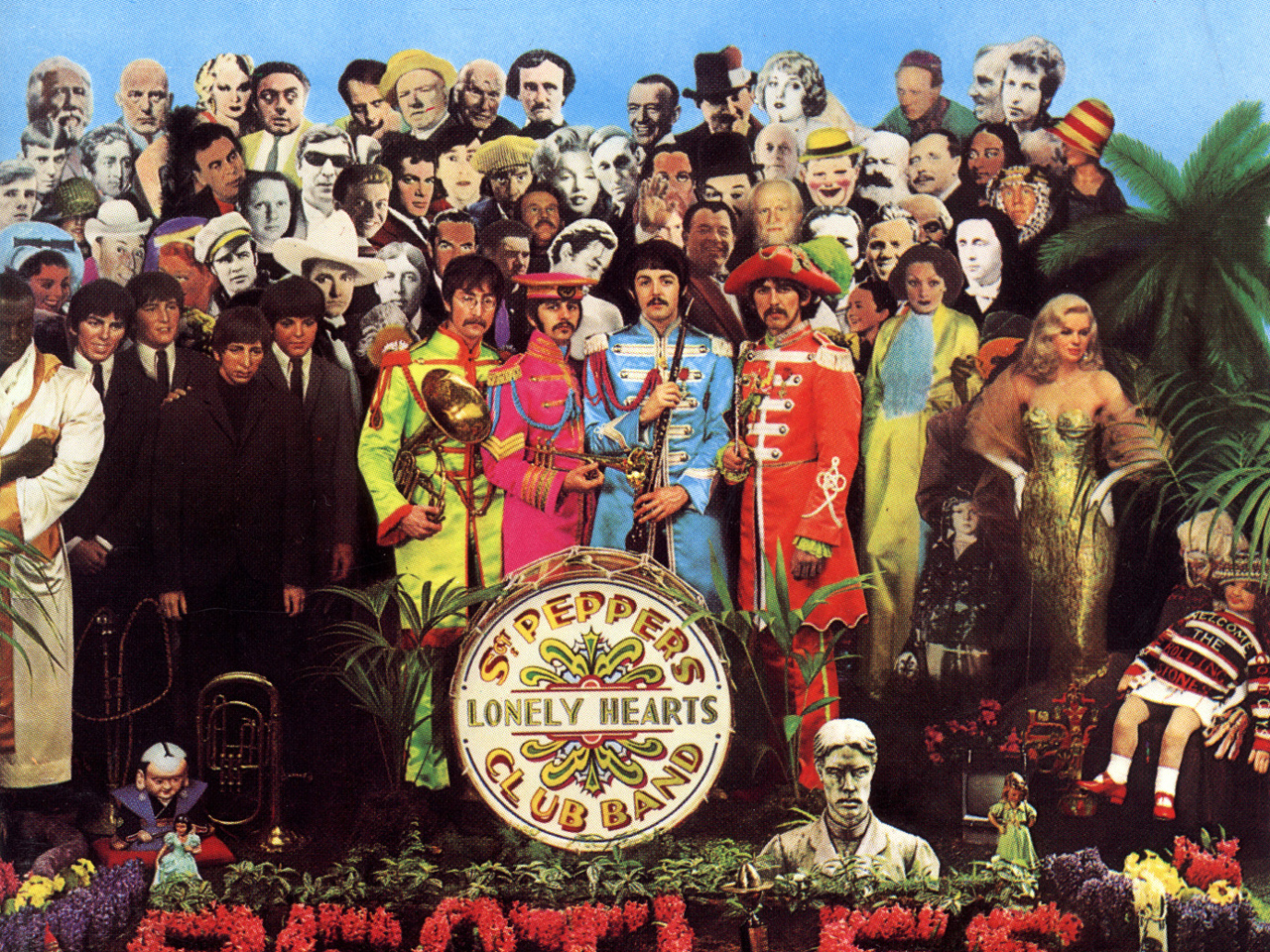 Image via cbsnews.com
British Pop artist Peter Blake is known for his painted collages and imitation bulletin boards utilizing imagery from advertisements, music posters, and other iconography of the 1960s. Inspired by Robert Rauschenberg and Jasper Johns, Blake's position in the London pop art movement was cemented after participating in the 1961 Young Contemporaries exhibition alongside David Hockney and R.B. Kitaj. In 1968 Blake received a Grammy award, with fellow pop artist Jann Haworth, for their album art on the cover of The Beatles' eighth studio album Sgt. Pepper's Lonely Hearts Club Band, which went on to win four other Grammys that year, including Album of the Year (it was the first rock LP to receive this honor). The album's graphic design, along with its production and songwriting, was praised by critics for bridging the gap between popular culture and high art. You can see his work here.
JANN HAWORTH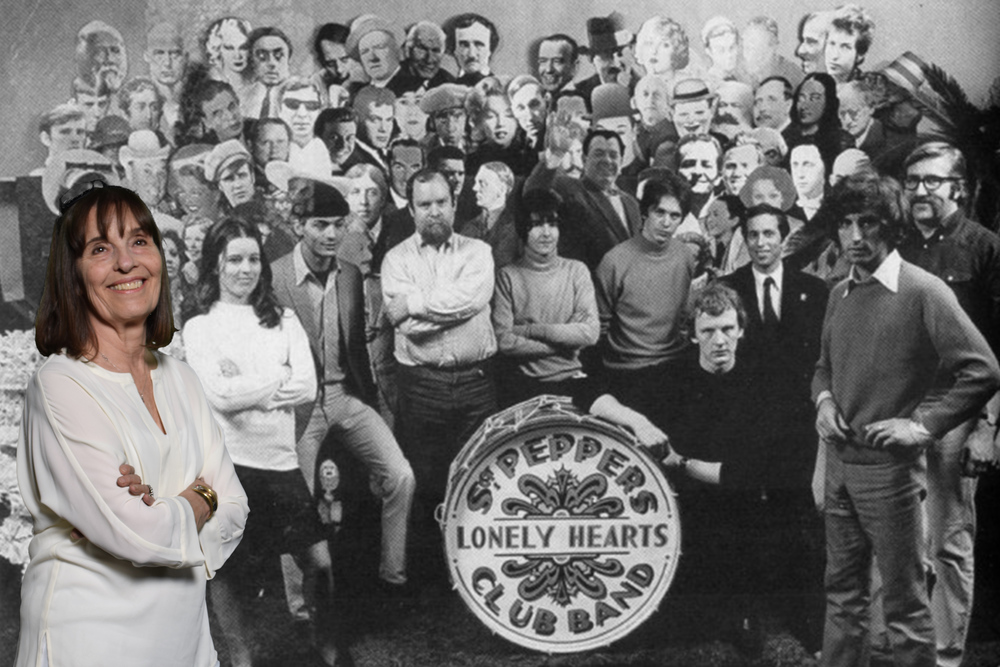 Image via modernwestfineart.com
It's only fitting that we highlight American pop artist Jann Haworth next, as the pioneer of soft sculpture worked with her then-husband Peter Blake to create the Grammy award-winning album art for the Beatles' Sgt. Pepper's Lonely Hearts Club Band. Haworth moved to London, England in 1961 for art school, and soon became one of its only female leading figures of the British pop art movement. Gallery owner Robert Fraser suggested that The Beatles commission Haworth and Blake to design Sgt. Pepper's Lonely Hearts Club Band's slipcase. The collage concept for the design was to have The Beatles, appearing in uniform, with a great crowd of cardboard cutout celebrities and historical figures gathered for an official ceremony in a park. Haworth also included some of her cloth dummies in the assembly and came up with the idea of spelling out the band's name in flowerbed lettering inspired by the municipal flower-clock in Hammersmith, West London.
TIMOTHY GREENFIELD-SANDERS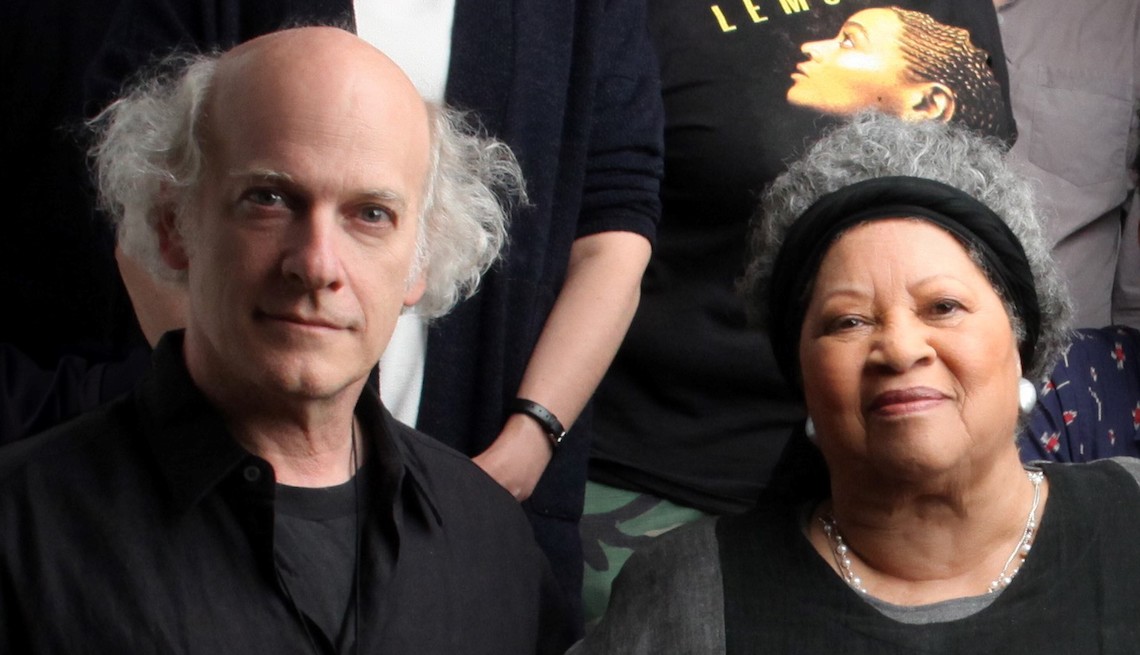 Image via aarp.com
Critically acclaimed portrait photographer and documentary filmmaker Timothy Greenfield-Sanders' archive is pretty much a who's who in the art world—he's photographed the likes of Andy Warhol, Yayoi Kusama, David Hammons, Kiki Smith, and Agnes Martin, just to name a few. Roughly seven hundred of his art world portraits are in the collections of MoMA and the MFAH. In 1999 Greenfield-Sanders' documentary film, Lou Reed: Rock and Roll Heart, about the musician Lou Reed, won the Grammy award for Best Long Form Music Video. Last year, his documentary Toni Morrison: The Pieces I Am on the Nobel Prize-winning author Toni Morrison, premiered at Sundance Film Festival. The film features the work of another comprehensive list of artists like Mickalene Thomas, Kara Walker, Hank Willis Thomas, and Aaron Douglas.
YOKO ONO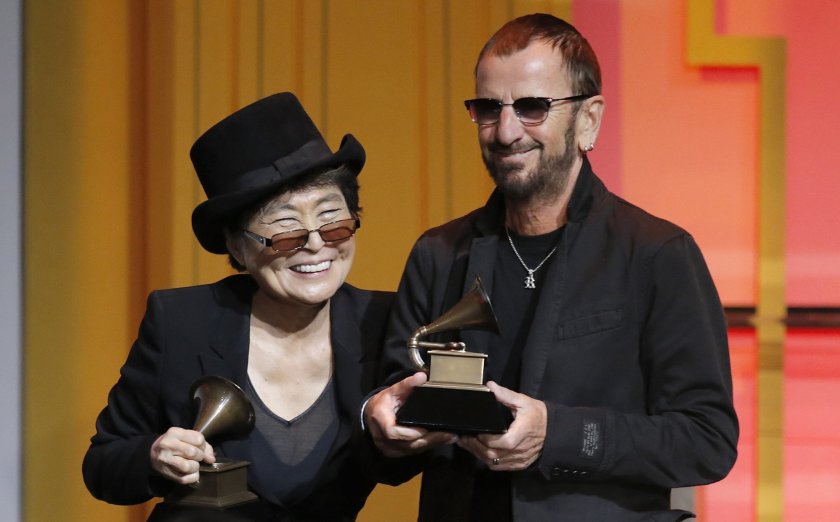 Image via sandiegouniontribune.com
Japanese conceptual and performance artist, Yoko Ono, gained prominence in New York City's avant-garde art scene in the '60s. She's also a singer, songwriter, and peace activist who was married to John Lennon—so perhaps the five Grammy Awards nominations (two of which she won) are less shocking in this case. Ono was first nominated in 1982 for Best Female Rock Vocal Performance for her song "Walking on Thin Ice," and won that same year for Album of the Year with John Lennon for their album Double Fantasy. Years later, Ono won her next Grammy Award for Best Long Form Music Video for Gimme Some Truth—The Making of John Lennon's Imagine Album (2001). In 2018 the artist released her fourteenth solo record titled Warzone.
JOHN CAGE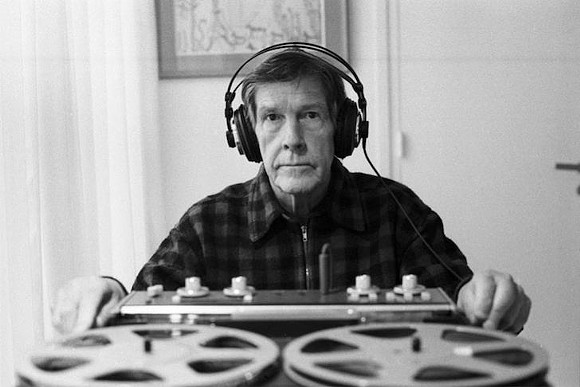 Image via orlandoweekly.com
Experimental sound artist, composer, writer, and theorist John Cage was not only fundamental in his musical contributions, but he largely influenced Fluxus and Happenings artists, and modern dance—making him one of the most significant cultural figures of the 20th century. The music legend received his first Grammy Award postmortem, in 2016, for the Trustees Award. According to The Recording Academy, the Trustees Award is presented to "individuals who, during their careers in music, have made significant contributions, other than performance, to the field of recording." In this case the recognition is better late than never.
[Grammys-module]
RELATED ARTICLES:
Artspace's most Iconic Music Photos
ave You Heard of Sound Art? 9 Sonic Artists to Know
Audio Artist Christian Marclay And Sonic Youth's Kim Gordon Talk Performance, Sound, And Rock & Roll