Last week, Art Basel announced that its 2019 fair would use a tiered pricing structure for booth fees. Mega-galleries with larger booths will now pay a higher price per square meter ratio than mid-tier or "emerging galleries," in contrast to the current model, in which galleries pay a flat per meter rate regardless of size. Frieze will also debut a new tiered pricing model at the fair's Los Angeles chapter, and Germany's Gallery Weekend Berlin also promised to modify it's fixed price system.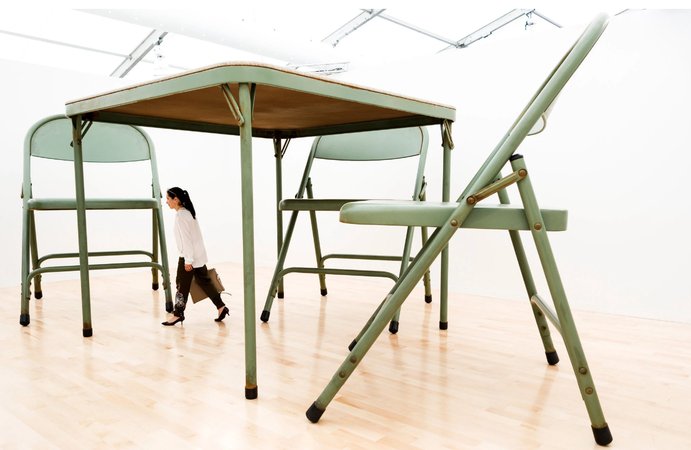 Robert Therrien's untitled folding table and chairs sculpture. Image via New York Times
The majority of art fairs already use a pricing system that makes it relatively cheaper for smaller galleries to participate: larger galleries lease the more expensive and centrally placed booths, while smaller galleries take smaller booths in more out of the way locations. But even this model has become untenable for emerging and mid-tier galleries. Art fairs are expensive. On top of booth rental, the cost of insurance, storage, and shipping fees can reach up to hundreds of thousands of dollars, in addition to artist accommodations and expensive dinners thrown to woo potential collectors. Many of these costs are the same regardless of business size. "Transport costs are the same for a $10,000 work as a million-dollar work," noted Don Thompson, author of The Orange Balloon Dog: Bubbles, Turmoil, and Avarice in the Contemporary Art Market. Galleries like David Zwirner can offset these losses by selling work by established artists in addition to existing revenue. But smaller galleries, which offer works by emerging artist, usually end up losing money. As gallerist Bridget Donahue pointed out in a recent T magazine roundtable on the art market, "If I sell out a booth, my price points don't mean that I'm making that much money after I've paid my way and everything. Even if I do really well, it's never as well as the people who do really well."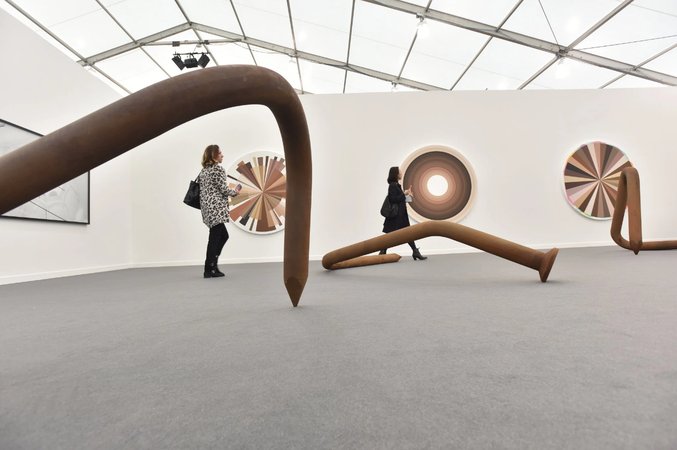 Pieces from Galeria Fortes Vilaça in São Paulo, Brazil. Image via: New York Times
Art fair-induced financial stress only compounds financial issues that medium-sized galleries are already facing. When a gallery like Paula Cooper started in 1968, Chelsea wasn't even called Chelsea yet, and rents were affordable. Now, it's one of New York's most expensive neighborhoods; Class A office spaces average around $90 per square foot. Mid-tier galleries are increasingly unable to offset rising rental costs with sales from top-roster artists, who are often poached by larger galleries once they start to generate substantial sales. A mid-tier gallery, therefore, takes the risk of supporting emerging artists without receiving the pay-off. Finally, the increasing number of and reliance encourages to skip collecting from galleries during normal programming, instead opting to wait until fairs offer them optimal buying conditions. This means galleries are depending more on making their yearly revenue in just a few weekends out of the year, rather than having cash flow every month.
But market focus on art fairs has also affected the quality of gallery programming. As José Freire, owner of Team Gallery, pointed out in an interview with Artnet, "For a period of time, it started to feel like we were mounting exhibitions in the gallery merely to have them documented so I could then send the installation shots to selection committees to then be accepted into fairs. It seemed like the exhibition program was becoming less important." This hit to mid-tier exhibition programming eventually hurts art fairs and blue-chip galleries, who rely on places like Bridget Donahue and Team to produce art stars and mid-career artists whose work can eventually be sold at the blue-chip level. Ultimately, this self-interest is perhaps why mega-galleries like David Zwirner and Hauser & Wirth have been willing to subsidize their less commercial colleagues in the sense that they're able to pay a higher premium for art fair participation. However, considering the host of pressures facing mid-tier galleries, it's unclear whether or not these subsidies can sustain their positions in art fairs long-term.
Instead of subsidies, commercial art fairs like Basel could alternatively switch their models so that participants pay a low cost of entry, and then the fair takes a percentage of their sales. This is the model used for Spring/Break, a seven-year-old New York-based art fair designed to showcase "artists unknown, emerging, mid-career, and beyond." Spring/Break doesn't have the pull or competitiveness of a Frieze offshoot, and their galleries are unlikely to net the kind of major profits that they'd earn at a major commercial fair. But none of the participants are likely to incur major financial losses either, while the minimal entrance fee opens the roster to relatively diverse artists and curators. Could larger fairs adopt this percentage-based, low entry fee model? It would certainly incentivize art fairs to pull out all the stops when it comes to getting collectors to the fair, and providing....adequate air conditioning. Perhaps a win-win for all involved.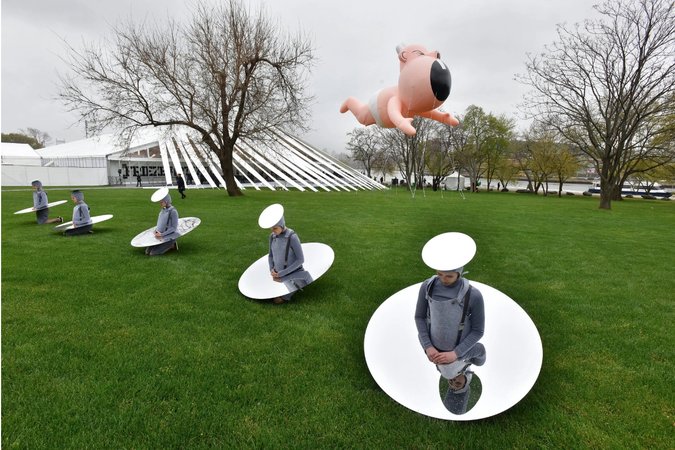 Performers in a piece by Eduardo Navarro and Alex Da Corte's giant helium-filled baby. Image via: New York Times
In the end, galleries may be less interested in finding slightly less risky ways of participating in art fairs, and instead be more likely to opt out of them entirely. José Freire has already opted out. Prior to quitting art fairs, Freire had done seventy-eight of them in the past seventeen years, which averaged out to about five fairs a year. But after picking up both editions of Frieze––and after the 2008 financial crash––this breakneck fair schedule was no longer workable. "I think the cheapest art fair we ever did was Art Los Angeles Contemporary. A booth there is very modest—I think about $25,000—and then when you add fabrication, shipping, and staffing it ends up costing $50,000." Team's biggest loss totaled over $300,000. Moreover, Freire argued that once a gallery reaches a certain level of brand recognition, then they're unlikely to meet new collectors at art fairs. And as mid-level galleries get squeezed out, collectors are less likely to discover new artists at art fairs, as the booths become increasingly saturated with megawatt artists who have already proven to turn a profit (or at least break even). For Freire, even the new tiered pricing structure cannot combat the art world's entrenched structural inequalities. "I say there are three, some people claim there are four and try to stick Pace in there. But it's David Zwirner, Gagosian, and Hauser & Wirth—it's three galleries in the whole world. And everyone else is not them. That disparity, that gap, will not diminish over time. It seems to me that it will only grow."
While Basel's new tiered pricing system is a helpful reform, it's unclear whether art fairs should, in fact, be saved. Instead of finding incremental ways to keep mid-tier galleries in art fairs, the industry could flip to focus on bringing collectors into mid-tier galleries and lessening the need for art fairs in general. Moreover, as cultural workers such as the MoMA Union 2110 organize, perhaps mid-tier galleries could, in acknowledgment of their shared financial interests, work collaboratively instead of seeing each other as competition. For example, as a step towards this community-led effort, galleries located within a single neighborhood could throw openings on the same night, encouraging an opening crawl from one place to the next. All of this is viable, but actually enacting it would require not simply the common understanding that art fairs aren't working, but an effort to collectivize towards new alternatives.
RELATED
Impressionist and Modern Art Is Losing Value at Auction—Could This Be a Good Thing?
How I Would Change the Art Market: Two Dozen Expert Suggestions for a Saner Industry
The New Manifestos: 6 Artist Texts That Are Defining Today's Avant-Garde